After a year of careful planning, the owners of The Settle Down Tavern found themselves opening in the middle of a pandemic.
The saving grace is that The Settle Down, which debuted May 25, soon benefited from the city's emergency order that temporarily lets some Downtown restaurants expand outdoor dining onto streets, on-street parking spots and other spaces.
This part of the "Streatery" district, just off the Capitol Square, is impressive, and the tavern and restaurant, owned by Sam Parker, Ryan Huber and Brian Bartels, is a prime beneficiary.
Because many restaurants can't offer outdoor seating, the "Curbside" column reviews only takeout, so I got my burgers to go. I'd been anxious to try the burger after Parker talked it up last year.
"It's just gonna be the greatest burger you get in an open kitchen tavern concept," he said then, and that Muhammad Ali-style hype wasn't far from the truth.
It would be a bad idea to pass up the "Good Idea" burger ($9).
Two thin patties with beef Parker said Underground Meats gets from an Iowa farm, were smashed so that they had lacing around the edges. Even though the meat was well cooked, it stayed moist. The soft, tender bun was perfect and let the meat and extras shine: pickle slices, cooked onions, Butterkase cheese and Settle sauce.
"It has a lot going for it," my brother agreed. "It's a nice merging between a roadside burger and a gourmet hamburger."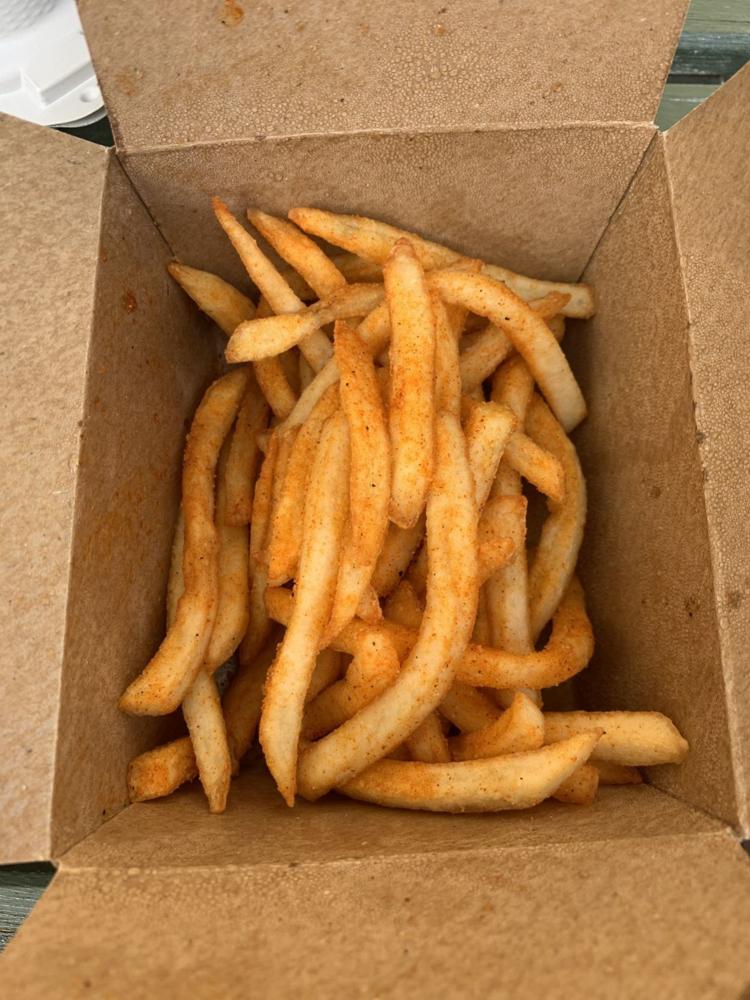 Burgers don't come with fries, but these fries ($3/$6) are worth ordering. About the same size, shape and color of McDonald's, they're not homemade, and came with little containers of ketchup and paprika mayo. I was also a fan of the ghost fries ($4/$7), which are the same fries coated with ghost pepper dust. The menu accurately describes them as spicy, "but not too intense." The blue cheese dip on the side can take some of the edge off.
Those who avoid fried food can order the picnic potato salad ($5), which, in an odd twist, was made with giardiniera and Castelvetrano olives.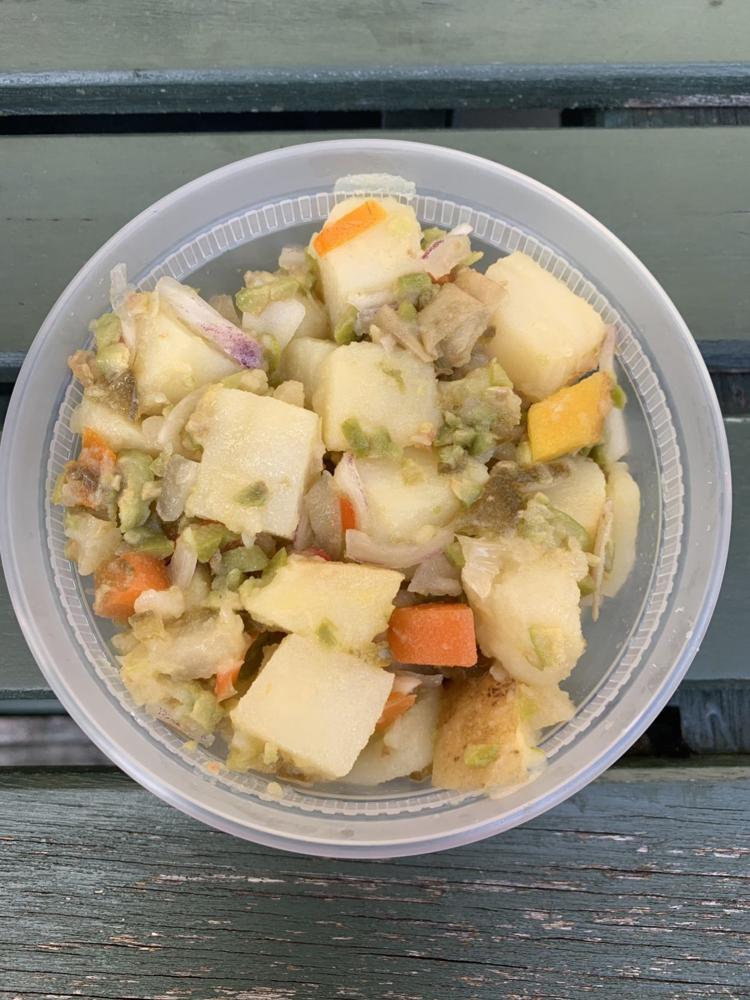 Knocking it out of the park was a veggie burger called the "Prit' Near" ($9), which isn't anywhere "near" a beef burger, like, say, the Beyond Burger. That's to its credit and I challenge you to find a better veggie burger anywhere. Also a thin patty, it combined oats, carrots, black beans, shiitake mushrooms and "various other secret and delicious items."
It had texture going for it as well as taste. Homemade chickpea mayo and turmeric pickled onions that looked like sliced banana peppers heightened the experience.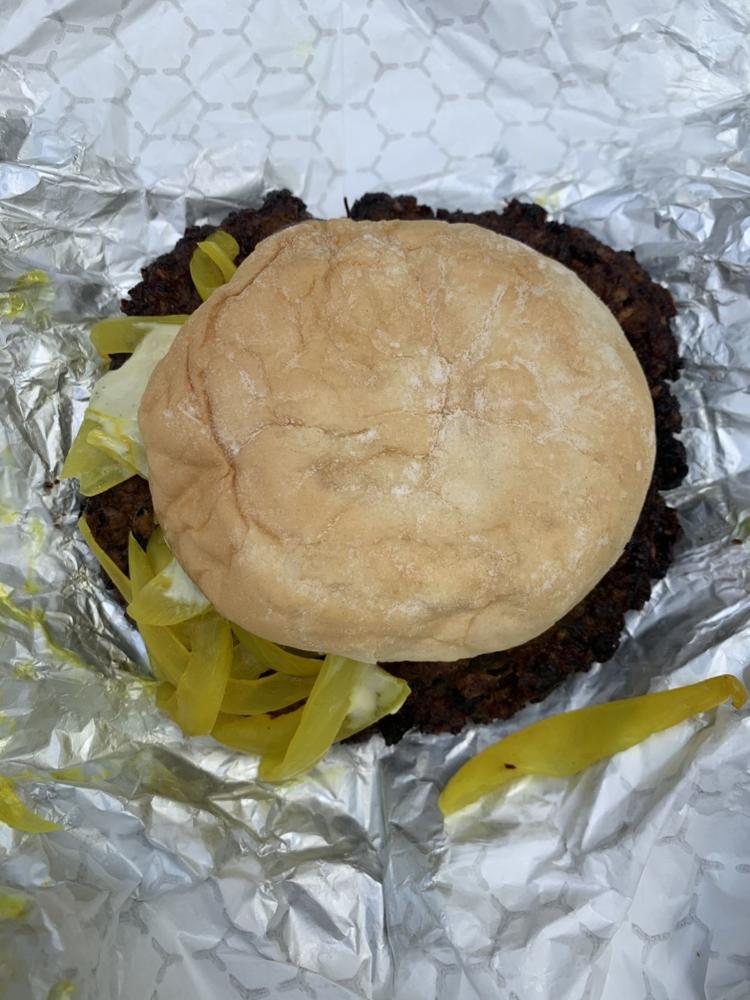 Parker said he didn't want the veggie burger to be an afterthought, adding that the positive response has been gratifying.
The Instgramma-Bowl ($12) is another excellent choice for vegetarians and worked better than a lot of bowls out there. Primarily oat grains and spinach, it had a nice showing of thin asparagus and daikon radish, all benefiting from a garlic vinaigrette and pepita butter. A soft-boiled egg cut in half was delicious and prettied up the bowl. A nasturtium also helped beautify the dish. Even in its takeout container it was ready for its close-up.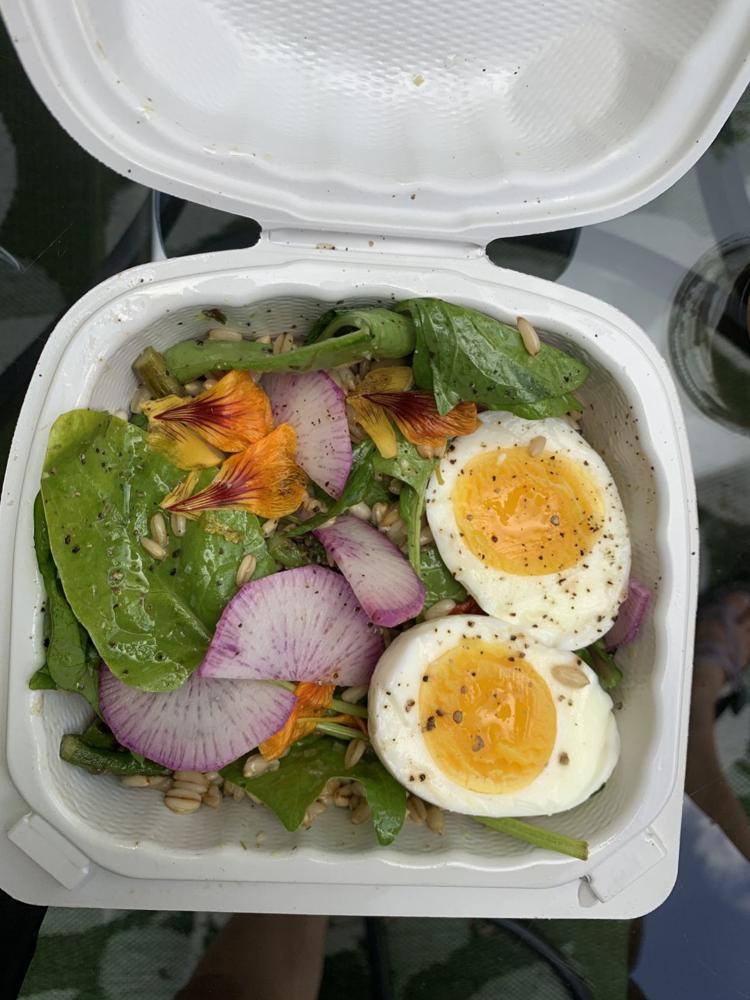 Settle Down's elegant version of a cheese ball ($7) featured Hook's 2-year cheddar and cream cheese coated with hazelnuts. The addition of beer gave it a certain funkiness, and it was served with Potter's substantial pretzel crackers.
Forget the dried-out deep-fried chickpeas ($3.50) with chili lime powder. This wasn't the treatment these garbanzos deserved.
The one dessert, Grandma's pudding ($8), was a generous serving. Extremely sweet chocolate malt pudding was topped with whipped cream. Candied potato chips on top provided an interesting salty crunch.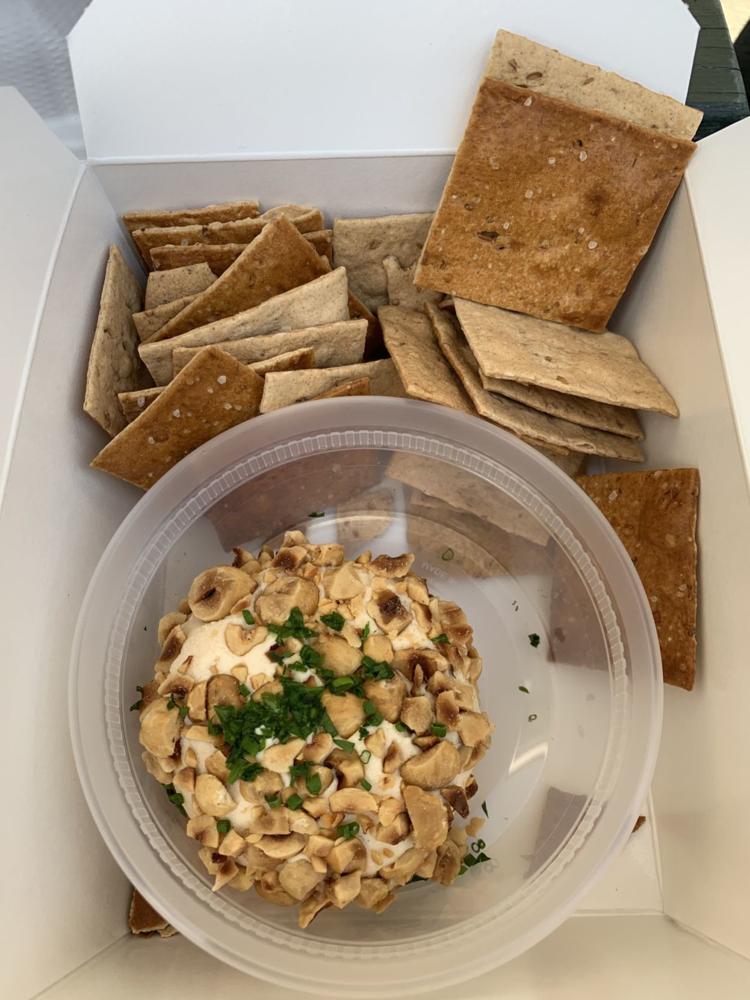 The online menu calls it "Joslyn's secret recipe," as in Joslyn Mink, Settle Down's kitchen director, who worked for the erstwhile Underground Food Collective for six years, including as food director at the former Forequarter. Parker can't say enough about how lucky they were to find her.
Picking up my order at The Settle Down was my introduction to "Streatery" in action and it's the most hopeful thing going for Downtown Madison restaurants during COVID-19. Outdoor tables stretching into what were parking spaces gives the two block stretch of East Main and Pinckney streets a European feel.
It didn't seem like there was enough room on the street to pull up in front, but I managed, and three staff members were waiting outside. One, who couldn't have been nicer, brought out my order in seconds and put it in the back of my car.
When I described him to Parker, he was sure it was Bartels, one of his partners. Parker said he's such a nice guy people think it's an act.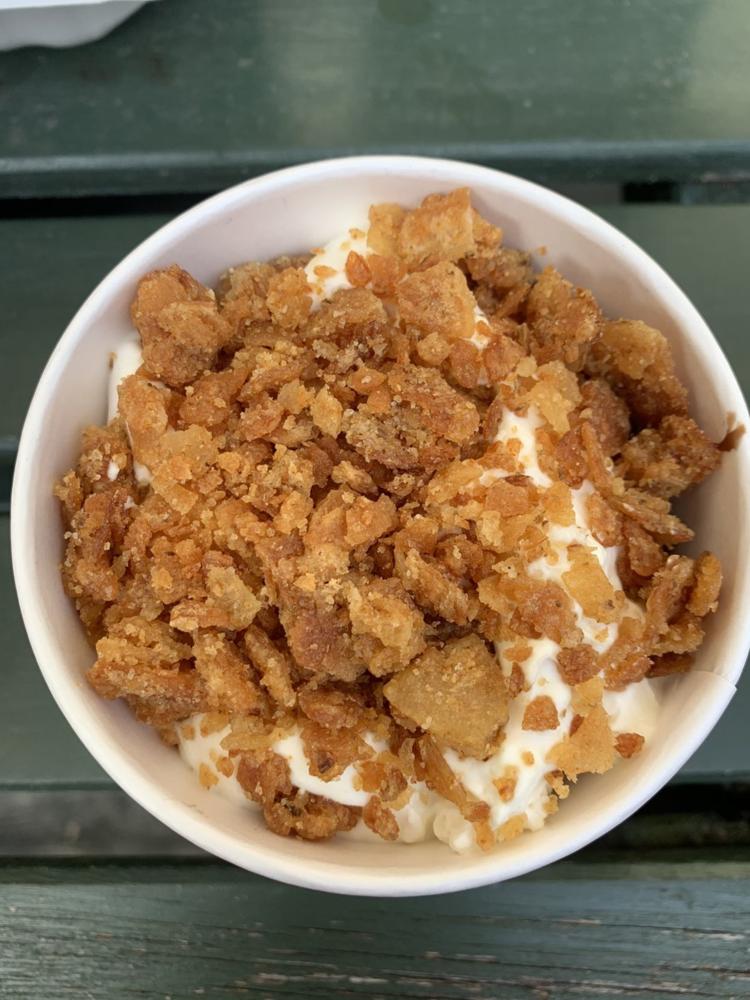 The friendliness extended to a name tag on the shopping bag and an assortment of swag inside: five Settle Down stickers in two varieties and two postcards.
The rewarding Settle Down experience starts with its easy website ordering system. The friendly touches extended to how the containers were labeled. The box of ghost fries had a drawing of a ghost to distinguish it from the regular fries.
I loved the vibe, I loved the people. I loved the burgers. Just maybe not enough to put a Settle Down sticker on my bumper.
Concerned about COVID-19?
Sign up now to get the most recent coronavirus headlines and other important local and national news sent to your email inbox daily.