The Cider Farm, a Madison tasting room that offers its own hard ciders along with a refined food menu, is preparing for winter with outdoor heaters and blankets for customers.
In the same building as the upscale market Brennan's Cellars on the Southwest Side, The Cider Farm opened in March 2019 and had to close due to COVID-19 one year later.
Since reopening June 1, it's survived with inviting open-air seating and a growing reputation for expertly made ciders and excellent food.
John Biondi, who owns The Cider Farm with his wife, Deidre Birmingham, said they've been able to seat 16 out front, plus 25 in an attached greenhouse when its garage doors are rolled up.
Indoors, with coronavirus restrictions, they can only seat 12. That's why they're trying to embrace the coming cold weather with portable heaters at each of their four patio tables and by installing radiant heaters in the greenhouse, where they host live music Friday and Saturday nights with the doors up and hope to do so into November.
They've also bought 35 blankets for customers to use and they're planning outdoor ticketed "ski parties," where customers wear their warmest clothes. "Everybody will come with their ski jackets and stocking hats and we'll see how that goes," Biondi said.
The Cider Farm makes and bottles cider with organic apples from Biondi and Birmingham's orchard and farm near Mineral Point. They started the orchard in 2003 and have 16,000 trees and counting.
They grow European cider apples, which Biondi calls "the wine grapes of apples." They're cultivated just to make alcoholic beverages, he said. "You wouldn't want to eat a Cabernet grape necessarily."
Biondi said they had a 15,000-gallon harvest this year and will turn that into about 10,000 gallons of cider and another 5,000 gallons of brandy.
The Cider Farm has seven of its own ciders on tap. I can't get enough of Gentry's Rosé Hard Cider from One Barrel Brewing, so I was pleased to see that The Cider Farm had a rosé cider ($10). Biondi said his is one of the few orchards in America to have red-fleshed apples, which with their pink juice are the basis for the rosé. It's finished with a little elderberry juice.
I was able to order it in a 16-ounce glass bottle as part of a carryout order. It was drier than One Barrel's and every bit as good.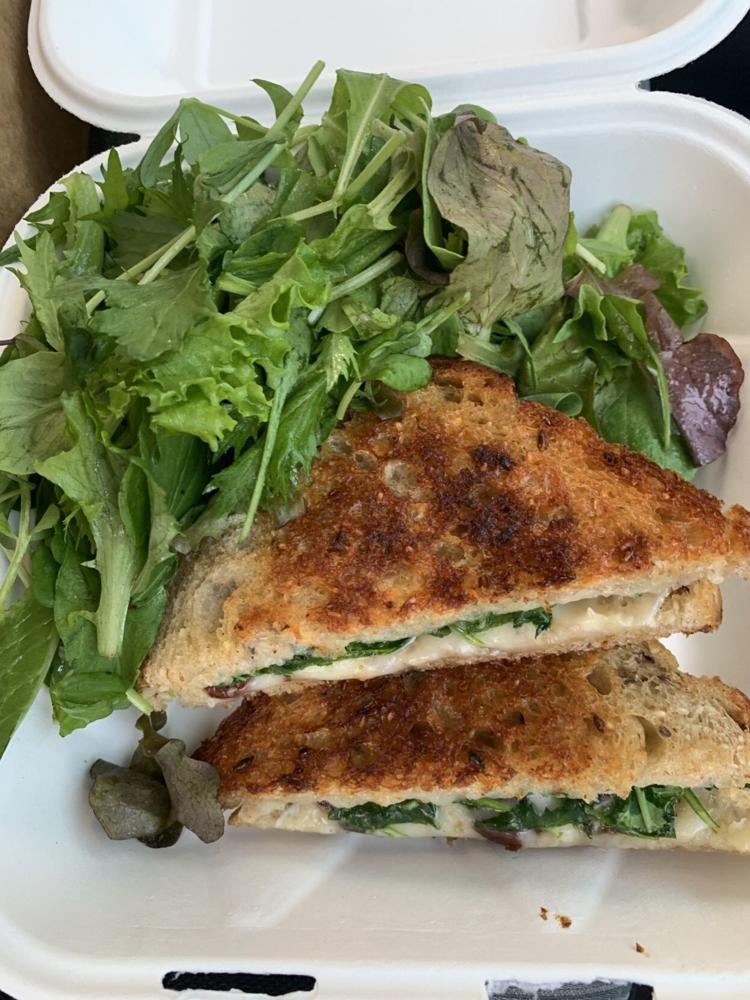 This column is devoted to takeout food, but those who dine-in can order an enviable flight of ciders. The Cider Farm doesn't make non-alcoholic ciders.
The sandwiches stood out most, served on crispy, grilled Madison Sourdough bread. The grilled cheese ($10) had Pleasant Ridge Reserve and Grand Cru cheeses, housemade jam and arugula; while the grilled organic ham and cheese ($12) had mustard aioli, red onion and microgreens. Small sliced gherkins made it pop.
Both had high-quality ingredients that went together perfectly. The ham, from Seven Seeds Farm in Spring Green, was thick, lean and flavorful — no ordinary ham.
Each sandwich came with a side of organic greens that were supposed to be dressed with an Equinox Cider vinaigrette, except neither was dressed and no dressing was included on the side. We were happy to use our own dressing, but were curious to try Cider Farm's signature one.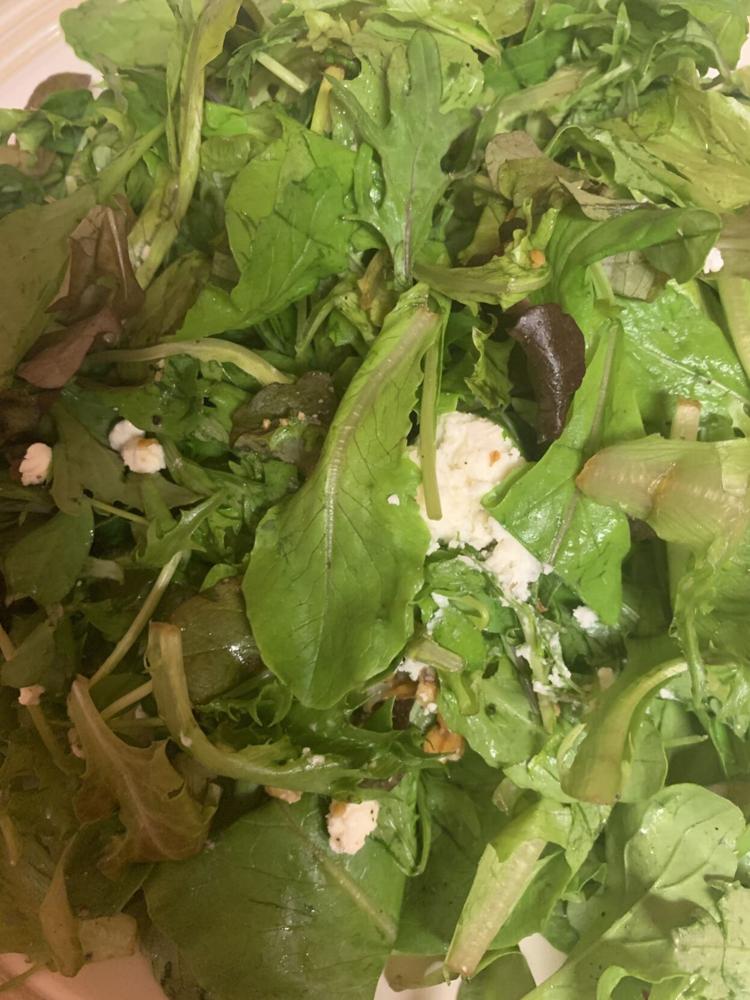 The absence of dressing was a bigger omission with the entrée-sized large Cider Farm salad ($12), which had the same tangle of greens. At first glance it looked like a box of lettuce, but once I tossed it, I turned up a small amount of pea shoots, a soft sheep's milk cheese, thin slices of cucumber and radish, and some walnuts pieces.
Biondi apologized for the lack of dressing. He said it's been such a hit they plan to bottle and sell it.
The menu has specials that change every week, and when I checked it a few days later, the salad had become more appealing with organic arugula and pea shoots, a trio of roasted beet varieties, walnut and cheese crisp, dried apples, and, of course, that elusive Equinox cider vinaigrette.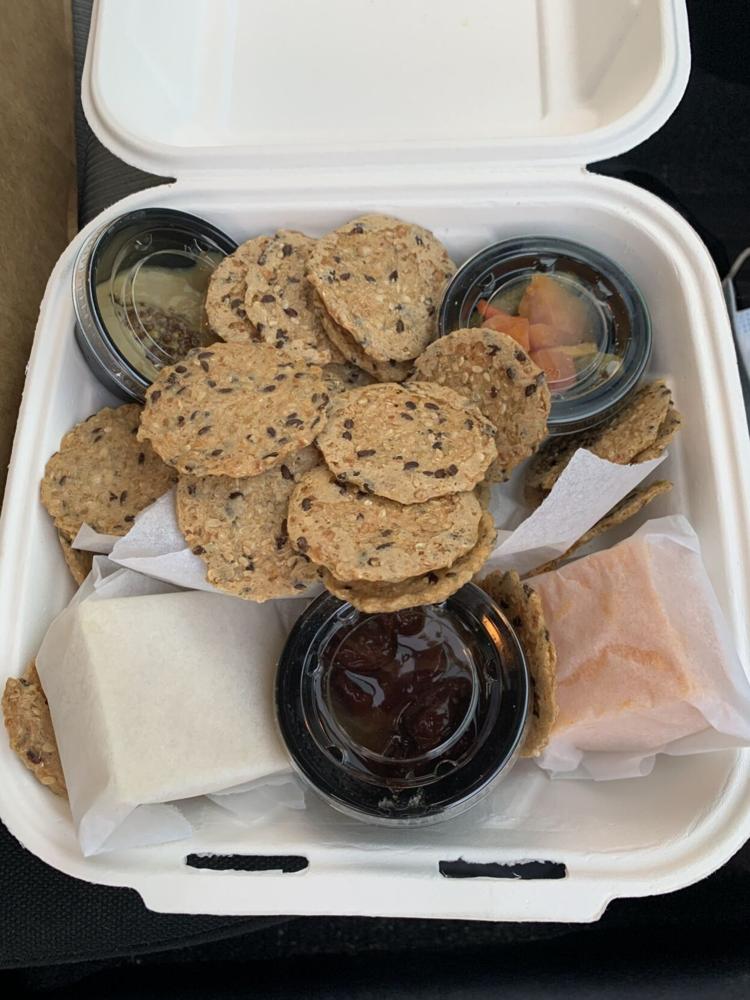 The organic oxtail chili ($14), also with meat from Seven Seeds, is not a permanent menu fixture, but makes frequent appearances. We ordered it despite its high price. But it had so much tender, flavorful meat, a fork was called for, not a spoon. It looked beautiful with Hook's 5-year cheddar melted over the top, and two slices of crusty baguette wrapped to the container. Its complex flavor and a welcome kick led my companion to comment: "I don't remember having better chili than that. This chili is mostly meat with few beans, the opposite of most chili."
I mentioned the high price to Biondi and he called back the next day to say they'd dropped it to $8. He said the compostable takeout container makes for a smaller portion than the dine-in bowl.
Lastly, ordering a cheese board ($16) online made it so we couldn't pick our cheeses. But it contained three selections from prize-winning Hook's Cheese Company in Mineral Point. The box also included Potters crackers and small cups of mustard, pickled vegetables and a cherry jam made with Door Country cherries.
The whole Cider Farm experience was full of surprises. I hadn't known it was attached to Brennan's, and showing up 15 minutes early gave us time to browse around and stock up on a few groceries.
It was a beautiful Friday evening and plenty of people were eating out front. Shekinah King, of Dodgeville, was singing Leonard Cohen's "Hallelujah," and the whole atmosphere had a wistful, waning-days-of-warm-weather feeling.
Hopefully, the heaters and blankets will work for Cider Farm fans. "People do want to dine outside," Biondi said. "It's no question, the safest place to be in this environment."
10 Madison restaurants with enhanced outdoor seating thanks to city's Streatery program
Outdoor seating has been a lifeline this summer for some restaurants lucky enough to have it, but it comes with challenges, and worse, an approaching end date with colder weather on the way.
About 87 restaurant and bar owners are taking advantage of the city's "Streatery" program, modeled after efforts around the world to help restaurants during COVID-19 restrictions by helping them increase their outdoor dining areas by extending into streets, parking spaces, parking lots and alleys. Twenty-six other applications are pending in Madison.
The efforts are in response to public heath data that suggests that al fresco dining is a safer option than eating indoors in restaurants. Or as Chicago Tribune columnist Mary Schmich put it, "a restaurant patio is a calculated risk."
Here are 10 Madison restaurants and bars taking part in Streatery.
Concerned about COVID-19?
Sign up now to get the most recent coronavirus headlines and other important local and national news sent to your email inbox daily.