Skal is the Scandinavian equivalent of "cheers" or "proost," and after eating takeout from the Norwegian-themed restaurant Skal Public House in Mount Horeb, you'll want to raise a toast.
Brian and Kim LaDow opened the restaurant in May 2018 on the city's Main Street in what was best known as Sole Sapori for 11 years. More recently, it was Hop's House Eatery and Pub; in 2017 the owner was found guilty of trying to burn down her restaurant the year before.
"We are the only business in town that has never closed one day for COVID-19," said Brian LaDow. He said they already had a good online ordering system in place, and when he saw "where the trend was heading" he stocked up on biodegradable to-go boxes.
"The rest of the world was kind of shut down," he said, adding that their Friday nights were as good as ever, except for alcohol sales.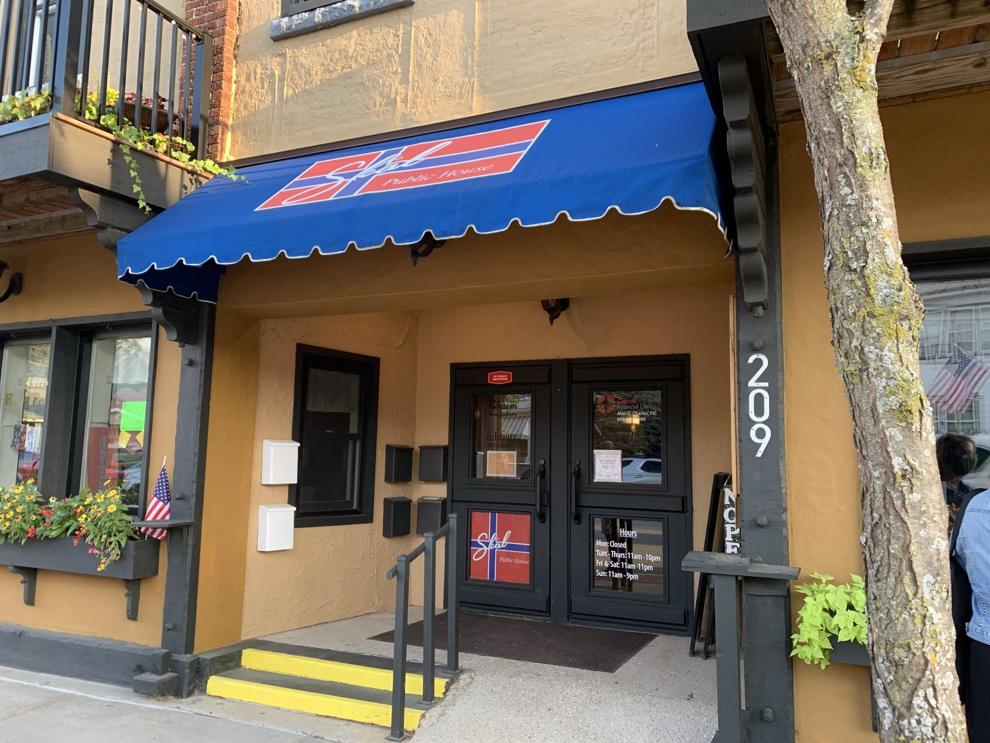 It took a couple of weeks before he figured out how to offer legal to-go cocktails, contactless curbside carryout and delivery.
In late May and through June, LaDow said, he saw a drop in business when restaurants in Dane County were able to reopen dining rooms at a reduced capacity. The public was in limbo, he said. "They were kind of done carrying out, but yet at the same time they weren't comfortable being inside."
July was a bit better, but in August, when he and Kim opened their charming patio on the side of the building, they had their best month to date. Sales increased 100 percent in a month, he said.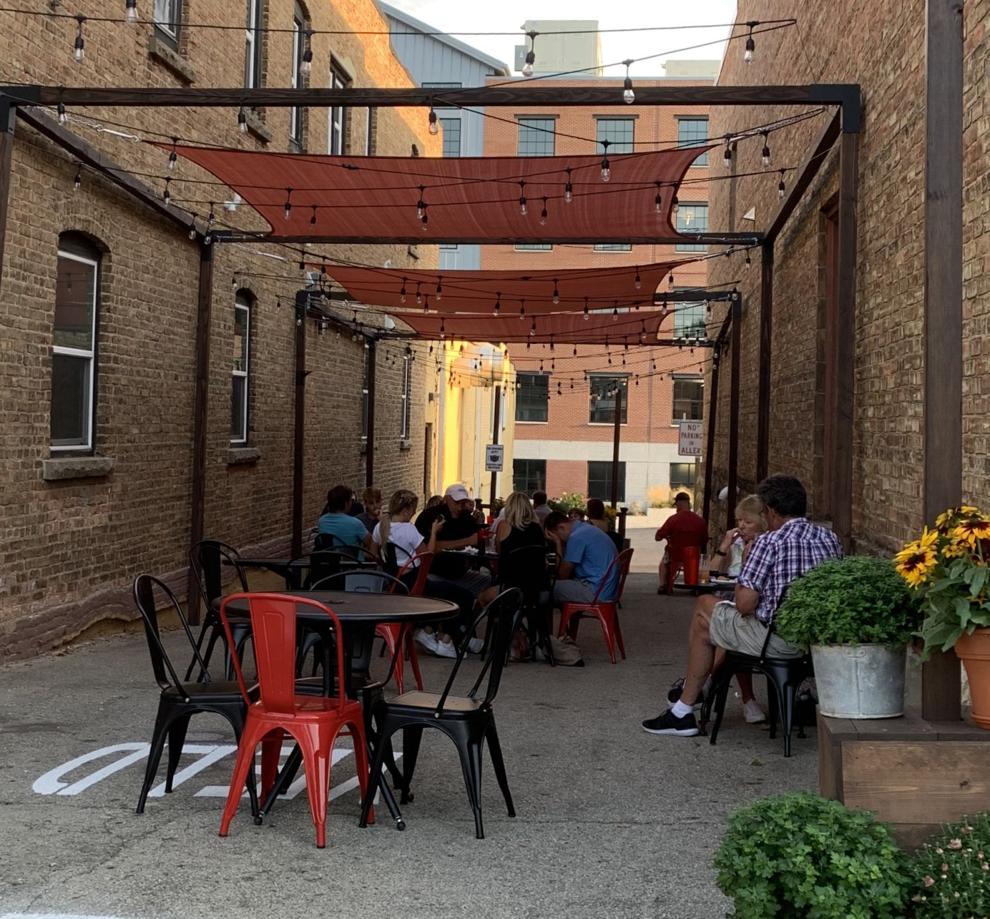 LaDow is right about the restaurant's ordering system through togoorder.com. It works well. I ordered at 5:45 p.m. on a Friday and the online form said our food would be ready at 6:45. That gave us plenty of time to drive there from Madison, and when we did, people were waiting outside, either for an outdoor table or for carryout. LaDow told me later they weren't at capacity inside that night.
An automatic email instructed us to call when we arrived. Kim LaDow was super friendly on the phone and apologized that they were running behind. It immediately felt like a true Wisconsin Friday, when all the best places for fish get slammed.
Our order was listed not by name, but by the make, model and color of our car. We waited 15 minutes, and when Kim LaDow brought the food out, she had included a piece of molten chocolate cake for the inconvenience.
Before we drove away, I took a couple bites of the fried bluegill that was part of the fisherman's special ($14.99) to taste it hot. Dipping it into the outstanding tarter sauce made me even more excited to get it home.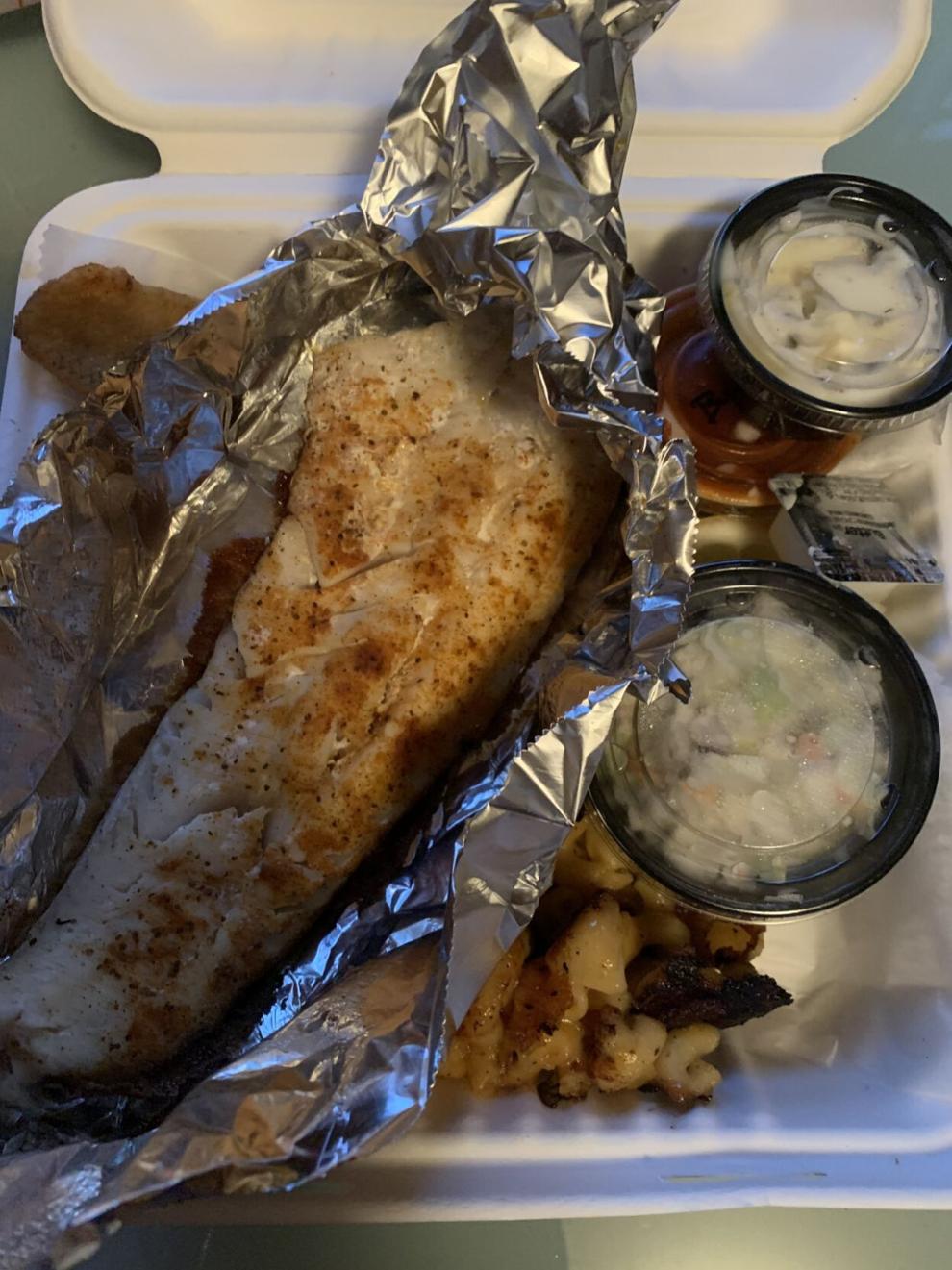 I also tried a few of the hot, unsalted shoestring fries to get a more accurate sense of them — and they were another indication this wasn't going to be an ordinary meal.
The fisherman's special included two fried bluegill in a fantastic batter; a large, flavorful perch filet; side of fries; crisp coleslaw with just enough dressing; and a forgettable dinner roll. I had the perch baked instead of fried and had to watch for a few tiny bones.
An appetizer called svinaplata ($11.99) — "pig plate" in Norwegian — was like Scandinavian nachos or loaded fries with a generous amount of barbecued pulled pork, and was another highlight. On a base of super-thin homemade sweet potato chips, it had red onion, bell peppers and shredded Parmesan cheese that wasn't melted. It came with an incredible sweet Sriracha aioli on the side.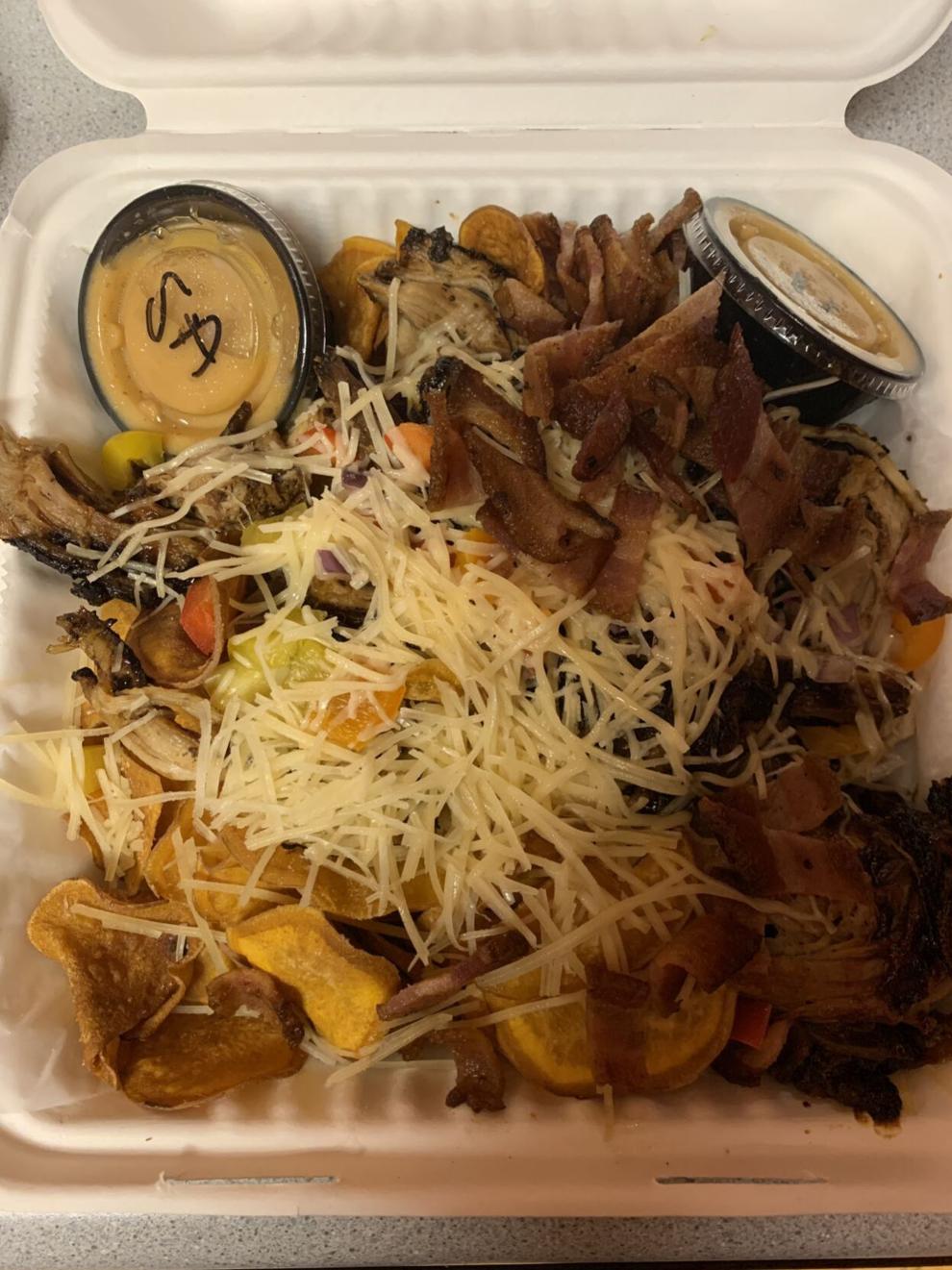 Brian said he's only had the svinaplata once because he "made a mistake of eating the whole thing" himself. I can see why that would be a one-time event. Not only is it ridiculously large; it's also decadent. The exceptional pork is a recipe of Kim's, and they get their meat from friends at Marr's Valley View Farms in Mineral Point.
The avocado toasted cheezer ($9.99) was more modest, almost like a deluxe breakfast sandwich with mashed avocado, grilled Gouda, a fried egg, tomato, and three strips of crisp, thick bacon served on 12-grain bread. The best part was a side of bacon mac and cheese ($3 extra) with two sizes of elbow macaroni that had been browned on the grill and caramelized with a touch of brown sugar.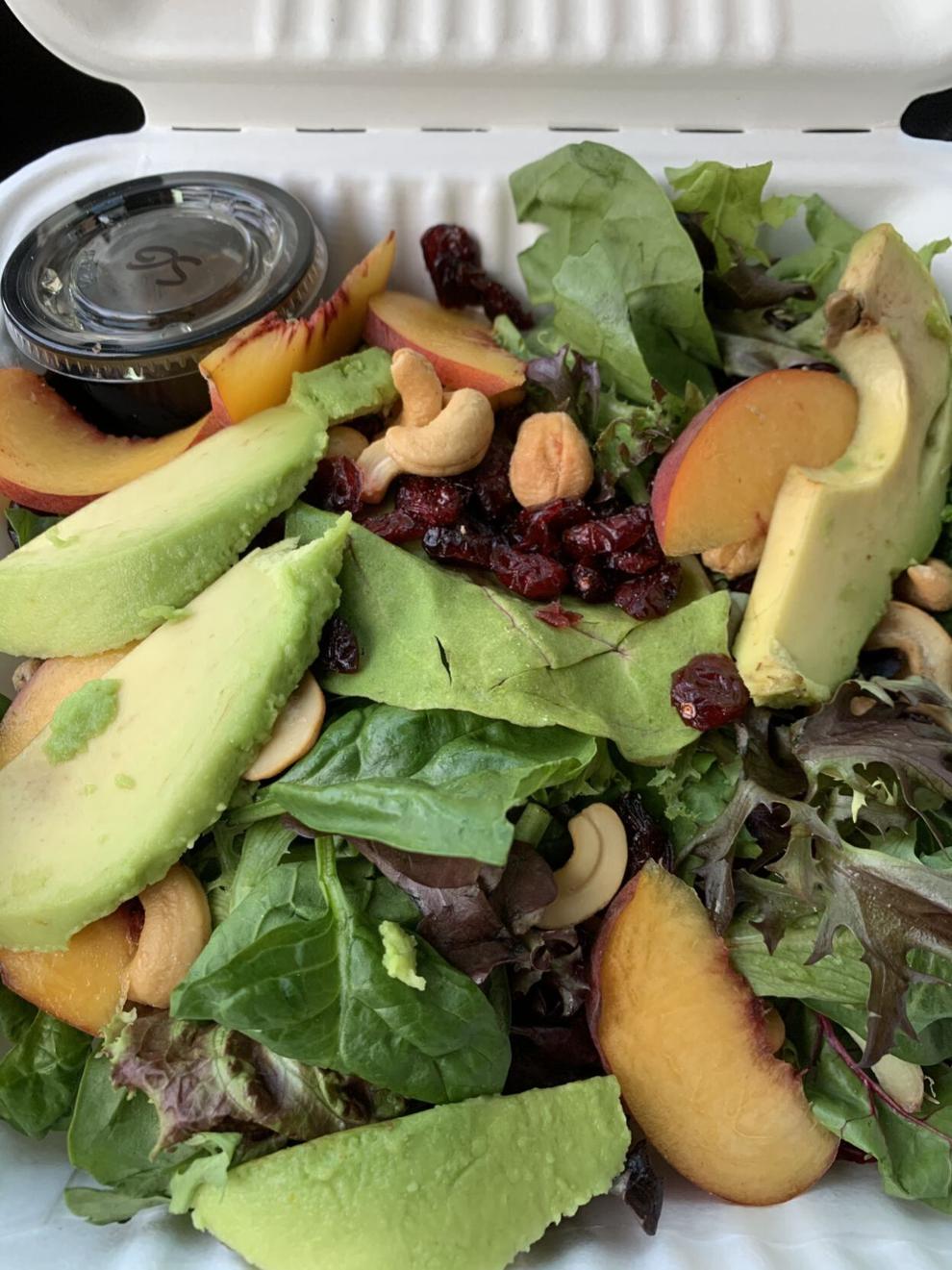 The peach salad ($10.99) was perfect for the season, with sweet peach slices on a mound of gourmet lettuce with lots of cashews and Craisins. Unlike the peaches, the thick slices of avocado weren't ripe.
I appreciated how all the boxes were lined with wax paper, except the molten chocolate cake (normally $3.99). Brian said the personal Bundt cakes are the only one of the three desserts not made in-house. That didn't matter: It tasted delicious and had just the right amount of dark chocolate truffle sauce oozing out.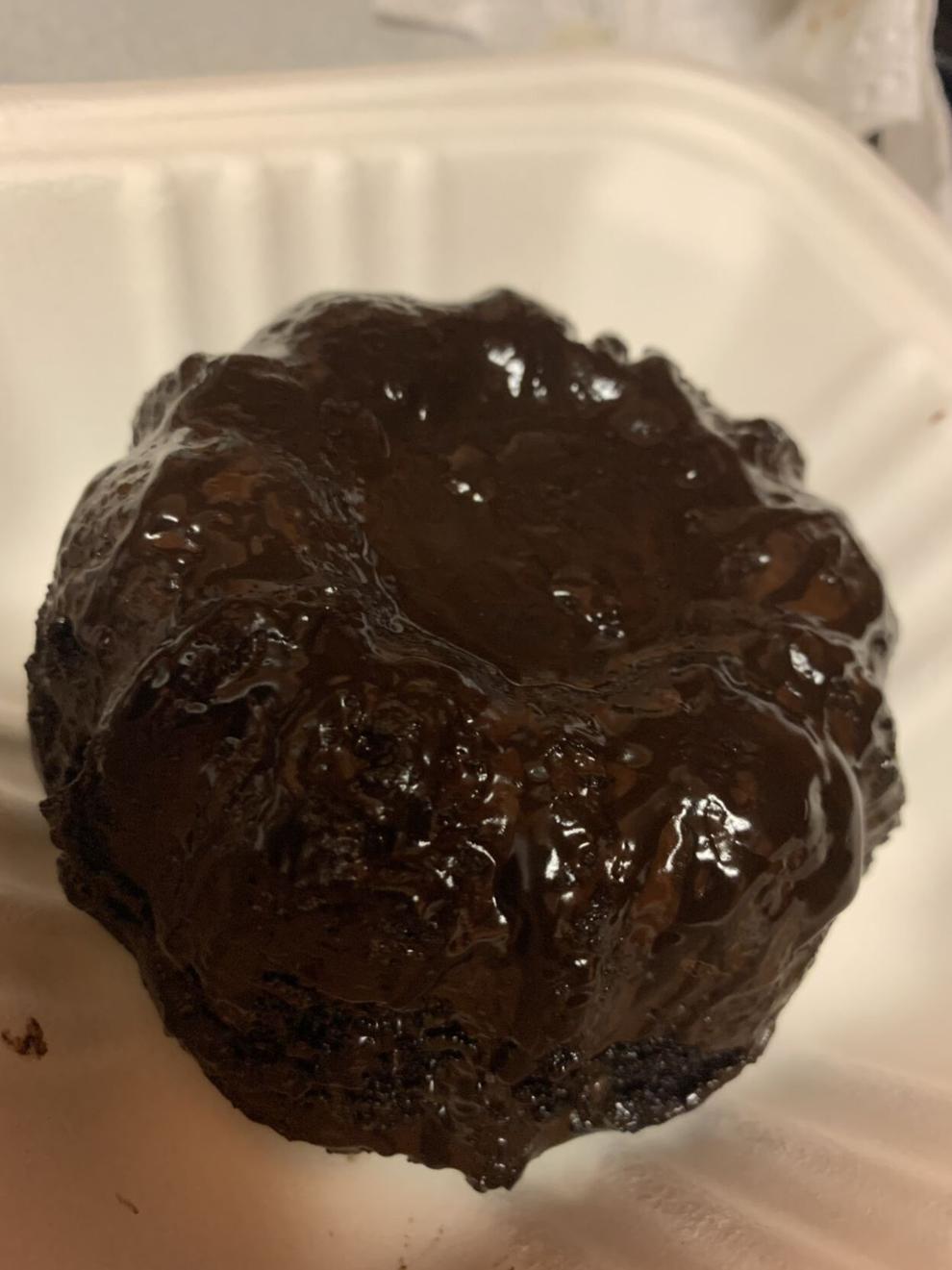 Although I didn't step inside, Brian told me he did all the work on Skal himself, repurposing barnwood from nearby Ridgeway, where he and Kim live. He has a background in construction and specialized in barn restoration for about 20 years.
He's a guy almost perfectly suited for a pandemic and described the cleaning regimen he goes through after closing each night. "I'm kind of OCD on cleaning, and I always have been," he said. "The rest of the world is finally catching up to me."