You'll be forgiven if you follow restaurants closely in Madison and have never heard of Kosharie, which opened under the radar on Regent Street in November without a sign and in place of Campus Biryani & Gyros.
Kosharie is owned by Fawzy Mohamed and his wife, Madiha Mohamed. Fawzy Mohamed has an impressive restaurant resume which includes 13 years as executive chef at Smoky's Club and three years as a sous chef at the Madison Club. When Mohamed arrived in Madison in 1999, he worked at the short-lived Cleopatra Restaurant, where Paisan's is now.
The Egyptian-born Mohamed previously owned two restaurants in New York City. He came to Madison on a vacation to visit friends and liked it. He said he moved here for what he believed at the time was a better education for his two children. "And now I have a doctor," he said.
He came to Madison, he said, for "the sake of education, safety and it's a beautiful city. All of that together."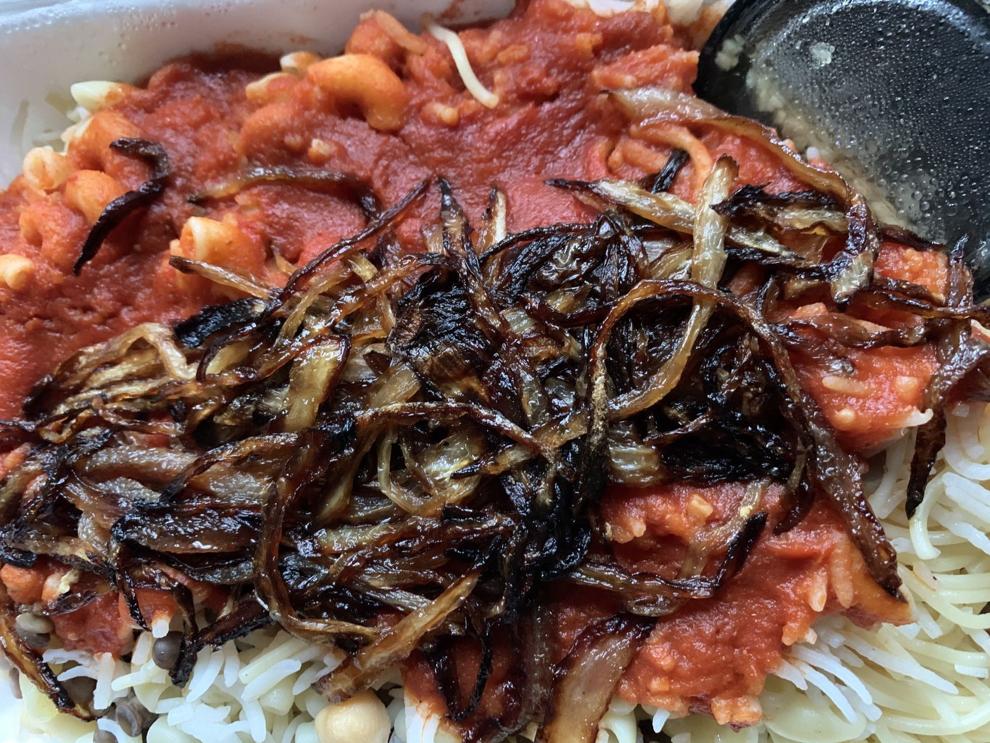 Kosharie's namesake dish ($5.99/$6.99) qualifies as a true "cheap eats" and even the small was big enough for two to share. The Egyptian national dish combined spaghetti, elbow macaroni, rice, lentils and chickpeas. It was topped with caramelized onions and tomato sauce and served with a little cup of vinegar with garlic and cumin.
It looked like the bizarre concoction of 7-year-olds left alone in the kitchen. "It's like they mixed up leftovers," said my dining partner. Still, it tasted amazing with a hint of sweetness from the onions and tomato sauce.
Kosharie turns out to be the only exotic dish on the menu. The rest is a hodgepodge of items a college student might order: fried chicken, chicken wings and tenders, chicken and waffles, gyros, subs, a Hebrew National hot dog, spaghetti with tomato sauce, and beef or chicken shawarma.
The restaurant sits in a campus area across from The Regent Apartments, and Mohamed said he does his best business late at night.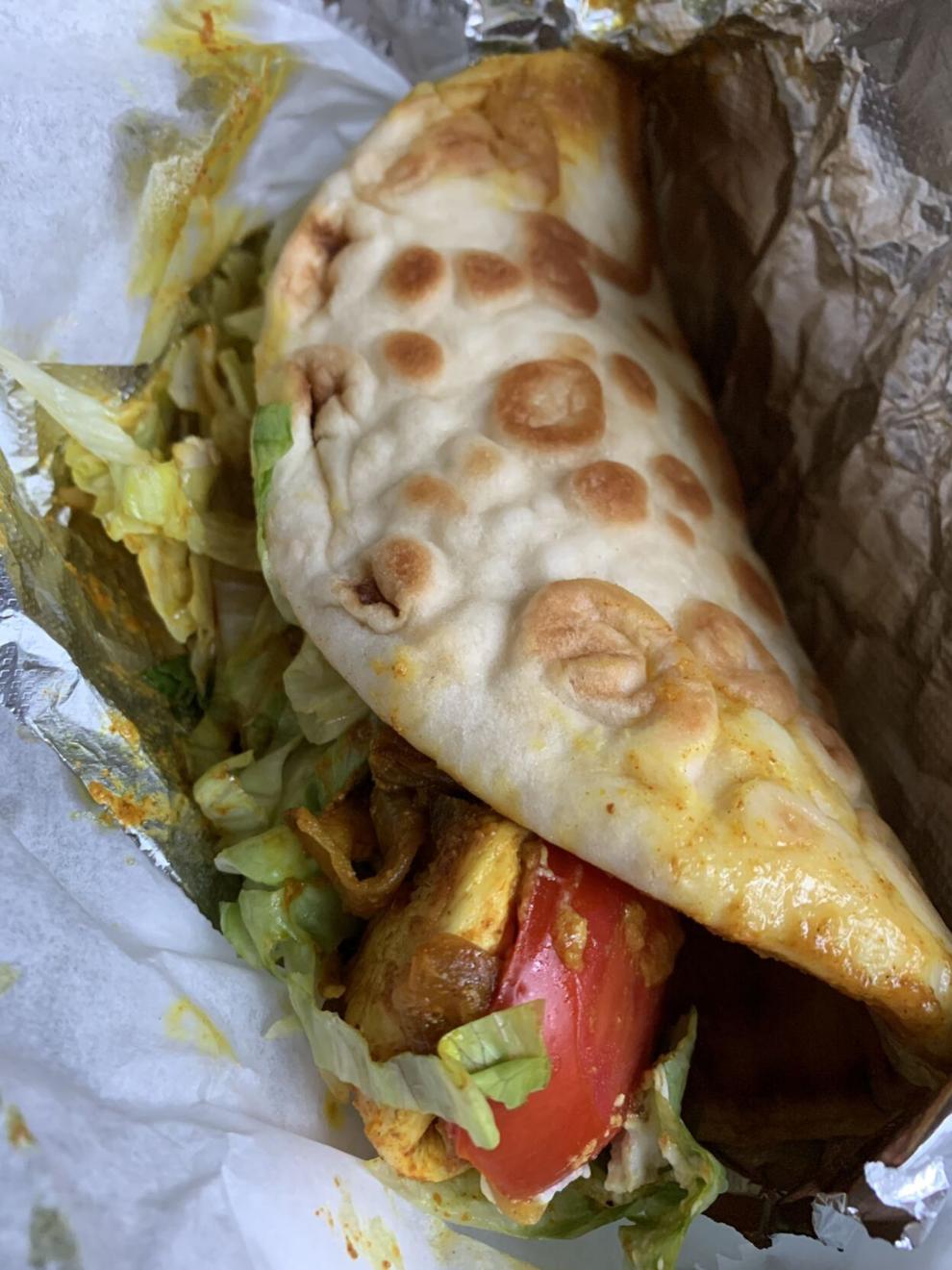 The fantastic chicken shawarma ($6.49) came on a fresh, puffy pita and was filled with lots of tender chicken that had a slight gyro taste because of the tzatziki sauce. The pita also held bright red tomato slices, red peppers, grilled onions and shredded lettuce.
Mohamed put a handful of salt and pepper packets and hot sauce packets in our bag. The hot sauce helped perk up the sandwich, but the shawarma was fine without it.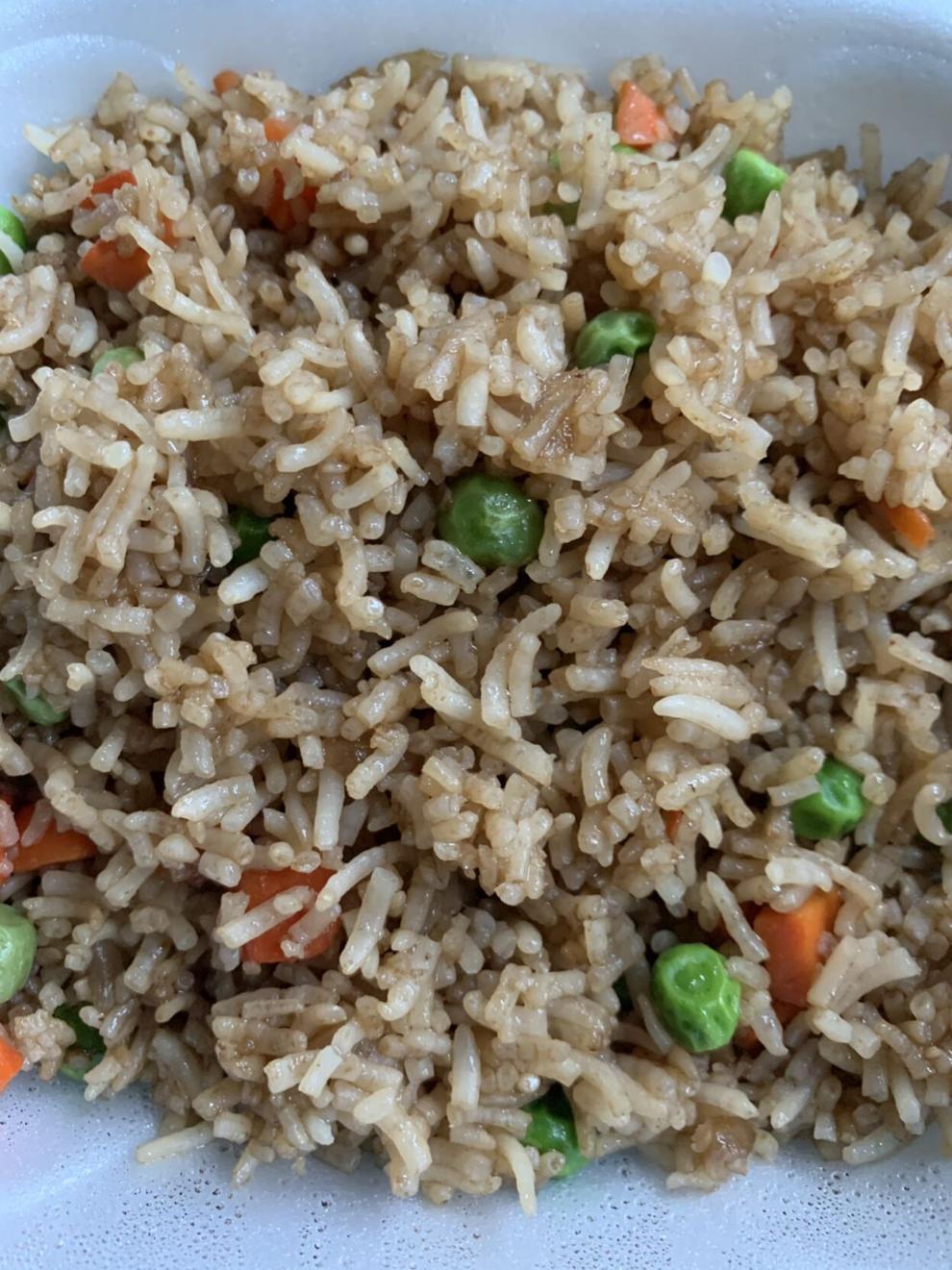 Salt and pepper improved a generous side of fried rice, which Mohamed offered with the wrap instead of fries. He called it Chinese fried rice, and it had peas and carrots, but next time I'd just go with the fries.
A side of pasta salad ($2.49) had a light mayo dressing and also needed salt. Like the kosharie, it had spaghetti noodles and elbow macaroni, and the combination of the pastas along with shredded carrot, red pepper and celery, gave it a fun texture.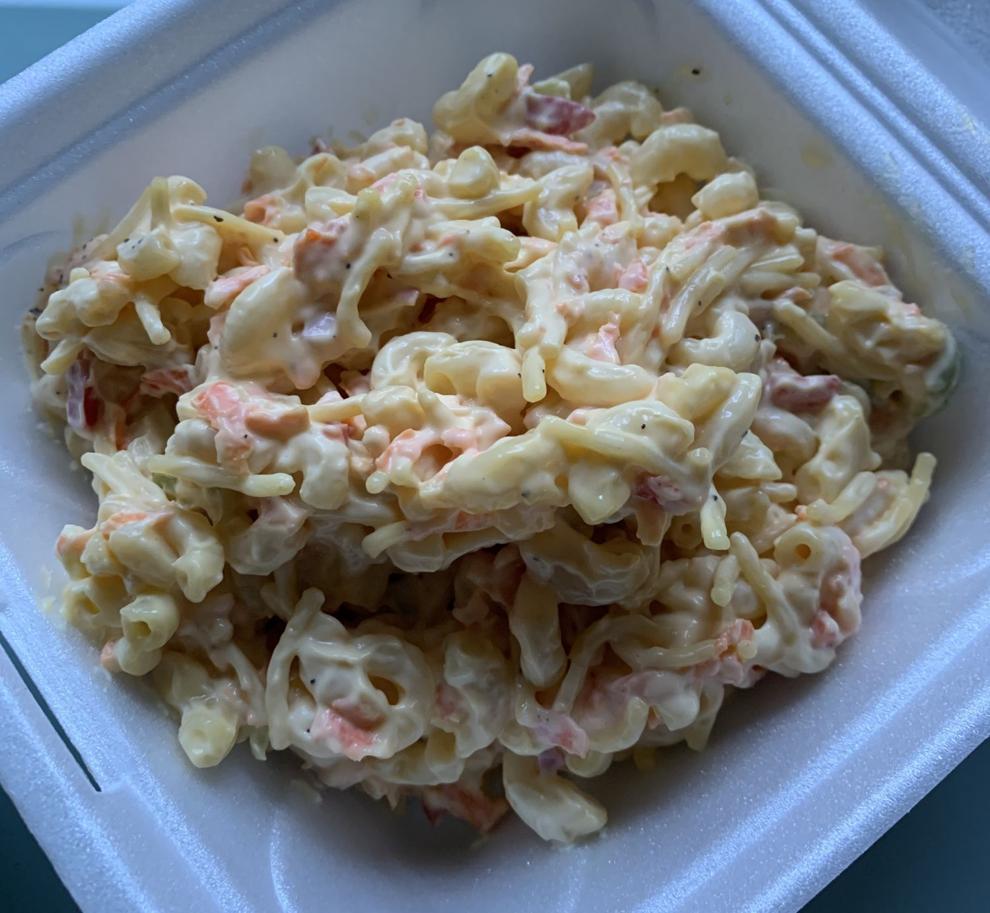 While there's a falafel wrap on the menu, you can also order four falafel balls ($4.99) with tahini. These were flavorful falafel, not at all dry and with no thick crust. The homemade tahini came in two small cups on the side and was superb.
Carrot cake ($4), one of four desserts, is worth getting. The rectangular piece of moist cake had two layers and a pleasant nutmeg flavor. It also had the perfect amount of cream cheese frosting in the middle and on top. Mohamed said his wife makes it every week.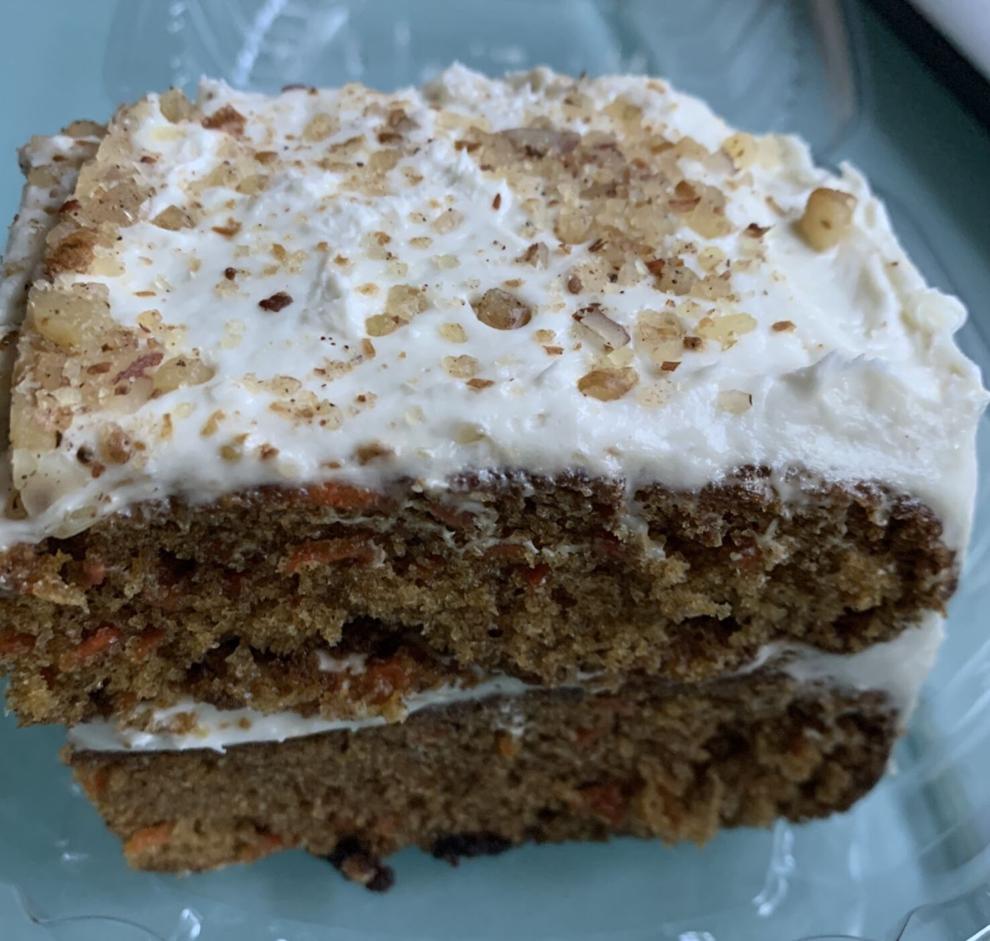 Fawzy threw in a handful of little wrapped candies that my 15-year-old daughter -- who ate them all before I had the chance -- reported were mints.
Kosharie has a well-designed website, and while it appears to let you order online, that feature wasn't active. So I called in my order and asked Fawzy if I could give him my credit card over the phone. He was reluctant, saying he doesn't want to keep numbers, but agreed to bring out my food. I wound up handing him my credit card through the window and he ran inside to ring up the order.
When he came out, there was nothing to sign and nowhere to leave a tip, so I popped in to give him a cash tip.
Later, during a phone conversation, he told me about 20 percent of his customers ask for curbside carryout. Those who come in pay on a screen that prompts them for a gratuity, Fawzy said.
We had a terrible phone connection that wasn't a problem when I ordered days earlier, and later Fawzy told me it was because his landline wasn't charged overnight. He also said he expects to have online ordering available this week.
Fawzy said he is renovating the space next door for another restaurant he's calling Mafia for Pizza and hopes to open by the first week in October. It will have seating on the sidewalk out front where customers can eat food from either restaurant.
Kosharie delivers through all the usual third-party services, and also has a driver go to UW Hospital and the VA Hospital Monday through Saturday every hour from 11 a.m. until 3 p.m., for what he calls a food "shuttle." The driver can take credit cards on a mobile reader. 
Opening four months before the COVID-19 crisis hasn't deterred Fawzy, who expects to have Kosharie's sign installed any day now. He has six tables inside, but hasn't offered indoor seating since the pandemic began. His business has been strictly takeout and delivery.
"It's hard," he said. "But we have customers who keep coming back. They're happy."