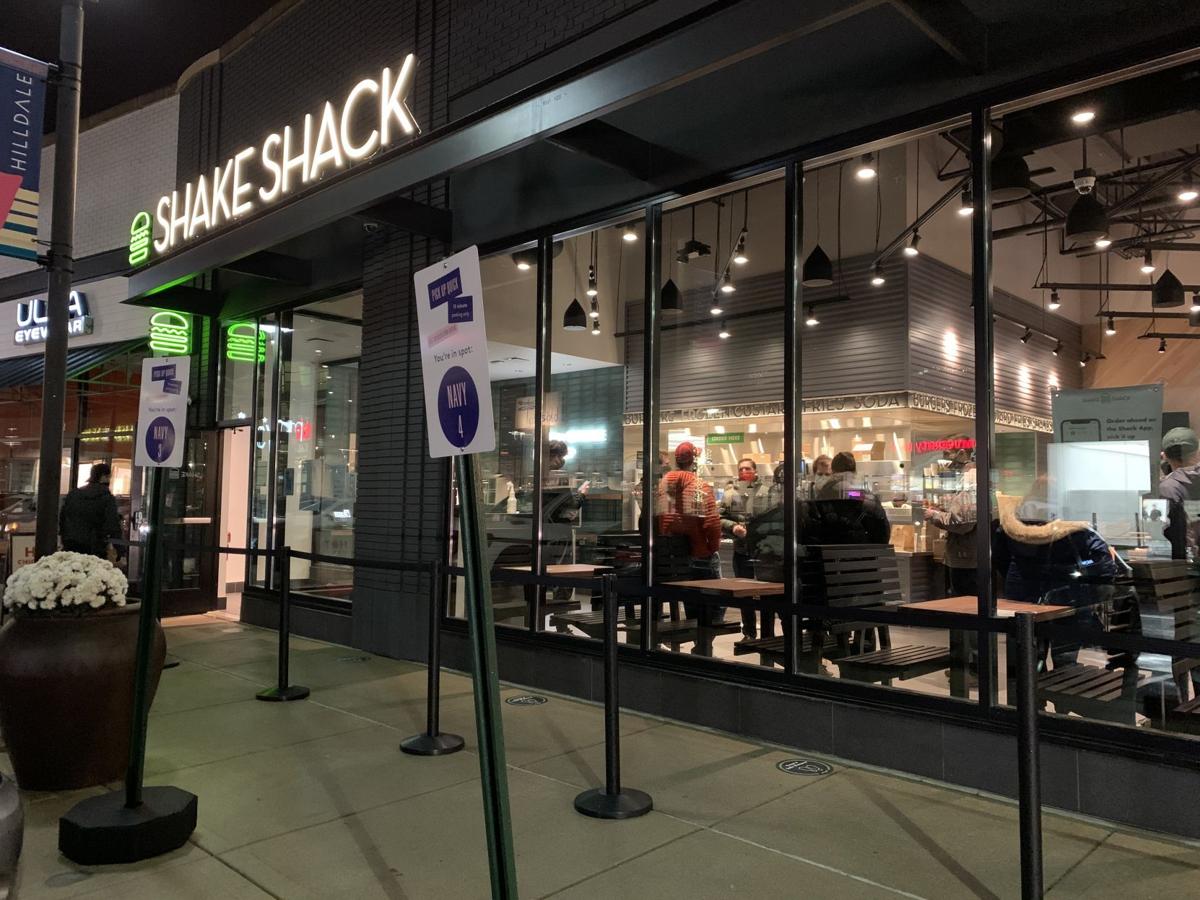 My friend Dave was the Madison Shake Shack's first customer when it opened Oct. 5.
For lining up about 45 minutes before it opened, he got a Shake Shack baseball cap, a card good for a free burger, and a pin recognizing the Hilldale location as the chain's 300th store.
He enjoyed the hoopla, texting me from the line, where he passed the time chatting with a couple of young Heritage Tavern employees waiting behind him.
Dave, one of the few people in my COVID bubble, eats fast food every day — mainly Culver's, McDonald's and Arby's — and asked if he could be my companion when I reviewed Shake Shack.
I'd written two stories before it opened and wasn't planning to write about it again, but sure, I was curious to try the upscale New York City chain.
So, it's with his First Customer distinction that Dave sized up my Shake Shack order the other night when I brought it to his apartment. He didn't expect me to include a grilled cheese ($3.79), but why not?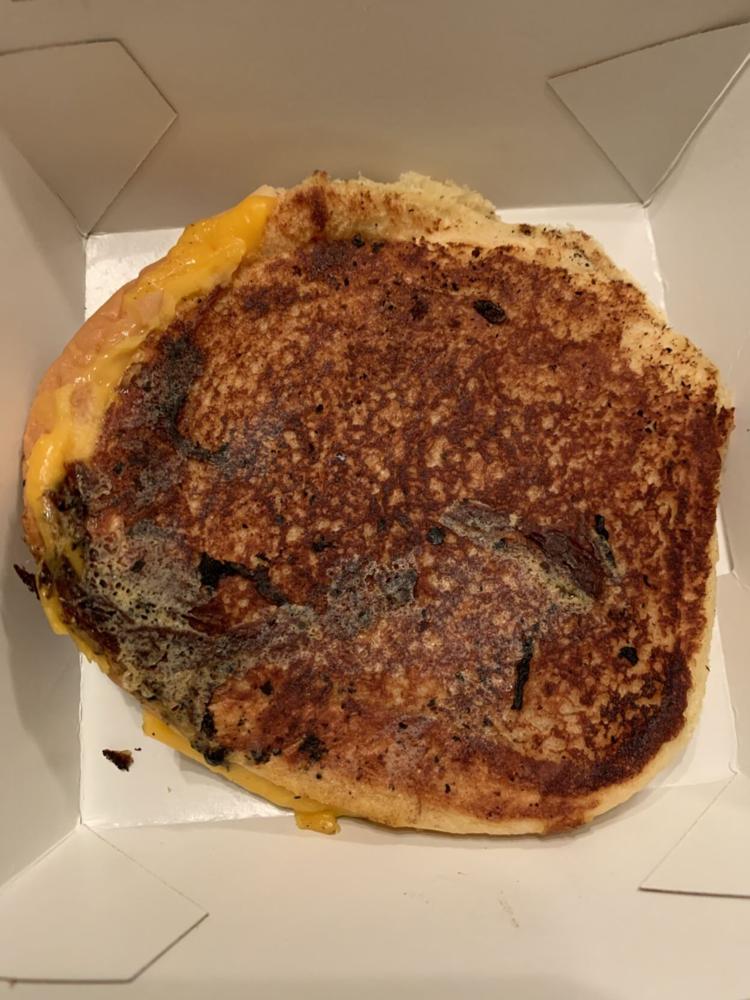 "The presentation is just awful," he said, likening it to a quesadilla. "It looks like it's been stepped on."
The flattened sandwich was comical, I'll give him that. But I can see where it would be a perfect option for young children. It tasted OK, and even though he criticized its looks and wondered if it was made with a Cheez Whiz-type cheese, Dave polished it off.
He insisted on a burger with a double patty ($8.29). I didn't see it on the menu, but eventually found it under the options when ordering a standard ShackBurger. I thought the burger tasted salty, but we both agreed it tasted like it was made from quality beef.
Cheese, lettuce, tomato, onion, pickle, cherry peppers and Shake Shack sauce can be added at no extra charge, and we went with all of it.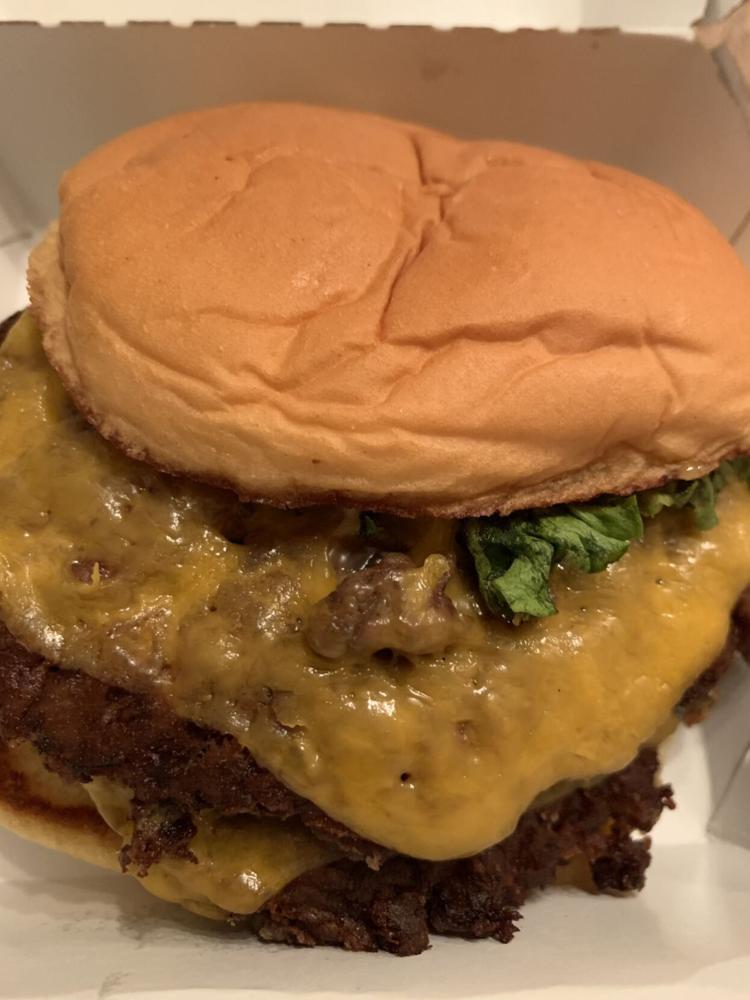 There were hardly any vegetables, and I couldn't detect the sauce, although the burger was moist. The onions were left off, the lettuce was sad and limp and withered into the meat, and the tomato slices were thin and paltry. Like most of the add-ons, I couldn't distinguish the peppers, either.
The hot chick'n ($7.09), a compact fried chicken breast with guajillo and cayenne pepper, packed surprising heat. And I chose the lowest of the three levels of spice: hot, extra hot and FIRE.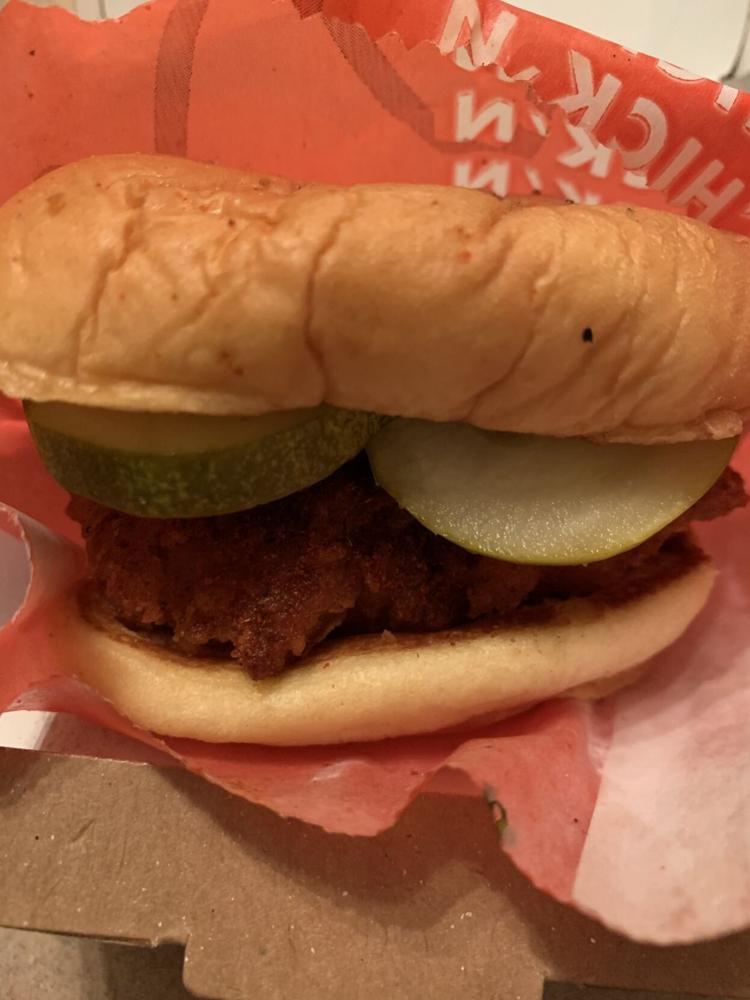 The meat was thick, but took up only half the bun. And while we enjoyed the sandwich, it can't compare to Chick-fil-A. Plus, it's almost twice the price.
The fries ($2.95), which were medium-thick and crinkle-cut, turned out to be the best part of the meal. You pay a lot more for the hot spicy cheese fries ($4.85), which come in the same heat levels as the chicken. The powder they were dusted with had great flavor as well as heat, but it could've been more evenly applied.
Cheese sauce came on the side, as did a little container of ranch dressing.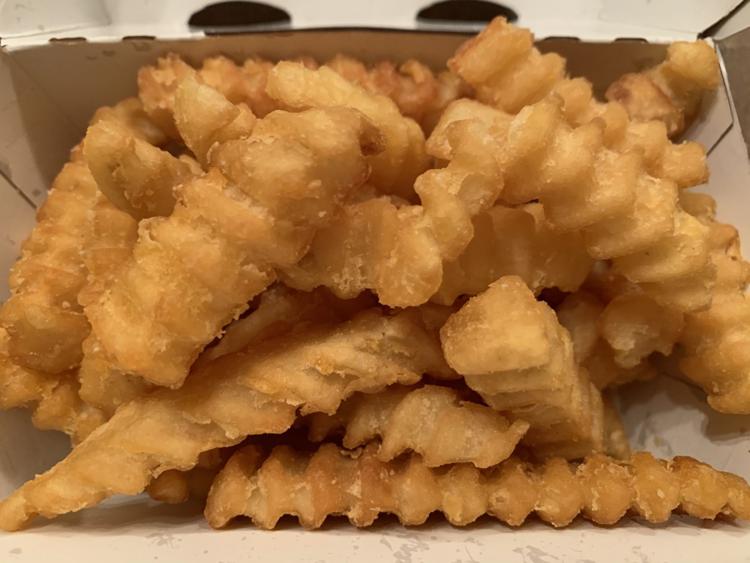 Danny Meyer, one of the biggest names in the restaurant business, founded Shake Shack in 2001 as a hot dog cart.
For that reason, we had to try the all-natural Vienna beef dog ($3.49), which was split down the middle and protruded from its bun on both sides. Like the burger, the meat tasted of quality. A few ketchup packs came in the bag, but we could've used some mustard. Many other menu options come with free extras, but the only one available for the hot dog was cheese sauce for 50 cents more.
Sunny Pho's menu draws on a wide range of Asian favorites, starting with a pho broth owner Kim Khouch cooks for 12 hours.
And the shakes? I got a chocolate one ($5.29) and it fine, but hardly special.
Ordering on the company's website is easy, but I neglected to fill out the "hand off details" field. That may have allowed an employee to bring the order to my car, since I was parked in a numbered stall in front. I tried to call the number on my emailed receipt to see if someone could run my food out, but I got nowhere.
Instead, my order was sitting on a table next to the counter. The doors were propped open, so it remained pretty much "contactless."
There's not a false note at Jamie Hoang's new restaurant Ahan inside The Bur Oak music venue on Madison's East Side.
It was a rainy night, and I waited until after the start of an evening Badgers football game to avoid crowds. Still, there were a lot of young people spread around the dining room — not in use under COVID-19 — waiting for their orders. Masks are mandatory.
After signing up for an account and placing my order, I got an email from Shake Shack telling me "you rock!" and another calling me a "Rockstar." In a P.S., the restaurant chain asked for questions, suggestions, or high-5's.
I did have some questions, but couldn't get a person on the phone, or a manager to call me back the same day. So suggestions, yes. High-fives? Not quite.
Concerned about COVID-19?
Sign up now to get the most recent coronavirus headlines and other important local and national news sent to your email inbox daily.