Luchador Tequila & Taco Bar's wide menu features all the standard fare, but it's the "Bad Ass" tacos that stand out most: Buffalo chicken, chicken tikka masala and a pot roast taco.
Brano Kruger opened the restaurant in early August on mid-State Street. He's the onetime general manager of Red Rock Saloon on Johnson Street, and opened Danny's Pub in 2017 on West Gorham Street in the place of Madhatter and Silver Mine subs.
Manager Charlie Todd said Kruger had been planning Luchador for about two years when he found the space that had been Roast Public House until March 2019.
Todd said the restaurant and bar with its 22 types of tacos and long list of unusual cocktails "was kind of a missing concept down here, in the heart of the entertainment district. There's certainly other Mexican restaurants in the area, but none of them really fit the niche that we're going for."
Luchador means "fighter" in Spanish, and the word is popular in Mexican professional wrestling, or lucha libre. The dramatic colorful masks luchadores wear into the ring have become iconic.
The Madison restaurant is also making a bold statement with its tacos, which would seem pricey if they didn't come in large tortillas packed with quality ingredients.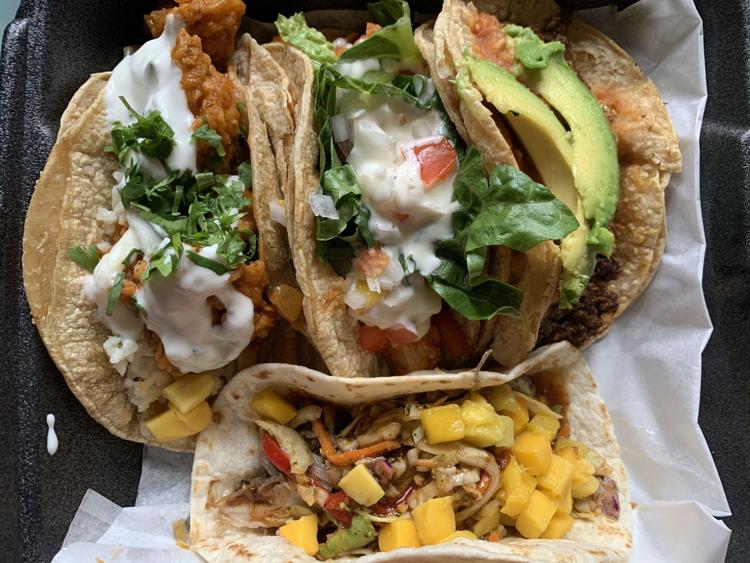 It's easy to see why the Buffalo chicken ($4) tacos show up as most popular on the restaurant's Toast ordering system, because they're stuffed with huge chunks of battered chicken. Customers are asked if they'd like to add ranch or blue cheese dressing to the taco that already has homemade Buffalo sauce from Danny's Pub, plus lettuce, tomato, onion, cilantro, pico de gallo and sour cream.
The chicken tikka masala taco ($4.50) featured the same deep-fried chicken along with cilantro lime rice, tikka masala sauce and raita (yogurt-cucumber sauce). It was fine, but I would've preferred that the meat wasn't fried.
The huevos & chorizo taco ($3.75) was less interesting, but had plenty of sausage mixed with scrambled egg, shredded cheese and salsa. A Caribbean jerk taco ($4.50) was notable for its flavorful carnitas, slaw and mango salsa.
The combination worked well on a flour tortilla. I ordered corn tortillas for the others and they were doubled up.
That 16 of Luchador's tacos are called Bad Ass "is a nod to being outside the box of traditional Mexican," Todd said. "Specifically our fusion tacos."
Luchador also sells the type of bowls chains like Chipotle and Qdoba have made popular. The "Lucha-Bowls" came with cilantro lime rice or lettuce, plus black beans, pico de gallo, shredded Monterey jack cheese, salsa — and lots of deliciously ripe avocado slices.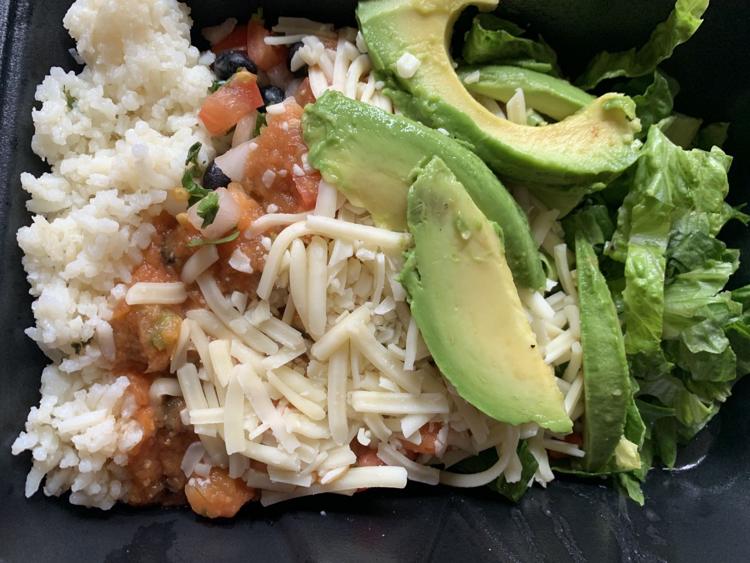 Both bowls we ordered were impressively heavy when lifted out of their takeout bag. Customers choose rice, lettuce, or both, which is what we did for a carnitas bowl ($10) and a "no meat" bowl ($9.50). The vegetarian bowl isn't on the website, but shows up on the restaurant's online ordering platform.
We added sour cream to the carnitas bowl and it was worth the extra 25 cents. The lettuce was Romaine and not iceberg, which was a nice surprise.
"Students and others will be happy to have such a large amount of food," said my companion.
An appetizer of "Bad Ass Elotes" ($8) was better after I gave the corn kernels 30 seconds in the microwave, which heated the cotija cheese hidden under a layer of mayo. The dish was distinguished from other Mexican street corn for the Flamin' Hot Cheetos dust on top, but it didn't add as much flavor as you'd expect.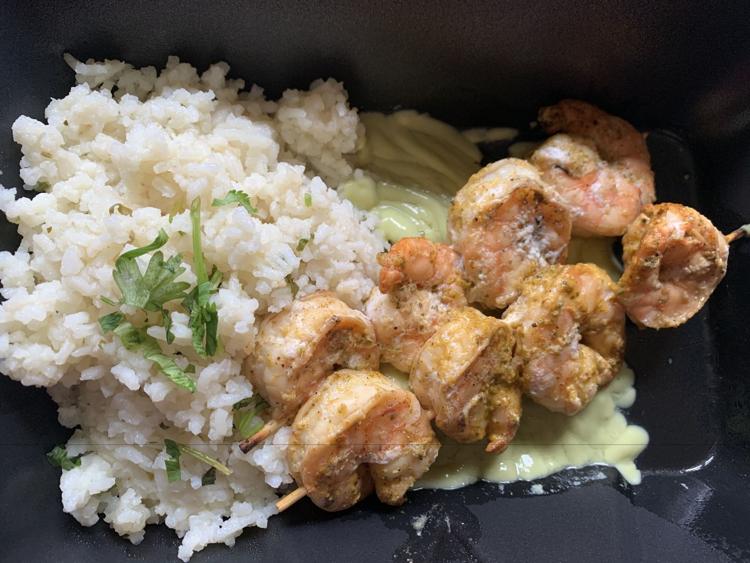 Garlic shrimp skewers ($9) came with eight grilled shrimp that had been slightly overcooked. They were perked up by avocado crema underneath, and came with a side of cilantro lime rice that was so substantial we didn't also need it as a side ($2.50). I also regretted a side of chorizo dirty rice ($3) because it was kind of mushy.
Sides of guacamole ($2.50), made with tomato, red onion and lime; and queso ($2.50) were fine, but so small they were hard to get a good read on. We got a huge, unexpected bag of chips, even though we didn't order large quantities of queso or guac. They were excellent, lightly seasoned chips. Salsa would have helped, but it's listed as its own appetizer (with chips) for $5.
Ordering online is easy; curbside carryout isn't. Luchador is on State Street so customers aren't able to drive up.
Our pickup was made harder because the phone number on the email receipt didn't work and my companion struggled to find a better number on his phone as we drove. When he finally did, the woman we talked to suggested pulling into the cul-de-sac in front of the Towers student apartment building. From there, I met her out front for the handoff.
It was mid-October and there were still three picnic tables outside. Todd said they've been making sure to maximize distancing there. "Obviously that's going to pose new challenges throughout the winter," he said.
He said Luchador has restaurant status, so it's able to seat inside at 25% capacity under Dane County COVID-19 restrictions: 26 inside and 36 on the patio when weather permits. Still, Todd said Luchador also has a strong bar focus, located "right in the heart of" the college bar scene.
"No one is without their share of challenges with everything that's going on right now," he said. "We certainly are surviving, and plan on making it through. … You have a new challenge at your doorstep every day."
Concerned about COVID-19?
Sign up now to get the most recent coronavirus headlines and other important local and national news sent to your email inbox daily.