Inderjit Kaur, co-owner of Royal Indian Cuisine on Madison's Far West Side, said her American customers are devoted to chicken tikka masala and butter chicken even though she tries to steer them to other dishes on her restaurant's lengthy menu.
"They are stuck to that," Kaur said.
"I promise, you will like the other food, too," she tells them. "Just try it."
Kaur said they take five to seven minutes looking over the menu, "but at last ask for chicken tikka masala."
It's hard not to like this dish since it's made with lots of cream and ghee, the clarified butter used in Indian cooking. I only have it when it's part of an Indian buffet, and it always is. Making a whole meal of it feels decadent.
However, under COVID-19 restrictions, buffets are out, probably until there's a vaccine. The U.S. Food and Drug Administration's best practices recommend limiting self-serve food or drink options, such as buffets, salad bars and drink stations.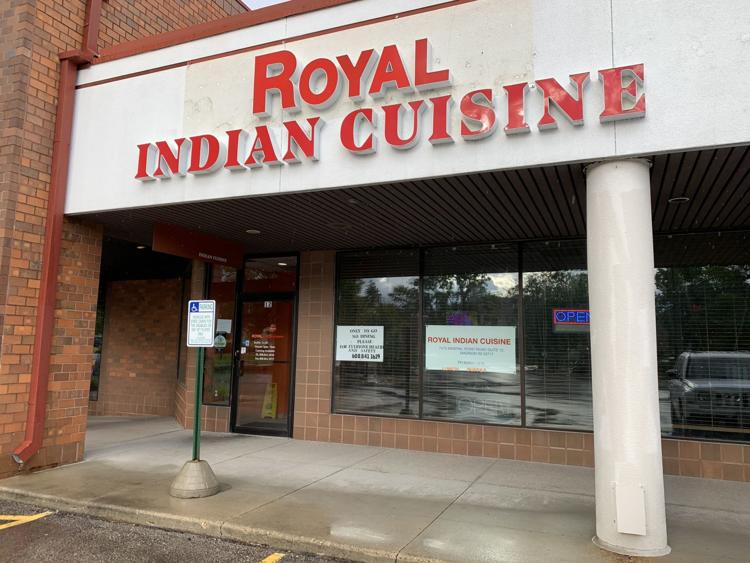 Before the coronavirus, it was the rare Indian restaurant that didn't offer a lunch buffet.
When Kaur opened Royal Indian with her husband, Shavinder Singh, last September, it featured a lunch buffet. These days the dining room is closed, even though Royal Indian is allowed to open at 50 percent capacity.
Kaur said they may open for in-person dining in the future, but for now, she's busy taking to-go orders over the phone.
My experience with Royal Indian started out badly because I ordered off its website, and wasn't sure my order went through because I didn't get a confirmation. Sure enough, they didn't get it. So I ordered by phone.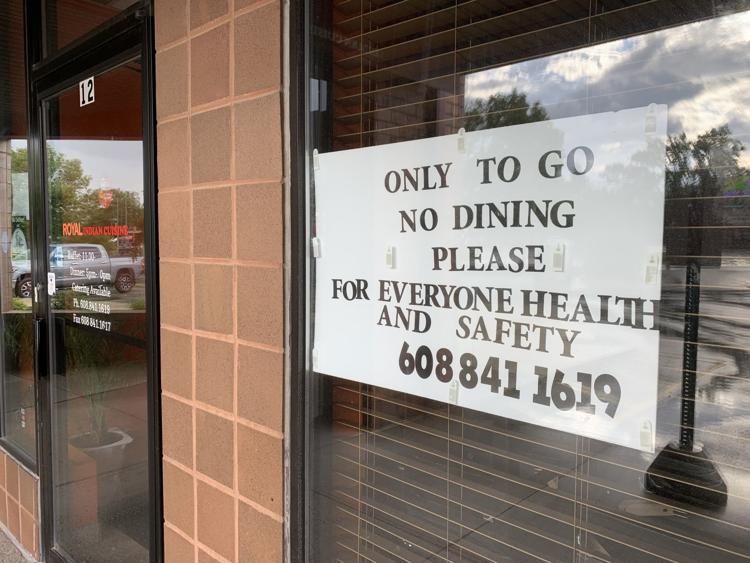 I later discovered the restaurant has two websites, and Kaur wasn't aware of the site royalmadison.site I placed the order on. Their true website, royalindiancuisinemadison.com, doesn't have an online ordering system yet.
Kaur said she hopes to straighten out the website situation soon, and said customers can also order from third-party delivery sites like EatStreet.
I gave Kaur my credit card number over the phone to avoid going into the restaurant. I called when I arrived, and even though at first my call didn't get through, I tried again and Kaur was happy to bring the food to my car and put it through the open passenger-side window.
Kaur said about half her customers come inside to pick up their orders. She runs the other half out.
I also appreciated how at Royal Indian some of the containers were covered in plastic wrap. Even so, the two liquidy dishes started to leak as I pulled them from the paper bag.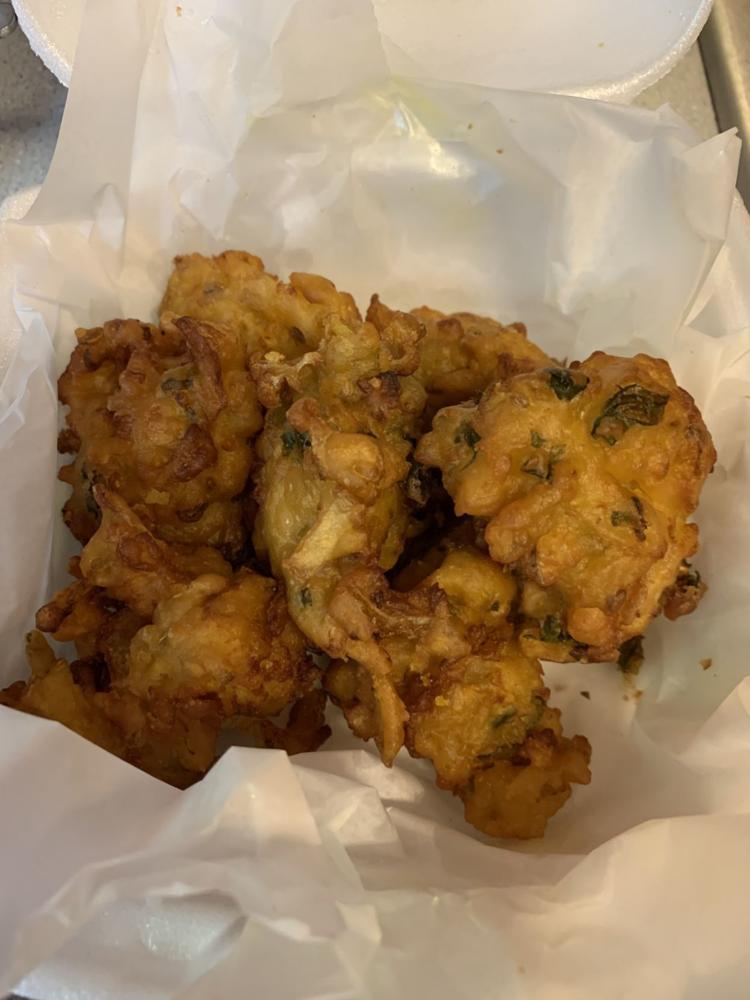 No surprise, the chicken tikka masala ($12.99) was the best dish in my order. The sauce had a perfect flavor and was loaded with big chunks of chicken.
The shrimp biryani ($14.99) was bland by comparison, but with plenty of shrimp. A container of raita, or tangy yogurt sauce with cucumber, helped punch it up.
A saag paneer ($11.99) was made with broccoli mixed into the creamed spinach, and had ample cubes of Indian cheese. It had a sour taste that grew on me as I ate.
Kaur said Singh, who does the cooking, makes the dish from scratch. She said it's his own recipe and takes four or five hours to make.
With both the chicken tikka masala and the saag paneer, I found myself having to fish an occasional cardamom pod out of my mouth. And the pakora and biryani also had a few big pieces of spice that got in the way.
Kaur said only the rice has small green cardamom. She was correct, that there was a bit of cardamom in the rice, but I also found bigger pieces in those two dishes when normally it would be ground or crushed.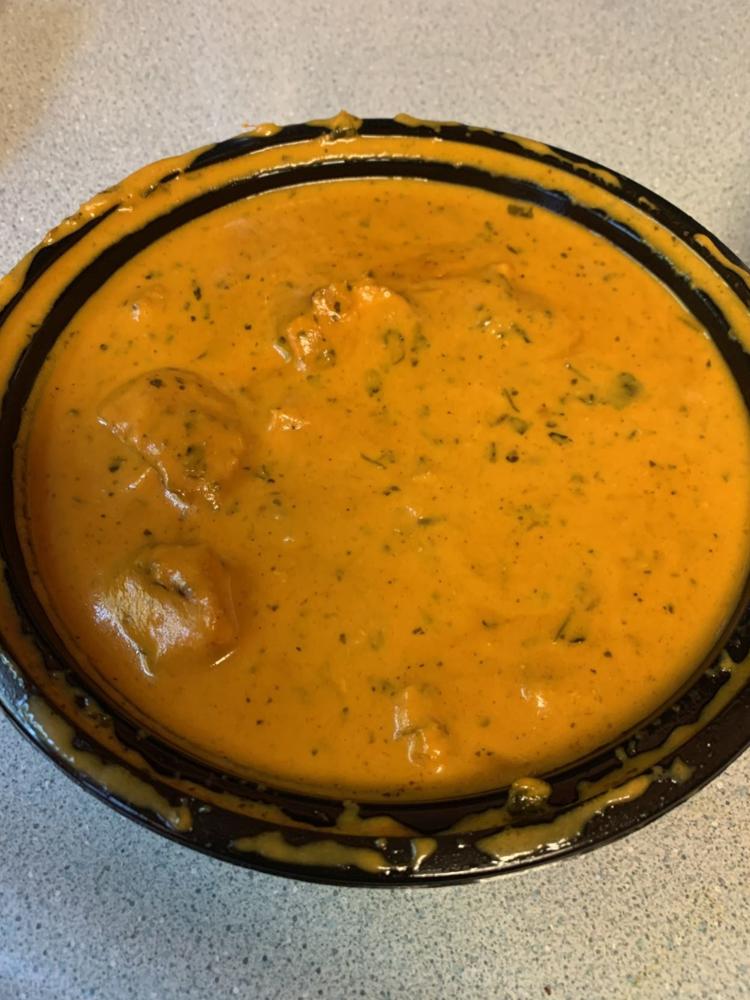 As a starter, an order of vegetable pakora ($3.99) was generous with 10 fritters, and came with two excellent chutneys: mint/cilantro and tamarind.
The restaurant is in a strip mall at Mineral Point Road and D'Onofrio Drive that used to have a Pier 1 and a Pedro's. Before Kaur and Singh took over, it was Haldi Masala.
Kaur said the restaurant opened at a tough time. "First winter comes, then COVID comes."
Royal Indian has offered carryout and delivery during the shutdown, and Kaur said business is improving day by day "as people know more about the food and more about the taste."
Kaur, who married Singh in 2013, said her husband cooked at Dhaba Indian Bistro in Middleton, but left after he had heart surgery. He's also worked at Swagat and the former Maharaja. Royal Indian is their first restaurant.
"He's very hardworking," Kaur said. "His dream is that. He comes early and stays late."
Kaur said they have two daughters, ages 5 and 2, who spend their time in the restaurant playing with toys, doing puzzles, crafting, painting with her, napping and sometimes "cleaning with me for fun."
Concerned about COVID-19?
Sign up now to get the most recent coronavirus headlines and other important local and national news sent to your email inbox daily.