"Food and wine is a lifelong learning experience," Kristin Williams told 25 people gathered for a memorable Italian meal in the event space behind the elegant vomFASS retail shop on University Avenue.
Learning is built into the Saturday night dinners at delecTable, an experimental event and dining space from the owners of the store, and it's done in an unpretentious, welcome way.
Williams, delecTable's executive chef, and Hudson Doolittle, a sommelier there, gave short explanations between each food and wine course, and there were four of each during the meal dubbed "Savoring Bulking up for Winter."
Customers register in advance through Eventbrite, and our meal cost $64.70 per person including drinks, sales tax and gratuity.
The cost also included an Eventbrite fee that has since been eliminated, owner Justin Gibson said. The cost now is $59.05 (or $49 plus tax and tip), he said.
The room has an open kitchen, a bar, and seating along the kitchen island for people interested in watching Williams and her sous chef at work. During our two-hour meal, few diners seemed to pay much attention to the three large screens above the island, which offered detailed cooking views.
The first course set the tone with a wild mushroom arancini, its thin, crisp shell fried to a golden yellow. The crimini mushroom risotto inside with fontina cheese was cooked just right, and the large ball sat in a wonderfully smoky, paprika-laced tomato sauce.
The appetizer came served with my favorite beverage of the night, Santome prosecco, made extraordinary by a dash of vomFASS grape balsamic vinegar.
Next up was a Tuscan ribollita, a cross between a soup and stew, with white beans, tender kale and Neuske's bacon. The exceptional broth was enhanced by a basil pesto, Italian parsley and vomFASS olive oil.
The meal showcased many vomFASS products, leading a number of guests to make purchases in the store after the meal.
"The beautiful part about having delecTable attached to vomFASS is that we have the best quality ingredients in the world right there at our disposal," Williams said. "This has really helped me take my educational abilities to the next level."
It's one thing to talk to somebody on the sales floor about how they can use a garlic-infused olive oil in their kitchen; it's another thing to show them, she said. "And to give them a sample of the magical things they can do with a product."
Paired with the soup was a 2014 Ten Acre chardonnay from the Russian River Valley in Sonoma County, California, that made my dining partner rethink his disdain for white wine. Doolittle talked about the wine having hints of peach and dandelion, but I didn't detect either.
The main course, a stunning osso bucco, was made with fatty chunks of beef minus the expected shank bone. The meat had been braised (in red wine) to extreme tenderness and was served on a mound of saffron polenta and topped with a slow-cooked carrot. Gremolata — a chopped herb condiment made with garlic, lemon zest and parsley — and a horseradish sauce were inspired.
This dish came with a Pughouse 2009 Shiraz from Australia that was rich and bright.
Dessert was a zeppole, a lightly fried donut ball made with ricotta cheese. It came paired with homemade espresso gelato. What heightened this course was a vomFASS grappa amarone, which Doolittle likened to brandy in terms of it being a distilled spirit made from grapes.
Williams, her sous chef (co-owner Lark Gibson), and Doolittle got a well-deserved round of applause at the end of the meal.
The price seemed reasonable when you consider it included four drinks, phenomenal food and stellar service.
The dining room is somewhat sterile, more like a cooking classroom — another of its uses — than a fine dining restaurant. Because there were two of us, we were seated at a table with another couple. Those uncomfortable sitting next to strangers could instead register with friends.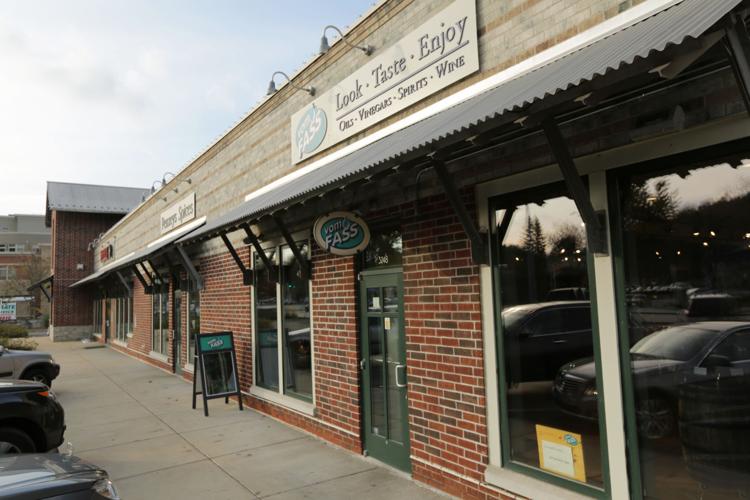 Justin Gibson brought the vomFASS retail brand to the U.S. from Germany in 2007, opening the original store on University Avenue with his father, David. Gibson bought his father out last year so the elder Gibson could retire. A State Street vomFASS with different owners opened in 2015.
In May, Gibson's wife of three years, Lark, became a partner in the store as well as in delecTable, which opened to the public in September.
The idea with delecTable is to expand upon the open kitchen or chef's table concept. Initially, Justin Gibson hired Food Fight's talented Matt Pace as delecTable's culinary director, but the hours weren't working for Pace and they amicably parted ways late last month, Gibson said.
Gibson and his staff are carrying on brilliantly with the signature Saturday meals they call "culinary dinner theater."
That fits perfectly. It's dinner, education and a show all in one.