Madison is lucky to have a number of excellent brewpubs where the food is equal to the beer. And for the last four years, Stoughton has had one, too: Viking Brew Pub.
Owners Vik (prounced "Vike" as in "Viking") and Lori Malling take food seriously, as evidenced by their hiring of David Johnson, a graduate of the Culinary Institute of America in New York, who'd had a 40-year restaurant career.
Johnson set up an early menu, but for the past three years the brewpub has been working with consulting chef Jan Solberg, who's main gig is with the Woman's Club of Wisconsin in Milwaukee. Solberg expanded Viking's menu.
It's a menu that offers plenty of appealing choices: 10 appetizers, six salads, a dozen sandwiches, burgers, three fish entrees, Asiago chicken Alfredo, ribs, smoked salmon chowder, and chili.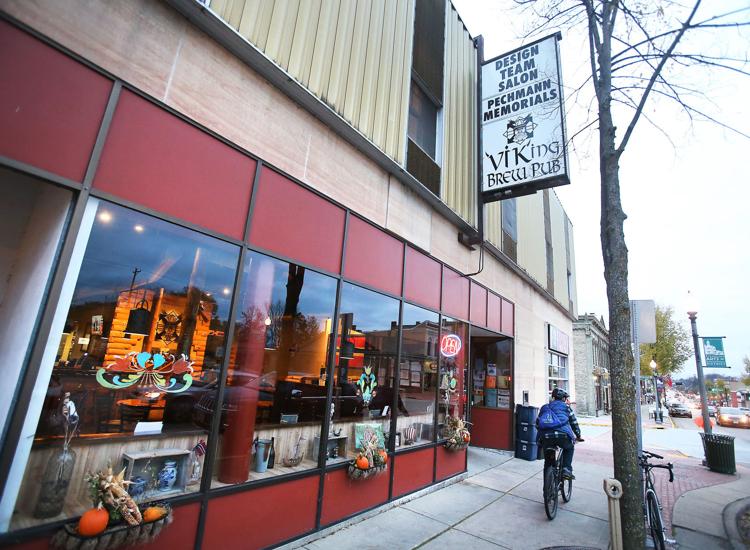 Everything is made from scratch, Lori Malling said.
The chowder ($5 cup, $7 bowl), from Solberg's recipe, was perfectly executed, not overly creamy and not overly thick, with leeks playing a central role. It also had potatoes, corn, celery, and small pieces of salmon. An entree-sized Caesar salad ($9) was well composed and equally satisfying.
The seared mahi mahi ($18) was a dish that could've been served in a higher-end restaurant. The thick filet was meaty and flaky, and its mango salsa was topped with thin tortilla strips, which threatened to cheapen the plate, but actually worked. The fish was served over delicious cilantro rice.
My companion had the Saturday special, Norwegian meatballs ($12). It was a good representation of a classic dish that speaks to Stoughton's heritage. The four meatballs were large, well-seasoned, and covered with a beige gravy that also enhanced the superb mashed potatoes. The coleslaw on the side was made more interesting by the addition of dried cranberries.
For dessert, the chocolate cake ($5.25) was more extravagant than we expected. A moist bundt cake was flanked by two huge scoops of vanilla ice cream drizzled with chocolate and raspberry sauces. "This could turn me on to desserts," said my companion, who usually doesn't eat sweets.
Viking's beer selection is as compelling and varied as the food menu. The pub has 12 beers on tap, 10 of them made on site. They were out of the one beer I wanted to try most, a guest beer from New Holland called Dragon's Milk Reserve. It's an imperial stout made with banana and coconut.
Still, I enjoyed the four more standard beers in my flight ($6) of four-ounce glasses: The Nordic Blonde, a light, smooth lager; the Midnite Sun, a cream ale with a hint of creamed corn; the Uff Da, a malty Belgian Tripel; and the Dragon's Milk, a dark, rich stout, also from New Holland, but not to be confused with the out-on-a-limb Dragon's Milk Reserve.
You have free articles remaining.
Register for more free articles
Stay logged in to skip the surveys
The Nordic Blonde and Midnite Sun are two of Viking's original beers, and it's easy to see why they've stuck around.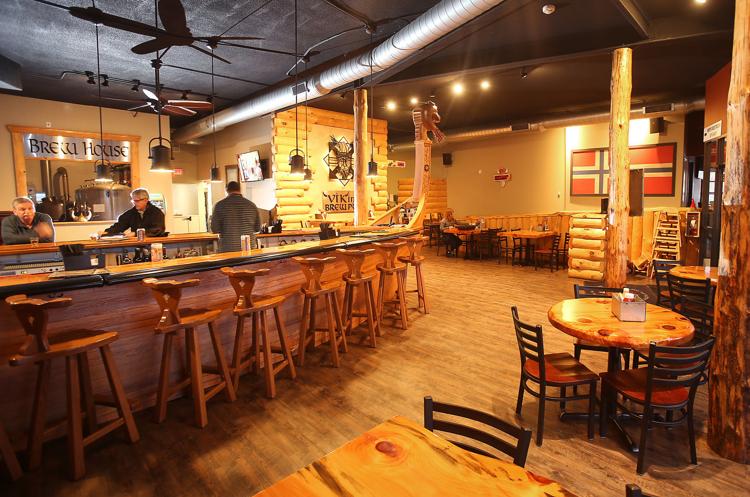 At 5:30 p.m. on a Saturday, all the seats around the room's centerpiece — a bar built as a Viking ship with a dragon's head at its bow — were taken. The room was packed and loud.
If there's a big show at the nearby Stoughton Opera House, as there was this night, it's a good bet the place will be rocking early.
That's the one drawback of the brewpub. It gets so noisy when crowded that you can't hear the person sitting across from you. At that point, you may imagine that steam is coming from the dragon's nose.
Oh yeah, actual smoke comes out of the dragon's nostrils.
Lori's late father, Duane Brickson, designed the dragon, named Hilda, and the rest of the brewpub. Her brother, Mitchell Brickson, carved the dragon and did all the other woodworking.
Staff members control the smoke coming from the dragon's head, but curious children are also invited to push the button, Lori said.
It can be set to go off intermittently, but employees like to control it, she said. The nostril smoke isn't working now, as the dragon's head gets a new motor.
The rest of Viking Brew Pub is working really well — the food, the beer and the service.
If you're not there before or after an Opera House show yourself, maybe check the theater's schedule and pick a quiet time to go.