State Street isn't the dining destination it once was, but Zandru's is attempting to bring some new restaurant vitality to the street.
Zandru's, which opened in late March, is one of three Spanish-style tapas restaurants in the State Street area, and co-owner Alberto Santos intended for it to be less formal than other two, Estrellón and The Icon.
He's succeeded in that, while creating a tasteful, comfortable environment.
And when I say he's succeeded, it's because Santos, who owns a remodeling business, renovated what had been Palmyra Mediterranean Grill, largely on his own.
In terms of food, a friend and I had mixed results with the tapas, most of which came swimming in sauce. Sauce seemed to be the unifying thread in everything we ordered, save a lone pork empanada ($3), which came with a small cup of dipping sauce.
The sauce helped perk up the empanada, which was deep-fried but not greasy.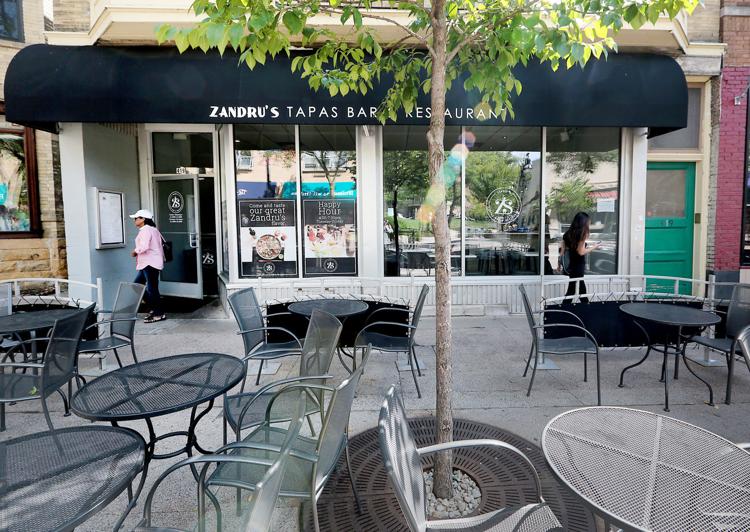 The casserole Zandru's ($14) wasn't a casserole in an American sense. Instead, it was an attractive dish of seafood seasoned with paprika, in a tasty garlic-wine broth. A lone scallop mingled with medium-sized shrimp, squid and mussels. Mushrooms and slices of sausage were the best parts.
My favorite dish was the brussels sprouts aglio and olio ($9), although the vegetables could have been sautéed longer. Fortunately, the sauce they were in was excellent. The garlic and olive oil in the name were merely folded into a surprise tomato-based sauce with onions and green peppers. It had little in common with the simple Italian pasta dish, spaghetti aglio e olio, which doesn't involve tomatoes.
The garlic lime chicken ($7) was less successful. It featured tiny chunks of white meat swimming in an overly-salty, light-colored sauce in which the lime and garlic flavors were faint. Three slices of uninteresting grilled bread came on the side to sop up the sauce.
The sautéed calamari ($8) was the weakest dish in the bunch because the white wine sauce again was too salty. What's more, the squid didn't pick up much flavor from the sauce. It came with the same bread.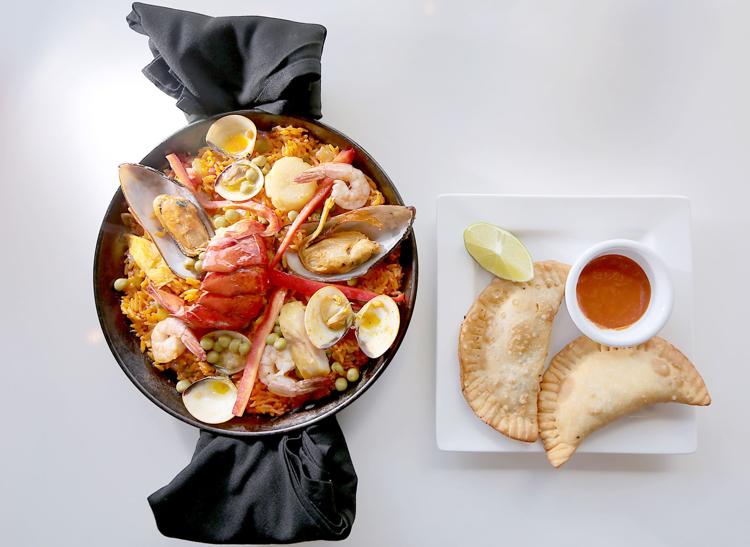 We almost canceled our dessert order because it took so long to show up, but the pudding de pan ($5) turned out to be the highlight of the meal. It was a cross between bread pudding and flan. Caramel sauce on top of the crisp crust was more of a syrup, and my friend thought it gave the whole thing a pancake quality.
Our visit mainly suffered in the service area, but our server, while green, always maintained a pleasant attitude. Although we were one of a few customers eating inside on a recent Tuesday, it took a long time to get our drinks. While the rosé wasn't dry enough for my friend, it was perfect for me. We both liked the house's red sangria, which was also slightly sweet, and had lots of small pieces of green apple.
Rosé was available by the bottle, not by the glass, on the menu, and the glass showed up on our bill at $5, which was the happy hour price, I found out later. The sangria, normally $9, also showed up at $5.
I liked how our server announced what each dish was when it came out. But she didn't clear our plates until long after we were done. Then, when she finally asked about clearing them, she only took away two of the plates. She also twice asked if we wanted more water, then never filled the glasses.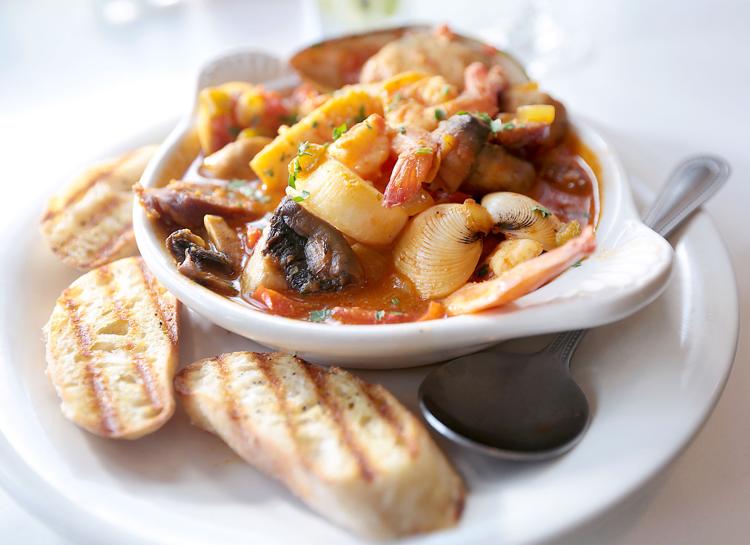 Having the booths, which sit along one wall, elevated off the ground gives them stature and elegance. Santos is known for his tile work, and the job he did with white tiles behind the bar is simply beautiful. Even the three large TVs fastened to the tiles don't detract, as televisions often do in a stylish bar or restaurant. Only the Mexican Tejano music seemed wrong.
Santos, who has three partners in Zandru's including Palmyra owner Abdallah Lababidi, said while he wanted to make Zandru's nice, his goal was not to make it so nice that people feel the need to dress up.
"You can go in jeans and feel more welcome," he said. "You don't have to be too dressed to get a tapas. We need a place like that on State Street."
Santos is right. Zandru's is a come-as-you-are kind of place where anyone will feel comfortable and welcome. And we can always use more places like that, on State Street, or anywhere.