Where is everybody?
That's the question I had after I arrived at the Underground residency on Allen Street on a Friday evening.
The residency, which started in mid-January, is a temporary restaurant from Underground Food Collective, which also runs the popular Forequarter and Underground Butcher. It also had the well-regarded Underground Kitchen, which was lost to a fire in 2011.
The current Allen Street operation will last until the end of March, or maybe slightly longer, so hurry over. Oh, and be mindful of its limited hours: Thursdays, Fridays and Saturdays from 4 p.m. to 9 p.m.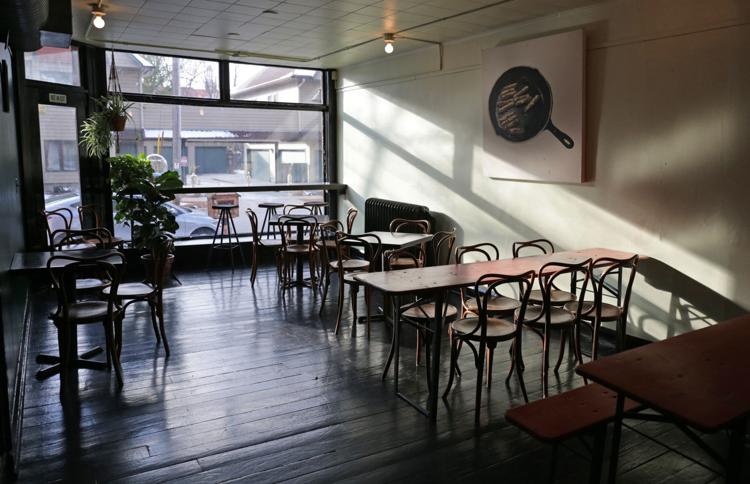 Jonny Hunter, co-founder of the collective, said the Allen Street building, which formerly housed a coffee shop, will be remodeled by the landlord and then Underground will open something more permanent in its place. The residency provides a preview of that.
"When you're not opening a concept, you're doing a pop-up or residency, you get to try out ideas, right?" Hunter said. "This is us trying out concepts for there, and I think we are pretty happy with the response...
"So, I think some of the things we will definitely see there, maybe just ramp it up a little bit more."
He's thrilled with chef Jon Churan, who's been with Underground for three years, and is running the kitchen.
The menu is small, simple, and full of comfort foods anyone can relate to, even children. It's certainly no Forequarter West.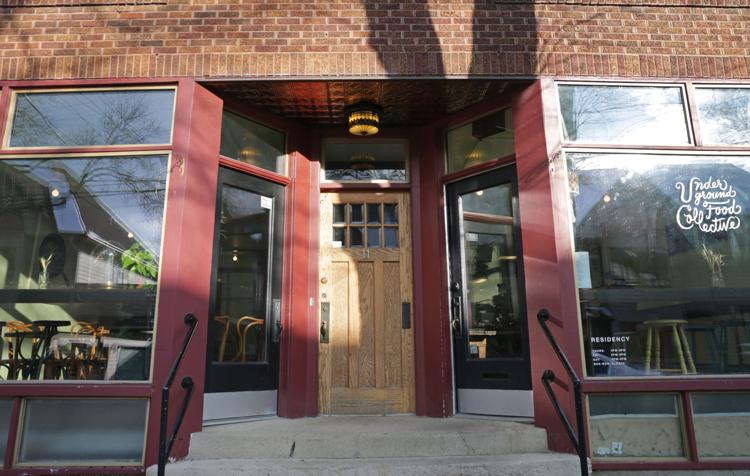 The restaurant has counter service, with customers picking up their own utensils, water and glasses at a table out front, and cooks bringing the food out.
Most things we had were fantastic, but there were a few notable misses. What was really missing were other people. Is it because the spot isn't on a main drag, tucked off Regent Street? Is it because it doesn't serve alcohol? Has word been slow to get out?
We had the best luck with entrées, particularly the super-moist whitefish ($10), sautéed with an amazing Italian salsa verde. The same salsa also made a chorizo link ($9) extra delicious. Meatballs (five for $10), a combination of pork and beef, are dense, and come in either a spicy red pepper sauce or a tomato sauce. The former was excellent, with spicy chunks of red bell pepper.
Mushrooms are the star of the lone vegetarian entrée ($9). They are paired with a creamy polenta, and mixed with sautéed kale and Pleasant Ridge Reserve, an Alpine-style cheese like Gruyere, from Uplands Cheese Co. in Dodgeville. The oyster and shiitake mushrooms were big and meaty, and the other ingredients played well with them.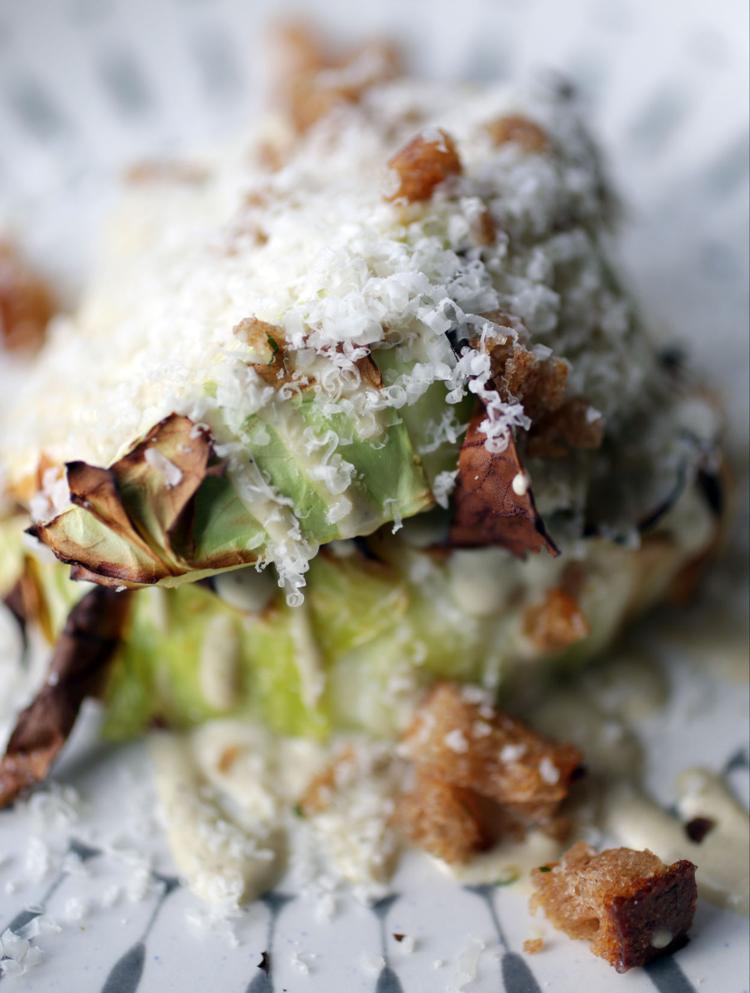 Also worthwhile was an order of nicely browned pierogi ($5), filled with squash and the same Pleasant Ridge Reserve, and served with a pile of helpful onion jam.
I enjoyed the thick slices of Underground's homemade bread ($2) and butter. I found it remarkably light for whole wheat, but others at my table found it dull.
The sides we ordered, however, were disappointments. A bowl of roasted potatoes ($5), supposedly smoked, didn't taste smoked, and lacked seasoning.
The buttered noodles ($5) were homemade light-wheat shells, but plain. A little salt helped.
You can order the green sauce on the side for $3, and that might be the way to go with the potatoes or noodles.
A bowl of carrots and celery root ($7), roasted with Meyer lemon — a lemon that tastes of mandarin orange — were similarly uninteresting, although the lemon helped. The celery root could have been cooked longer, and some of the carrots had raw centers, but were otherwise nicely charred.
Meyer lemon was also used in the marmalade that topped the buttermilk pie ($6). The pie had a crumbly crust and a soft interior. It was worth ordering, but if you want something simpler and cheaper, there are thin, excellent chocolate chip cookies ($2).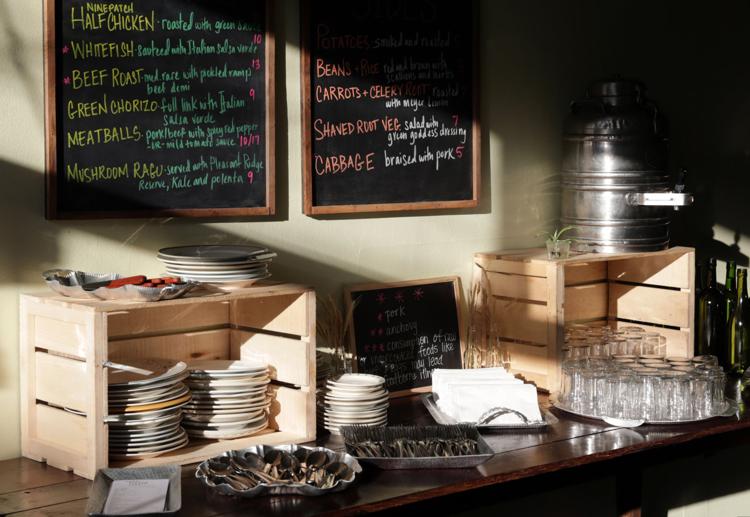 Another thing to like about the Underground residency are the homemade soda choices, which an employee let us try before we committed. A taste was enough for the celery soda, but I admire the idea. The ginger soda was incredible.
The environment is casual, with two long, narrow, communal-type picnic tables and three other tables. There are two counters with colorful stools in the room where you order. The washrooms don't have genders, but are just each labeled "resident."
West Side friends bemoan how most good restaurants in Madison are Downtown or Near East, and here, Underground brings a great option to the Near West Side, and people don't go.
There was only one couple in the restaurant when we got there at 6:30, and until 8:30 p.m., we were the only other customers. A few people came in to get food to go, and they do more business that way, Hunter said. The website is set up well for carry-out.
The restaurant doesn't take reservations, so I was initially worried we would have to wait a long time for a table, when the opposite was true.
Hunter, when I talked to him, didn't sound discouraged, so I hope the collective follows through on its plan of setting up a more permanent shop. The Near West Side needs something like this, now it just needs to support it.