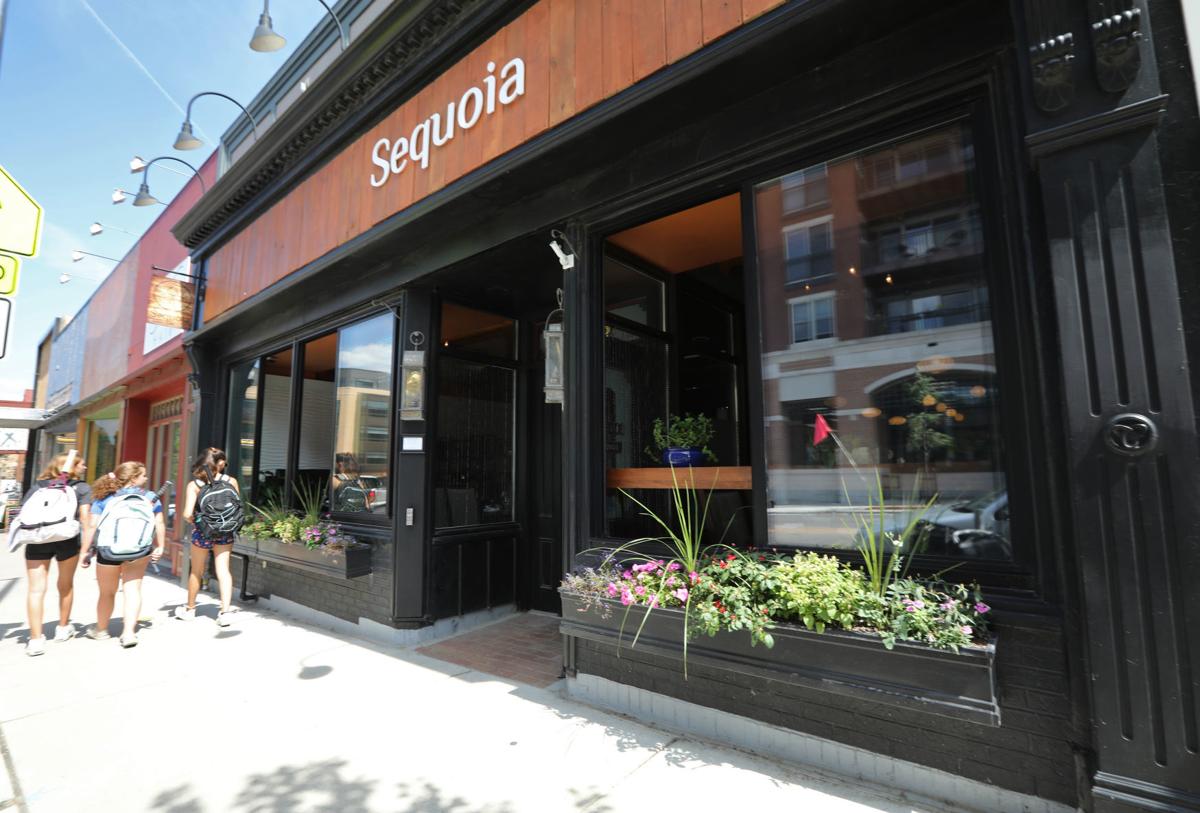 Madison is not lacking for ramen, and there are lots of great bowls in town. Now along comes Sequoia, which can best any local ramen, and is just as impressive for sushi, too.
Sequoia opened June 23 on Monroe Street, where Brocach used to be, and has made excellent use of the former Irish pub's gorgeous bar and dark-wood interior, turning it into a handsome, comfortable space that honors its stately name.
While it's not hot soup weather, the hearty signature Sequoia ramen ($12) is worth checking out. The broth was rich and deep with slices of fatty pork that also had tons of flavor. We asked for it medium spicy and it was exactly right.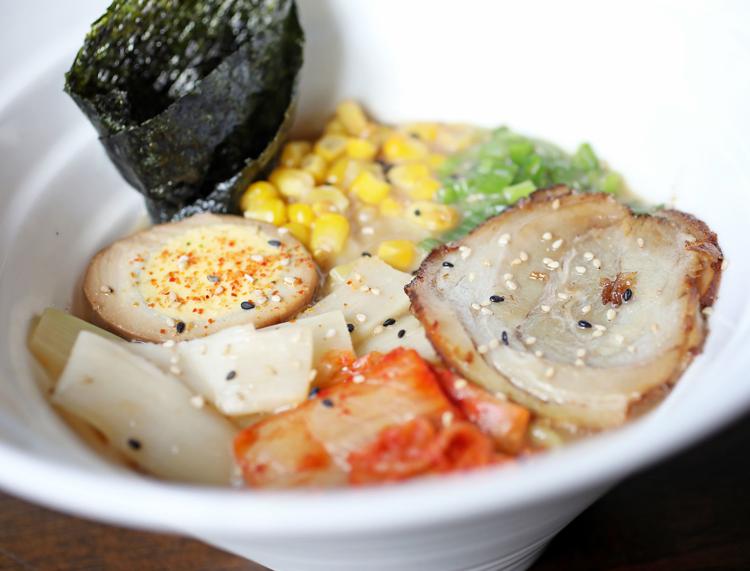 The menu said the meat was prepared "char siu," but that spelling refers to the familiar Chinese barbecue pork shoulder, where the meat comes out a deep red. However, a little research showed that the meat here was actually Japanese chashu pork belly.
The other ingredients in the ramen all played important roles: thick, tasty noodles, soaked seaweed, half a boiled egg, corn, bamboo shoots, green onion and kimchi. I ate with two friends and our server thoughtfully brought out extra bowls without us asking.
Another highlight was the generous Sequoia salad ($12), just right for a warm summer day and also perfect for sharing three ways. On a base of gourmet greens were small strips of cucumbers as if they were cut for sushi, thin slices of avocado, and seaweed salad. The house peanut dressing tied it together well. If only the promised cherry tomatoes had shown up, they could have lent some color.
The spicy tuna roll ($8) demonstrated that the sushi chef knows what he's doing. But the real discovery was a subtle specialty roll called the Monrose ($14). The menu described a mix of sashimi and avocado in a soy wrap. Fresh, tender tuna and salmon came with rice inside a thin, yellow wrapper that was a nice change of pace from the usual seaweed. The roll was covered with thinly-cut avocado, tobiko and restrained orange and brown sauces.
Owner Zhiqiang "Zack" Li said the name Monrose is a takeoff on Monroe, the street the restaurant's on. He said he just liked the sound of "Monrose" better.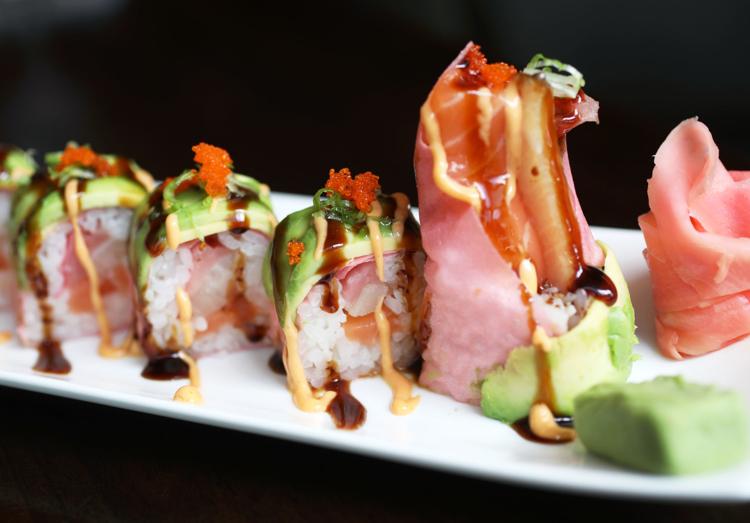 Like the spicy tuna roll, it had eight slices, including two giant end pieces. The chef could have gotten one more slice out of each, but if he did, the ends would have been too small and could have fallen apart, Li said. This way diners can also see the beautiful fish inside the roll, he accurately pointed out.
A little more pickled ginger would've been welcome for both rolls.
The only item we ordered that I wouldn't get again was the baked mussel ($8) appetizer: four plump mussels served on the half shell with green onion, fish roe and ponzu sauce. They were too chewy for my taste.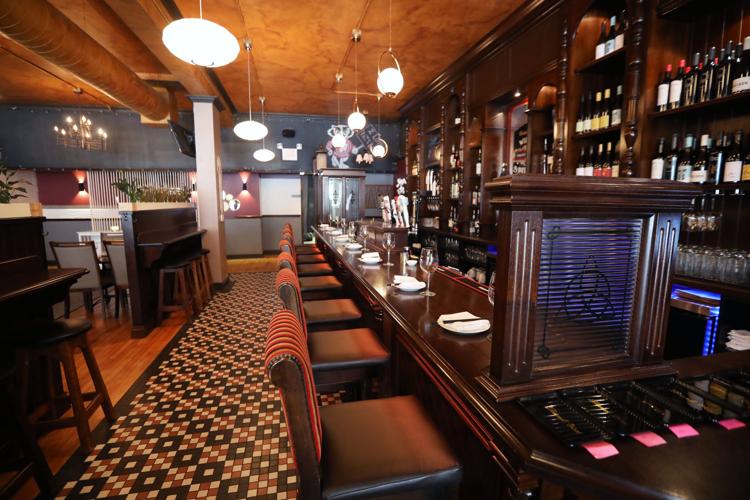 The cocktail menu has only five specialty drinks, and the bar was out of mango nectar for the mango mojito I ordered. I settled for the Summer Splash ($9) with fresh lemon, lime, mint, lemonade, lemon vodka, strawberry vodka and strawberry puree. It had a good amount of alcohol, but was ultimately uninteresting.
It's not unusual for restaurants to open before their exterior signage arrives, but I was surprised when Li, who also runs Nam's Noodle, opened Sequoia with the old, elaborate Brocach exterior. It felt strange and confusing. However, the Sequoia exterior is now complete, and as tasteful as the interior.
Also sophisticated are the elegant tufted leather banquettes. Some of the soft rock selections on the restaurant's Spotify playlist were a bit tired, the only detraction from an otherwise relaxing late Friday afternoon lunch.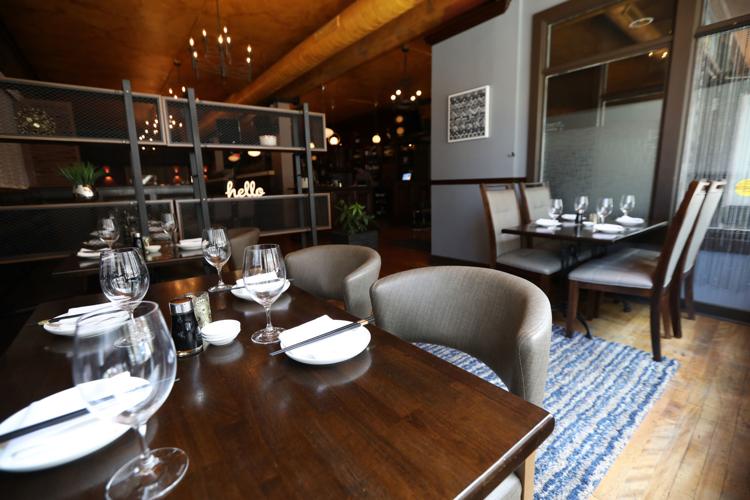 Li, 29, said he and his staff pick what goes over the sound system, choosing "cheerful, happy" lunch music and "upbeat lounge music" for dinner. Each playlist has about 50 songs, he said.
As for the name Sequoia, Li said he chose it because the interior already had lots of wood. He liked the name because of the two years he spent on and off, living in a Los Angeles suburb.
Li hired two chefs from California. While he didn't work in the restaurant business there, he said he still has connections to the state. He moved to Madison six years ago to run the nearby Nam's Noodle, a Regent Street restaurant his cousin Ray Sze opened in 1999 at age 25. Sze moved back to his native Hong Kong in 2014.
While Li's family owns Nam's Noodle, Li said Sequoia is his own.
Li said his goal was to create a business that's "very, very clean, modern, welcoming, natural" from a design perspective. And the cosmetic changes he's made to the space have had the intended effect.
Li also wanted to keep his prices reasonable.
Sequoia isn't exactly cheap; Japanese food rarely is. But Li correctly recognized the need for a somewhat upscale, yet family-friendly restaurant serving ramen and sushi on Monroe Street and has stepped in, handily filling that void.
Stay up-to-date on what's happening
Receive the latest in local entertainment news in your inbox weekly!