Buck & Honey's has the kind of wide-ranging menu and inviting atmosphere that should appeal to almost anyone.
And judging by the number of people waiting an hour for a table one recent Saturday night, the Monona restaurant that opened July 15 on the Yahara River has gotten people's attention.
Part of the excitement is its newness, but based on the excellent meal and amazing service I had, the crowds are going to continue coming back.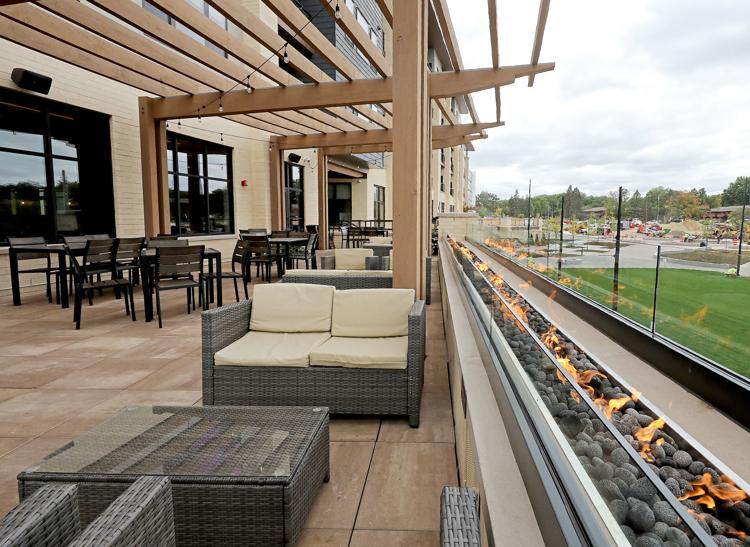 Tom Anderson started the original Buck & Honey's in Sun Prairie in 2010, and bought out his partner in 2017. The new, 12,000-square-foot location is in the mixed-use development, "The Current," part of a long-planned riverfront redevelopment project at Bridge Road and Broadway.
The kitchens at both restaurants are led by executive chef Sam Millan, who's been with Buck & Honey's from the start.
Anderson says his restaurants straddle "the line between family casual and fine dining" and my dining partner and I debated this point during a dinner that included an affordable cocktail and dessert, moderately priced appetizers, and a pricey piece of halibut.
My cherry Old Fashioned ($7), ordered with brandy, and the halibut, turned out to be the only two things about the meal that weren't outstanding.
The drink was attractively priced, but the cherry juice didn't complement the bitters well. The addition of ginger ale was intriguing, but I couldn't taste it.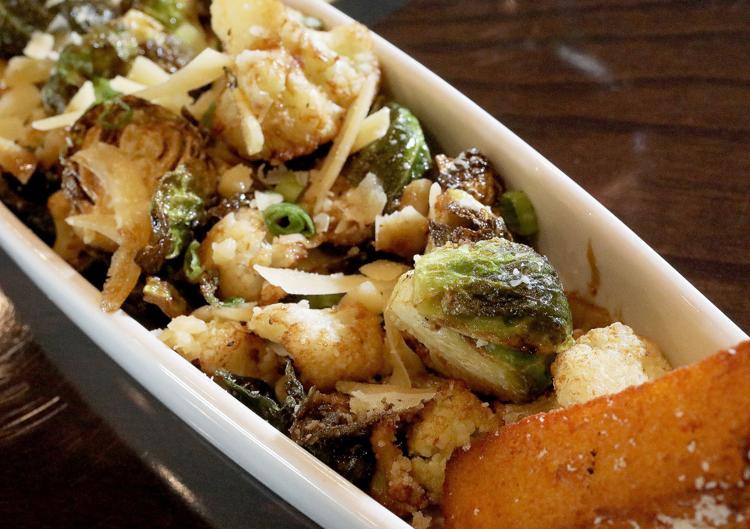 Flower sprouts ($9), an appetizer of sautéed cauliflower and Brussels sprouts served in a canoe-shaped dish with triangles of fried polenta, was fantastic. The vegetables were drizzled with a balsamic glaze, not suffocated by it. Shaved Parmesan on top added a lot.
Equally successful were the Thai chicken lettuce wraps ($12), with bite-sized pieces of chicken in a Thai ginger sauce studded with vegetables and served in a ramekin. A stack of bibb lettuce came on the side, as did a cup of soy ginger sauce, fried wonton crisps and cashews. We also got a set of chopsticks.
The two entrées we ordered were flawed, but only mildly so.
My Alaskan halibut ($28) was the most expensive seafood dish, and one of the few items not also on Buck & Honey's Sun Prairie menu. The fish was nicely flaky, and the menu correctly described a "drizzle" of red pepper beurre blanc sauce. The light application of sauce worked with the vegetable appetizer, but the fish needed more than just a hint to keep it from tasting bland.
You have free articles remaining.
On the other extreme was the moist, flavorful mushroom risotto that came with the fish and prominently featured two types of mushrooms. It made up for all the disappointing risottos in the world.
Grilled asparagus was the vegetable special that day, and our server offered to sub it for the broccolini that came with the fish. I was glad she did because the plate came with seven, thin, perfectly-cooked spears.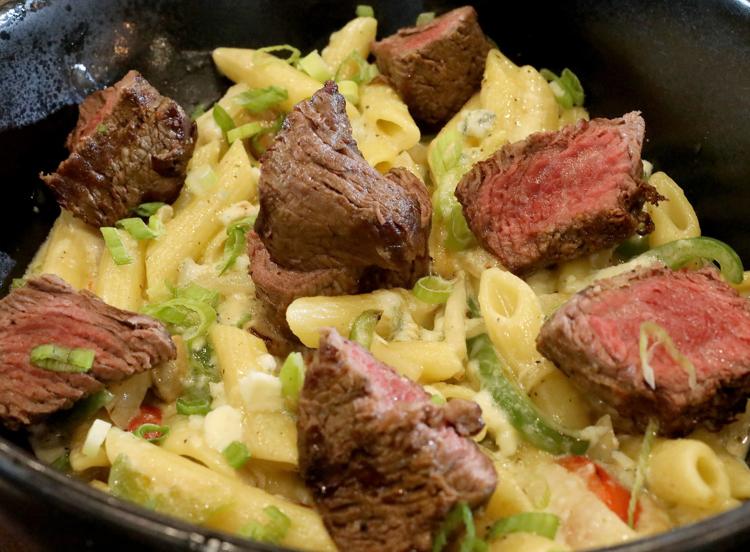 My companion enjoyed his steak gorgonzola pasta ($18), served in a deep bowl with penne, sizable chunks of grilled tenderloin, cooked medium, and a liberal amount of cheese. We appreciated the garlic cream sauce for its thinness, otherwise the dish could've been too rich. We both liked the addition of onions, red and green peppers, and mushrooms, but found the meat too chewy. The pasta also needed a bit of salt, but when eaten with bites of gorgonzola, it worked.
He appreciated the roll served with the pasta. It was crisp on the outside, soft inside, with a bit of Parmesan melted on top.
Our server listed off many desserts, and I later learned from Anderson that we chose the only one not made in-house. Still, the flourless salted caramel cake ($6) was wonderfully custardy and served with a dab of whipped cream and a single raspberry.
As we were finishing, Anderson began making the rounds, and we found him to be genuine and personable. When my companion complimented him on the eye-catching back bar with birch trees lit up behind glass, Anderson told him it was modeled from something he'd seen years ago at the MGM Aria Resort and Casino in Las Vegas.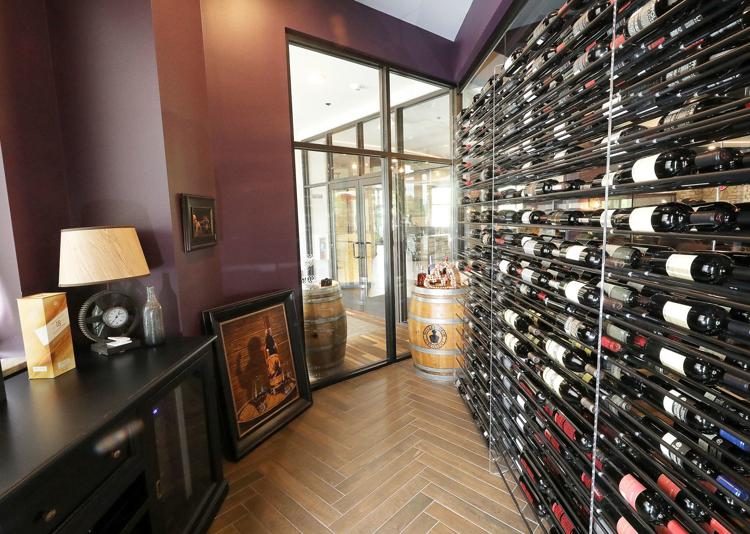 Less flamboyant, but another cool decorative touch, is a lighted wooden canoe suspended from the ceiling over a row of booths.
We were seated at a tall table by a window, where we relaxed by watching a group of ducks make their way up river.
The lot for Buck & Honey's was full when we arrived at 6:30, so we wound up parking behind The Current, in front of the restaurant Breakwater, which opened, also on the Yahara, in 2016.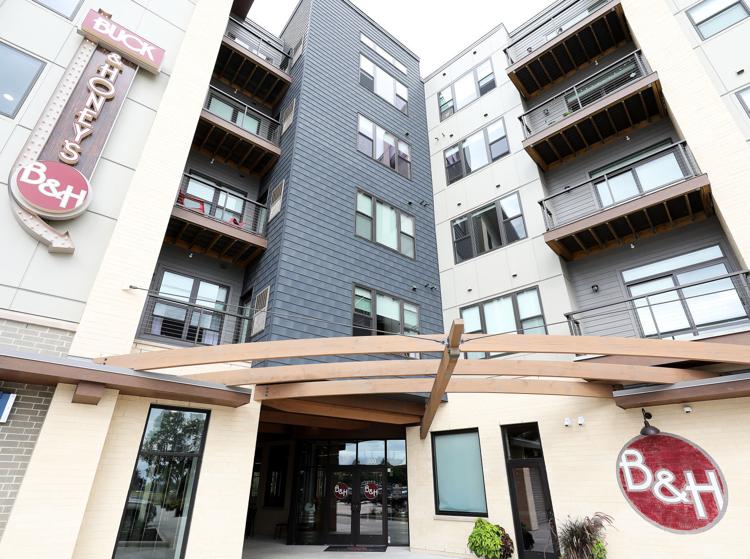 We asked how Buck & Honey's was affecting Breakwater and Anderson said that when there's a long wait at his place, he hears people are finding their way there. That would be a good ripple effect.
Buck & Honey's was named after Buck and Honey Birkinbine, who once owned and farmed the land where the Sun Prairie restaurant sits.
Anderson made a smart choice to duplicate Buck & Honey's in The Current after looking at what he said was probably 15 sites.