When it comes to eating healthy, I do OK, but could always do better.
I was on State Street with my 14-year-old daughter around lunchtime one day, debating where to eat, and she wanted to try Frutta Bowls. After all, she'll eventually fit the target college-girl demographic. I was skeptical it would make a good lunch spot, and it could've had its toaster not been broken.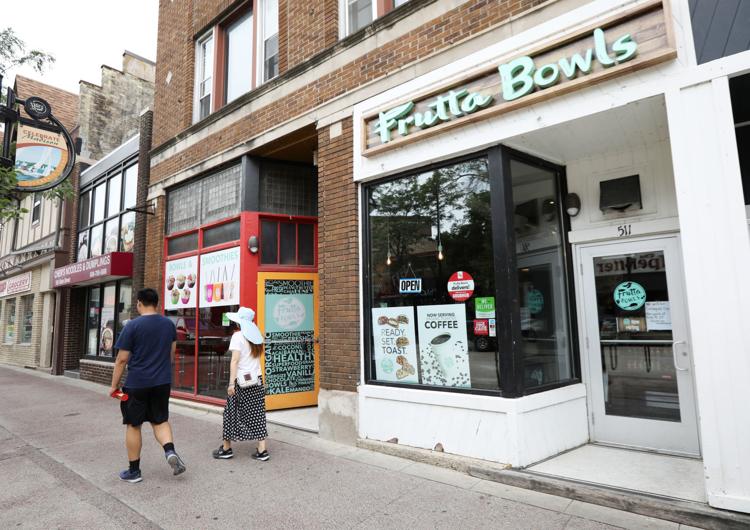 Turns out, besides its açai bowls and twists on açai bowls, the shop also serves three types of oatmeal, along with avocado toast and other kinds of "toast." We were disappointed to find the toaster out of commission on our first visit, so for something semi-savory we tried the hand-rolled "protein bites" ($4.49).
There were two varieties, described on the menu as chocolate whey or plant protein. Six come in a pack,  and our peanut butter balls (bigger than a bite) were so dense my daughter only ate half of one. I liked them a lot more than she did, but still, one was enough. They should be sold in packs of two.
The "bites" look like donut holes, and, according to manager Ryne Culbertson, both types are made from a chocolate-flavored blend of fruits, vegetables, and grain.
The more I asked about what was in them, the more far-fetched the ingredients seemed. Culbertson said they had pea protein, brown rice, alfalfa, spinach, broccoli, flax seed, and blueberry. The peanut butter ones we got had agave syrup, instead of honey, he said. In any case, good luck tasting anything beyond oats, peanut butter and honey.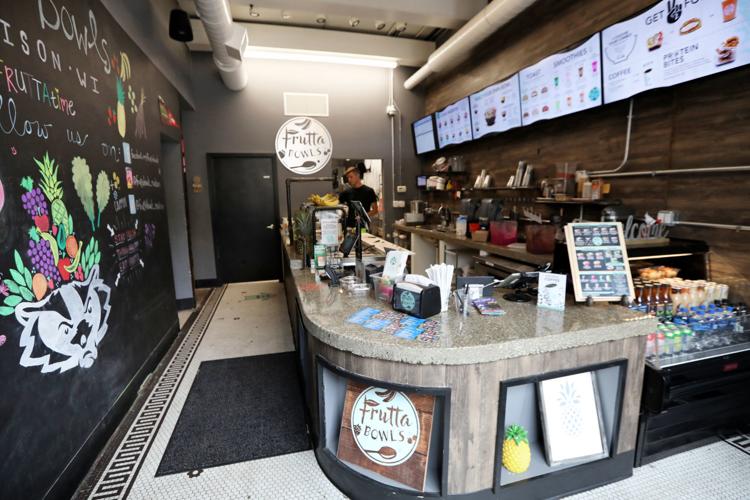 Culbertson said the two owners of the Madison franchise live in New York. Frutta Bowls was founded in 2016 in Freehold, New Jersey -- known to me only as the childhood home of Bruce Springsteen. There are now 51 locations in the United States, he said. The Madison store opened last summer.
Frutta's main focus, of course, is its bowls, which, at least on my two visits, didn't come in a bowl at all, but in the same disposable plastic container as the protein bites. The rectangular containers have a lid that's hard to fasten, should you want to take part of your "bowl" with you.
Customers pick from three blended bases: açai, pitaya and kale. The bases are like a smoothie blended from multiple ingredients. Then they're loaded with toppings.
Culbertson said the "Frutella" bowl ($9.99) is his store's biggest seller. With a base of açai, guarana (extract from the seeds of a Brazilian plant) and banana, it's topped with granola, banana and strawberries.
With Nutella and peanut butter drizzled over the top, and coconut flakes, it was beautiful and delicious, and felt like dessert.
You have free articles remaining.
Register for more free articles
Stay logged in to skip the surveys
Even one of the kale versions called Pina Colada, tasted super sweet, but lighter and healthier, with a great combination of flavors. The kale base had bananas, pineapple and almond milk, and was topped with pineapple, kiwi and coconut flakes. I love kale, but with this bowl, you can't tell you're eating it.
A pitaya bowl called Barbados ($9.99) was terrific, too, due to mango and pineapple. The pitaya, also known as dragon fruit, is a bit sweeter than açaí, and turns the bowl a pretty fuchsia. In all three bowls, it was the granola that really made them.
The smoothies were less successful. The Detox smoothie ($5.99) with kale, banana, pineapple and chia seeds, tasted more healthy than enjoyable. Same for the Brazilian shake ($5.99) with açai, guarana, strawberry, pineapple and agave. 
The best deal at Frutta Bowls is its coffee, priced at $1.50 for hot organic or cold brew.
On a repeat visit with a working toaster, we found a note on the door that it was closing that week at 5 p.m. instead of 9 p.m. due to a staffing shortage. Culbertson said the hours have been "back and forth" recently as the store works through staffing issues.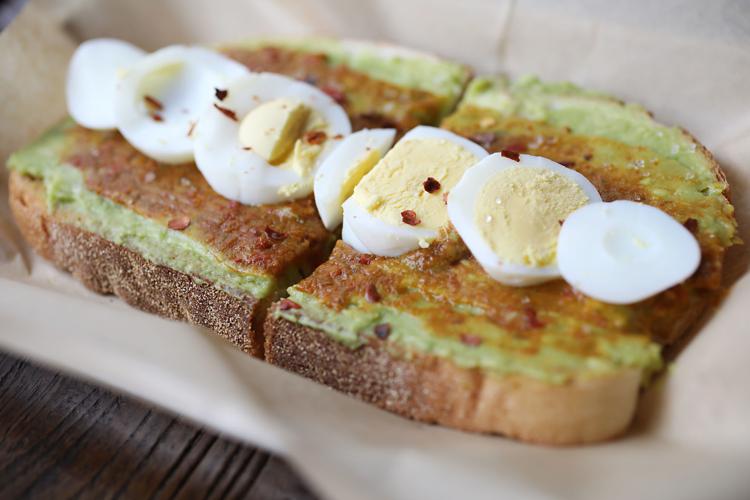 The toast was fine, lightly browned, but hardly special. Of the six, two are avocado toast, with a thin spread of avocado. The Bravocado ($5.99) with sun-dried tomato pesto, egg and red pepper flakes, was better than the Savory Avocado ($5.99), but too heavy on the sea salt. 
The Savory Avocado had sea salt and Sriracha, which in addition to red pepper flakes made it pretty spicy. Its main draw, crumbled goat cheese, was left off without explanation. When I brought it back to the counter, a staffer offered me some spreadable brie in a cup, which was not a bad consolation.
From the room where you enter, order and see the food being made, you might not realize there's a room next door with seating, and another, upstairs area with three tables and nine huge black leather chairs -- and foosball.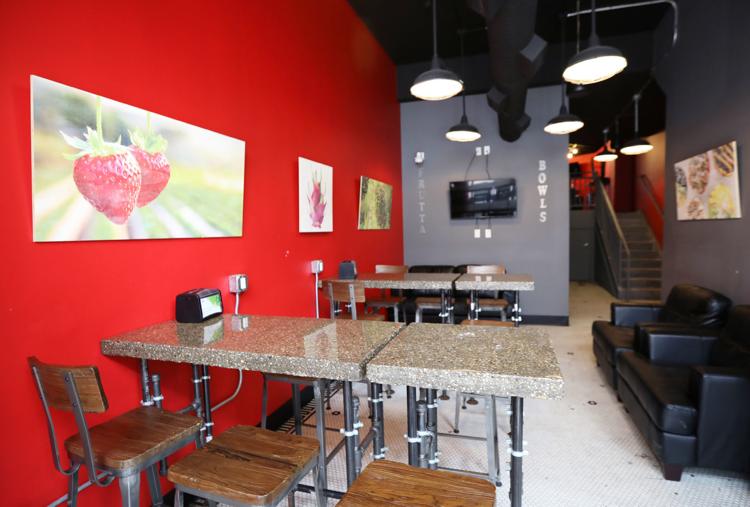 The blender often competes with the pop music on the sound system or the daytime talk show playing on a TV upstairs.
But not much can compete with the actual Frutta Bowls, on which the business is based.
UW-Madison students, coming back this week, have got it good.