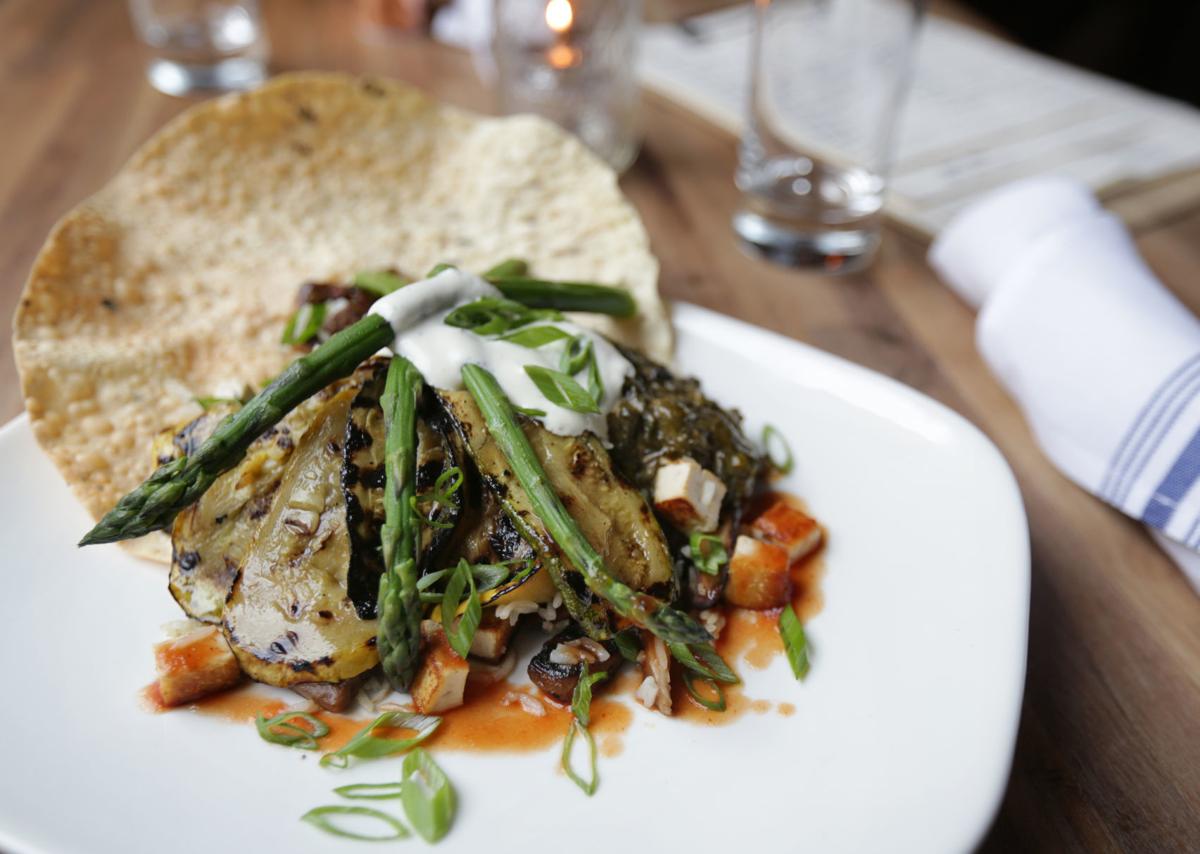 Boar & Barrel is a good replacement for the overlooked Hamilton's on the Square, but it's having trouble making itself known. So, if you are facing a long wait at another Downtown restaurant, go check it out.
The name might be detracting somewhat. I've found it's already confusing some people because it sounds similar to Bear & Bottle, the restaurant Tim Thompson opened last year on the North Side.
Boar & Barrel, meanwhile, is more upscale — an intimate and elegant space where the booze offerings go on and on (there are more than 100 bourbons alone). The wine list is also extensive.
Josh Jiru opened Boar & Barrel's bar in late February, and then started serving food with Easter brunch April 1. The Capitol Square location was best known as the Blue Marlin for 29 years.
Jiru got lucky in finding chef Aaron Millon, who was the chef/owner of a farm-to-table restaurant in Montpelier, Vermont, and moved to Madison when his wife took a job as principal of Wingra School.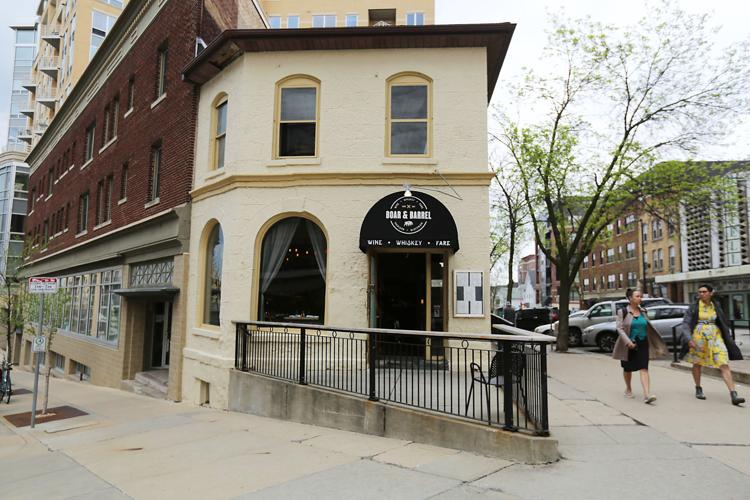 It was during a Sunday brunch visit of my own — the restaurant now serves brunch only on Saturdays — that I discovered what has become one of my favorite vegetarian dishes in town: curried vegetables and aromatic rice ($13). The vegetables had been julienned and served over basmati rice.
Millon uses Indian paneer cheese, sears it and dices it. He grinds his own spices for the curry base and adds coconut milk and vegetable stock.
Grilled zucchini and baby asparagus sit on top with a yogurt-dill sauce that looked and tasted fantastic. It was all contained in a homemade Indian papadum, those thin, crisp Indian crackers made from lentils.
I was surprised to learn that Millon renames the dish palek paneer on his dinner menu, because to my mind the dish doesn't remotely resemble its Indian namesake. The dinner version is $15 and has extra vegetables.
A plate of smoked salmon ($12) didn't take any culinary skill, but complemented the vegetable dish well with lox spread across the plate. There were also little dabs of mild horseradish crème fraiche, pumpernickel toast points, capers, shaved red onion and hard-boiled egg.
You have free articles remaining.
Two side dishes were delicious, particularly the mushrooms ($3.50), a large portion of sauteed, buttery and well-seasoned yellowfoot oyster mushrooms, a vase-shaped mushroom Millon found through his mushroom connection at the Dane County Farmers' Market.
I also enjoyed the salt and vinegar roasted new potatoes ($4.50), a mix of sautéed baby red potatoes and two types of fingerlings with a generous helping of pork belly lardons not noted on the menu, but in keeping with Boar & Barrel's pork-centric concept. The salt and sherry vinegar flavor worked for me, but didn't appeal to my two brunch partners.
"I can't remember turning down potatoes in my life, but the vinegar is too overpowering," said my friend.
My daughter seemed to be happy with her two eggs over medium, but when I asked her about them later, she said they had a "weird taste, like the cook used spray instead of butter." Millon said it was probably just canola oil she was picking up on.
I was surprised that my friend's coffee was served in a paper Barriques cup and he wasn't asked about cream and sugar. Still, the coffee was excellent and brewed strong.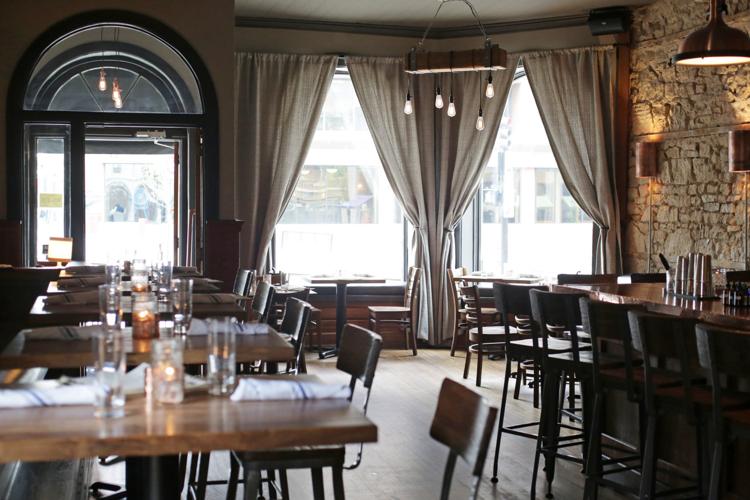 The space is beautiful, as it was in its blink of time as Hamilton's. The stone walls give it character, and Jiru added lots of shelves behind the bar to hold the liquor bottles.
Nice touches on the back wall include a historic photo of the building that Jiru's landlord gave him, and a stuffed boar's head baring its teeth.
The biggest knock I had against Boar & Barrel was that the volume of its music was more Saturday night than Sunday brunch. There were few other customers during a beautiful Sunday when most other nearby brunch spots had lines out the door. We shared the space with one couple and a party of three at the bar.
Jiru has since scrapped Sunday brunch and is instead concentrating on Saturday brunches because of the built-in Farmers' Market crowd.
The restaurant now opens from 3 p.m. to 8 p.m. Sunday for a "Sunday fun day/happy hour" aimed at those who work in the service industry and "want somewhere to go when they're done with their (Sunday brunch) shifts," Jiru said.
The good news for vegetable lovers is that the curried vegetables and aromatic rice — with whatever name — is on both the brunch and the dinner menu. (Boar & Barrel doesn't serve weekday lunch.)
The time is right for a restaurant like Boar & Barrel, which relies heavily on the Farmers' Market for its meat and produce. "It's nice to have spring here," Millon said. "The farmers' market is about to pop."