There's good reason Bistro 101 in Mount Horeb is one of the best restaurants in Dane County.
I only learned after a recent dinner that it's run by Mark Valaskey, a co-owner of the excellent former Morels in Middleton.
An acquaintance had been urging me to go to Bistro 101 for months, using the words "phenomenal" and "spectacular," but not mentioning the Morels connection.
This Bistro 101 booster moved from Madison to Brookfield about a year ago, but still drives to Mount Horeb to eat there.
So when I visited on a Friday night, I had no doubt the meal was going to be special, and it was in terms of food and service. The atmosphere is a bit odd, and the fine-dining prices may put some people off. It's definitely a special occasion restaurant.
I'd written about Bistro 101 in 2008, a month after it opened in the indoor Hoff Mall on Main Street. In April 2015, real estate developer Joe Gallina, who owns the mall and majority interest in the restaurant, brought in Valaskey to cook and run the place.
Valaskey took over from Lisa Bote, who maintains a small ownership stake. Valaskey has a sweat-equity share.
Gallina had been a regular customer at Morels, which Valaskey had for 12 years and closed in 2009. "I lost my house and went through what all restaurants failing do, and I was done," he said.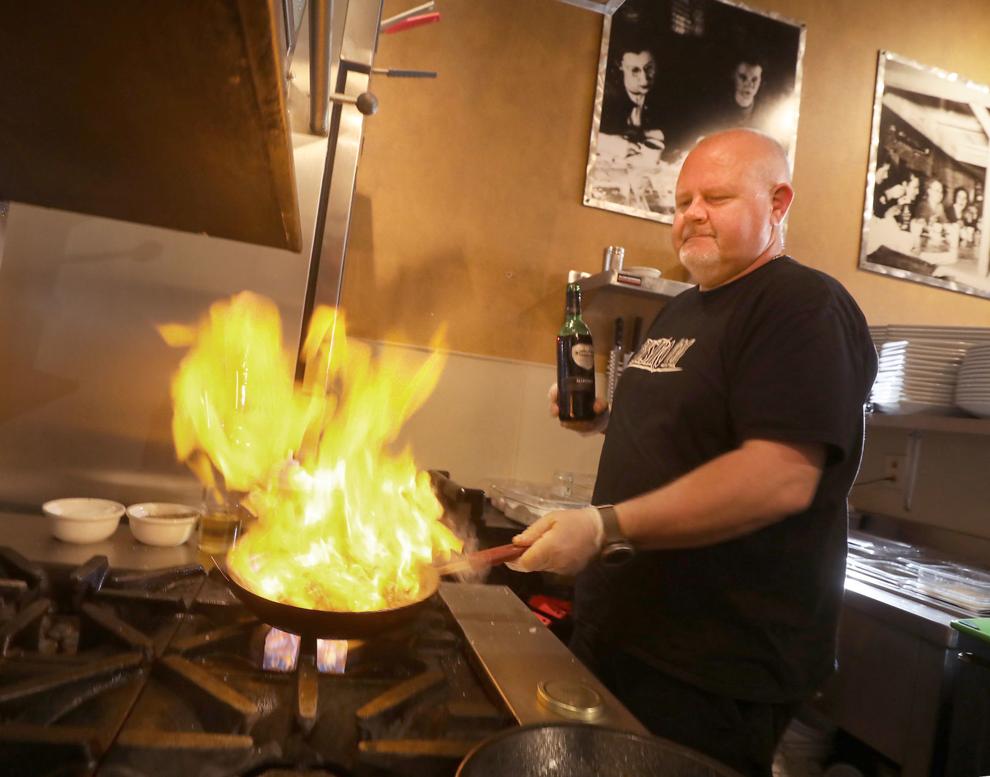 Valaskey, who now lives in the country between Mount Horeb and Cross Plains, sold wine for a couple years and was food and beverage director for a Downtown Madison hotel, before he ended up running Bistro 101 and stepping up its menu.
"We're having fun," said Valaskey, who has two chefs helping him, one of whom is his summer produce supplier. "We get to be uber creative."
That creativity was tantalizing on a long menu of specials our server read and then left with us to ponder. How were we supposed to decide between the scallop and shrimp risotto, pan-seared halibut, Icelandic cod, Italian-stuffed pork chop, and veal martini?
Entrées here don't include soup or salad, so we started with a cup of the rich, but not overly creamy, mushroom bisque ($5), only learning later it was the one Morels was famous for. Thick with shiitakes, portobellos and porcini, it foreshadowed all the fantastic food to follow. A small bistro salad ($6) stood out with its feta cheese and stellar vinaigrette.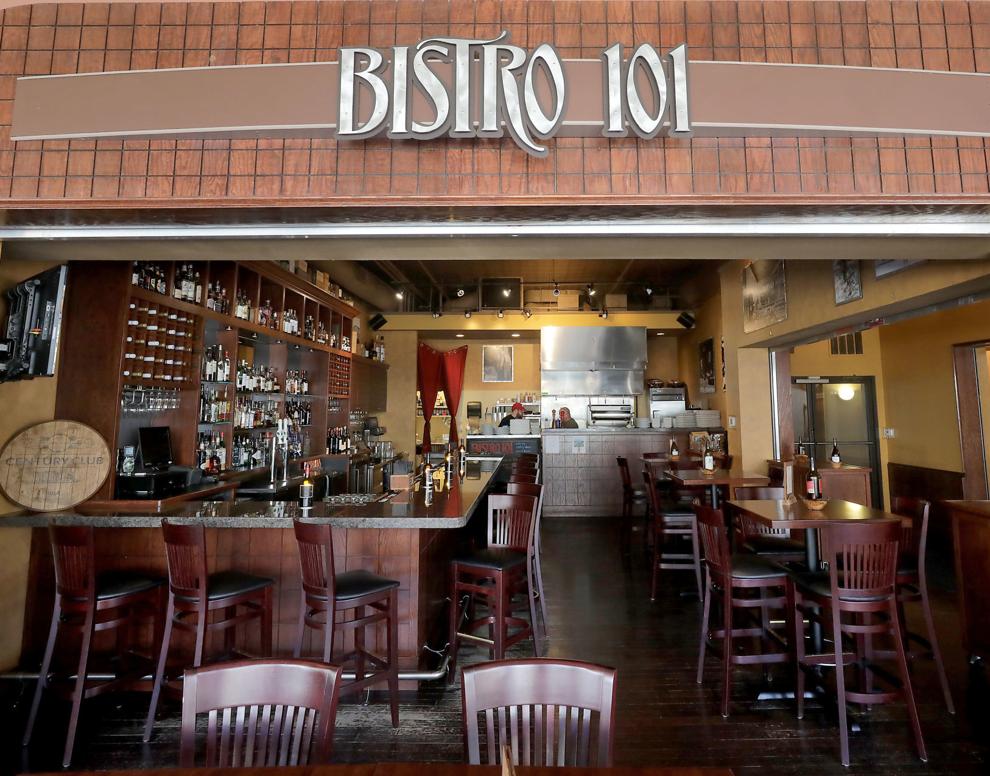 Warm artichoke dip ($10) was served in an oval ramekin with a layer of Parmesan cheese baked on top. Red pepper flakes imparted a subtle bite, and it was served with triangles of fresh grilled naan, celery and carrots. This was an appetizer that would be hard to improve upon.
And the meal only got better from there. The veal martini ($36) had three sautéed veal medallions in a Marsala wine demi-glace, buried under an elaborate mélange of the same mushrooms from the bisque, capers, sun-dried tomatoes, colorful cherry tomatoes, basil chiffonade and a hint of parsley. Plump, tender gnudi (gnocchi-like dumplings made with ricotta cheese instead of potatoes) were a wonderful discovery.
"This is a dish you couldn't replicate at home," said my companion. "It's really an experience." Valaskey said it's a classic recipe from The Palm Restaurant in Chicago.
The halibut ($34) was almost as good, seared so the edges were nicely crisp. A fluffy shrimp mousse surrounded it and was a great enhancement. The generous filet sat in the middle of a long, rectangular plate with sous vide local smashed potatoes and blistered cherry tomatoes on each end. Thin, crisp, sesame roasted kale scattered around the plate was a bit salty for me.
Dessert specials included a creme brûlée duo ($9) in which diners pick two of four flavors. We chose dark chocolate and black raspberry (made with Chambord liqueur, the alcohol cooked off) and the two flavors came in a separate jelly jar with raspberries, blackberries and chocolate syrup on the plate between them. It was particularly rewarding to get both the chocolate and raspberry flavors in each bite.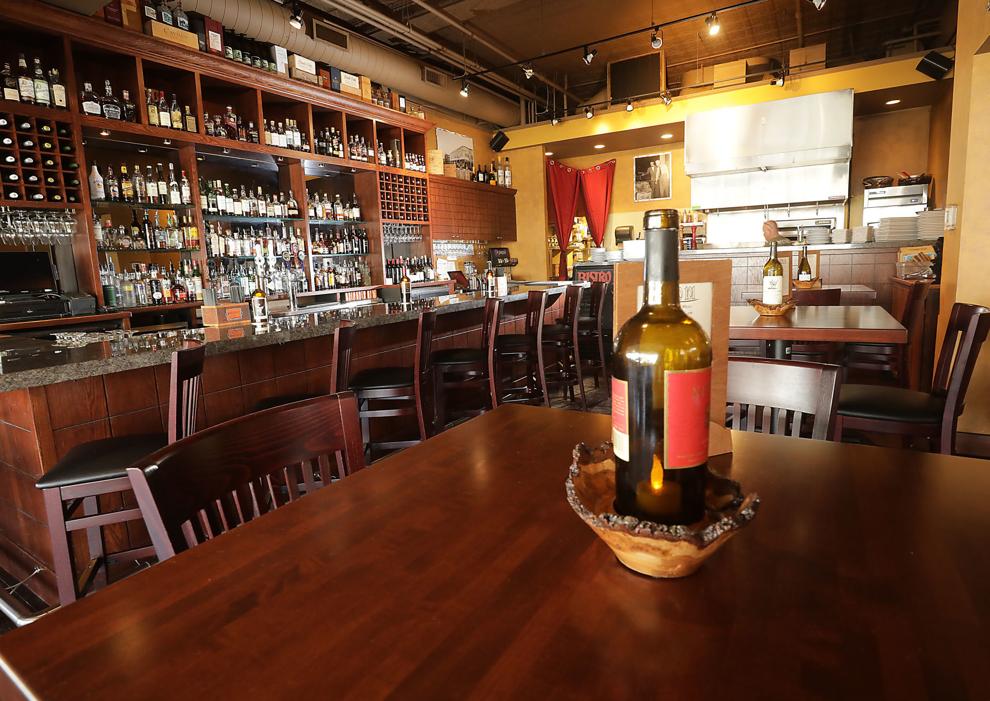 Bistro 101 has new tall tables in the bright mall area right outside the intimate restaurant with its bar and dimly-lit dining room. We chose to sit in the cozy, somewhat casual interior room, where the restaurant still has the same comfortable, soft leather seats it's had from the start. Valaskey said he's looking to replace them within the year. The two very different types of environments make Bistro 101 fairly unusual.
The cocktail I ordered, the JJ ($10), had raspberry liquor, vodka, fresh lemon and lime juice and a splash of sour. It was appropriately tart and took some time to warm to. My mom, who was visiting from San Diego, ordered the cheapest glass of wine, a Montpellier 2016 pinot noir from Napa, California ($7.50), and commented about the high wine prices. Most were $9 or $10 a glass.
That's just how it goes when you're at a restaurant like Bistro 101, I told her. It's not like we eat like this all the time. But it's fun to imagine a world in which we could.