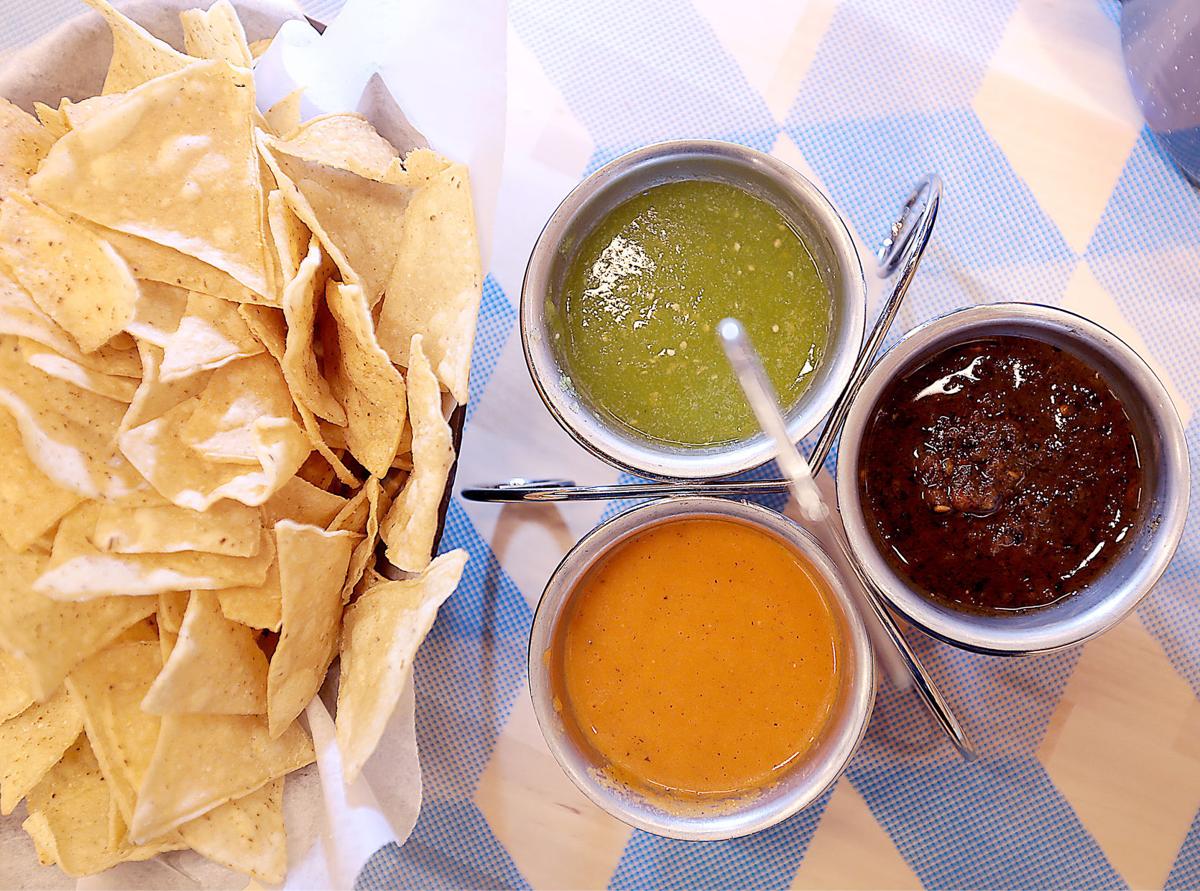 BelAir Cantina elevates the chips and salsa experience.
Facing a wait of 35 to 45 minutes on a Saturday night, two friends and I headed to the sprawling bar, where we found one open seat in the corner. Two adjacent seats opened up about 15 minutes later.
After we ordered margaritas from an impressive list of 10 specialty ones served on the rocks, we were offered chips and salsa.
These were no ordinary chips and salsa. The excellent tortilla chips were served warm with three beautiful-looking salsas in the kind of multi-compartment condiment holder you might see in an Indian restaurant.
The tomatillo salsa was unrivaled, with the roasted tomato and arbol salsas providing a nice contrast. Our bartender also brought out a generous cup of the restaurant's outrageously spicy habanero salsa. We could barely tolerate the chip with just a touch of salsa, but the flavor was fantastic.
We were seated after 40 minutes and quickly presented with new chips and salsa. Our waitress recommended the Cali guacamole ($6.98), which was almost too sweet with roasted pineapple and pomegranate. We also asked for a side ($1.49) of the regular guacamole to compare it, and found that the lime overpowered whatever other little flavors there were. It could have used more garlic, onions and maybe cilantro.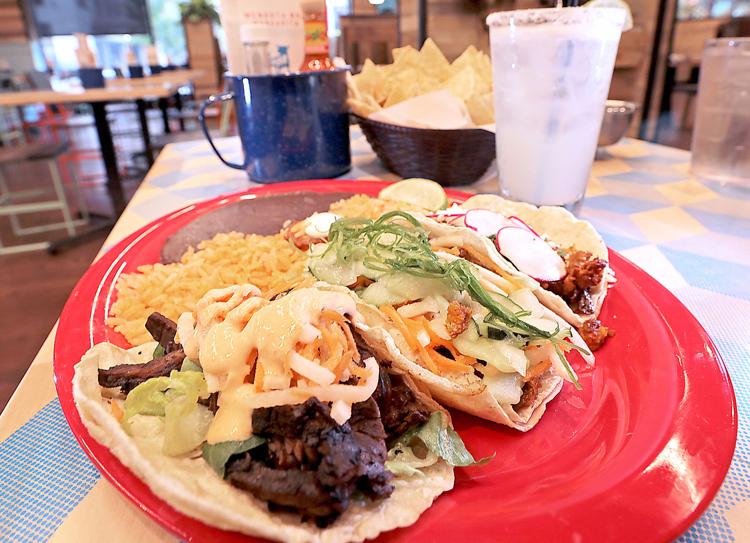 Tacos are the main attraction, and when you order three you get rice and beans, both of which are worthwhile. The red beans have beer in them and therefore gluten, and because one of my companions has a gluten sensitivity we went with the refried black beans. The Mexican rice was also a fine complement to the tacos, and I appreciated the slice of fried plantain on top, for both looks and taste.
The tacos come on flour tortillas or two, thin white corn tortillas, both great options. I preferred the ninja pig ($3.81) with crispy pork, hoisin glaze, and crisp cucumber and jicama providing a wonderful contrast to the flavorful meat; and the Korean beef ($4.45), with big hunks of dark, marinated meat and lots of veggies on top. One of my companions encountered a piece of tough meat, but the bites I had were all tender.
The housemade chorizo taco ($3.89) was also inspired, a can't-miss combination of ground pork marinated with guajillo chilis, potatoes, radish, cilantro and queso fresco.
The only taco I could have done without was the cochinita pibil ($3.98) with slow-roasted pork cooked in orange juice, earthy achiote and banana leaves and topped with pickled onions. It was the least compelling to me, but one of my companions thought it most perfectly represented the tacos she loved about her time in Mérida, Chiapas and Oaxaca, Mexico.
She was surprised to find authentic tacos at such a trendy, mainstream fusion restaurant. The Madison location of the Milwaukee-based success story opened Aug. 28 where Francesca's al Lago was on Martin Luther King Jr. Boulevard.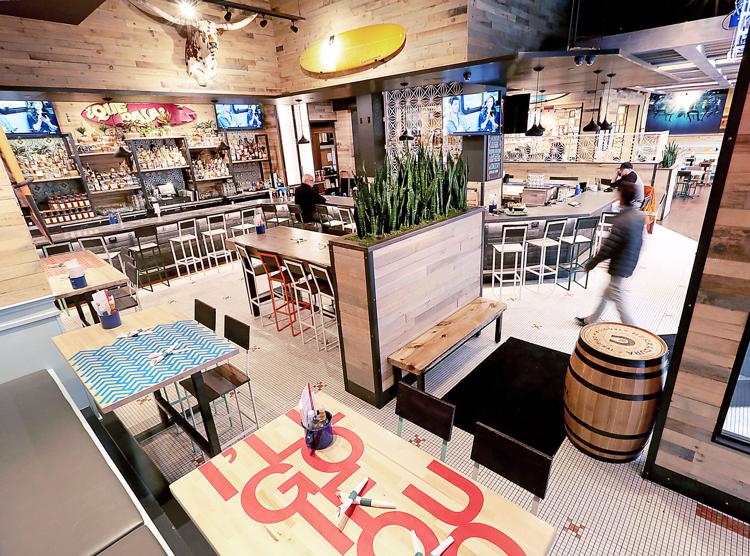 The large space is colorful, frenetic and loud with a lot of youthful energy. One of my friends, who is 67, noted that the average age in the place was about 30. The only older people we saw seemed to be parents with their college-age children.
This is the sixth restaurant for BelAir Cantina, which has five locations in the Milwaukee area and is part of the Toro, Toro, Toro restaurant group.
BelAir's version of a cobb salad ($5.97) was the ideal counterpoint to the tacos, chips and guacamole. It had ribbons of romaine, along with egg, cheddar, tomato, queso fresco, black beans, sweet corn, and bacon in every bite. Instead of being laid out in sections, everything was tossed together and thoroughly dressed with a habanero ranch.
For dessert, there are s'mores and churros, but the queso fresco cheesecake ($5.98) sounded the most interesting. The circular cake wasn't as smooth and creamy as a regular cheesecake and came surrounded by a raspberry sauce. It was fine, but not a must-have.
That designation goes to the margarita section of the menu, where pitchers and half pitchers are the way to go if everyone in your party is on the same page.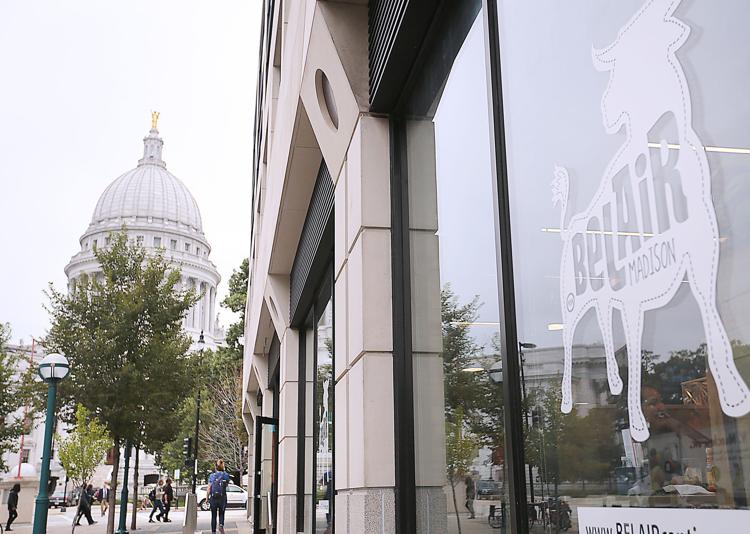 It's hard to top the house BelAir margarita ($6.50 for a pint glass, $14 for a half pitcher, $26 for a full pitcher). Although perfect for a lightweight like me, my friend knocked it, saying, "I like it when I can taste the tequila."
Later, during dinner, he was happier with a much stronger big kahuna ($9 for a pint glass). Meanwhile, I had a charred pineapple margarita ($9), made like BelAir's other fruit margaritas, with a homemade puree. It had mezcal rather than tequila, which gave it a smoky flavor. I preferred the basic BelAir margarita, and would stick to that next time.
And there will be a next time. Most likely on a Tuesday or Thursday, when the restaurant offers its more pocketbook-friendly $2 taco deal.