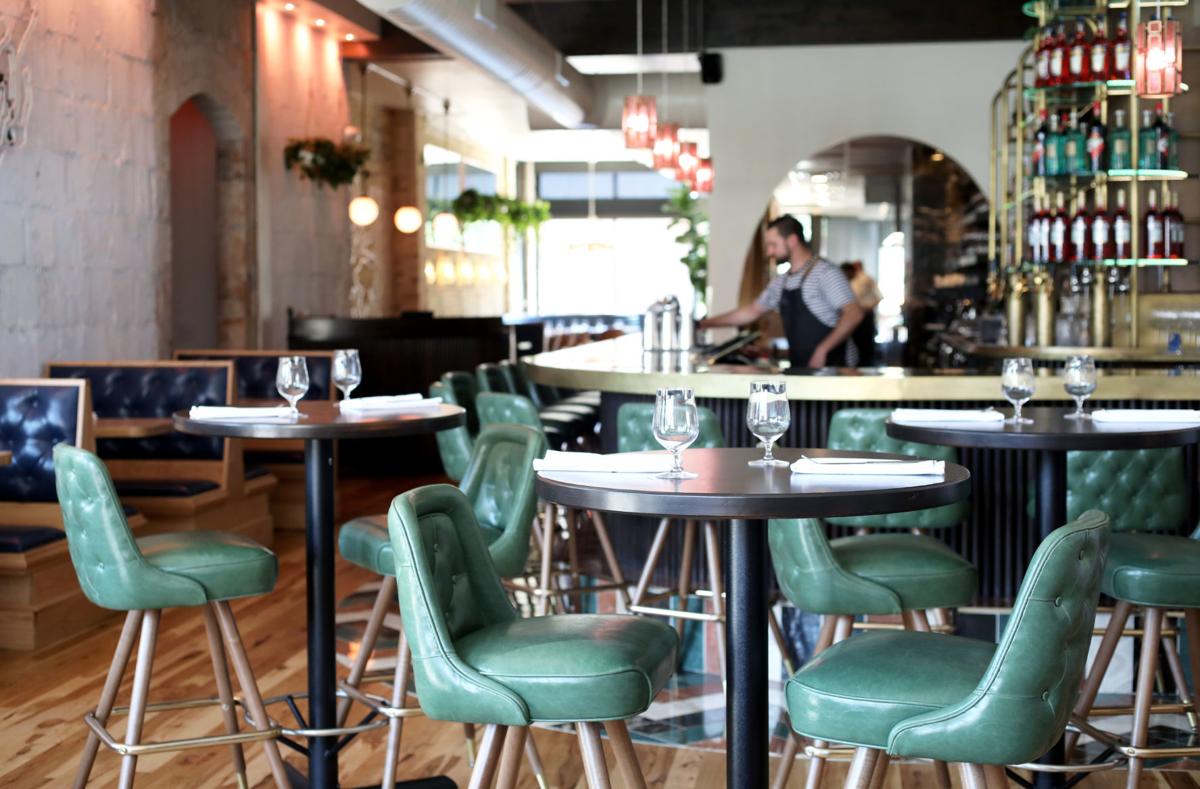 Before Food Fight opened Bar Corallini in early June, it was calling it a casual Italian restaurant. It may be more relaxed than its upscale sister restaurant Cento, across from the Overture Center, but it's plenty high brow and spendy.
It helps to make reservations at least a couple of days in advance if you don't want to eat at 9 p.m., or 5 p.m., like I did one recent Friday.
The one upside of dining early was that we qualified for the "aperitivo hour," from 4 p.m. to 6 p.m. daily, and 10 p.m. until closing Friday and Saturday, when the bar's draft Negroni and Venetian spritzes are $6 ($2 off).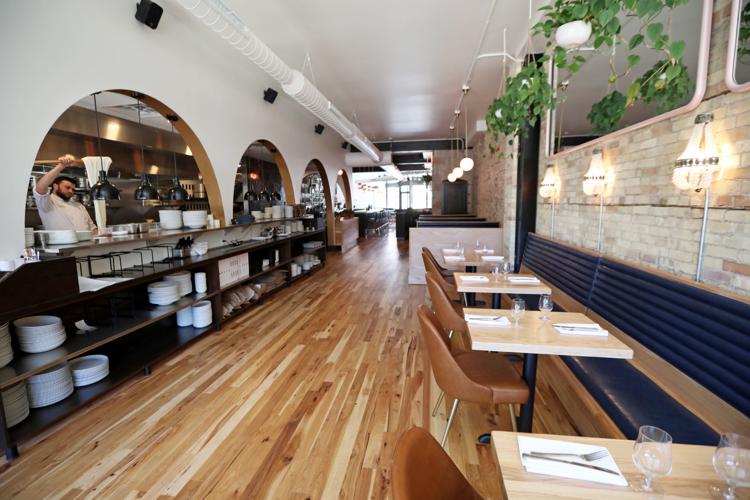 Bar Corallini's draft Negroni, the famous Italian cocktail, is made with local State Line Distillery gin, Campari and sweet vermouth, and served on the rocks with a slice of orange. It was strong, fruity and a little spicy, and my friend who ordered it preferred my lighter spritz, so we swapped.
Corallini's spritz is an easy summer drink, made with one of four spirits, sparkling water and prosecco, and served in a large wine glass with lots of ice. I had mine with aperol, a fashionable Italian liqueur with rhubarb and a blend of herbs and roots, and was glad to switch to the Negroni, which was great for sipping over the course of the meal.
Another friend, who complains about wine prices almost everywhere he goes, was happy to find a deep, fruity $8 glass of Nero d'Avola on tap.
As for food, the mezze maniche ($16) was about as classic as it gets, the ridged tubes of pasta the size and shape of half a rigatoni. The braised tomato sauce was rich with caramelized onions, roasted tomatoes, roasted peppers and chunks of high-quality sausage.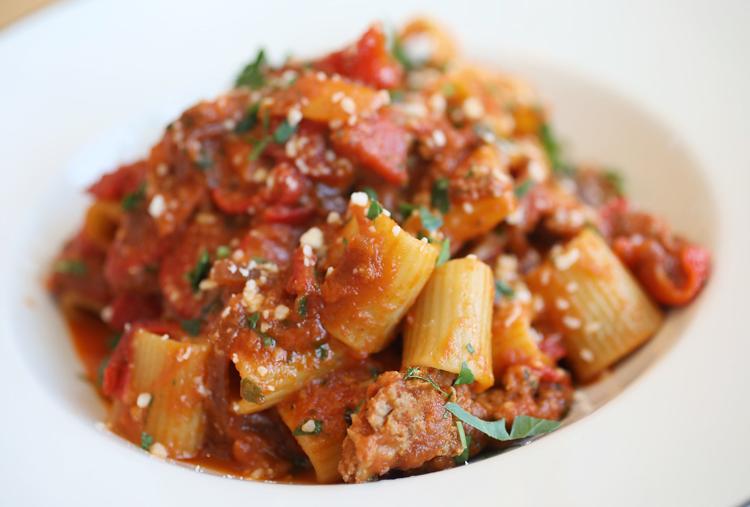 The menu is heavy on pasta and pizza, with only three entrées outside those categories. The chicken piccata ($22) with breast meat pounded flat, was overcooked and had a heavy, crispy breading. But the lemon-white wine sauce, bedazzled with plump capers, was all buttery goodness. A tangle of arugula came on the side, instead of pasta, and it benefited from a dappling of the dish's sauce.
Corallini offers three salads among its antipasti, and we probably made the wrong choice with the insalata tricolore ($11) with three colors of greens: bibb lettuce, arugula and radicchio.
It had two bits of orange, six toasted hazelnuts, and three small slices of sugar snap peas. It could have been a winning salad if it had more of each. Instead, finding those items was more like a treasure hunt. A white wine vinaigrette and Parmigiano-Reggiano were applied sparingly, highlighting the freshness of the lettuce.
You have free articles remaining.
A high point of the meal was the eggplant fritters ($11), five large, breaded balls filled with more cheese than eggplant. The menu identified the cheese as ricotta, aged provolone and Parmigiano-Reggiano, and it was the perfect mix. They were served with the same excellent tomato sauce as on the pasta.
The fritters were similar, but better, than the arancini, or fried rice balls, that have been a staple of Cento's menu since day one.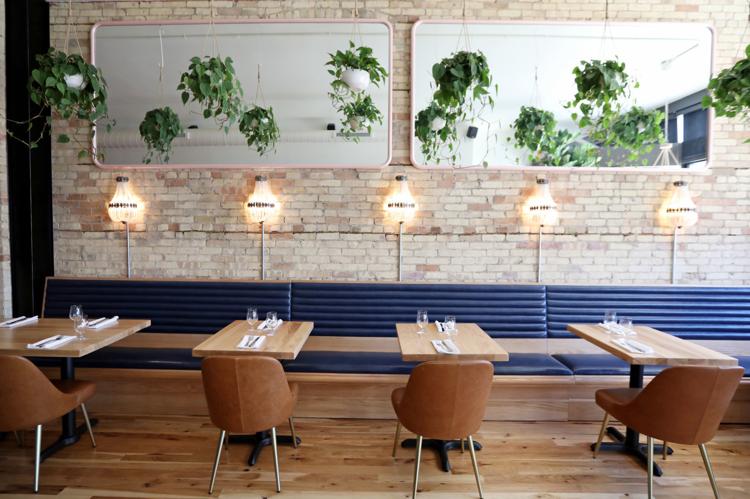 For dessert, our fantastic server went over the many gelato choices ($5 for a small scoop) from Baron's Gelato in Sheboygan, and two stood out: basil and olive oil. We went with the basil and it was the hit of the night: Fresh, subtle, and above all, unique. Now I'm eager to try the olive oil.
Our server offered still or sparkling water (on tap at no charge) and since one member of our party asked for still, she brought cold carafes of each.
Food Fight did a nice job converting the former Chocolaterian Cafe, badly damaged by fire in February 2018, into an attractive space with comfortable leather seats. Larger parties get big, elegant round booths in front.
We were seated in the narrow section across from the open kitchen, where it got uncomfortably warm. A Food Fight official said they've solved the heat problem by adding an air conditioner.
The spacious, handsome washrooms are in keeping with the care and expense that went into the total renovation.
Corallini means "little corals" in Italian and is the nickname for the locals from Torre del Greco, Italy, the hometown of the restaurant's chef, Giovanni Novella, who is a partner in the restaurant. Novella has been with Food Fight for nearly four years, first as executive chef at Cento, then at Fresco.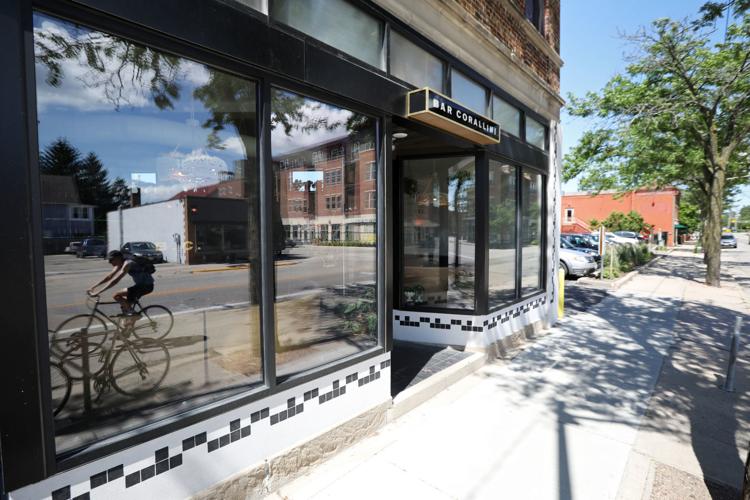 Counting Bar Corallini, Food Fight runs 20 restaurants in and around Madison with amazing success. Few of them have closed.
The restaurant group did dispense with its high-end Pasta Per Tutti, which it ran from 1993 to 2003 on Atwood Avenue, across from Corallini, where the group's Tex Tubb's Taco Palace is now.
Food Fight brazenly touts Cento as "Madison's Premier Italian Restaurant," but Corallini is every bit as good, or better.