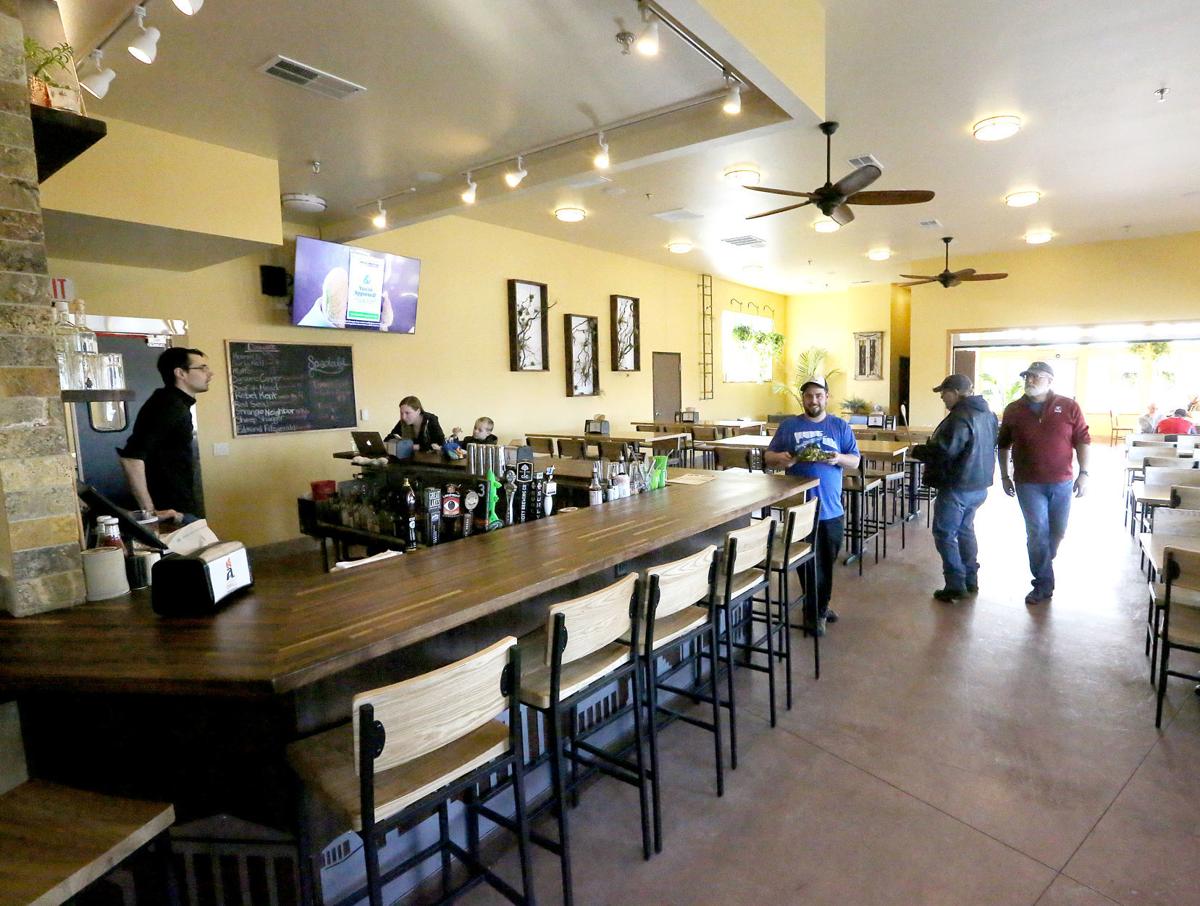 Athens Grill is the most unlikely of restaurants, transitioning from an outstanding gyro shop inside a Shell station, to a spacious, beautiful freestanding restaurant next to a Kwik Trip Express in the same location.
It serves the same delicious gyros, but the menu has been expanded in exciting ways, with many excellent sandwich choices, burgers, salads and an incredible soup.
Whether the restaurant is in Westport, Waunakee or Madison is an open question: Google says Westport. The restaurant's website says Waunakee. And the napkin holders on the tables say Madison.
Owner Andy Ziegler, 34, said the restaurant is located in the town of Westport, but has a Waunakee address.
"As far as the napkin holders go," he said, "we brand ourselves in Madison because we do plenty of events in Madison and want to be known throughout the Madison area."
Ziegler opened the nearly 7,000-square-foot restaurant in mid-December after 13 months of construction. (A basement storage and production area accounts for almost half the square footage.) It's on Highway M near Highway 113, north of Lake Mendota.
Athens Grill is an expansion of Athens Gyros, which used to be part of the Trader Gus Shell, with a much more limited menu. When the Kwik Trip was under construction, the gyro restaurant operated out of a box truck on the property. That truck will be at events this summer, Ziegler said.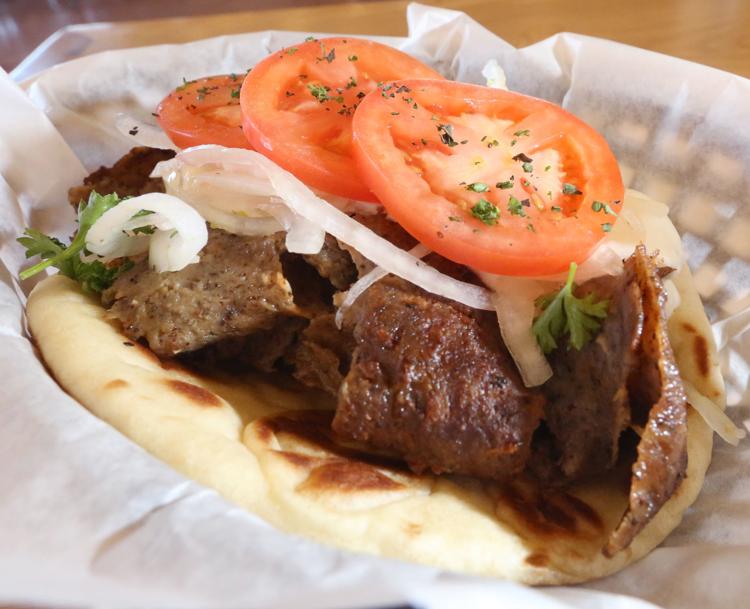 The original gyro shop and gas station was started in 2006 by Gus Kyriakopoulos, a longtime manager at the Parthenon restaurant on State Street. Ziegler bought Gus out two years ago, just before the Shell station closed. Gus' original partner is now a silent partner.
The gyros ($7) are Gus' original recipe and still feature a generous amount of tender meat that's less zesty than the lamb-beef mix at the Parthenon. It comes on a grilled pita with tomato slices, onion and fantastic tzatziki sauce.
Vegetarians will be delighted with the eggplant pita ($7), with slices of grilled eggplant and "giardiniera-hummus," where the Italian relish isn't too assertive. The hummus was a key addition, joining charred red onions, greens, feta, yogurt-tahini and roasted pine nuts.
The gyro burger ($7) is another great idea, with high-quality Knoche's beef, an herbed feta spread, gyro meat, raw onions, pickles and tzatziki. Its excellent sesame seed bun is baked in-house. The mild, thinly-sliced house-made pickles are a cross between dill and bread-and-butter pickles, and added a lot. Extra pickles pinned to the top of the bun are a nice touch.
Customers can add fries and a fountain drink to any gyro or burger for $2. The fries are similar to Parthenon's — medium thick, crisp and delicious.
You have free articles remaining.
The triangles of spanakopita ($4), or spinach-feta pie, were fine, but the phyllo wasn't as flaky as it could've been.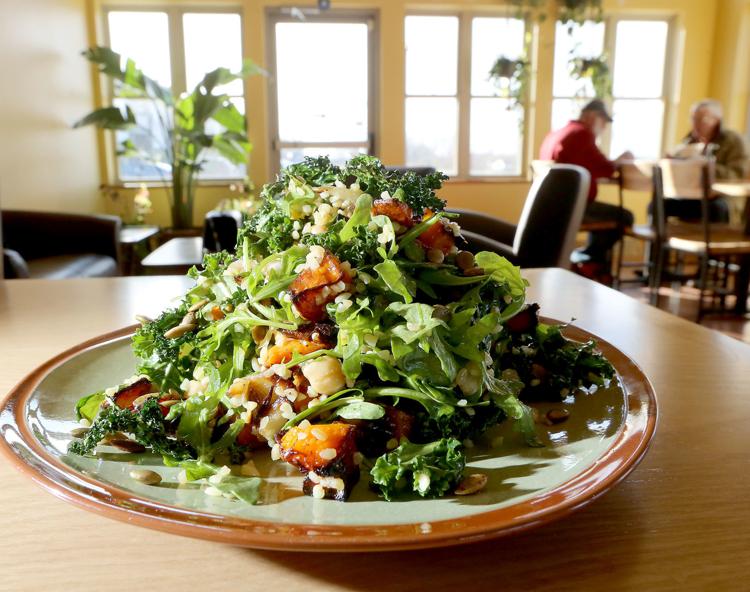 A highlight of the meal was the Mediterranean grain salad ($7), a gourmet mix of bulgur, roasted squash, kale, garbanzo beans, pumpkin seeds and pickled raisins in a red-wine vinaigrette.
"I'm impressed with this, even though I'm not a fruit-in-salad kind of guy," said my companion, adding that the squash also contributed to the sweetness.
He was enamored with the tzatziki sauce from the spanakopita and put what was left over on the salad, while I found the salad to be perfectly dressed as it was.
The chicken lemon soup ($6) is as remarkable as the salad. There's no cup option, which is OK because you're going to want the whole bowl. There was plenty of rotisserie chicken, often in large chunks, as well as rice, yogurt, grilled lemon and dill. It was reasonably thick and positively masterful.
For dessert, the baklava ($3), in small twin slices, shouldn't be overlooked. The phyllo pastry here was crispier than in the spanakopita, and it had the requisite walnuts and honey.
The spacious, rectangular room is inviting, with yellow walls and a mix of regular and tall pale wood tables, plus an area in back with comfortable leather chairs. The room extends into a smaller room that can be used for private events or overflow seating. The counter-service restaurant also has a drive-thru and a beautifully-designed website.
Reasonable prices and healthy menu items that change with the season will ensure that customers return often.
"It's really important to me to bring that high quality of food to the everyman," said Ziegler, whose background is in fine dining.
He helped Tim Dahl open the former Nostrano restaurant on the Capitol Square, and Dahl, in turn, worked as a consultant on Athens Grill.
Ziegler started his restaurant career with L'Etoile and Cafe Soleil, was a sushi chef at Muramoto for three years, and worked for a short time at Lombardino's and the Old Fashioned. He studied international relations and political science at Edgewood College and got to spend time in kitchens in Italy and France, while he lived in Europe.
In other words, it's easy to see why Athens Grill has taken off and has sold more than 11,000 gyros since it opened three months ago.
Where Athens Gyros was a cult classic, Athens Grill is an instant classic.