The new AC Hotel is helping reshape Downtown Madison, giving it a touch of luxury.
Developers ingeniously crammed a massive building into a small footprint at the corner of East Washington Avenue and North Webster Street, one block east of the Capitol. It's a brilliant location, and the hotel's Middleton developers wisely courted the established wine bar and small-plate restaurant Eno Vino for its upper floors.
Eno Vino is strictly a dinner spot, but each morning, it offers a $15 continental breakfast complete with extraordinary views of the Capitol, the Downtown, and both lakes. The breakfast by AC Kitchen uses Eno Vino staff but is almost identical to breakfasts offered in AC Hotels around the world, said Holly Breidel, regional senior sales manager for AC Hotel Madison.
AC Kitchen is open to the public and is a perfect spot for a morning meeting, or to grab a bite before a Downtown errand.
The breakfast is not a full, stuff-your-face, American-style brunch, but a more modest, European-type spread that is still all-you-can-eat. Staffers will slice aged prosciutto until your heart's content, and there are plates of attractively-cut egg tarts, which were almost indistinguishable from the banana walnut tarts next to them.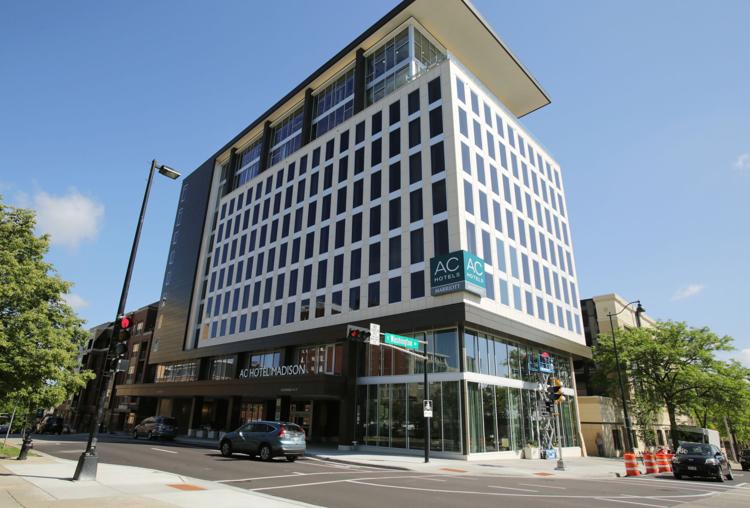 The former, which are like quiche, come in two varieties. The one I tried, made with gruyere cheese, leeks and bacon, is worthwhile if you can manage to get some right out of the oven. Otherwise, skip it. The tart, meanwhile, is entirely skippable. At least it wasn't overly sweet.
If there aren't any croissants out, as was the case on my Mother's Day visit, these are worth waiting for, their dough flown in from an area in Brittany in northwestern France about once a week. Baked daily, they were large, flaky, and a bit doughy inside.
My 11-year-old daughter, who knows almost every croissant in town, and favors those from Madison Sourdough and Batch Bakehouse, found the AC ones too big. "There's a point when you want to be done, but there's more," she said.
Not only had they temporarily run out of croissants by the time my daughter and I visited at 10 a.m., the pump dispenser of self-serve coffee was dry. Both the coffee and the croissants were replenished about 10 minutes later when we returned to the small, separate room where the food is laid out.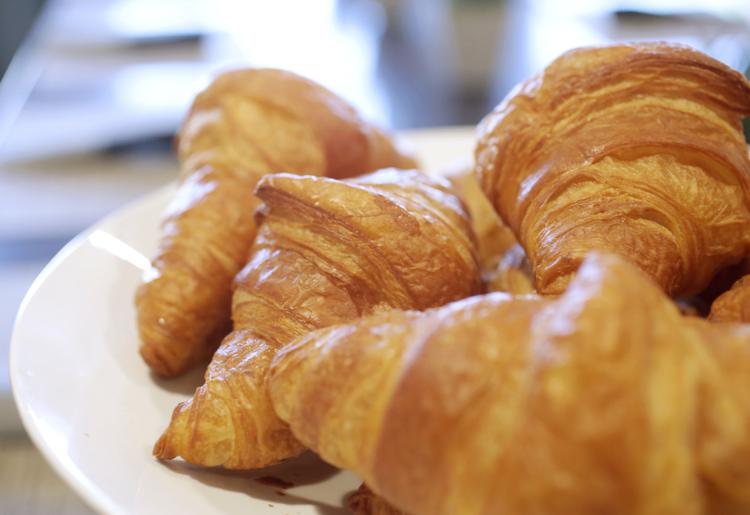 You have free articles remaining.
The coffee, included in the price, was good enough. I was surprised when Breidel said it was Italian Torrefazione Italia Napoli Blend by Starbucks, because I tend to enjoy Starbucks' coffee more.
The meal also included bananas, apples, blackberries, sliced pineapple, Chobani yogurt and cereal, with the idea that guests can make their own parfaits.
Across the room was a plate offering sliced turkey cold cuts, salami and three cheeses, including a double-cream cheese, which resembled brie. Hard-boiled eggs were also available.
The idea behind the AC Kitchen is that it's "similar to what you might offer guests that you invite into your home, what you might serve them," said Andy Inman, vice president of development for North Central Group, the hotel's developer.
"Breakfast in your kitchen and smaller plates. Not the large portions that you might see in other hotel breakfasts," he said.
The dining room, however, has nothing in common with most of our homes, its floor-to-ceiling windows running the length of the outer wall, making a morning visit bright and cheerful. A muted "Meet the Press" was on a big screen in the dining room.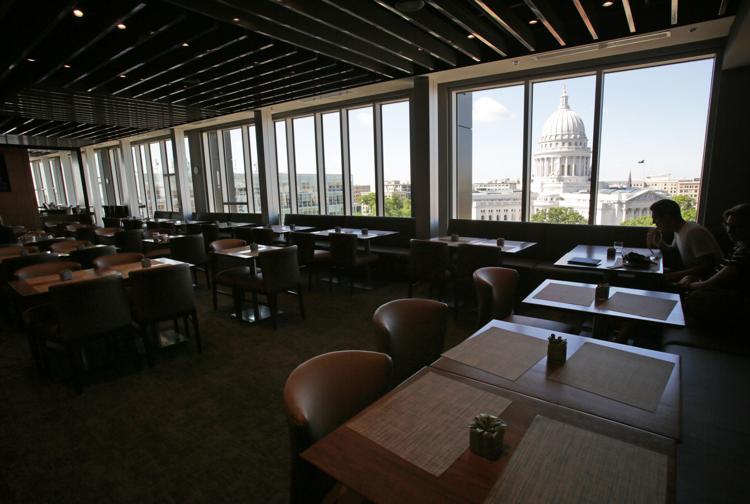 There are other Madison restaurants with views of the Capitol, but the AC stands out with its stunning 10th-story vistas. Diners can bring their breakfasts, or just their coffee and tea, downstairs to the 9th floor where an outdoor deck offers gorgeous panoramas, including — while we were there — rooftop yoga at Capital Fitness.
Even the women's room has a view. (Men have no such luck.) Much has been made of its full-length windows and mirrors, and they are truly something to experience.
The AC Hotel line was developed in Spain in 1998 and became part of Marriott International in 2011. With the Madison one, which opened May 1, there are now 20 in the U.S. and nearly 100 worldwide.
Even though Eno Vino has been mobbed since opening May 8, I doubt many people know that AC breakfasts are open to the public, since only a handful of people were taking advantage of it while we were there.
What it offers should appeal to many locals: Croissants with a view.