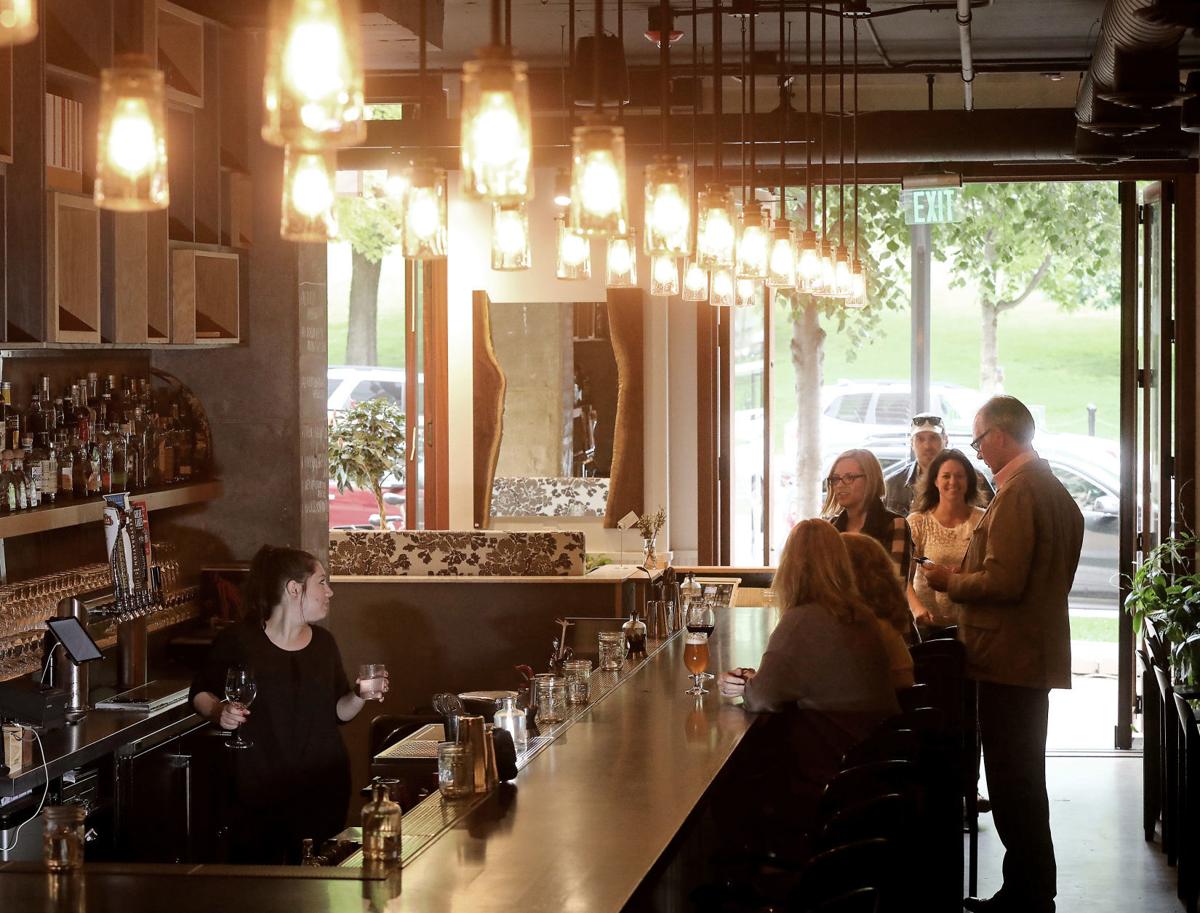 After Trish Davis's reorganization of Field Table and her collaboration with noted chef Sami Fgaier, the resulting Merci Bar Bistro Lounge has a lot to offer.
My daughter finished 8th grade on a Tuesday at noon and we headed to the Capitol Square for a special lunch. Merci, with its doors and enormous front windows wide open, was welcoming, and as the only customers, we got excellent service.
Davis said Tuesdays are slowest and that lunch is "still growing." She's taking a "steady approach to make sure the foundation is solid." Thursday through Saturday dinners are busiest, she said.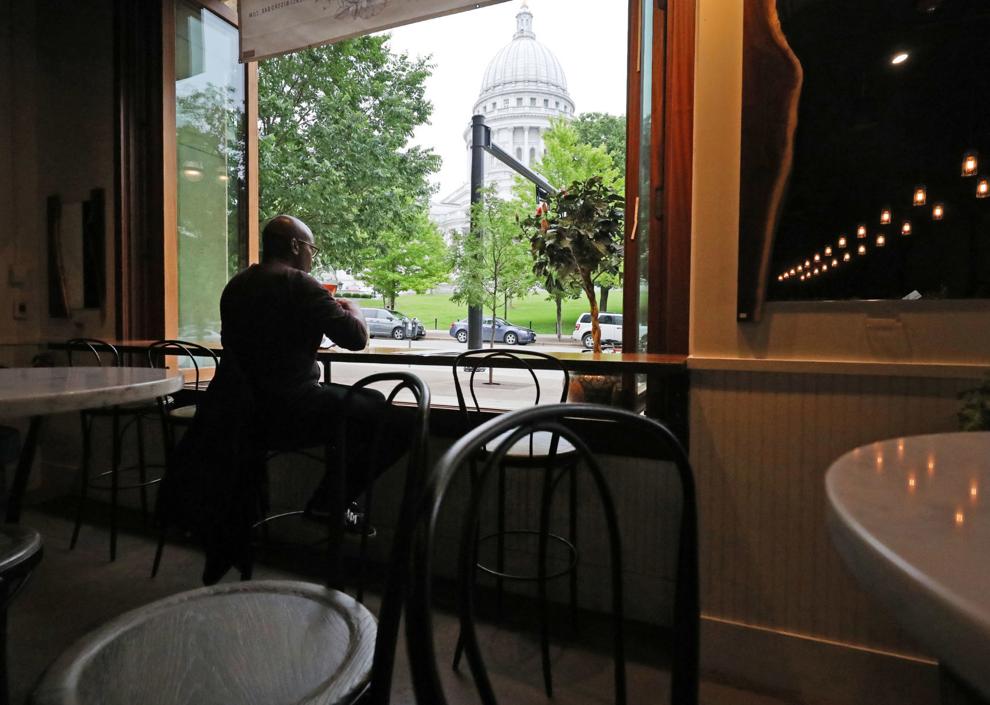 "We are growing daily and doing more events as well," Davis said in a text. "Many restaurants need a refresh in year three or four. And to that end it's been wonderful to see the creativity and talent shine as it's the best team we've ever had."
To celebrate the end of the school year, I ordered the Paloma ($11), a tequila drink with lime juice and grapefruit juice, simple syrup and seltzer, served in one of those tall, narrow glasses.
On a second visit, this time at 8 on a Saturday night, I tried the whiskey sour ($13), with egg white, cherry shrub, blackstrap bitters and a booze-soaked cherry at the bottom. The bartender started by spraying absinthe in the dainty glass.
Davis said her whiskey sour is a modernized take on the Waldorf-Astoria Hotel recipe and resembles a Manhattan. It was certainly a much more interesting and potent cocktail than the Paloma.
Ordering cups of both the restaurant's soups on the first visit was a good call. The French onion ($5), with a layer of delicious Gruyere and Parmigiano-Reggiano on top, was the real deal. Made with dry sherry and a delicious soaked crostini, it was among the best I've had.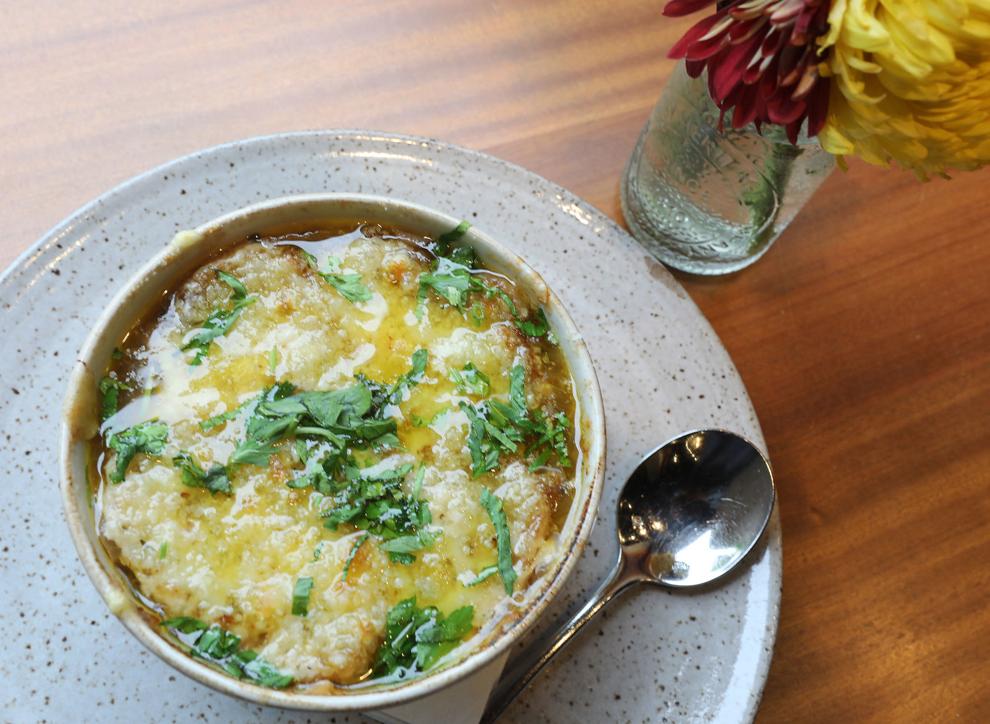 The smoked pheasant soup ($6) was loaded with big chunks of meat, which was hard to tell from turkey. The broth had lots of carrot cubes, rosemary and a smattering of farro, which tastes like barley. The soup was fine, but there was no contest between it and the winning French onion.
Fgaier, in an email from Tunisia, where he was during a month-long trip in the Mediterranean, said he gets pheasant from a supplier in Chicago. "I chose this beautiful bird because it is underused and it is a staple in the French cuisine. It is definitely not turkey."
My daughter loved her perfectly-dressed Caesar salad ($12) and asked for it without the anchovies. It had cherry tomatoes and big, homemade croutons, Parmigiano-Reggiano and a wedge of lemon.
The sablefish au citron ($26) on the menu had been replaced by walleye this day, and I asked the waitress if that changed the price. She stopped back later to say the dish was $16 instead. The walleye was fantastic, but had to be eaten defensively because of all the pin bones.
Otherwise, the soft, flaky fish had a wonderful flavor enhanced by a generous beurre blanc. The exceptionally creamy garlic mashed potatoes underneath also benefited from the sauce. Five spears of asparagus, plus micro greens on top, added to the dish's appeal.
The elegant garganelle pasta ($18) was made by rolling square, ridged noodles into the shape of penne. The dish showed off Fgaier's Mediterranean chops with roasted tomatoes, Kalamata olives, olive oil, basil and Parmigiano-Reggiano. The pasta was perfectly cooked and the ingredients made what could have been a heavy dish taste light.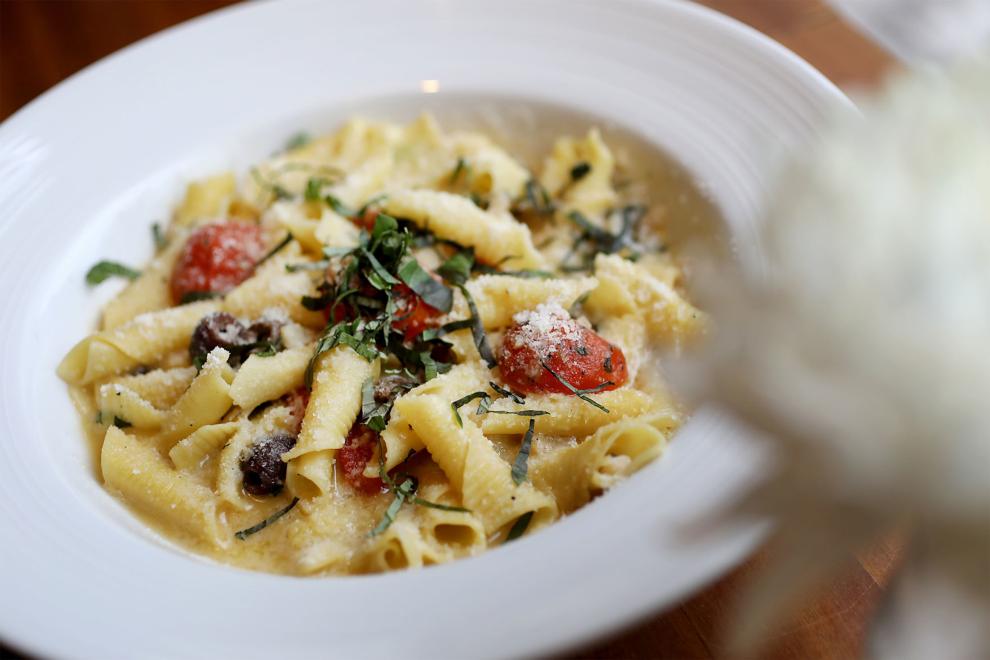 Fgaier, who grew up in the Kerkennah Islands, off the southeast coast of Tunisia, owned the restaurant Le Chardonnay on West Johnson Street from 2003 to 2009. For the past eight years, he's operated his own Madison catering business, Le Personal Chef, which is still in business and doing well, Fgaier said.
He called himself "the mastermind behind the menu" at Merci, and noted that he won't be at the restaurant to cook any meals.
"I was hired as a consultant for the concept/menu of Merci, nothing more," Fgaier wrote, later adding that he trained the Merci kitchen staff.
"This is kind of like (the) Gordon Ramsay steak house in Las Vegas or (the) Wolfgang Puck restaurant Spago where it is his concept but he is rarely there," Fgaier wrote. "This is something new I'm doing to diversify my portfolio. I might prepare another menu for another venue in the future, if all goes well with Merci."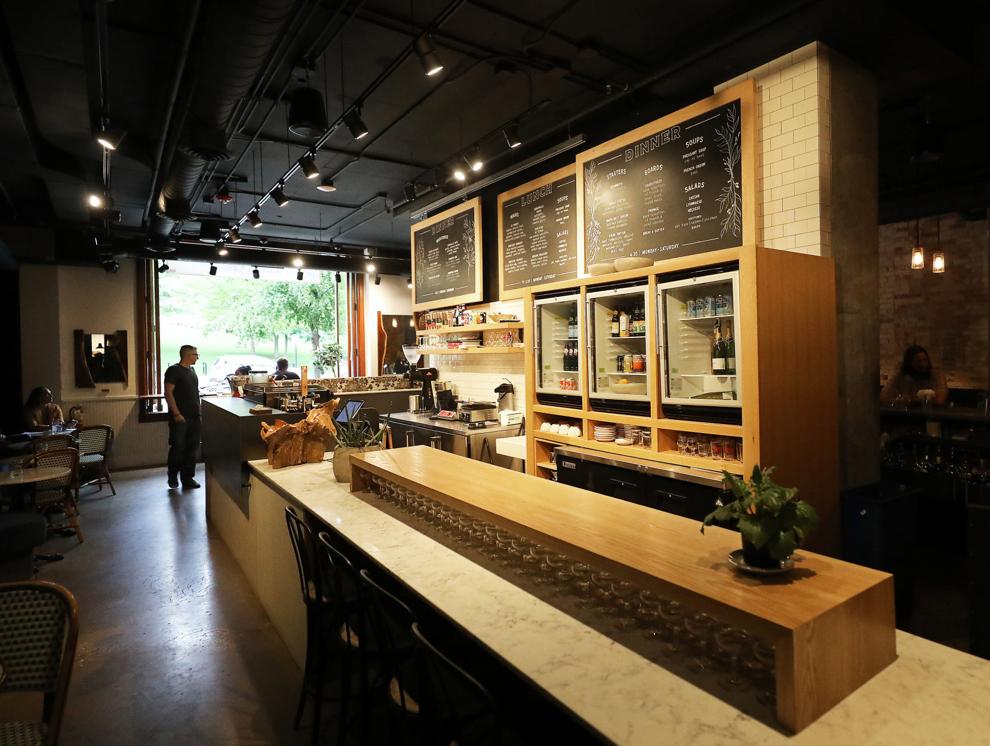 Davis opened Field Table as a restaurant, cafe, bar and market three years ago with former Isthmus food writer Andre Darlington as the restaurant's consultant. She has an investor, but runs the place on her own.
During the transition between Field Table and Merci, the restaurant was closed for three months. Davis got rid of her small retail section, took most of the "cafe" out, and expanded the bar area.
She also added accent earth-toned floral banquettes to the main gray banquette that runs the length of the room against an exposed brick wall.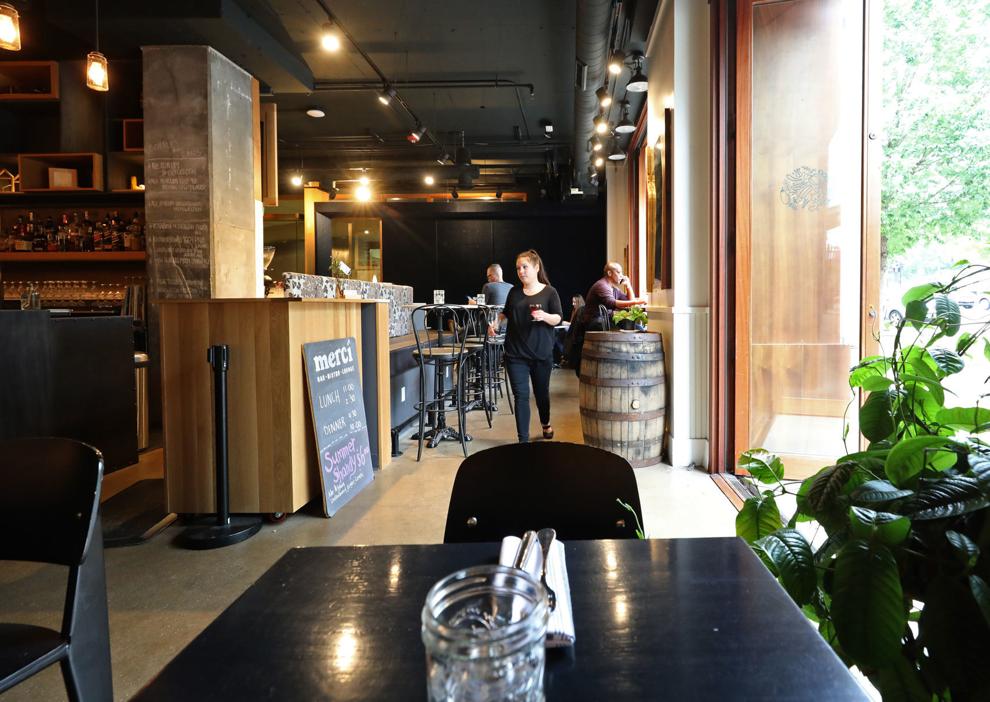 On the Saturday I was in, business was pretty slow for one of the restaurant's busiest nights. We opted to sit by the giant open windows in front, and having a couple warm bodies there seemed to help bring in customers.
The moules frites (mussels and fries) — Fgaier's specialty — were fabulous. The mussels were tender and the bleu cheese cream with Sauternes, a French sweet wine, was applied perfectly. The frites were exceptional: thin and crisp and served in a cone lined with a cute mock French newspaper on wax paper. Our server was glad to bring ketchup and mayonnaise for them.
We ordered both desserts available, a Bavarian apple pie, with layers of Bavarian cream, and a crème brûlée served with raspberries and a blackberry. Both were good, but a little steep at $9 each.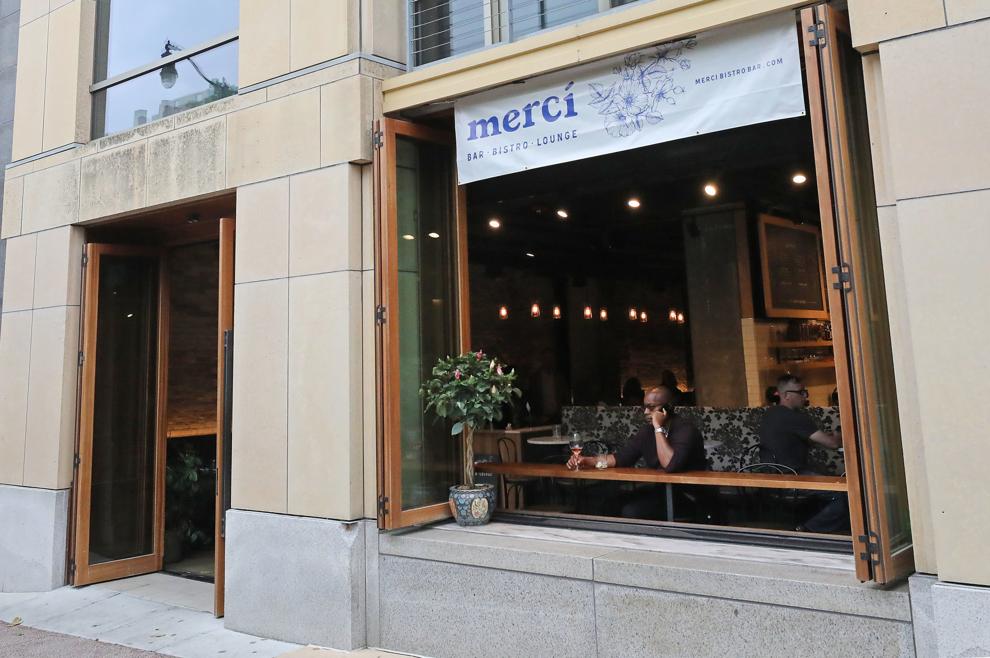 Eight dollars may be a psychological price point for me, even at an upscale place like Merci.
Speaking of psychology, do Davis a favor and sit up front where it's brighter, more open and inviting, and where passersby will get the idea to come in and have a drink, a snack or a meal.