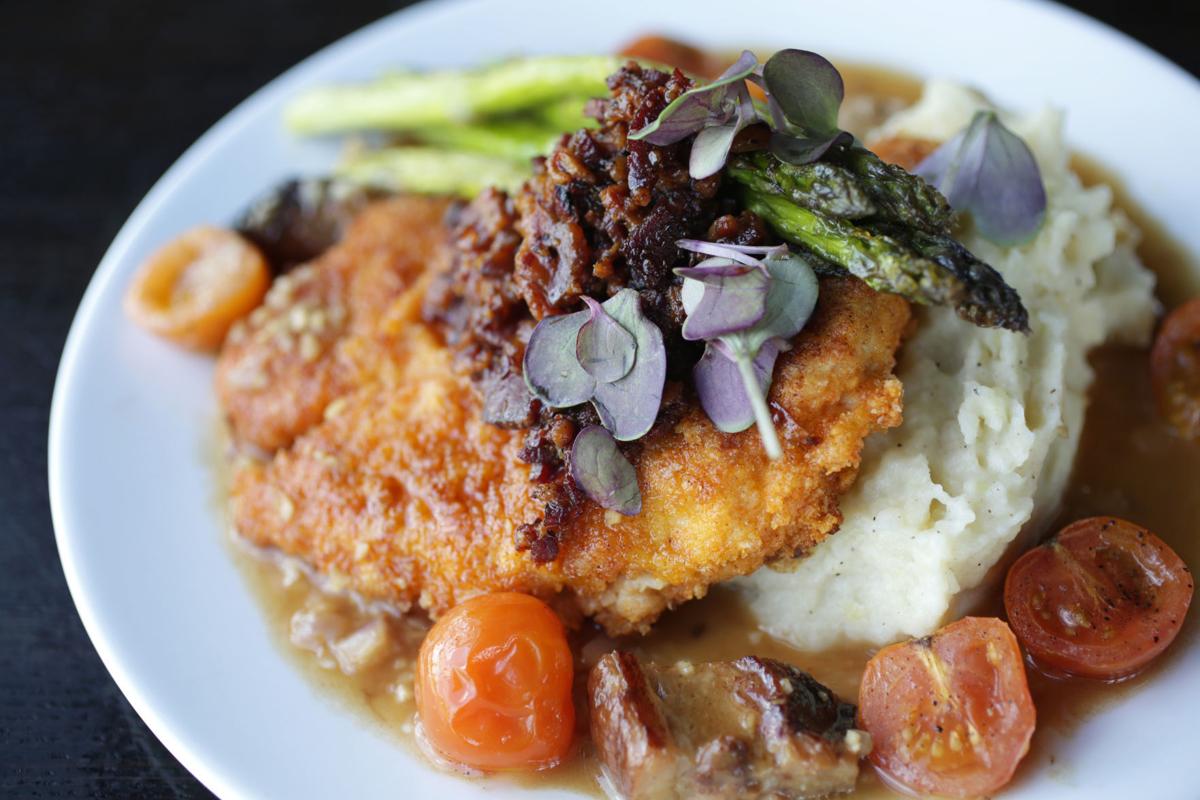 "This menu is incredible if it pans out the way it reads," my friend said as we were debating what to order at 4 Sisters restaurant in Verona.
And, boy did it pan out. Everything we had was stunning, starting with our three tapas: duck confit, black garlic scallops, and black truffle risotto.
The two entrées we chose, bacon marmalade chicken and halibut, were also hard to improve upon. We left the restaurant on a definite high.
A group of sisters with three restaurants in the La Crosse area opened the tapas and wine bar last October in the same complex as Verona Woods, a nearly 6,000-square-foot restaurant that opened almost a year earlier. 4 Sisters is roughly half its size.
The development is on Highway M, in a newly expanding area of Verona across from Sugar River Pizza Company. A Hyatt Place hotel recently went up in the same area.
Corynn Wieland owns the restaurant with Traci Weber and Lori Helke, her sisters-in-law. Another sister, Kathy Wilhelm, helped open the original restaurant, but is no longer involved.
Wieland said they were attracted to Verona because of the area's growth, especially with the success of Epic Systems.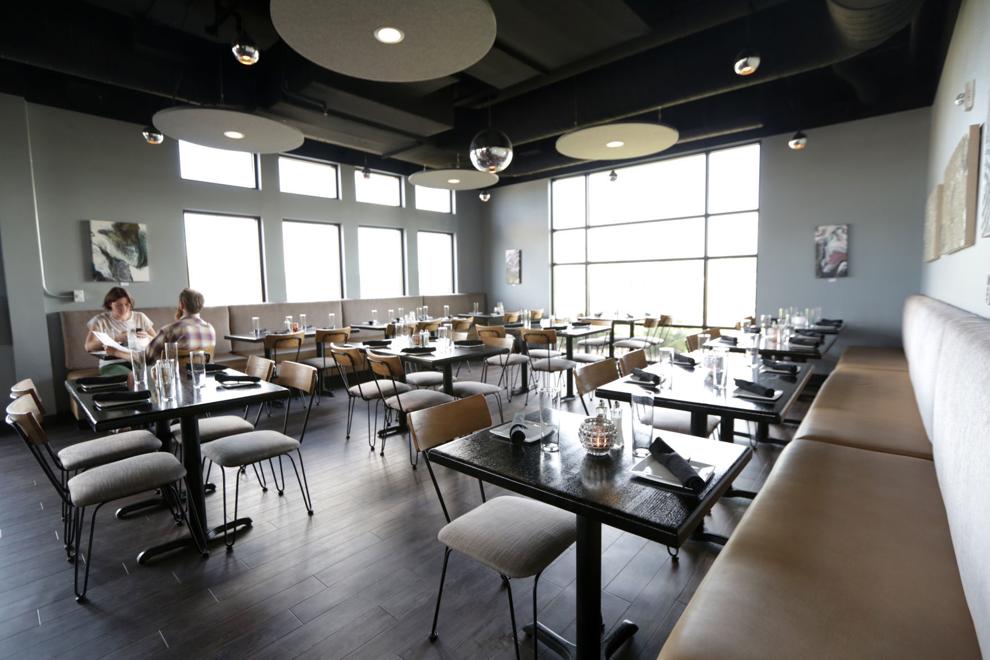 It was pretty quiet when we visited on a Saturday night, but after dinner, when we took what remained of our sangria out to the patio, we found a few other parties enjoying the cool August night. There were about the same number of people inside, where the ambiance was equally pleasant.
A spacious, relaxing bar is on one side of the contemporary dining room, which is intimate, but not cramped.
My friend and I shared a carafe of red sangria ($15), but the cocktail menu is full of intriguing choices including a watermelon white sangria ($8 glass) with pinot grigio, elderflower liqueur, simple syrup, watermelon, strawberry, blackberry and lime.
Our heavy-bodied version, meanwhile, was commercial Eppa SupraFruta Sangria with the addition of Driftless Glen brandy, said Kate Suskey, the restaurant's general manager. It had more cherry flavor than citrus, even though there were slices of orange, lemon and lime at the bottom.
That was the problem with ordering the carafe — the fruit stayed at its bottom, instead of winding up in our glasses. Suskey said it should have also had blackberries and strawberries.
Suskey is married to 4 Sisters' executive chef, Jake Suskey, who started his career in Milwaukee at the tapas restaurant Balzac Wine Bar. He's worked at restaurants in Chicago and San Francisco, and spent the previous six years as executive chef at the fine-dining Waterfront Restaurant and Tavern in La Crosse.
The menu at the Verona restaurant leans heavily on seafood, with fine-dining prices that seem reasonable, but can add up quickly as you select tapas.
The three large, black garlic scallops ($15) in the tapas we chose as a starter, were plump and tender. My companion would have preferred a harder sear, but I had no complaints. The scallops were separated on the plate by spears of grilled asparagus, and everything was bathed in a sensational black garlic cream sauce.
The duck confit ($15) was tender and flavorful. "It's difficult to cook duck confit without making it greasy and this one was perfectly done," my friend said.
The dish was as notable for the jicama-pineapple-cucumber slaw on the side topped with large slices of spicy jalapenos and a sweet chili beurre blanc that tasted vaguely Asian.
The smoky black truffle risotto ($13) seemed like more of a side dish than a tapas, but it was also delicious with shaved Parmesan and scallions.
The stunner of the meal for me was the bacon marmalade chicken ($23), an enormous Parmesan-crusted breast on top of buttery whipped potatoes, grilled asparagus and seared cherry tomatoes. A pork belly hoisin sauce and bacon marmalade were exceptionally creative.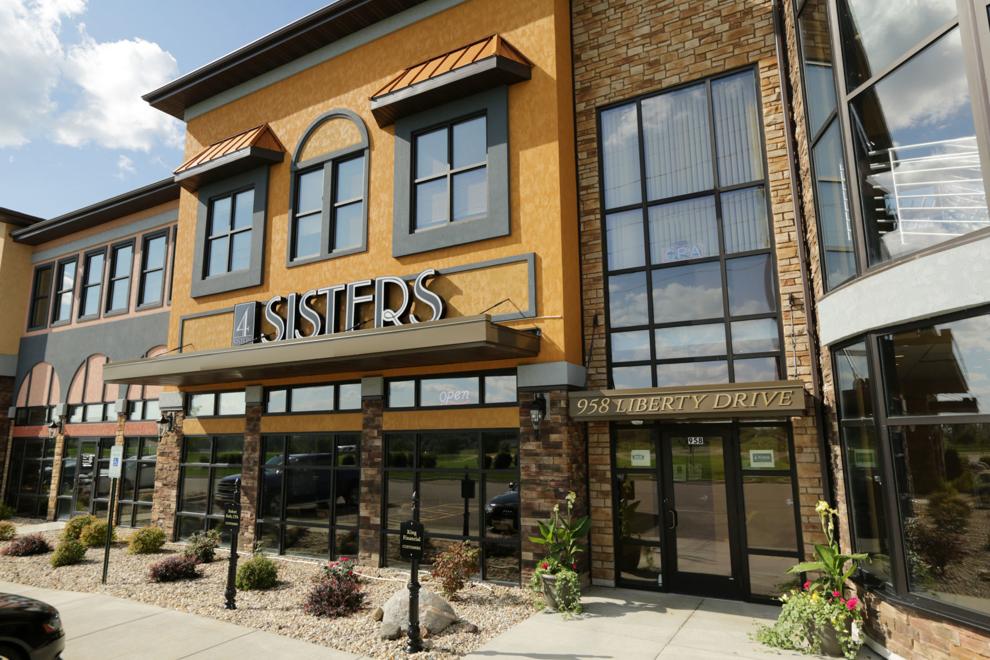 A halibut entrée ($28) was flaky, tender, meaty and perfectly seasoned. It was served with a fantastic spinach spaetzle, which was also offered on the tapas menu, and is made with spinach, red onion and cherry tomatoes in a red pepper beurre blanc.
The menu is about to change for the fall, but Kate Suskey said the spaetzle is staying.
The flourless chocolate cake ($6) for dessert was the only thing that wasn't particularly compelling. The thin, light cake came in two layers with plenty of real whipped cream on each. I liked that it was adorned with berries, and that it wasn't overly sweet. But the chocolate flavor never really took hold.
My companion didn't complain about it. And she was the perfect person to bring because she appreciated the meal as much as I did, and because she happens to be one of four sisters.
"This is a great place to take your siblings," she said afterward. "Everything is a flavor adventure. I love that."