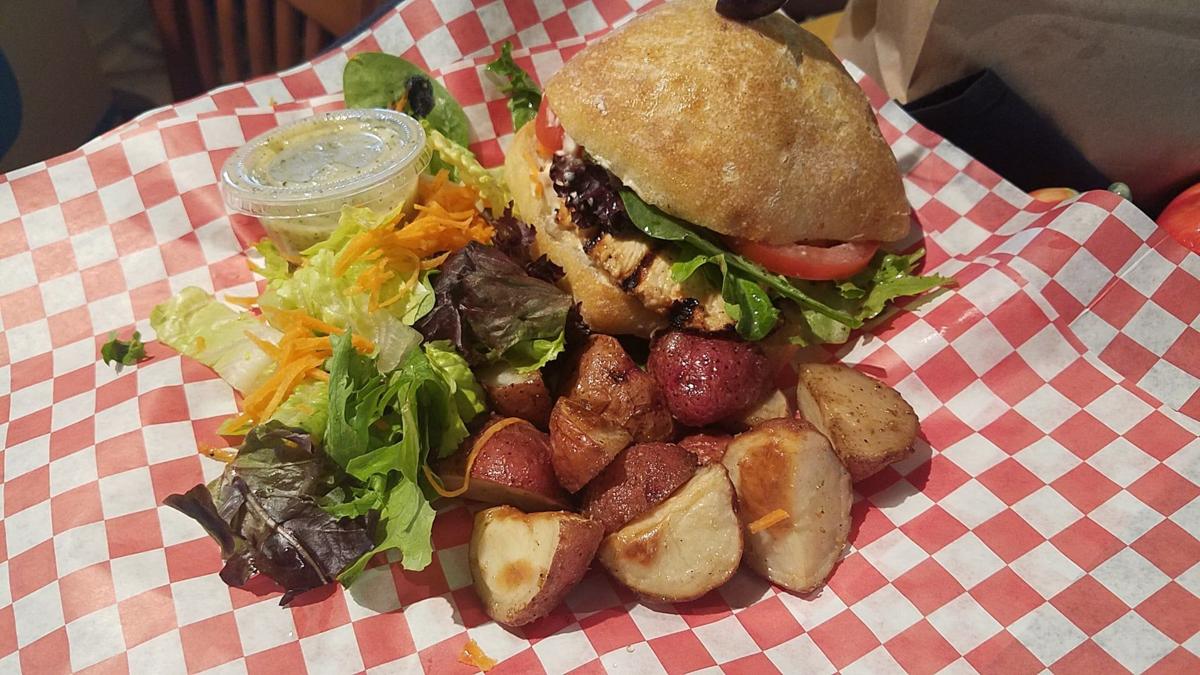 One of Madison's best summer venues for live music is getting a culinary makeover.
Teresa Pullara-Ouabel, co-owner of Bunky's Catering, and Marcia Castro, who co-owns the Old Fashioned and the spice company, The Deliciouser, will be serving food at the East Side Club on Thursdays starting this week at 5 p.m.
The club, 3735 Monona Drive, with its lakefront view of the Capitol, offers music Thursday and Sunday evenings in its Tiki bar. The backyard bar has been operating for 13 years.
Frank Martin Busch and the Names plays from 6 p.m. to 8:30 p.m. Thursday. The Americana singer-songwriter is also the vocalist for WheelHouse.
Food will also be served on Sundays through a new partnership with Dane Buy Local and the publication Madison Essentials. Picnic By The Lake will feature two food businesses each week from 5:30 p.m. until 8:30 p.m. this Sunday through Sept. 5.
Singer Kelsey Miles performs Sunday with a big voice, command of guitar and harmonica, and a wide range of familiar covers as well as original music.
On Thursday, Pullara-Ouabel will be serving chicken shawarma sandwiches and slow-roasted Italian beef with rosemary-roasted potatoes and mixed greens.
She will also have Bunky's falafel and hummus for sale with za'atar chips using seasoning from Deliciouser, and garlic chips with local organic garlic from Keene Garlic.
For June, Castro is doing chicken or grilled red onion and poblano quesadillas with Deliciouser's Oaxaca spice blend; Mexican street corn with her Zocalo spice blend, lime mayo, cilantro and queso fresco; chips and salsa with morita spice; and Oaxacan-spiced chocolate brownies.
Jamie Crahen, the East Side Club's president, said the club has worked with Pullara-Ouabel in the past. While the venue sometimes offers its own grilled items, the availability can be inconsistent.
"This is kind of new for us, working with all of these different people," Crahen said. "For us, it's a way to get people to come to our establishment and enjoy the view of the backyard. And listen to some good music and have some fun and basically get out of your house."
Crahen said the Tiki bar doesn't have a set capacity. When it hosted the Jimmys, a popular Madison blues band, on Memorial Day, Crahen guessed there were as many as 2,000.
The Tiki bar is open daily with bocce leagues, wedding receptions and other events.
Pullara-Ouabel said she sold food at the club in 2018 and 2019, but didn't publicize it much. This year she's doing more to get the word out. "It's just such a great thing to be able to be outside now," she said.
Bunky's has seen a huge demand for its catering, with 15 events this week alone, Pullara-Ouabel said. Its wholesale business has had a surge, too, recently entering the Illinois market with Milwaukee on deck. About 45 stores carry its hummus and other products.
Amy Johnson is publisher of Madison Essentials, a guide to local restaurants, shops, and attractions in the Madison area. She is also president of Dane Buy Local, a nonprofit that supports locally owned, independent businesses. In both capacities, she's running Picnic by the Lake.
Johnson said she and Pullara-Ouabel approached the club about offering food from local restaurants. This Sunday, the food will be handled by Ember Foods and Teddywedgers.
Ember sells its Indian and Middle Eastern cuisine through Christine's Kitchen, the Willy Street Co-op, and at local festivals and events. It's also lined up to be part of the future Madison Public Market. Teddywedgers has been selling pasties at the top of State Street for 45 years.
Johnson said the two vendors each Sunday will rotate with some duplication.
Picnic by the Lake is run by the same people that put on the popular Soup's On! events this past winter: Johnson, Dane Buy Local and Bunky's.
"It continues to help the local restaurants," Johnson said, noting that the pickup soup event will return in November. Picnic by the Lake will feature some of the same businesses, she said.
Johnson said the formula for Picnic by the Lake is hard to beat. "It's just going to be a really nice evening because what's better than good food, live music, the Tiki bar and Lake Monona?"