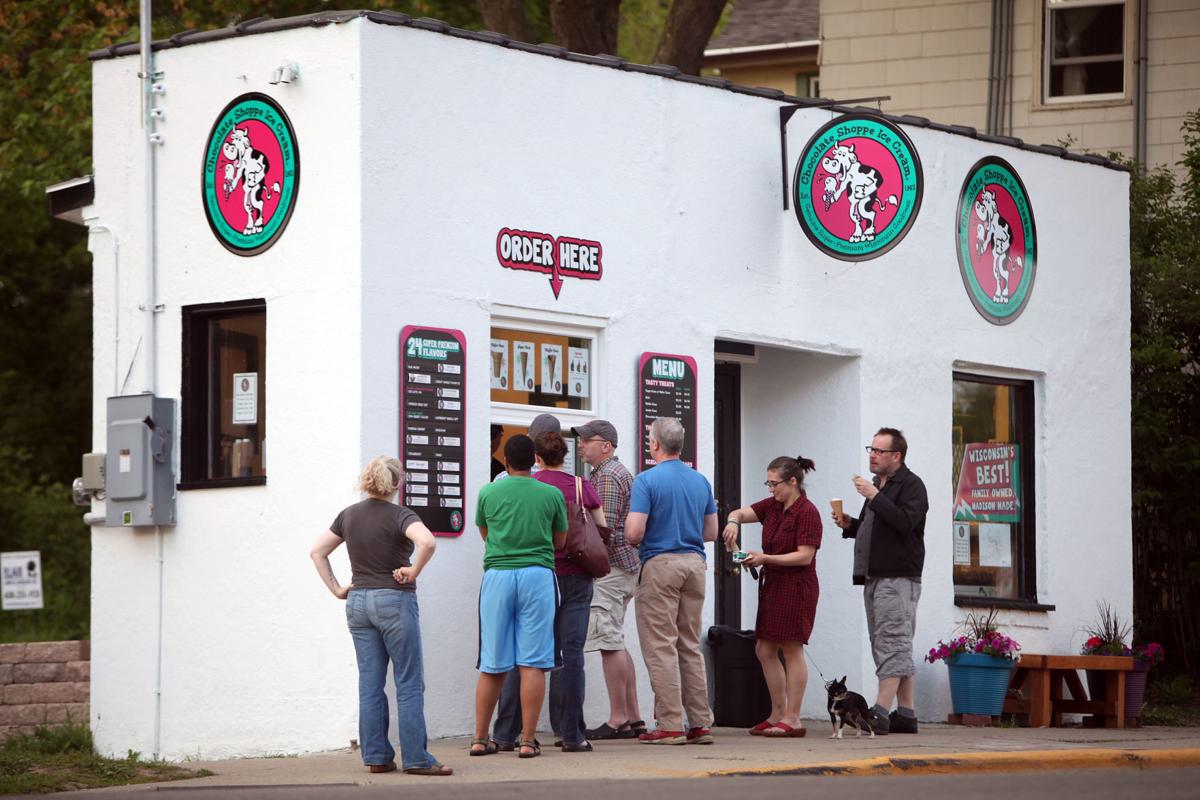 The Chocolate Shoppe will be back on Atwood Avenue this spring and summer with its Zanzibar Dark Chocolate, This $&@! Just Got Serious and other popular ice cream flavors — not in its old walk-up window location, but four doors down.
Last year, another ice cream seller bought the 350-square-foot building at 2302 Atwood Ave. and nullified the lease of Chocolate Shoppe owner Dave Deadman, who had sold his ice cream in that spot for six seasons.
Deadman's new and larger location, at 2322 Atwood Ave., is about to be vacated by Stone Fence, a gift store that sells home décor accessories and jewelry made by local artists.
In that new spot, Deadman will share a large backyard on the bike path with Cafe Brittoli next door. The old location had a back patio Deadman paid the city to use.
Meanwhile, Casey and Zach Davenport, brothers who bought the smaller property, own the Merrimac Scoop at the south Merrimac Ferry landing, where they've sold Chocolate Shoppe ice cream for six years. The name of the Madison location will be the Atwood Scoop.
The Davenports also run Best Buds, a Madison snow removal, landscape and lawn care business.
After a well-publicized lease dispute between the Davenports and Deadman, Casey Davenport said they still wanted to sell Chocolate Shoppe ice cream. But he said Deadman is no longer interested in selling to them.
"In Wisconsin, the opportunities for local ice cream are endless, as you might well know," Casey Davenport said. "So we will be serving traditional ice cream, premium ice cream. But we will not be serving Chocolate Shoppe."
Deadman filed a lawsuit against the Davenports in early October because he said he had been locked out of the building after the brothers bought it from Teresa and Rashid Ouabel, who run Bunky's Catering nearby. Deadman argued that his lease agreement with the Ouabels was renewed yearly unless he provided at least a 60-day notice before Oct. 1 of each year.
The lawsuit was settled with Deadman agreeing to leave the seasonal building by Oct. 31.
Deadman said after the Stone Fence location is remodeled he plans to be able to open windows onto Atwood Avenue and "be open and interactive with customers either coming in the front door, coming off the bike path or in the back through the backyard."
He said the new location will be a "full-blown" ice cream parlor, meaning more flavors than the limited number he was able to serve at the former walk-up window. The limited space meant he could serve 20 or 24 flavors. At the new place, he'll be able to offer 32 to 48 types of ice cream, depending on how the remodeling goes.
Most Chocolate Shoppe stores carry 45 to 50 rotating flavors. Deadman's Chocolate Shoppe company owns three other Madison stores — on State Street, Fordem Avenue and Midvale Boulevard — and Andy Lanz owns locations in Fitchburg, Middleton and in the Vilas Zoo.
The Chocolate Shoppe has a manufacturing plant on Daniels Street, off Pflaum Road, on the city's Southeast Side, where it produces about 100 flavors that rotate through the stores.
Since September, the manufacturing plant also has been producing about a dozen flavors of Babcock ice cream while Babcock Hall at UW-Madison is undergoing major renovations for the next two years.
Besides offering a full roster of flavors, the new Atwood Chocolate Shoppe will serve malts, shakes, sundaes and cakes. It will have indoor and outdoor seating, just like its other ice cream parlors around Madison. Deadman's goal is to be open by May 1.
Casey Davenport said he didn't want to disclose what brand of ice cream he'll sell at the Atwood Scoop and is still "working on the fine details." He said he and his brother will serve other items besides ice cream, but wouldn't say what, other than it won't be hot food.
"I've lived on the North Side of Madison for 38 years," said Davenport, 38, "and we are excited to be part of the community."
As for Stone Fence, Mia Brodersen bought the gift shop in 2009 after working there for 20 years. The store opened in 1972, and had locations at West Towne Mall and Hilldale Shopping Center before moving into the Atwood space that formerly housed Absolutely Art.
"Brick and mortar is tough for a small business, and there isn't as much of a market for it as there used to be," Brodersen said. "People just aren't consuming as much, really."
Stay up-to-date on what's happening
Receive the latest in local entertainment news in your inbox weekly!