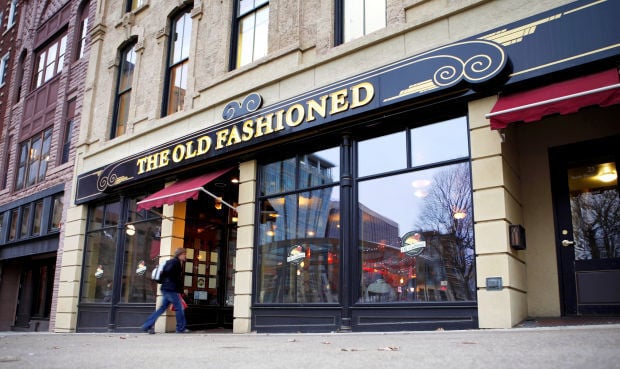 By focusing mainly on carryout and delivery for the past seven months, the Old Fashioned, one of Madison's busiest, most popular restaurants, has gone from 108 employees to 24.
And, as of Thursday, owners Marcia Castro and Tami Lax are appealing to the restaurant's fans with a GoFundMe page they say will help them pay their remaining employees.
The restaurant and bar is often a first stop for out-of-towners eager to experience Wisconsin brandy old fashioneds and fried cheese curds. Its dedicated following includes about 12,000 regulars in its Big Shots loyalty program.
Castro said the 15-year-old Capitol Square business isn't in danger of closing due to restrictions on restaurants during the pandemic, but she said she wants to be able to keep some of her staff employed and provide them with health insurance.
"We thought the PPP (federal Paycheck Protection Program loan) was a short fix and we would be back in business by the end of June, and here it is going on the eighth month," Castro said. "And really no business can survive at less than 25% of capacity. Business isn't set up that way."
The Old Fashioned has done well selling its Friday fish fry for curbside carryout and delivery, but Castro said business really suffers the rest of the week.
She and Lax thought about closing for the winter until they could safely seat people inside, but for "the sake of our staff, we kind of thought (the GoFundMe) was a last-ditch effort," Castro said.
The women say the other reason they're doing it now is because restaurants aren't going to be seeing any federal coronavirus relief soon. President Donald Trump shut down additional aid discussions Tuesday until after the Nov. 3 election.
Lax said they've "aggressively tried to keep as many people employed as possible, but ultimately, (we) had to lay off an awful lot of people."
She said they've had to reduce the hours of other workers, which is difficult because when they aren't working full time, they don't qualify for health insurance. Lax said she and Castro stopped taking income as soon as COVID-19 restrictions were issued, and started using their personal money as backup.
"We're just kind of up against the wall right now," Lax said.
As of 4:30 p.m. Thursday, the account had raised about $3,300 toward its $75,000 goal.
Castro and Lax aren't the first Downtown restaurant or bar owners to start a GoFundMe account. Beginning in late August, Short Stack Eatery raised $60,221, and reached its goal in less than two days.
Last month, the Plaza Tavern raised $78,670, beating its goal of $75,000.
Helbachs Coffee Roasters and Kitchen in Middleton started a GoFundMe campaign in August to raise legal funds as it fought a county mask order. The shop raised about $16,000 of its $50,000 goal, but has since closed.
In July, the Old Fashioned began outdoor dining, weather permitting. And on Tuesday, after seven months of being closed for interior dining, Castro and Lax are planning to begin seating inside at the county-mandated 25% capacity. Hours will be reduced and they'll be using both sides of the restaurant as well as Harvest's private dining room next door.
"We are going to cautiously open at 25%, and really take it on a day-to-day basis," Lax said, adding that they'll reevaluate the decision after a month. "It's hard when you have a restaurant of our size. (With) our overhead, we're drowning in it."
Lax said the Old Fashioned doesn't qualify for state grants available to small businesses that bring in less than a million dollars a year. "So, we're just in a really, really tough spot right now."
The women rent space in two buildings and pay rent to two landlords. Castro said they've worked out agreements with both of them, "but they're also in the same predicament," she said. "Everybody needs to pay their mortgage."
10 Madison restaurants with enhanced outdoor seating thanks to city's Streatery program
Outdoor seating has been a lifeline this summer for some restaurants lucky enough to have it, but it comes with challenges, and worse, an approaching end date with colder weather on the way.
About 87 restaurant and bar owners are taking advantage of the city's "Streatery" program, modeled after efforts around the world to help restaurants during COVID-19 restrictions by helping them increase their outdoor dining areas by extending into streets, parking spaces, parking lots and alleys. Twenty-six other applications are pending in Madison.
The efforts are in response to public heath data that suggests that al fresco dining is a safer option than eating indoors in restaurants. Or as Chicago Tribune columnist Mary Schmich put it, "a restaurant patio is a calculated risk."
Here are 10 Madison restaurants and bars taking part in Streatery.