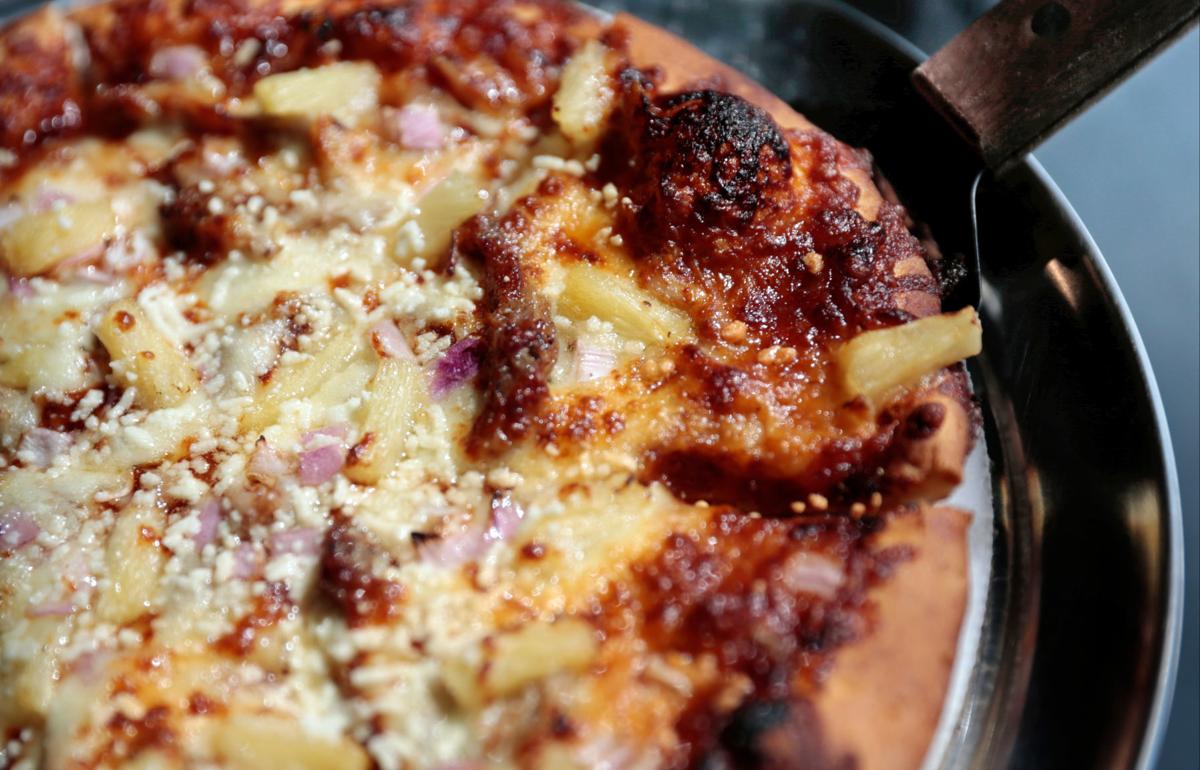 A new location of Sugar River Pizza is coming to Sun Prairie next fall, with construction starting in about a month.
The third Sugar River Pizza will be in Prairie Lakes, next to Cabela and the Hilton Garden Inn. Big draws in the development already include Costco and the Marcus Palace Cinema. A Sun Prairie Tipsy Cow opened there in December.
Deb and Daryl Watterson started Sugar River 10 years ago in Belleville with their daughter, Sarah Thomas. They opened a New Glarus location in 2013 and a Verona one in March 2016. They closed the original Belleville restaurant in late 2016.
One of the reasons they like where they're building is that their patio will look out over green space.
"We're able to offer actually a quiet, mellow place for people to really relax," Deb Watterson said. "Every restaurant we put up, we try to put a 'Wow.' "
Floor-to-ceiling glass panels looking onto the green space can fold up completely, to open up the dining room when the weather allows.
Sarah owns and operates the Verona restaurant with her husband, Ross Thomas, and the Wattersons own the New Glarus location and will own the new one. 
"We really want to keep it family run. And when we say family run, we mean family run -- that we actually have family in the restaurant," Watterson said.
The Thomases elevated the bar offerings in Verona, and Sun Prairie will offer similar bar service. The new place will have 46 taps, including local beers, domestic beers, and international craft beers.
The Sun Prairie restaurant will be larger than the 5,300 square-foot Verona location, with about 7,000 square feet and seating for 300. The restaurant will have a second patio off one of its two private meeting rooms.
The Thomases have a farm south of Mount Horeb that supplies some of the beef for Sugar River. The rest they get from other local farms. Sausage comes from Usinger in Milwaukee. Cheese is made special for Sugar River by Silver-Lewis Cheese Factory Cooperative in Monticello.
"Local, as you know, kind of gets overused out there. We really mean local," Watterson said.
The menu features about 20 specialty pizzas and just as many appetizers. There's also pasta, calzones, salads, soups and grilled sandwiches.
The menu in Sun Prairie will be similar to the menus at the other Sugar River Pizza restaurants.
Watterson is a former chief marketing officer at CUNA Mutual, who can usually be found in the kitchen of the New Glarus restaurant. "You'll see me cooking, you'll see me cutting pizzas and working in the front of the house," she said. "I had no idea I was going to love this business as much as I do."
Daryl Watterson was a bank examiner and Sarah Thomas formerly worked at Epic Systems for 12 years in software development and sales.
"We've been able to apply some of our experience with how to run our restaurants," Watterson said. "I wouldn't trade this for the world."