Being voted the "Sweetest Bakery in Wisconsin" means everything to longtime baker Joe Crubaugh, owner of Fosdal Bakery in Stoughton.
"It's a celebration for us as a group, the employees," he said. "It means a lot to us as far as how we're perceived by the community. It's just so magnificent to know that you're thought of like that."
Making people happy was the hook that got him into baking in the first place, Crubaugh said. "That's the thing that brought me in: I could take something, make it, and somebody really liked it."
Michigan-based Dawn Foods, which supplies Fosdal Bakery, 243 E. Main St., with baking ingredients and has accounts across the country, hosted the "Sweetest Bakery in America" contest, with the winner needing to rack up the most online votes from its customers and fans.
At first, Fosdal's staff didn't know if it was something they wanted to get involved with, said Gigi Gastevich, who handles communication, marketing and graphic design on top of her production and clerking duties for Fosdal's, which has about 35 employees.
They learned about the contest from their Dawn representative, and after getting the promotional materials in the mail, decided to go for it, Gastevich said. Starting in March, they began promoting the contest on the bakery's Facebook page and in the store, asking people to vote every day.
"You could vote once a day per device, but we never could have expected how far all of our Stoughton customers would take it," she said.
They not only voted daily from their computers, but from their tablets and phones, and they got their friends across the country to do so as well, Gastevich said.
"Every post that we made on Facebook about it got tons of engagement and shares from people not only in our small town in Stoughton, but from all over the country," she said.
Crubaugh, 56, a third-generation baker, worked for former owners Gerry and Beverly Fosdal, who opened the bakery in 1954. Crubaugh worked for them for about 15 years before taking it over. He's owned it for 13 years.
Owning the popular bakery is "the joy of my life" he said, noting that owning his own shop was his ultimate goal when he started out in the baking industry.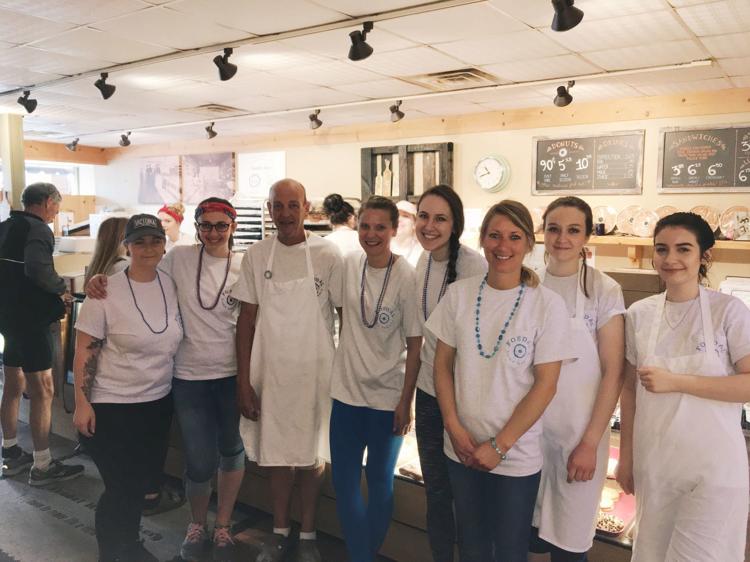 Gerry and Beverly did a great job producing a consistent quality product when they owned the business, Crubaugh said, adding that the recent outpouring of love from the community is a sign that he and his staff have maintained the same standards. He gives his employees a lot of the credit. "This is all a team effort," he said.
The bakery is known for its chocolate donuts and cinnamon rolls, and produces more than 50 types of bakery items per day.
Fosdal's puts out 250 to 300 dozen donuts a day and supplies grocery stores, service stations and hospitals from Fort Atkinson to Janesville to Madison. Both Metcalfe's Markets in Madison, West Side and Hilldale, carry Fosdal donuts, breads, buns, and brownies.
Crubaugh said Fosdal's does an equal amount of retail and wholesale business.
Fosdal's has about a dozen customers in their 70s who come and eat donuts together in the bakery every morning. "They love to reminisce about how long they've been coming to Fosdal's," Gastevich said.
In terms of the "Sweetest Bakery" campaign, Gastevich said it was incredible to see how far customers took it.
"It's really just a wonderful experience for us to see the impact that we've made on people that they would be willing to do this for us," she said.
Reading some of the congratulatory posts on Facebook has been emotional for Crubaugh since the award was announced Saturday. "Some of them almost bring a tear to your eye," he said.
The title of "Sweetest Bakery in America" went to a bakery in Hatboro, Pennsylvania. Second place went to a bakery in Clayton, North Carolina. A bakery in Hyde Park, Vermont, took third.