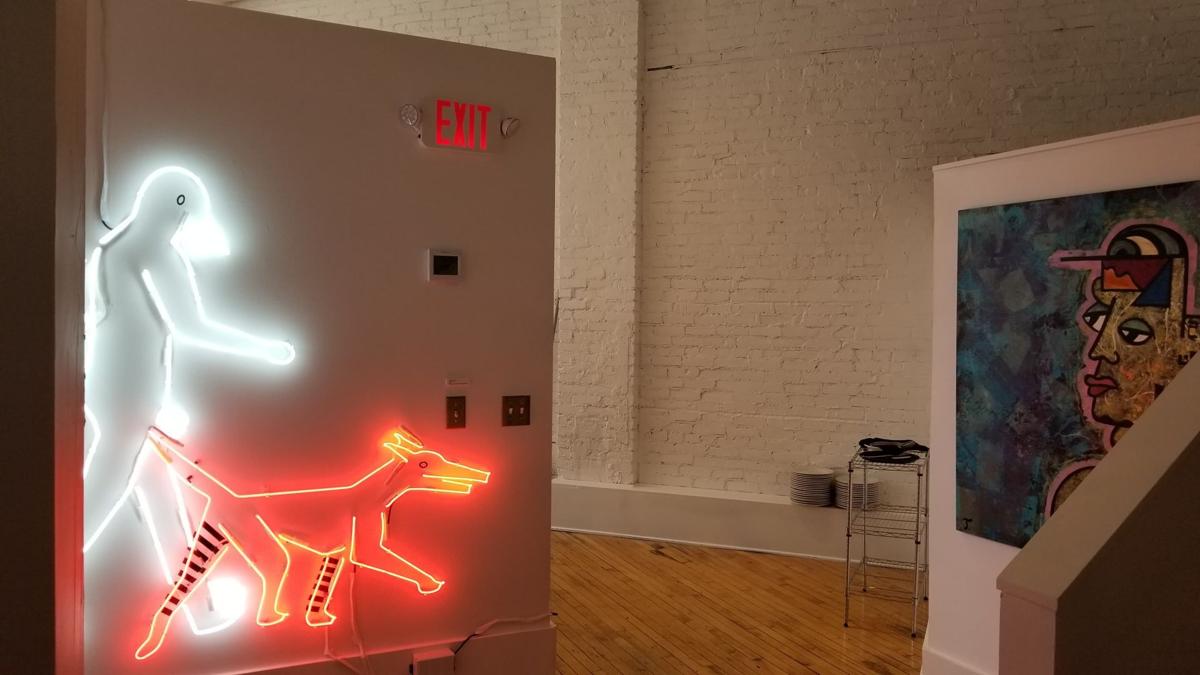 Nathan Mergen, who opened 107 State at that address in June 2019, is expanding next door into the former Shoo store space at 109 State St., for a private dining room and "urban art gallery."
Mergen said he took name suggestions from his 10-member staff, business partners and regulars Thursday night and they came up with Forma, a Latin and Italian word that means "form, shape or appearance."
"There was a lot of arguing about this," he said, adding that the name discussion took hours.
As for the the "urban art gallery" distinction, Mergen said he's describing it that way because "there will be no Owen Gromme wildlife prints. We are looking for cultural connections to street art and less conventional processes of creation inspired by the young artists of the city and country -- metropolitan areas."
A reception for the first art exhibit will be held at 5:30 p.m. Saturday with capacity capped at 25 because of COVID-19 restrictions.
Eguino is a UW-Madison art student from Los Angeles and Torres is a recent UW-Madison graduate from Berkeley,  California.
Local artist Adam Villegas, 30, the gallery's curator, said different artists will be featured each month, most from Wisconsin. 
One wall is a "graffiti wall" where each artist can create a mural. Then, when the next artist comes in, Villegas said, one piece of the previous mural will be saved for the new artist to incorporate.
"It's kind of like the 'exquisite corpse' that some of the classic artists used to play back in the day, like parlor games," he said.
According to the Tate museum, "cadavre exquis," or exquisite corpse, was invented in 1925 in Paris by the surrealists Yves Tanguy, Jacques Prévert, André Breton and Marcel Duchamp. It's similar to the game "consequences," in which players write on a sheet of paper, fold it to conceal what they've written, and pass it to the next player.
"Some of most notorious and popular artists back in the day when they'd be at the pub, they'd be playing these games," said Villegas.
After Eguino and Torres had their paintings installed at the new gallery, they did drawings, paintings and screen printing on the wall to incorporate their pieces into the space, Villegas said.
The exhibit has 16 collaborative works, six pieces by Eguino and nine by Torres. The gallery will open from noon to 4 p.m. on Saturdays and then by appointment at 608-630-8184. There is no cost to visit.
"The artists, event coordinator, and curator are all of Latinx descent," said Villega, who did a number of murals on and near State Street last year after the looting and vandalism. "We want to make an inclusive safe space for everyone to be creative and express themselves so that they can grow and prosper."
The exhibit includes sculpture, neon, printmaking and painting "reflecting on the constantly changing world and space we exist in," Eguino said, quoting from the exhibition statement. "Through sharing stories of struggle and conflict, we offer a space for others to connect and relate."
Mergen said the idea to use the space next door came from his landlord John Caputo's wife, who suggested Mergen do something there since nobody was renting it. He said he negotiated a fair price.
The new space is in the same building, but not connected to 107 State. Mergen will have room for about 25 seats in the new place under the city-county's 75% capacity order, but hasn't ordered the furniture yet.
107 State can seat 50 inside under the current order, and 20 outside, using the sidewalk space in front of 107 and the former shoe store.
Mergen said money from the Paycheck Protection Program helped him stay open. At the beginning of the pandemic, he closed for two months and started offering takeout, but, he said, that model alone wouldn't have kept him in business.
With his new private dining area and art space, Mergen said he's "trying to create something that not only benefits the Downtown area, but benefits the community as well. We want to make sure local artists have an outlet."
Madison Forward, Part 1: Region's business community pushes ahead
The pandemic had devastating consequences for many Madison-area businesses. Some didn't make it. Others found a way to limp through. The common thread in all these success stories is resilience. Here are some of their stories.