Todd Allbaugh, general manager of Finca Coffee on Rimrock Road, has been trying to stress to customers what Public Health Madison & Dane County's mask order requires of coffee shop and restaurant customers, but it's not easy to run a café, and also police customers about masks use.
Customers are required to wear masks except when "actively eating and drinking," which, he said "means you're welcome to chat with a friend or study, but you must keep your mask on unless taking a drink or eating a meal."
Few people realize the full extent of the city-county health department's mask order and how it applies to them, Allbaugh said. "In other words, you can't order, sit down and chill for an hour with no mask."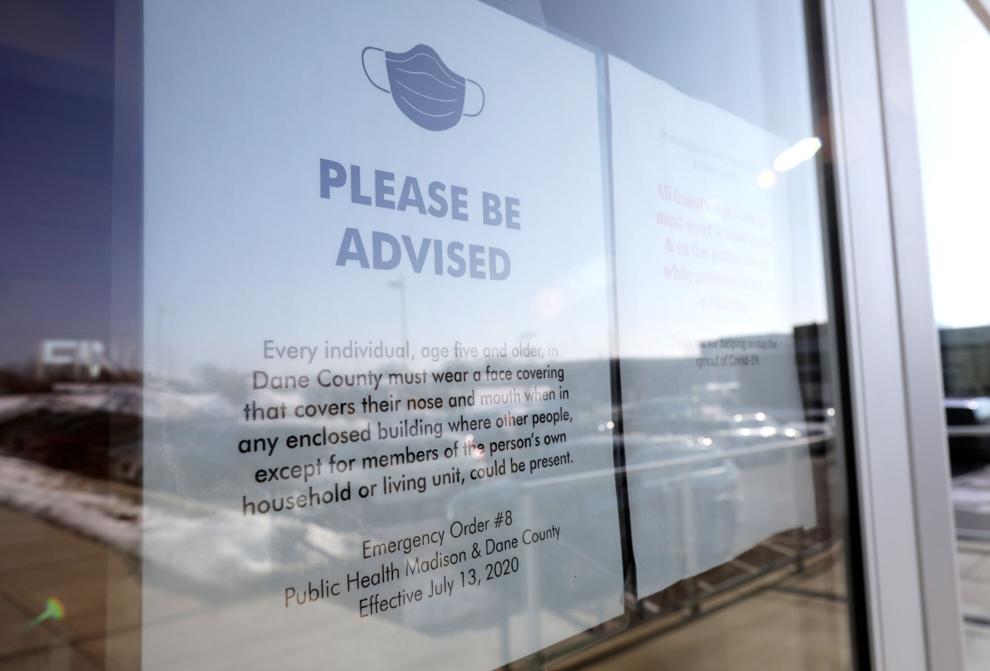 Finca has a sign on its front door: "Please be advised, every individual, age five and older, in Dane County must wear a face covering that covers their nose and mouth when in any enclosed building where other people, except for members of the person's own household or living unit, could be present."
Public Health Madison & Dane County is not citing restaurants for people keeping their masks off the entire time when eating, but restaurants have to post a sign at their entrance stating that wearing a mask is required, said Bonnie Koenig, the public health department's environmental health services supervisor.
The department has signs on its website in English, Spanish, Chinese and Hmong that businesses can print out and display, but the signs aren't specific about the requirement to keep masks on when not "actively eating and drinking."
Daryl Sisson, co-owner of Daisy Cafe & Cupcakery on Atwood Avenue, said his restaurant has its own signs posted all over. As a Near East Side business, he said, "people are very conscientious about these things."
Daisy gets good compliance, Sisson said, but when someone isn't wearing a mask, it can be tricky. "It's hard for us to confront people in a hall monitor role or a police role."
Wally Borowski, co-owner of Paisan's and Porta Bella, said about half of his customers wear masks "diligently" when not eating or drinking, or when they're walking to the bathroom.
Borowski said one server stopped working at Paisan's because of the number of customers who wouldn't wear their masks when she'd arrive at the table to take their order.
"There are a number of people that once they get in past the front door, they'll sit down and then the masks all come off and that's the end of the mask until maybe they get up to leave," Borowski said.
"We would all be safer if everybody wore their masks as much as possible," he said. "Obviously, you can't wear it when you're eating, you can't wear it when you're drinking, but there are a lot of times you can (wear it) and not be inconvenienced to any extent."
Christy Vogt, health education coordinator for Public Health Madison & Dane County, said that the city's website outlines expectations for business owners and operators in enforcing the mask order.
Under "mask FAQ" is the question of whether a business is supposed to refuse service to someone who refuses to wear a mask. The answer: "This is determined by the type of business and the goods or services offered. The ultimate goal is to serve the public."
Borowski said he interprets the health department position as advising business owners and operators not to get into arguments with customers, and instead figure out how to best serve them.
He said he doesn't feel like he has "the moral authority to lecture" customers. "I think they really ought to know and understand that all by themselves."
Borowski said he's lucky that at Paisan's, there's room to spread out, plus it has a "state-of-the-art" ventilation system.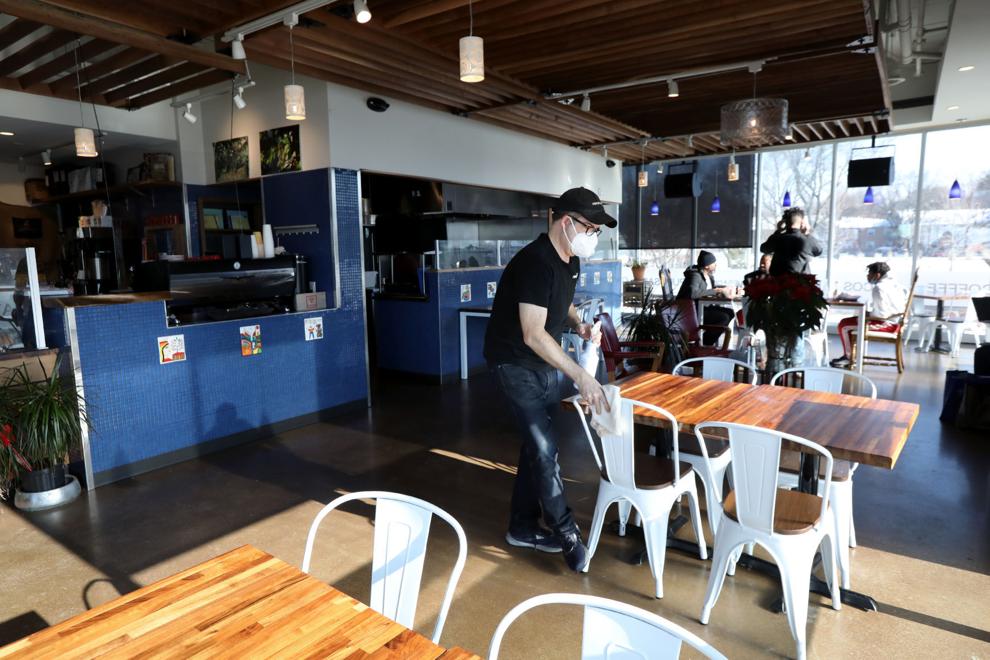 Gov. Tony Evers' emergency order that included a mask mandate went into effect in August and was extended in November. "Wearing face coverings is the simplest way to slow and prevent the spread of COVID-19 virus without requiring people stay in their homes," the order says.
Amanda M. Simanek, an associate professor of epidemiology at UW-Milwaukee, said the city-county order is designed to allow people to be in indoor environments like restaurants, but minimize the amount of time that they're without masks on.
"If you are sitting at a table and you're waiting for the meal, I think the idea is that you're wearing a mask during that entire time, while you're waiting," she said. "If you take a sip of drink, you might remove your mask to do that and put it back on. If you're sitting and actively eating your food for five, 10 minutes, probably you're not going to be putting your mask right back on."
After the meal's over and the customer is sitting, waiting for the bill and talking, masks need to be back on, Simanek said.
For people ordering a coffee and sitting with their laptop in a coffee shop, Simanek said, the "assumption is that you should be wearing a mask in between sips of coffee, for instance."
The problem with COVID-19, Simanek said, is that a person can be infected and not realize it. An infected person without symptoms is still able to transmit the virus to others starting about two days before that person has an onset of symptoms.
"There's a subset of people who remain asymptomatic even when they're infected and can likely transmit to others," she said. Wearing a mask minimizes the number of droplets a person expels "in the event that you have been infected and don't realize it yet."
Tom Anderson, who owns Buck & Honey's restaurants in Sun Prairie, Monona and Waunakee, said 90% of people who visit his restaurants "get it" and comply. "They understand what's at stake and really don't have too big of a problem."
He said he's trained his staff to politely enforce the rule, but has had a couple of cases where people have said they don't have a mask.
"We deal with that," he said. "We basically give them other options. We can bring them to-go food. We give them a mask. We can bring food out to their car."
All the Buck & Honey's restaurants have signs at the entrances. Anderson said they also have sandwich board signs in front of the doors that say masks are "absolutely required" and "thank you for understanding."
There are also little signs throughout the restaurants. "In the beginning we had more problems, but lately it just seems like people, they understand," he said. "Some of them don't like it, but they understand."