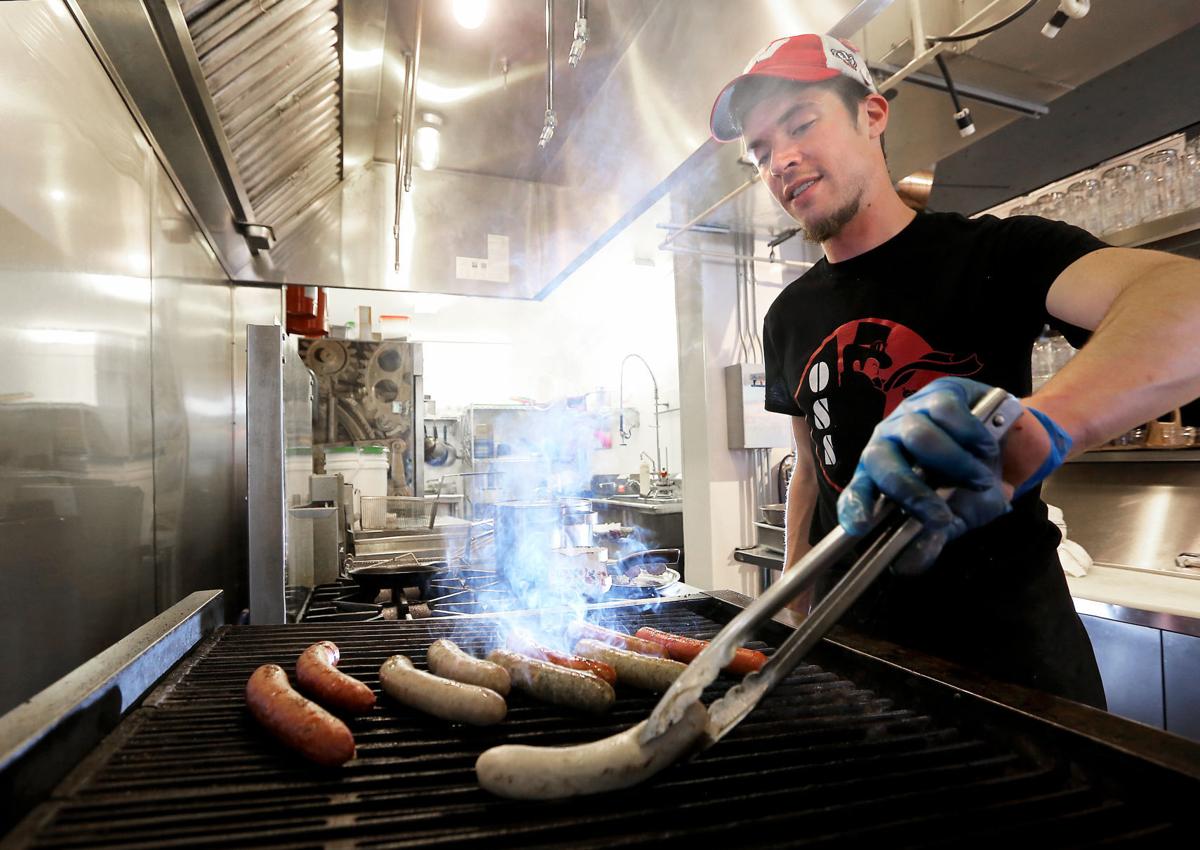 OSS, a Regent Street restaurant specializing in custom-made sausage sandwiches, is closing this week after the last Badgers home football game, the victim of too narrow a focus, its owner said.
Tyler Soukup, who has owned the business with his brother, Chris, for almost four years, said running OSS just became too much work.
But ultimately, they pigeonholed themselves by focusing mainly on sausage, he said. "I think we shoved ourselves into too small of a niche."
Had they started out with a more varied menu it probably would have helped, Soukup said. "There were other mistakes that we made along the way as well. Ultimately, I think that's the biggest one."
Expanding the menu and reinventing themselves now is not a possibility. "That's really not a restaurant I'm interested in running," he said.
Soukup said it would be too hard to rebrand themselves because they are so well known for their sausages, particularly in the Regent Street area.
You have free articles remaining.
They started selling hamburgers about a year ago and nobody ordered them, Soukup said, not really knowing why. Had they begun with a wider menu, things might have turned out differently, he said.
OSS sandwiches included the Wiscago dog, bratwurst, doner kebab, mac dog and the ever-popular banh mi.
Fans of OSS also loved the restaurant for its cheese curds. A 2014 post on Chzcurds.com which rates cheese curds, raved about OSS's fried curds shortly after the restaurant opened. At that time they tied with the Curd Girl foot cart for the best cheese curds in Madison.
"These are some curds to contend with. Tied for the highest score to date," it said. "This place is going to kill it during football season. Once the word gets out, this place is going to kill it all year round. "
The restaurant at 910 Regent St., next to the Greenbush Bar, will close after business on Saturday.
This summer the brothers operated an OSS food cart, but Soukup isn't sure they are going to keep it going.
The Soukups also own the famed Baumgartner's Cheese Store and Tavern in Monroe and will turn their attention back to that business. Baumgartner's dates to 1931, making it the oldest cheese store in Wisconsin.
When they opened, Chris Soukup said the name OSS doesn't mean any one thing. They settled on it after a few names with the same acronym kept popping up: Our Sausage Shop, Old-School Sausages, Our Signature Sausages.