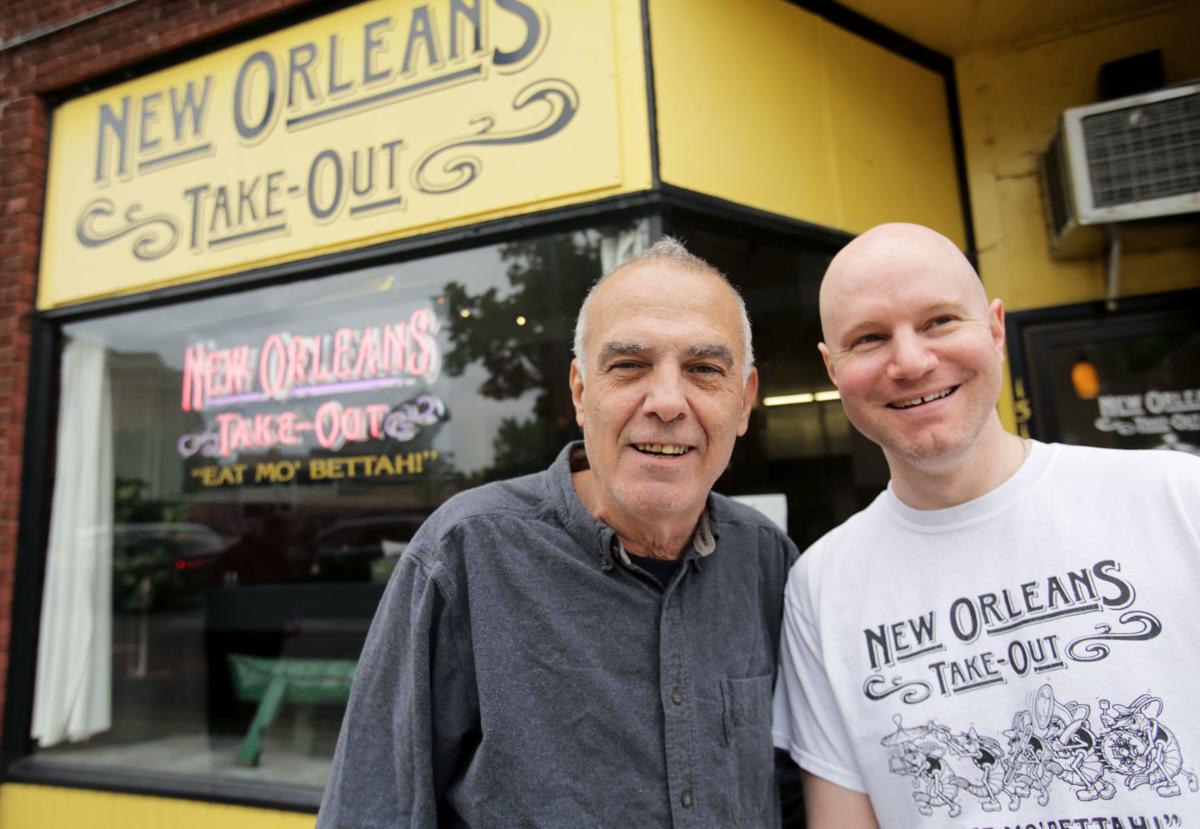 New Orleans Take-Out on Monroe Street is closing Saturday, two-and-a-half years after the original Fordem Avenue restaurant called it quits.
Owner Ken Kopp IV, who opened his New Orleans Take-Out at 1517 Monroe St., in 2002, said customers shouldn't despair. He'll be running a new restaurant in the same spot called Lorraine's.
Lorraine's is named after his wife's Jamaican grandmother. "So we're going to have some Island-style stuff on the menu," Kopp said.
But he said he won't serve a lot of the same New Orleans Take-Out dishes, although some of the menu will be similar.
Before opening his own place, Kopp worked for original owner John Roussos on Fordem for almost 10 years, starting as a dishwasher and working up to cook and manager. 
In May 2017, Roussos, who was 66 then, closed his restaurant after 32 years so he could retire.
Kopp said then he'd keep his New Orleans Take-Out location open until the end of the year and then figure out his next move. His plan was to keep the restaurant, but change its name and concept.
He said he realizes it was two-and-a-half years since he said he was going to make a change. "It's just been busy and kind of grinding along here, but finally I'm making it happen and looking forward to it." 
Kopp said that he likes the idea of "island food" because he has all the right equipment, since it's so similar to Cajun. "This New Orleans food is so heavily influenced from all that island food and food from around the world. I mean it's a fusion."
His new menu will include jerk chicken and fried jerk chicken, chicken breast and chicken wings.
He said his wife, Sajia Kopp, has been perfecting her jerk recipe, and when they make jerk chicken or fried jerk chicken at home they get really good results.
Kopp said Sajia owns the restaurant with him and helps out on occasion, but works full-time at Promega.
He said he plans to offer many items without gluten. He'll also do a jackfruit jerk for vegetarians.
Kopp posted Thursday on Facebook about the restaurant closing and had a lot of regulars coming in telling him how sad they were. 
"It was confusing for people," Kopp said. "It's a high compliment when they're really upset and then when they find out that I'm behind Lorraine's, they smile" and assure him they'll come to the new restaurant.
He said he'll close after Saturday and take the old awning and sign down. He's not sure when his new place will open, but predicts early January.
When people ask his wife's grandmother questions having to do with time, he said, her answer is "soon, come."
Kopp said he's spent holidays with his wife's grandparents and notes the differences between cultures. "I was raised here, kind of German and on time. If I told you, 'I'll meet you at 7 o'clock over at Mickey's, I would be there at 6:50."
If they're meeting his wife's grandmother at a restaurant and she says, "we'll be there soon, that could be an hour," he said.
Kopp said he'll stay open as long as he can on Saturday. He had to close early Thursday night because he ran out of shrimp and other ingredients after word got out about the closing.
---
Throwback photos: 10 legendary Madison supper clubs you'll never eat at again
The supper club is a true Wisconsin institution, and Madison has had some legendary ones. Here's a look at 10 supper clubs we remember fondly.
Stay up-to-date on what's happening
Receive the latest in local entertainment news in your inbox weekly!