Having his own restaurant has been something Noel Quintana has wanted for a long time. The only thing standing in his way was his wife.
"I always wanted to open a restaurant, but she said no. She said no. She said no. She said no," Quintana said, noting that she finally had a change of heart. "I was like, 'Okay, we've got to do this.' I wanted to do it and she said, 'Okay, I support you now.' "
She is Ofelia Garcia Anchondo, 43, who grew up working in the restaurant her parents owned in Puerto Vallarta, Mexico, for 12 years.
Quintana, also 43, is from Mexico City. He came to Madison in 1993, with Garcia Anchondo arriving just before him. The two met at Garcia Anchondo's sister's house in Madison 26 years ago.
The restaurant they are opening is called Senor Machetes. It's planned for 121 E. Main St., where Francisco's Cantina was for the past seven years. The spot, just off the Capitol Square, was briefly home to a second location of Market Square's Mexican restaurant La Mestiza.
The new restaurant is indirectly named for the weapon and tool that its signature offering -- a large quesadilla -- looks like.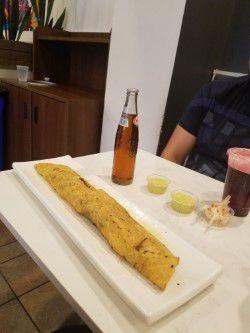 "It's narrow and it's long," Quintana said. "It resembles a tool people used in the past to chop off hay or whatever. On the streets in Mexico, they call it a machete... It's a new item for the people of Madison. New and nobody knows it and nobody is familiar with it."
The restaurant's machetes will be filled with melted Oaxaca cheese, and a choice of meat and vegetables, Quintana said.
Quintana has been working in restaurants most of his life. His first job was at the former Red Pepper, a Chinese restaurant, where he started in 1993 as a dishwasher. He worked his way up to cutting vegetables. And then to prep cook and operating the deep fryer, frying egg rolls, wontons and crab rangoon.
You have free articles remaining.
Register for more free articles
Stay logged in to skip the surveys
He also cooked at Babe's for five years and in a Chinese restaurant in Rockford.
Garcia Anchondo was a teacher for Dane County Head Start and then worked at Sub Zero.
The couple has been together a long time, and got married two years ago, Quintana said.
Garcia Anchondo said they don't need to do much to the space, and are just cleaning and painting. She said they hope to open by Feb. 1.
The 1,200-square foot Senor Machetes will seat about 60 people, she said.
The fact that the space has been a Mexican restaurant for so long will help them, Quintana said. "People are probably expecting the same kind of food around that area, so I'm hoping to bring in all the Mexican people, and Mexican-loving food people over to our new place."
Francisco's gave out free soup when the customer sat down and it's a practice Quintana said they'd like to continue. He expects to serve chicken noodle soup or possibly tortilla soup. "Just to give the customer something right away," Quintana said.
All the food at Senor Machetes is going to be made from scratch, Quintana said. Besides the machetes, they'll serve enchiladas, tacos, burritos, fajitas, quesadillas and sopes. Margaritas and beer will be available, too. The couple is in the process of getting a liquor license.
"We are going to try to have authentic Mexican, but we're also gonna offer some of the street food from Mexico City," Quintana said.