BelAir Cantina, the highly-anticipated, Milwaukee-based taco restaurant is opening Monday just off the Capitol Square.
The Mexican-fusion restaurant, at 111 Martin Luther King Jr. Blvd., takes over the space where Francesca's al Lago was for seven years.
This is the sixth restaurant for BelAir Cantina, which has five locations in the Milwaukee area and is part of Toro, Toro, Toro, a restaurant group owned by Leslie Montemurro, Kristyn Eitel and Scott Johnson. BelAir Chef Noe Zamora is a partner in the restaurant.
Eitel's husband, Mike Eitel, opened Nomad World Pub in March where the Cardinal Bar used to be.
Montemurro, who spent three years at UW-Madison before graduating from UW-Milwaukee, said it's hard to describe the food at BelAir Cantina, adding, "Mexican fusion works."
The restaurant will feature traditional Mexican flavors with carne asada, al pastor and barbacoa. Those three styles make up about one-third of the menu, the rest has a "more California, taco truck, surf kind of vibe than a traditional Mexican restaurant," Montemurro said. 
Montemurro touts the restaurant's baja tilapia and Korean beef tacos. One of the best sellers in Milwaukee is the Ninja Pig taco with crispy pork, hoisin glaze and cucumber jicama slaw.
The menu features many vegetarian and vegan options including a taco with roasted poblano peppers, onions, zucchini, potato, corn and kale topped with avocado salsa.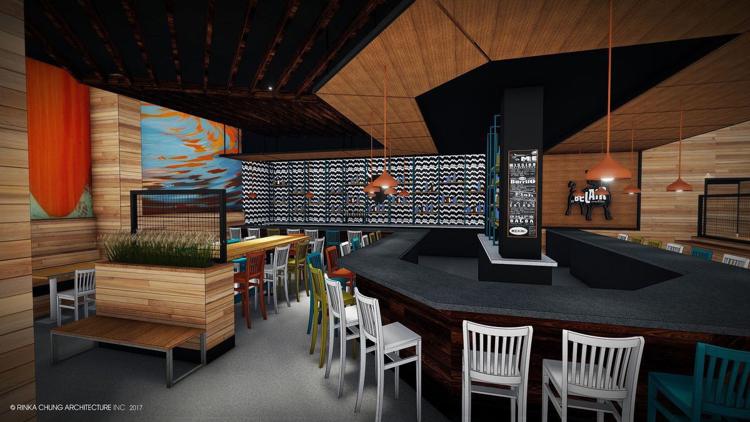 BelAir also sells appetizers, burritos, tortas and fajitas, but its mainstay are its creative tacos. It's also known for serving nearly 100 varieties of tequila.
The Madison location is the only one outside the Milwaukee area. The first BelAir opened on North Water Street on Milwaukee's East Side in 2010. There is one other BelAir in Milwaukee, and one each in Wauwatosa, Oak Creek and Brookfield.
The restaurant will be open weekdays from 11 a.m. until the time the bar closes. Brunch will be served on the weekends, when BelAir will open from 10 a.m. until bar close. Happy hour will be from 3 p.m. to 7 p.m. weekdays.
Montemurro and Johnson, under the name Mojofuco Restaurants, own a number of other Milwaukee businesses: Fuel Cafe on Center Street, Comet Cafe, Hi Hat Lounge & Garage and Balzac Wine Bar. With Eitel, Montemurro and Johnson also jointly own a cocktail and beer bar called Finks.
BelAir Cantina will host a grand opening celebration on Sept. 2 and Sept. 3. That Saturday and Sunday, 50 percent of all food sales will benefit the Madison nonprofit Clean Lakes Alliance.