Opening Julep was her dream, said Laura Jones, co-owner of the stylish Southern restaurant, and its loss is devastating.
"You look at it and you can see the money that went into it," she said of the fine-dining restaurant, one of three entities that make up the Robinia project. "You can see the attention and love. But it's a costly project and that's why it is such a beautiful space. It's heartbreaking. It's absolutely heartbreaking."
Jon Reske, Robinia's developer, who owns the former Lussier Teen Center building with 25 investor-partners, is pulling the plug on the project's two major tenants, Julep, and the wine bar next to it, Barolo. Those businesses will close after New Year's Eve dinner and festivities Saturday night.
In September, Reske himself took over the final entity in the group, the coffee shop A-OK, and turned it into Black Locust Cafe. The coffee house, which specializes in crepes, will remain open for the foreseeable future with Reske and a partner working as baristas.
Many factors worked against Robinia succeeding in its current form, Reske said, but the bottom line was that the businesses were just not making money.
"We should have faced reality a little sooner, but we tried to make a go of it and here we are," he said. "We promised ourselves 12 months. The market is still at least 18 to 24 months from being ripe."
The cornerstone of the project -- which opened in October 2015 one mile east of the Capitol on East Washington Avenue -- was its 3,600-square-foot urban courtyard, and in the summer it didn't draw well enough, Reske said.
The businesses are essentially on an island with all the new development on the other side of East Washington, Reske said. The restaurant, bar and coffee shop were therefore a destination, and parking was always an issue. Plus, the businesses don't get foot traffic.
Jones, who owns and runs Julep with Sarah Kinser, wasn't ready to give up, but admits the restaurant wasn't doing well enough. Still, the decision was ultimately up to Reske, she said.
"If the three-business model isn't going to work, Julep really can't stand on its own in this space," she said, noting that the whole of Robinia needed to work better, even Julep.
Jones, who said she put her "body, heart and soul" into the place, would have liked more time, noting that restaurants can sometimes take years to fully develop. Restaurateurs need to be able to fund the really, really lean years, she said.
"You find me a philanthropist who likes fried chicken and wants to give me $1 million, I'll keep this baby open," she said, laughing.
Reske said the Robinia businesses had five disappointing weekends in terms of weather, and then the bad luck of holidays landing on revenue-generating weekends.
He also said he thought the project could succeed without parking, but that wasn't the case.
"You get to enjoy that new car smell for awhile and you get to enjoy everybody trying you out for the first time. And you at least need to maintain that momentum that you have," Reske said.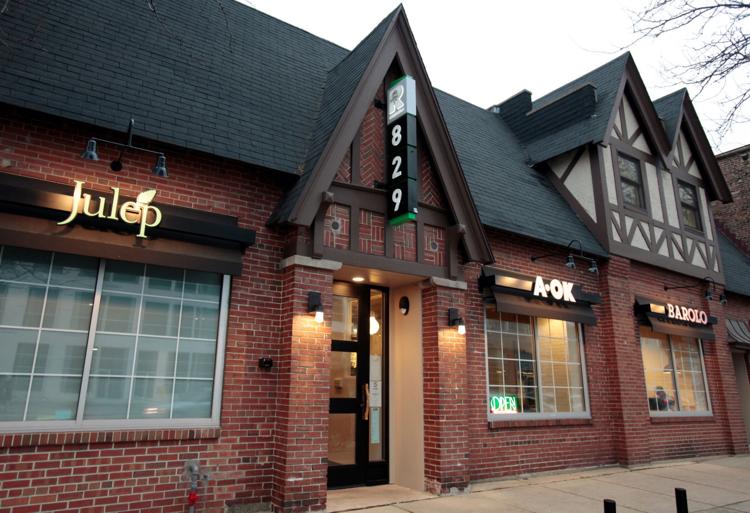 Signage and visibility were also issues. Reske said he communicated with someone who said he drove by Robinia four times a day and never knew it existed. The signs were modest because Reske had to work within the confines of what the city would allow for signage, he said.
Reske said he's had a lot of interest from other restaurateurs who may potentially take over the spaces. "Hopefully Robinia will march on in some form or fashion," he said.
The difficultly of "casting aside" the initial group which made the project happen made it take longer for him to call it quits, he said.
He acknowledges that he may have set the group up for failure with shared resources and the overlap in ownership and management. Julep does the best out of the three businesses, he said.
Reske thinks the concepts could do well on their own in other locations, and at the same time has hopes that some other businesses can make it in the Robinia space.
Whatever deal he strikes with new subtenants, Reske said he will make sure the businesses honor the gift certificates of the current entities.
Research has shown that if a place is worthy, people will come, he said. "It doesn't matter how ridiculous it is to get there. People will find a way. It's as simple as that. I do still subscribe to that."
What's more, Reske pointed out that many restaurants are suffering from the rate with which new places are opening in Madison. Customers are "just shuffling to the next new place," he said.
As for Julep, Jones doesn't know if a new location is in its future. "We kind of have to let the dust settle and let some of the grieving process happen. This was my dream for a long time. It was realized, but not for very long."
She's sure that a lot of people will be coming in on New Year's Eve for the restaurant's 3-course dinner; champagne and oysters at Barolo; and a DJ and other excitement at Black Locust.
"I think it will be a big party," Jones said. "A lot of love, a lot of tears."