Four out of five independent restaurants may not survive the COVID-19 pandemic, which has forced dining rooms and bars to close, according to new research by the respected James Beard Foundation.
In Madison, however, there are a few bright spots — phone lines jammed on Friday nights, quick and creative transitions to takeout — that restaurant owners say improve the odds of success here. But nearly all establishments have seen mass layoffs and the places that remain open often have seen revenues drop by more than half.
"Our loyal customers have been absolutely fantastic," said Dan Delaney, a co-owner of Delaney's, a steakhouse on Madison's West Side that is staying open Wednesdays, Fridays and Saturdays. "Some order almost every day that we are currently open and others at least once a week."
Delaney's has been able to keep on 11 of its 35 employees.
Madison restaurateurs report varying degrees of success since Gov. Tony Evers' "safer at home" order closed dining rooms, effective March 25. The order has now been extended until May 26, but allows restaurants to offer takeout and delivery.
Fourteen of Food Fight's 20 restaurants are still offering takeout and delivery.
The company had to furlough about 800 employees when the restrictions on public gatherings came out. Caitlin Suemnicht, the group's chief operating officer, said while Food Fight's restaurants are stable for now, its restaurants can't profit with a carryout-and-delivery model.
"We're just trying to hang in there and keep our restaurants operating until the government restrictions are lifted," she said. "This allows us to keep some managers and staff employed, but it also will make things easier to fully reopen if we never have to shut our doors completely."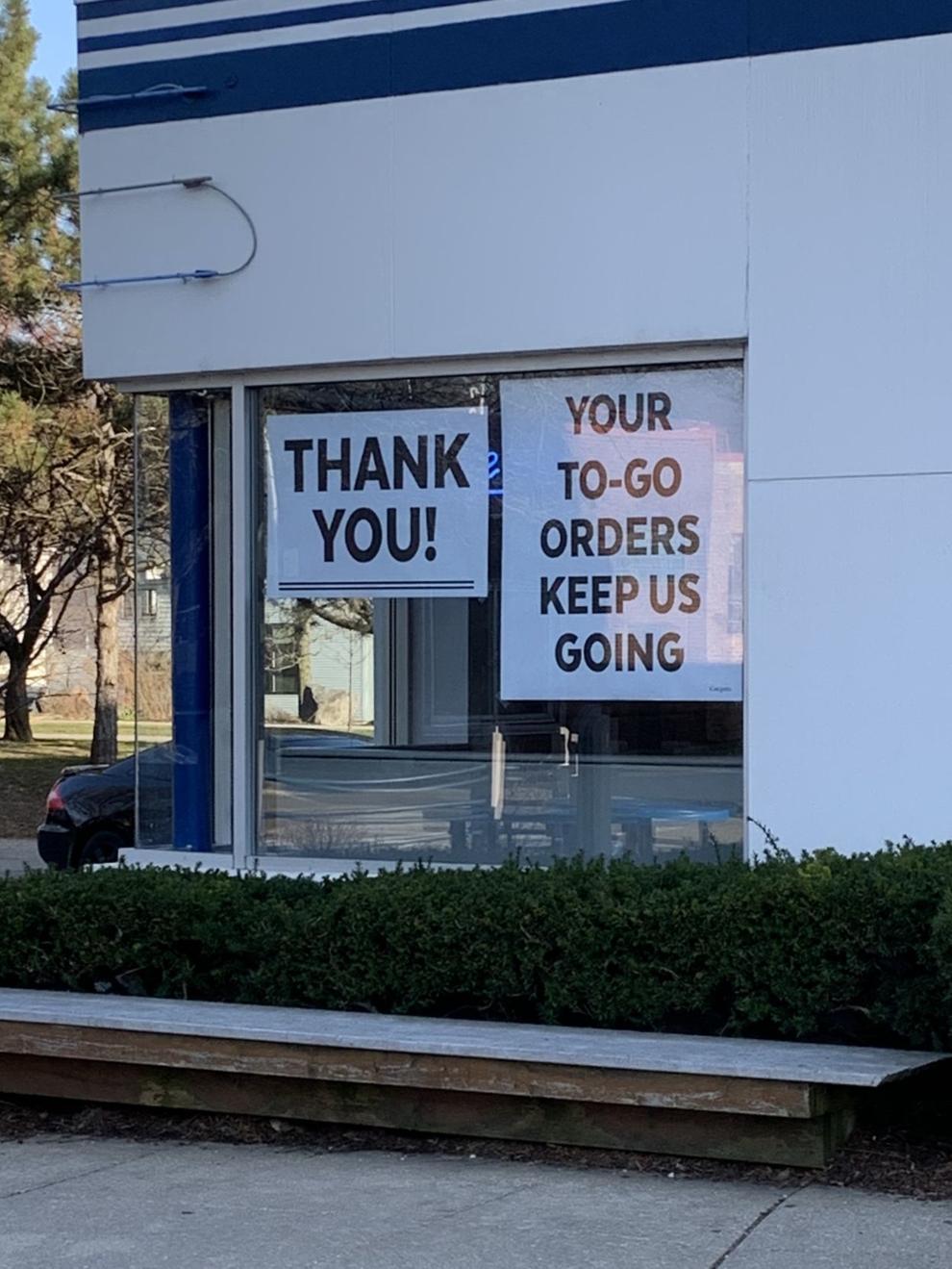 Hard numbers
The National Restaurant Association did a nationwide survey of 6,500 restaurant owners and operators from April 10 to April 16, and the Wisconsin results showed that on average, restaurants operators reported a 70 percent decline in sales during the period from April 1 to April 10.
Based on these results, the association estimates that the Wisconsin restaurant and food service industry will lose more than $630 million in sales in April, if the trends continue through the end of the month.
"We have been hearing from restaurant operators that the COVID-19 crisis has been devastating to their businesses, but the numbers really drive it home," Kristine Hillmer, president and CEO of the Wisconsin Restaurant Association, said in a statement. "It is critical that the state has a solid plan to safely reopen the state as soon as possible."
Steven Buchholz, who owns Crema Cafe on Monona Drive, considers himself one of the lucky ones.
His business was "primed for takeout" since customers have always taken beverages to go. Still, business is down 60 percent. Buchholz is operating with a skeleton crew and holding down the kitchen on his own seven days a week.
"Basically, I'm just trying to keep the doors open. So I kind of send that message to our customers," he said. "I think that's what some restaurants are still trying to do, is just try to say, 'Hey, we're still here and we're doing what we can.'"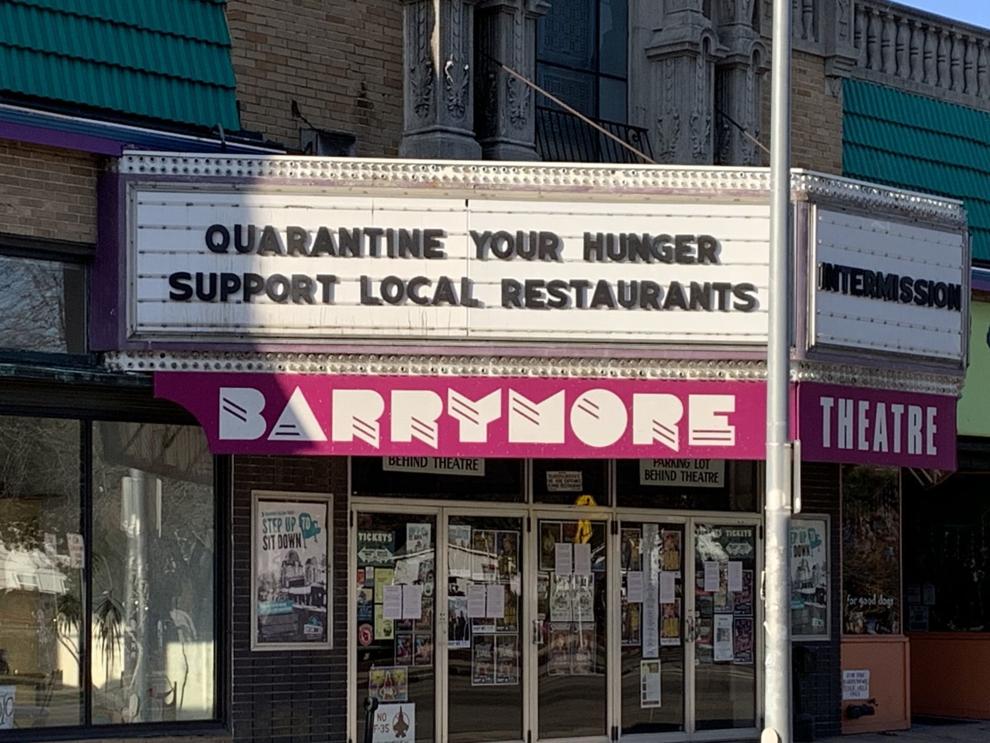 Friday night rush
Many restaurants with carryout fish fries are seeing big demand on Fridays, often jamming up phone lines. But owners say business is slower on other nights, and can't compare to having an open dining room and being able to serve beer, wine and cocktails.
Alchemy bar and cafe on Madison's Near East Side didn't do a lot of takeout and delivery before the crisis. Michael Randall, who opened the business in 2008, said the food Alchemy serves is designed to be eaten there. He and his partners have had to tweak their menu of elevated pub food and figure out what works.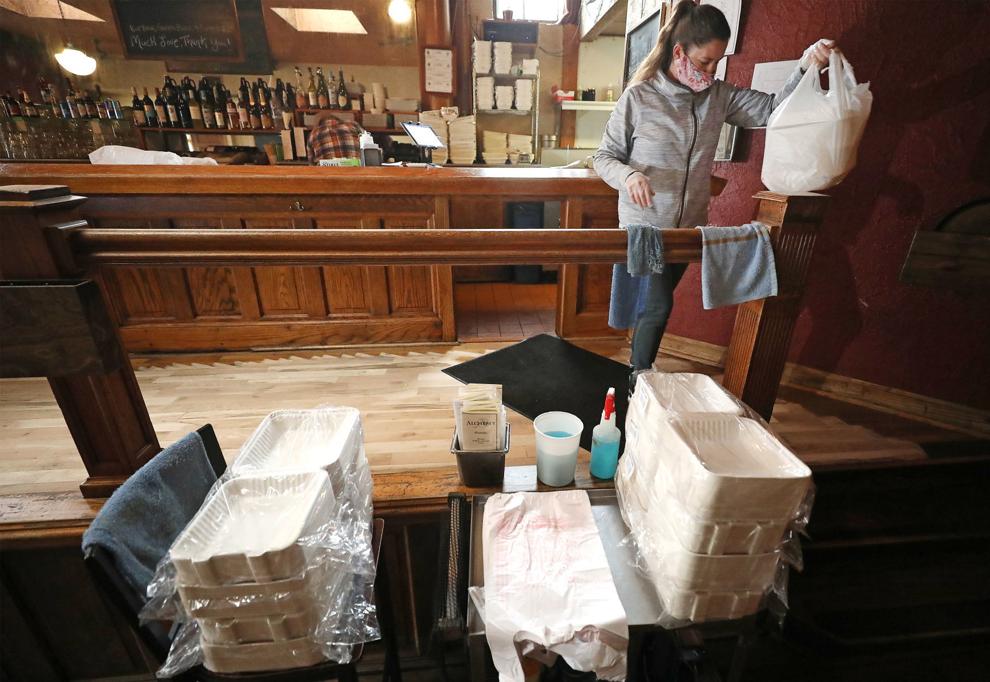 Randall said that now, about 50 percent of his business comes through the national, Madison-based EatStreet delivery service, and the other half is takeout ordered directly from Alchemy by phone. Fish fry takeout on Fridays has been so busy, he said, that they've been shutting off the delivery app, which is possible with the EatStreet platform.
Because beverages — alcohol and otherwise — are such a big part of their sales, Randall said business is down 65 percent. Food sales are down more like 50 percent.
"Restaurants like ours never made much profit on food, and now that's basically the only thing we're selling," he said.
Randy Wilson, who's owned Wilson's Bar & Grill with his sister, Sandi Borowski, for 35 years, said that even though they're doing a good takeout business on weekends, business is down about 90 percent.
Wilson is trying to promote the sale of six-packs, but said he's selling few of them.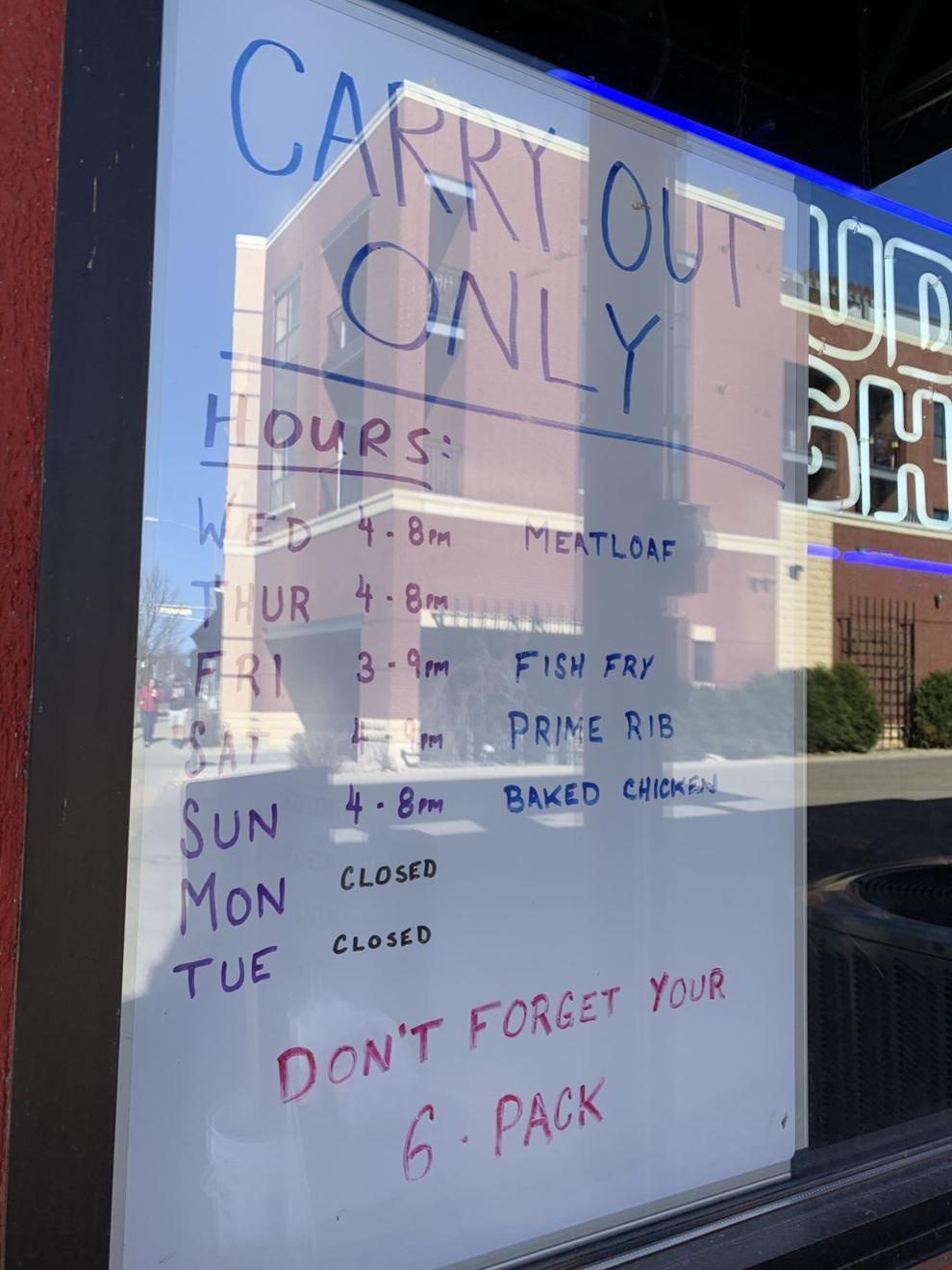 The Atwood Avenue bar is closed Mondays and Tuesdays and doesn't see many orders Wednesdays, Thursdays or Sundays, Wilson said. Its saving grace were the to-go fish fries that were "super busy" during the Lenten season leading up to Easter.
"We're a neighborhood place, so we expected all of our friends to come in and support us," Wilson said.
So far, the 10-year-old Knuckle Down Saloon, a home for blues music on the city's Far East Side, which served food, announced its closure. The 2-year-old Tin Fox on Monroe Street has also closed for good.
"Being the first type of business that was forced to close and having the stay-at-home order extended through May" was devastating for The Tin Fox, said co-owner Greg Neal.
Not being able to sell the taps and cocktails that were "the cornerstone" of his business was also a factor, he said.
On hold for now
Julie and Noah Przybylski decided to suspend operations at their one-year-old tasting-menu restaurant Nook on Atwood Avenue when dine-in restrictions started. Other high-end restaurants like A Pig in a Fur Coat, Mint Mark and Cadre made the same decision.
"We considered doing takeout, but it's kind of hard to pack up a 12-course meal," Julie Przybylski said.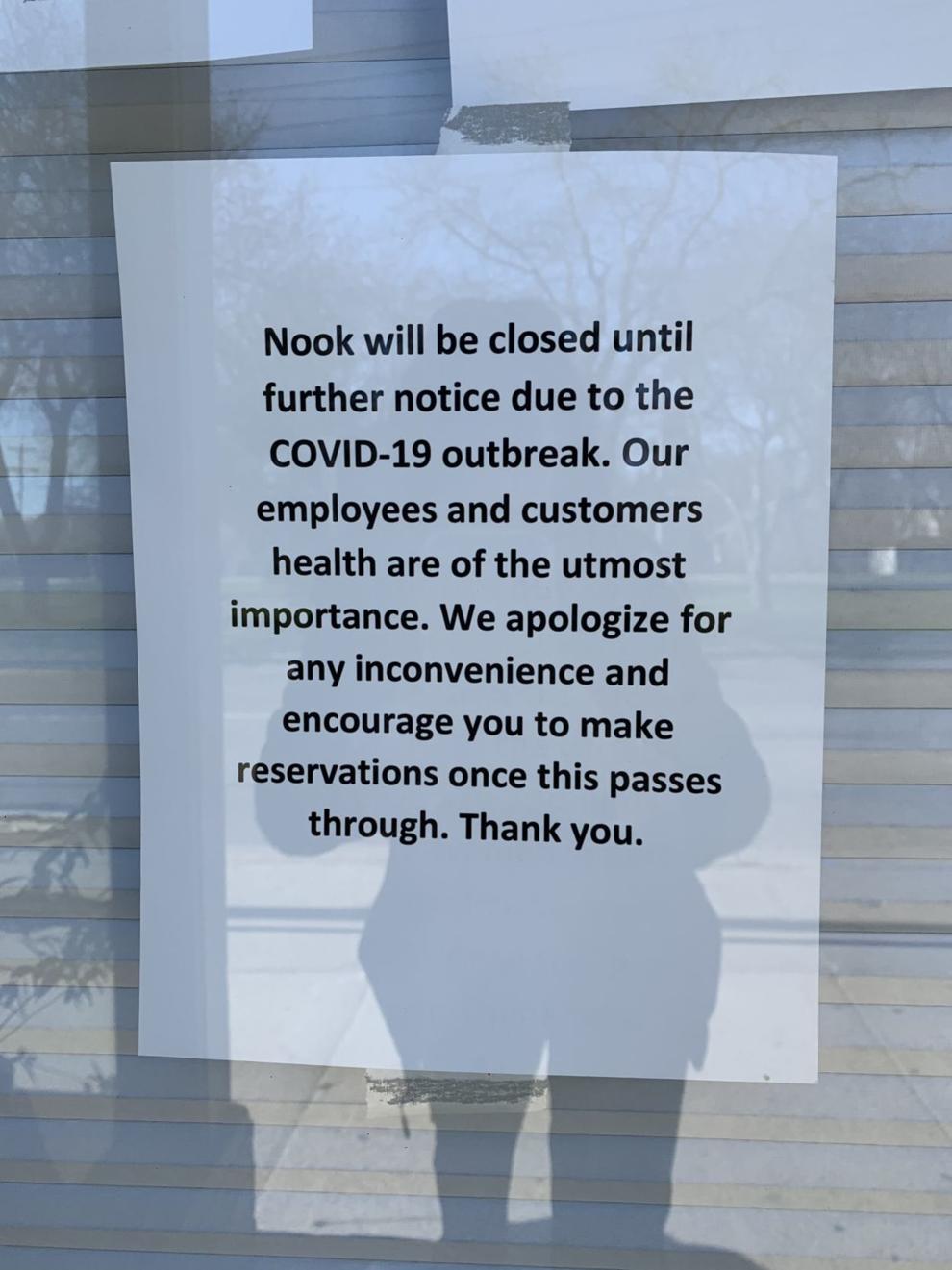 She said they looked at selling soup with the idea that it could represent what they do. But they serve their soup with cold whipped cream on top, and "that doesn't travel well," she said.
As soon as the restrictions were announced, the Przybylskis had to furlough all five of their part-time servers.
Nook was fully booked for the rest of March, and almost full for April. It was booked on weekends into mid-May.
The Przybylskis have had to return deposits on reservations. A handful customers bought gift cards, but Julie Przybylski said they aren't encouraging support through gift cards for fear they'll all get used at once when they reopen — they hope in late May. That could "crush restaurants," Julie Przybylski said.
She said they also worry that when the restrictions are lifted, fear of the virus will keep people from going out to eat.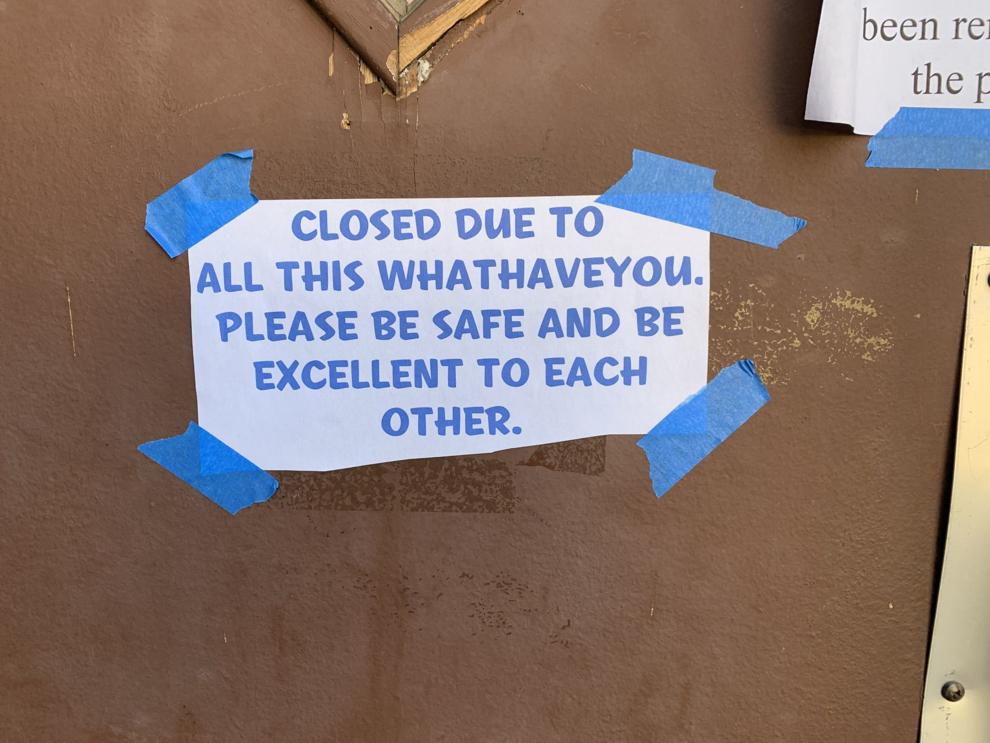 Pushing through
Itaru Nagano, who opened the restaurant Fairchild on March 2 with two partners, said the Monroe Street restaurant is staying open. They had been doing carryout with curbside pick-up every night, but starting this week they'll be open five nights a week.
The partners have laid off all of their employees and they're operating the business on their own.
The farm-focused restaurant had been open only two weeks before the shutdown, and Nagano, L'Etoile's former chef de cuisine, said they're probably doing about 25 percent of the business they would've been doing.
"We definitely can't afford to keep staff. We do feel lucky that our overhead is relatively low. And that we can still support some of the farmers," he said.
L'Etoile on the Capitol Square, the city's flagship of fine dining, has been offering family-style to-go meals throughout the crisis. The menus, one with meat and one vegetarian, are posted on Monday each week, with pickups available Wednesday through Saturday. Executive chef/co-owner Tory Miller said the meals typically sell out for the week by Wednesday.
Still, L'Etoile and Miller's other restaurants, Graze and Estrellon, are down 80 to 85 percent, he said.
"Family-style is cool because I feel like we are feeding a good number of people every week," he said.
He said the support from the community has been incredible.
"We are seeing more people than we have before that couldn't afford to eat at L'Etoile or didn't have occasion to."