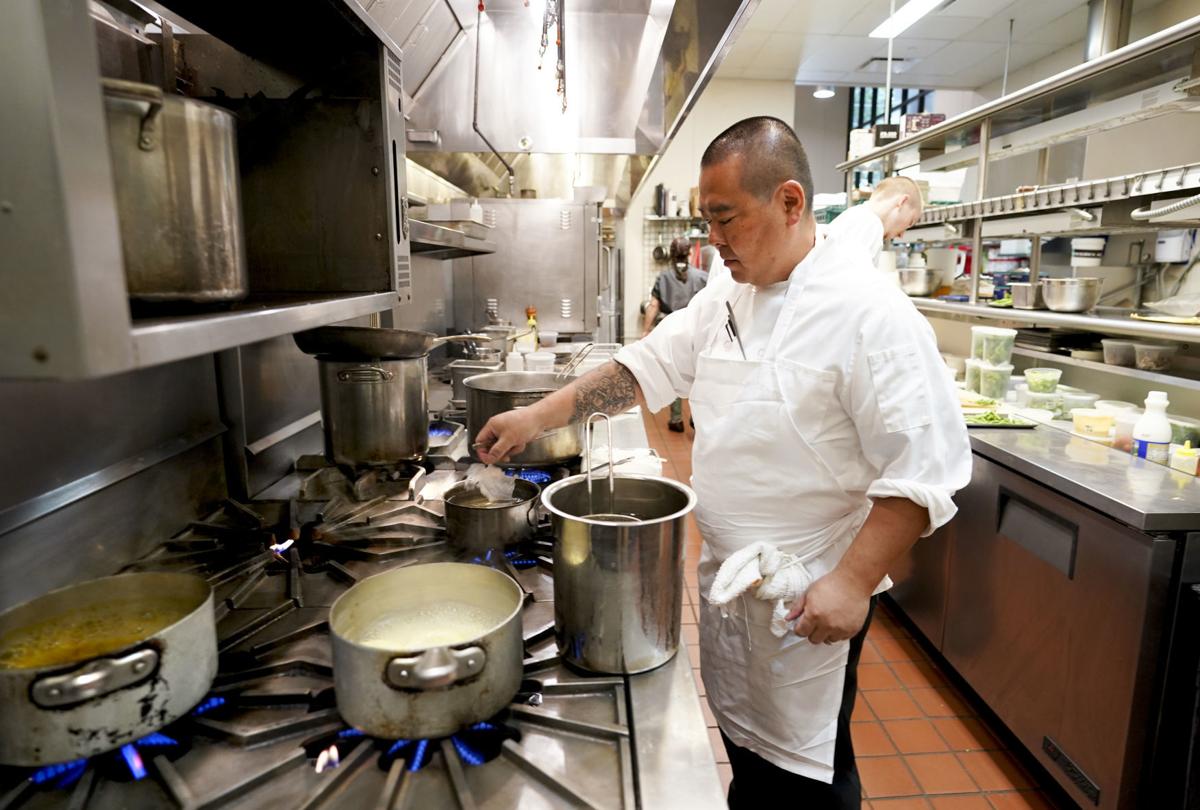 One of Madison's top restaurants, L'Etoile, is losing its head chef so he can go on to open what his boss predicts will be the "next best restaurant" in town.
Itaru Nagano, L'Etoile's chef de cuisine, is leaving the Capitol Square restaurant in September after six and a half years. He said it's going to take time to figure out a location, concept and name for his new project. His goal is to open a restaurant within two years.
"It's a huge hole to fill, but it's definitely his time," said Tory Miller, who owns L'Etoile and three other restaurants with business partner Dianne Christensen as part of Deja Food Group.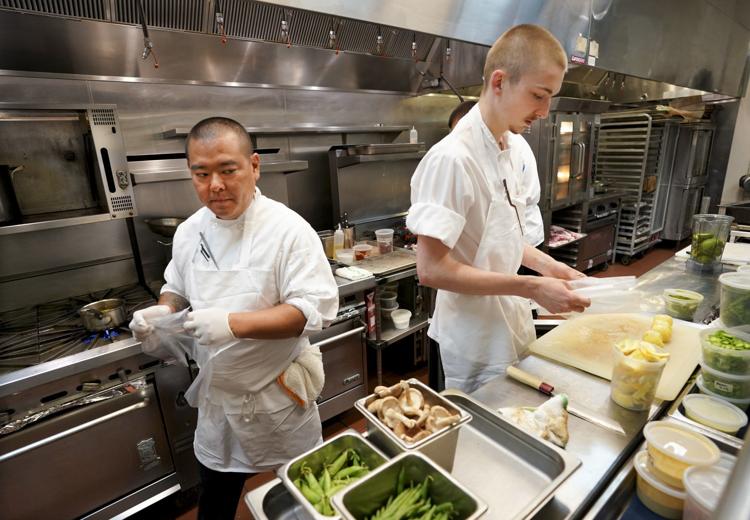 "Unfortunately, when you find the best, you always know they will eventually move on to do their own thing," Miller said.
Nagano, 42, said he needed to make a break from L'Etoile to devote himself to his own restaurant vision. "I thought that I couldn't do L'Etoile justice if I'm trying to work on other things."
Generous teacher
Nagano said his proudest achievement at L'Etoile has been "seeing young cooks develop into chefs."
Adair Canacasco Rubio worked for Nagano for a year and a half starting in 2016, and is now one of three sous chefs at Chicago's acclaimed Alinea, which holds the venerable Michelin Guide's highest rating, three stars. Only 15 restaurants in the United States were awarded three stars in 2019.
Canacasco Rubio, 23, said he was lucky to have learned from Nagano, who also helped him put his resume together. "Itaru's an amazing guy. Itaru is honestly one of the best of the best that there is in Madison. And just in general. He is everything you would want in a good chef."
Grayson Altenberg is another Nagano protégé who's made it to the big time, and spent a year working at Thomas Keller's French Laundry in Napa Valley, California, which turned 25 in July and is an international dining destination.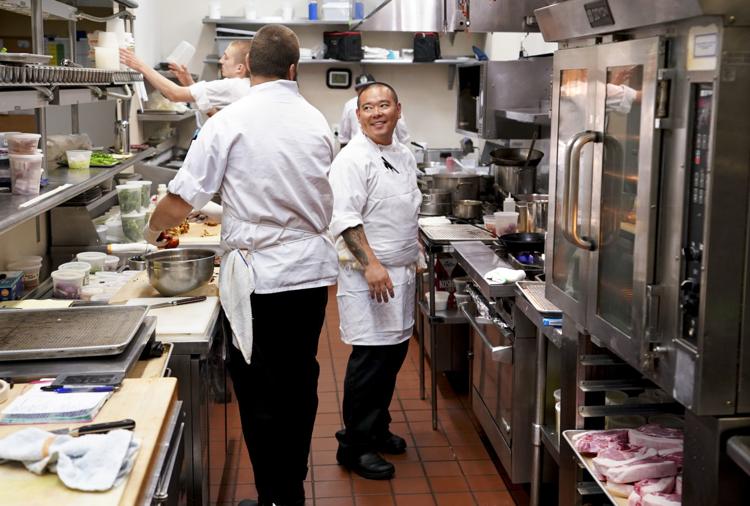 When he was 19, Altenberg said he walked into L'Etoile and asked for any position available. From that first day, Nagano took him under his wing.
"I can remember him telling me how to put my head down and work," said the 26-year-old Lodi native, who started as a prep cook. "I knew that I wanted to learn and I wanted to learn from Itaru."
Eventually, Altenberg figured he should go to culinary school, but Nagano told him not to waste his money. He could teach him everything he needed to know. "And he made good on his promise."
Nagano helped Altenberg get a job in New York City with famed chef Jonathan Benno at Lincoln Ristorante. He's now working as a line cook at Chef Alain Verzeroli's new high-end French-Japanese restaurant, Shun.
Kitchen roots
Nagano's kitchen roots can be traced to the former Wasabi on State Street, where making sushi rolls funded his training at The Culinary Institute of America in New York. He graduated in 2007.
Wasabi was where he started getting into cooking, said Nagano, who moved from Japan to Madison at age 9 after his mother married a Madison man. He attended West High School for three years, and did his senior year at Shabazz City High School.
After culinary school, he worked in restaurants in Washington, D.C., and New York City. L'Etoile was the only place in Madison he applied to work when he returned home.
He had jobs lined up in New York to fall back on if he didn't get a position at L'Etoile. "Luckily, it worked out pretty well," he said.
Nagano started as a sous chef in 2012, and in 2014 became chef de cuisine.
You have free articles remaining.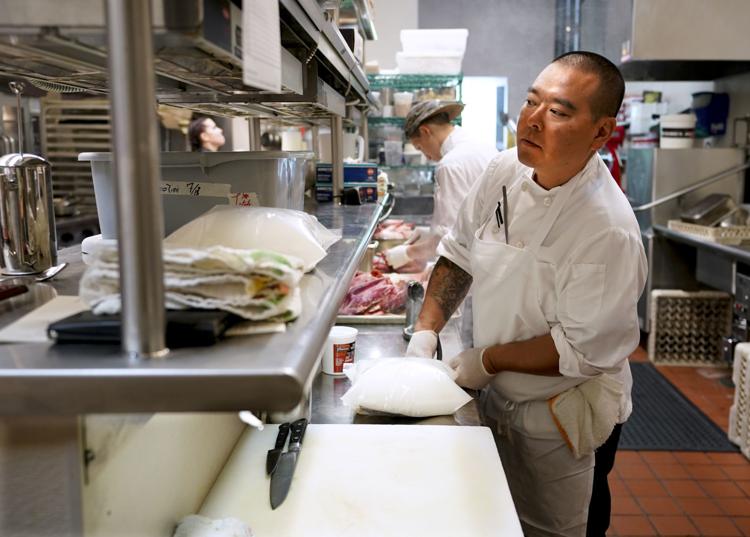 He has regular meetings with Miller, but the chef-owner is largely hands-off and doesn't spend a lot of time in the L'Etoile kitchen, Nagano said.
Miller, for his part, said he bounces between his restaurants, often spending Saturday nights on the line at L'Etoile, as needed. He doesn't have to hold Nagano's hand, calling him the best chef he's worked with.
"He asked me how long I needed to find his replacement before he officially put in his notice, I told him 10 years," Miller said.
In the summer of 2017, when Miller competed on the Food Network program "Iron Chef Showdown," he brought Nagano to Los Angeles with him as one of his two sous chefs. With Nagano's support, Miller beat resident "Iron Chef" Bobby Flay.
Close staff
L'Etoile's kitchen is small. Nagano has two sous chefs and four cooks. The restaurant's pastry department, led by executive pastry chef and former Nostrano co-owner Elizabeth Dahl, has one chef and two cooks.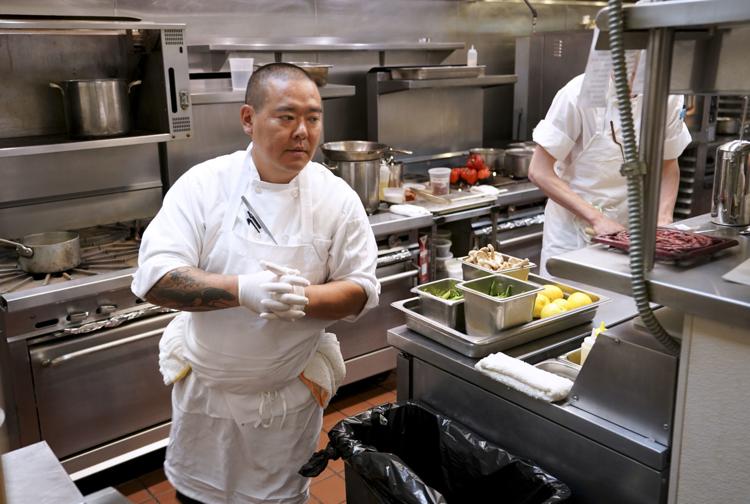 Since the James Beard-nominated pastry chef came on board two years ago, Dahl said they've had a great work relationship and strong mutual respect. "I think whatever he ends up going on to do, he's gotta be awesome at. I don't know if he knows exactly what it is yet. I think he's looking forward to having his wings and just moving forward."
Nagano said kitchen camaraderie and teamwork are critical to the success of L'Etoile. The L'Etoile and Graze staffs jointly come up with a theme and prepare a family meal together, which they eat at 4:30 p.m. each afternoon before dinner service.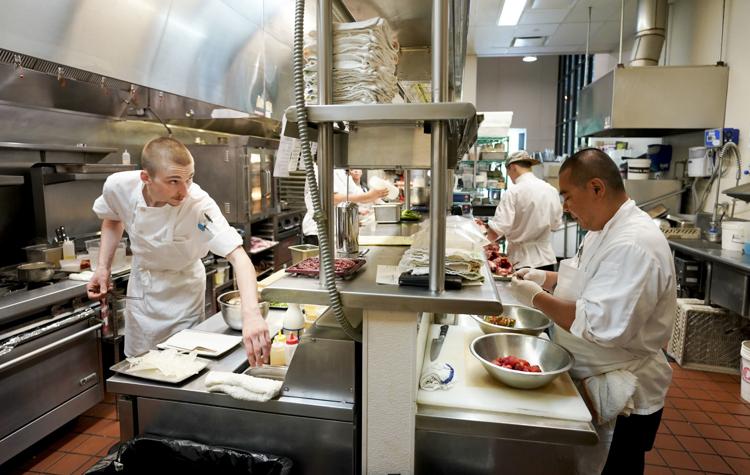 And when the restaurant closes each night, Nagano stays until the dishwasher is done, the kitchen's completely clean, and everybody's ready to leave, usually about 11 p.m.
Nagano lives in the Hilldale area with his wife of five years, Nancy Gill, who works in special education at West High School, and his stepson, Dimitri Ubach, 16. He said he's interested in the West Side or Downtown for his restaurant.
He said he cooks all the time on his days off, and enjoys making simple, flavorful food and often Japanese food. His problem is that he makes too much, he said, laughing.
"I don't know how to cook for three people and I should by now," Nagano said. "I just always end up making more and more food."
Festivals to the top of culinary world
Odessa Piper founded L'Etoile with a partner in 1976, when she was 23, before farm-to-table was compulsory in a serious restaurant. In 2001, she won a James Beard Award for Best Chef: Midwest. Miller received the same award 11 years later. In 2005, when Miller was L'Etoile's 29-year-old chef de cuisine, he bought L'Etoile from Piper with his sister, Traci Miller, who no longer has an ownership stake.
Piper said she follows the culinary work of Miller and Nagano closely from Boston, where she's a restaurant consultant. L'Etoile's "very deliberate and thought-out" style of cooking is something few chefs can pull off, she said. "L'Etoile can really hold its own in any city in this country, honestly."
If anyone can carry a restaurant, it's Nagano. And if anyone can absorb the loss of such a great talent, Miller can, Piper said.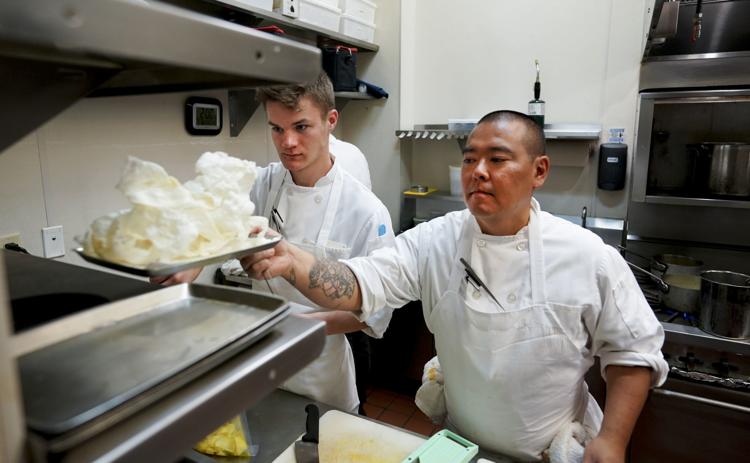 "I adore his cooking at L'Etoile and I'll be sorry to see that go," Piper said. "But I mean, Tory is such a creative force of nature himself, I'm sure he's got some plans afoot."
Miller said he's gotten some quality resumes from around the country, but isn't in a rush.
"I really want to enjoy some of this last summer market season with Itaru. He and I have cooked together for a long time, from the first Yum Yum Fest to dinner with the Beard Foundation in Milan, to battling it out on 'Iron Chef' and countless other events. But he truly shines in our kitchen and I'll personally just miss him."