Owner Nick "Marty" Martin said Ian's at Garver won't be open for lunch until he can better staff the restaurant.
The East Side Ian's is booked with events this week, so it will be open to the public only from 3 p.m. until 10 p.m., Martin said. He hopes to open for lunch sometime next week when he can better organize his staffing.
Ian's at Garver had to close last week about three hours after it first opened to the public because it ran out of dough and other key ingredients. Martin said the dough takes two days to make.
The restaurant also had a breakdown of its prep oven, which Martin said got fixed over the weekend. Even though the business has three big pizza ovens, the prep oven is a critical part of the operation.
"We have dough made and we are ready," Martin said. "We are very ready. It's been too long. … Everyone's anxious to get it going again."
Martin said "hundreds and hundreds" of customers came through Garver Wednesday. Ian's was the first retail business to open in the 60,000-square-foot Garver, and the first look inside the renovated mill for most people.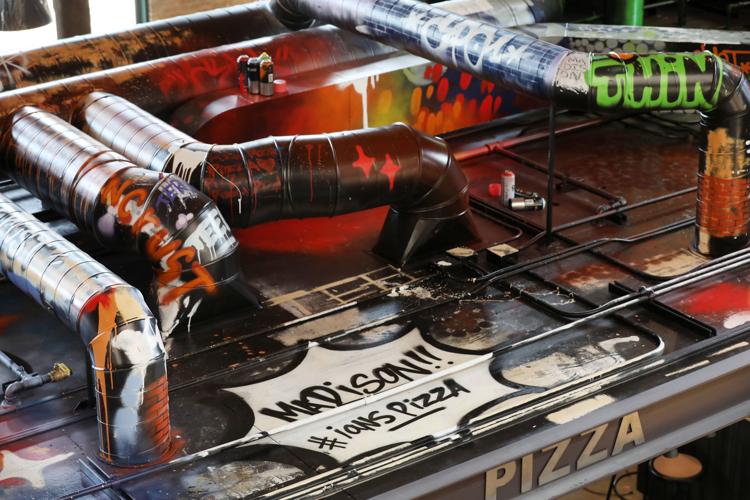 You have free articles remaining.
Register for more free articles
Stay logged in to skip the surveys
The restaurant had a private event the night before that drew a big crowd and helped to deplete the supplies on hand, Martin said. That's also when the prep oven stopped working.
Martin is managing partner for all three Madison Ian's restaurants. While there are multiple owners for each location, Martin is the primary owner for State Street and for Garver.
Founder Ian Gurfield is still the primary owner for Frances Street, but as the Madison managing partner, Martin runs that location, too.
There are also Ian's Pizza restaurants in Milwaukee, Denver and Seattle.
The 113-year-old Garver Feed Mill is behind Olbrich Botanical Gardens at 3241 Garver Green.
Garver will soon be home to 11 independently owned, local businesses. The businesses largely specialize in food production, health and wellness, and hospitality.
Briar Loft, Sitka Salmon Shares and NessAlla Kombucha are operating in Garver, but none of them have retail. Only Ian's and Calliope ice cream are open to the public, according to Bryant Moroder, project manager for the developer, Baum Revision, of Chicago.