Grace Coffee Co. burst onto the Madison coffee house scene in May 2019 and rapidly expanded to six locations.
But behind its stylish veneer are concerns about cut corners, poor management and a significant number of health code violations, including sugar contaminated by wastewater, fly-covered pastries and improperly stored raw meat.
Of the 564 restaurants and retail food stores the city-county health department reviewed this year, the two with the most violations were both Grace locations, on State Street (20) and East Washington Avenue (19). The East Washington location also had the most priority violations (11), which the Centers for Disease Control and Prevention consider a serious health risk.
The East Washington violations included a person in charge "not training staff on proper handwashing, date marking, prevention of cross contamination, monitoring of temperatures, monitoring of sanitization of food surfaces, or prevention of bare hand contact with ready to eat foods."
The State Street inspection found "evidence of pests (fruit flies)" and a bag of granulated sugar in the basement "visibly contaminated by a leaking wastewater drain from the upstairs kitchen handwashing sink." Six days later, a re-inspection found the food contamination remedied, but the pest problem persisted. Seven violations were still observed.
A third Grace Coffee location in Middleton tied for the 14th-most violations with 12, including six priority. They included a similar fly problem, a dusty fan used to blow air over uncovered pastries and an ice machine with mold growing above the ice.
Bonnie Koenig, Public Health Madison and Dane County's director of environmental health, said having 10 or more priority violations, or 15 or more total violations, is "rare but does happen on occasion."
"In these situations, the health inspector works closely with the operator to gain compliance and maintain safe food practices," Koenig said.
Grace Coffee owner Carlos Falcon said the heath department recommended that he hire his own sanitation supervisor who can go between shops, because Falcon and his team can't be at each location all the time. That's something he said he intends to do. He described the health code violations as "very small issues we had" that have already been addressed.
"It's so hard to hire people with experience right now," Falcon said. "That's our main issue. We're hiring a lot of new employees and unfortunately, for the most part, they don't have a lot of experience in the food service industry."
Paul Short, a Madison Area Technical College culinary program instructor for 27 years, said what may strike some as a minor violation can become a food-poisoning outbreak "that could tarnish your reputation forever."
"Their concerns should be not 'What can I get away with' or 'This only happens once in a while,'" Short said in discussing Grace Coffee's health code violations. "A business has to have a plan so that these kinds of things can't happen."
Speaking out
The health inspection records support the experience of two former employees who shared their negative experiences working at Grace Coffee.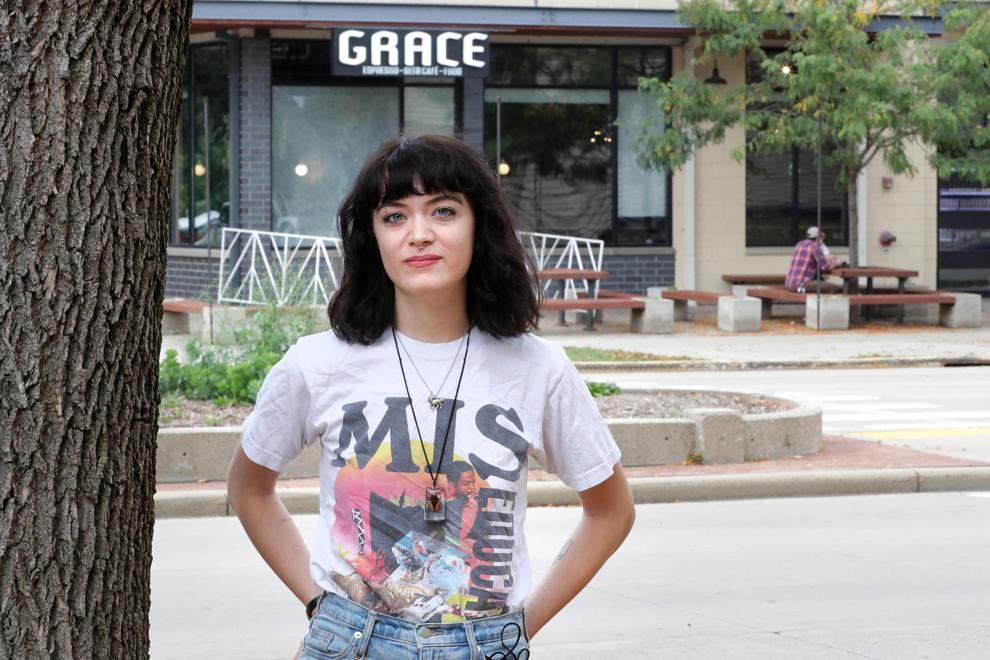 Winnie Bishop, 18, worked at the Grace location on East Washington Avenue from April to August to earn money for college, and said she was shocked by what she saw, including a "massive" fly problem. Making $8.50 an hour, she said she was afraid to raise issues with management for fear of losing her job.
"I sold pastries that I'd seen covered in hundreds of flies throughout the course of the day," she said. "They were in the sweet liquors. They got in the syrups. The whole place was crawling with flies constantly. There was flypaper up and fly strips and such, but it didn't do anything."
Bishop said managers claimed all the pastries were baked fresh each day and that the cold brew was brewed daily, but neither was true.
"The leftover pastries were put on an unrefrigerated tray overnight and most of them were stale and some had dead flies stuck to them," she said. "The cold brew was sometimes weeks old and also unrefrigerated."
The health inspection at the East Washington location included a violation for a bag of raw chicken being stored on a rack in the kitchen above ready-to-eat muffins and other baked goods. Also, in a kitchen cooler, a bag of arugula was touching a container of raw beef.
Bishop said she saw "raw meat lying by where they wash the dishes."
Falcon said some of the violations at the East Washington location happened because the building lost power the day before the inspection and the shop's refrigerator was "in factory mode," which put it at 70 degrees. He said "everything got fixed in four hours. ... It was as easy as calling the company."
Bishop's complaints went beyond health code issues. She said she was harassed about her appearance, with a manager commenting on her body hair and telling her a skirt that went below her knees was too short for work. She said she waited two months before she received her first paycheck.
She said she was ultimately fired for not complying with dress code and taking too long to close the shop.
Amaya Gallay, 18, who worked at the Middleton location most of last summer before leaving for college in New York, said in an email she also encountered problems with management.
"My largest issue involved timely compensation, but the exact problem I faced was a reflection of the very unorganized management, as in when I raised concerns about my paychecks, the response I typically got from lower management was, 'Yeah that sounds about right,' as there was little effective communication through the company," Gallay said.
Falcon said Bishop and Gallay were disgruntled employees who didn't get their W-4 forms in on time and were subsequently paid. Grace has about 120 employees now and no issues with payroll, Falcon said.
Rapid expansion
Grace Coffee has grown extremely fast, especially given its expansion came largely during the pandemic. By comparison, local coffee chain Barriques Coffee Roasters and Cafes had expanded to eight locations since 1998, but closed its Park Street location earlier this year (before Grace opened across the street) and it announced this past week the closing of its Atwood location by the end of the year.
Matt Weygandt, Barriques co-owner, said he's unconcerned with the speed of Grace's growth, even though a Grace shop opened three blocks from his Middleton location. That proximity just makes him examine what he can do better, he said.
He said he doesn't know much about Grace, but applauds its ambition. "If they're able to do it, more power to them," Weygandt said. "I'm always a supporter of somebody who's willing to put their hard work and capital at risk, even if it's somebody who is in a competing business."
Falcon, who moved to Madison from his native Seattle and four months later opened his first Grace Coffee at 417 State St., said as the company has grown he has needed to impose more structure, "because without it, what we realize is that trying to be nice and trying to be good with people, sometimes they cross that line and things go wrong."
Falcon said his company has spent a lot of money trying to treat the fly problem in all of the stores and there are "fly traps everywhere." He said he has instructed his employees to throw away any pastries that flies have landed on.
He disputed several of Bishop's criticisms. Regarding Grace's cold brew, he said that his stores go through five to 10 gallons a day and sell it all by day's end. If it sits overnight, he said, there's no cream or sugar in it so it's "never going to go bad."
County protocols
Routine inspections are performed unannounced at least once a year in all Dane County restaurants and food-service businesses. A health inspector looks at how food is handled, the temperature of food, and the hygiene and health of employees. Of the 564 restaurants inspected so far this year, 431 had at least one violation and the average among those was four.
Grace's three newest locations in Sun Prairie, Verona and on Park Street, have not yet been inspected, but pre-inspections — consultations the health department does with a new operator before opening — found a few violations at each.
Falcon, 29, said he has been in the coffee business since he was 16. His parents are immigrants from Peru, and he said he realized early that he had to make his "own opportunities and work very hard to be able to succeed in life."
At 19, with a "very old espresso machine" he opened a small coffee shop and bakery called Aura in a Seattle suburb and began saving money. He sold the business two years ago and it has since closed.
He said he has been able to land prime spots for his cafés by "building super strong connections with major developers in town that want us in their buildings." He said his landlords in every location but State Street paid 70-90% of the costs to construct the shops.
"My dream was to be able to show that even with very little opportunities if you work hard and love what you do everything is possible," he said.