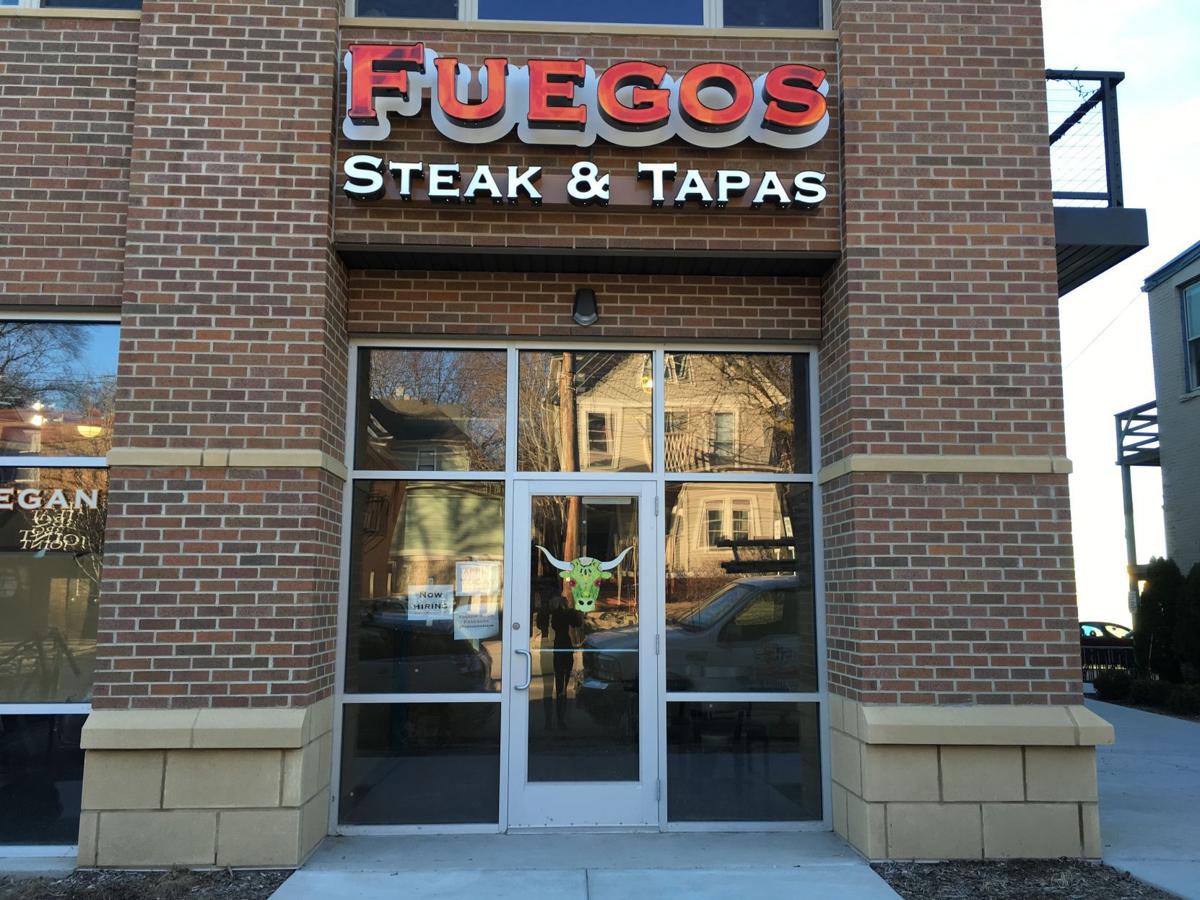 Fuegos, a Spanish-style steakhouse, tapas and vegan restaurant, could open on Williamson street within the next month, its chef said.
Oscar Villarreal said construction is wrapping up this week, hopefully, and if the restaurant passes city inspections, it will start by offering a series of soft openings in the next two weeks. Fuegos has already started recruiting diners for these meals on its website.
Villarreal did his restaurant training at Disney World in Orlando, Florida, and is running his soft openings or training sessions the way he learned to do them there, he said. "It's very controlled, reservation only," he said. "It's so we can work the bugs out."
His daughter, Cassandra Villarreal, owns the business with his significant other, Jordan Wegner, Villarreal said.
One of the reasons he is opening the restaurant is to help his family heal after a pair of tragedies in 2013 and 2014, when he lost two of his sons.
His son, Alfredo Emilio, was 18 and living in Janesville when he was killed by a Walworth County sheriff's deputy in 2013 at a hospital in what police called an escape attempt. Villarreal said his son was shot five times.
Officials said Alfredo, who was an inmate under guard at a town of Geneva hospital, where he was getting tests done, punched and kicked the deputy in the face multiple times. The deputy used a stun gun on Alfredo, which failed to stop him, police said in a news report.
The next year, Villarreal's 22-year-old son, Pablo, died in a car crash with his best friend. They rolled their truck in Rock County while out celebrating. 
"I'm here," Villarreal said about Fuegos. "I'm trying to get everything going. I'm trying to work through the process of healing from tragic losses that were back to back."
Villarreal moved to Madison four years ago from the Lake Geneva area. He lived in Rock County before that, and did consulting in Milwaukee.
He said "everyone's working together as a family" on the restaurant, including his oldest son, Ryan Villarreal.
The loss of his two sons left five children fatherless, Villarreal said, and that is the mission behind the restaurant. "This is what's driving me here everyday," he said. "When these kids get older and they don't have their fathers there to give them the opportunities that they would have," he wants them to have the restaurant.
Money from the restaurant will go into trusts in their names, Villarreal said. "Like their fathers gave them something in return."
While Villarreal is not a partner in Fuegos yet, he said he is one of four investors, in terms of him investing his time in the creation of the restaurant and as its chef. If all goes well, he may "jump on board" in a year or so.
"I'm just getting in here, and getting everything going for them and rolling everything out for them and then we'll see what happens. We'll see if I can handle it."
Villarreal wouldn't reveal his age. "Gay men don't tell you their age," he said, laughing.
What he did say was that he's a definite carnivore, but that Wegner, his partner, "is definitely a vegetarian, going on vegan."
Villarreal, whose family is Spanish and Mexican, had some experience with vegetarian food growing up in a Catholic family where there was no meat in the house during Lent, he said.
He and Wegner saw the need for a Latin vegetarian restaurant after the two of them went to Vegan Fest and noticed there was no Latin food.
Villarreal was working as a personal chef in the area when he was approached by investors, who told him to let them know if he ever decided to open a restaurant. He eventually pitched them the Fuegos idea. And he said he did it because of his grandchildren.
He got a lot of experience with seafood by working at the famous Disney World restaurant Fulton's Crab House for five years. Fulton's is now known as Paddlefish. 
Many of the tapas on Fuegos sample menu involve seafood -- there are crab cakes, shrimp, mussels, octopus, calamari, raw tuna, scallops and lobster bisque. The menu also features seafood entrées.
The steakhouse side of the restaurant, from its prototype menu, features skirt steak, ribeye, strip steak, sirloin, as well as lamb chops and pork chops.
The vegan menu is separate and lists fried yucca, fried plantains, coconut rice cakes, baked nut cheese, paella, raw vegetable pasta, pozole, among other creative-sounding dishes.
Villarreal is proud that Fuegos' vegan menu is the same size as its regular menu. "We're not just going to put a couple Vs in there for vegan options," he said.
He also promises beef from Stoughton and Northern Wisconsin. It will be local, just like it is in Spain, he said. "You go to Spain and they know where their meat is coming from."
The lunch, dinner and brunch menus on the Fuegos website aren't final, but give an idea about what to expect, Villarreal said.