After 47 years, Fraboni's Italian deli on Regent Street, a Madison fixture, has closed.
"It wasn't an easy decision," said Garry Fraboni, who owns the business with his brother, Steve. 
Steve retired Friday and the store closed Saturday, Garry said. Fraboni's Monona store, 108 Owen Road, is staying open and the family is encouraging Fraboni's customers to go there.
Garry said Steve's retirement was a big reason for the closure of Fraboni's Italian Specialties and Delicatessen on Regent. Steve ran that location and it needed to have an active family member there, he said.
Because the products sold at both locations are produced at the Monona store, it was easier to consolidate, he said.
The other big factor is Madison's labor shortage, Garry said. "It's hard to run a business with so few employees and this was wearing my brother out."
They simply couldn't find staff to work in a small business like Fraboni's where employees are expected to work hard. "They're all in school," Garry said about potential employees. "If you just look around the town you'll see help wanted ads in every building." 
The family owns the building at 822 Regent St., and Garry said it's not yet on the market. "Nothing's imminent really," he said, noting that the city has wanted to develop the area for a long time.
"You can see down on Regent Street, they've got a major plan that they want to do. So I think it's inevitable that something's going to be put there."
The houses next door, while landmarks, are not what the city wants in that area, Garry said. "That's just the way things are going. We have no control over that. I think it's going to happen eventually. That's the way the city works." 
Fraboni's website explains that Angelo and Gloria Fraboni opened Fraboni's Italian Specialties on Regent Street in July 1971 "because they felt providing quality ethnic foods at affordable prices was important, not only for their family, but for their city as well."
The children and grandchildren of Angelo and Gloria continue to provide the best Italian meats, cheeses, sandwiches and more from the Monona store, it goes on to say. "The location may change, but the quality and family live on!"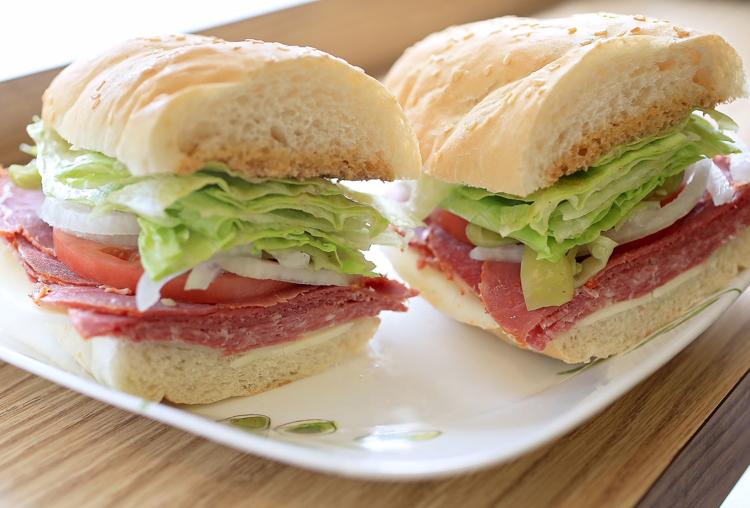 When a Fraboni's customer tears open the butcher paper that wraps its most popular sandwich, the Italian sub, there's more than a quarter-pound of meat and cheese — Genoa salami, Capicola ham and provolone.
On top of that is what Steve Fraboni calls the ever-important "L-T-S": lettuce, tomato, sub sauce. That sauce is Fraboni's original vinaigrette, made with a secret recipe but also available for separate purchase.
The quality of the ingredients has never changed, Steve Fraboni said in a 2015 State Journal story for the series, "30 plates that define Madison."
The Regent Street restaurant was in the heart of the old Greenbush neighborhood, which was home to many Italian and Eastern European immigrants.
In the story, Steve Fraboni said he loved talking to his customers, "who represent as many as four generations."
It's not lost on Garry Fraboni that the closing of the Regent Street shop marks the end of an era. 
"We have a lot of friends that shopped there and we've hired thousands of people who have come through there, and some of them have remained very close friends," he said.
"It's not easy to do this, but you just cannot run a business without employees and it comes right down to that," Garry said. They had situations where 40 percent of their employees wouldn't show up to work. "That makes it really difficult for the ones that are still working," he said. 
The Fraboni's website encourages customers to also look for the family's products at Woodman's and Metcalfe's grocery stores and at bars and restaurants around Madison and Monona.