Saren Ouk is opening a Cambodian fusion restaurant on Park Street in a location that briefly housed another Cambodian restaurant, but there's no connection.
Ouk doesn't know the former owner of Angkor Wat, which opened in late 2016 and lasted about three months at 602 S. Park St.
The location was best known as Inka Heritage, which left in 2016 after 10 years. The spot has gone through much upheaval since.
Ouk's new Lemongrass restaurant developed out of a successful catering business of the same name the former RED sushi chef started last year. He expects the restaurant to open in a month or two.
He's been cooking out of Badger Rock Neighborhood Center, catering about one event a month. Last year, he did Taste of Madison, the Monona Community Festival, Dane Dances, and the Cinco de Mayo Festival in Verona.
Ouk's also done two pop-up events at The Robin Room on East Johnson Street, and is doing a third at 6 p.m. April 23. His menu will be lemongrass beef skewers, coconut curry chicken skewers, or BBQ beef skewers served with garlic vegetable fried rice, Asian slaw and beef egg rolls. Dessert will be jackfruit and coconut sticky rice.
The Robin Room created a lemongrass-infused cocktail at Ouk's last pop-up and it sold out quickly. The drink will be back at this month's event, he said.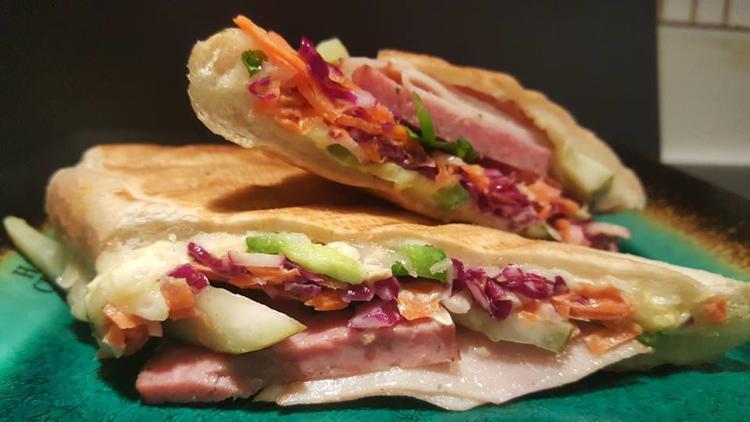 Lemongrass, an herb with a subtle citrus flavor, is closely tied to Thai cooking, but is also used in Cambodian cuisine, which Ouk describes as less spicy than Thai food.
Ouk said the menu at Lemongrass won't be "authentic Cambodian," but instead a fusion of many cuisines. "It's just an opportunity to show how big the world is and how to respect other different cultures -- highlight all the different flavors."
Joining food together is a way to join communities together, he said.
Ouk, 34, was a hibachi chef at the former Ginza of Tokyo and then worked as a head sushi chef at RED for about five and a half years. He left RED last year to start his catering company.
You have free articles remaining.
Register for more free articles
Stay logged in to skip the surveys
He specializes in making sushi that is vegan and gluten free. That means crafting nigiri with vegetables like eggplant, bok choy, baby corn, enoki mushrooms and pickled daikon radish. He started it at RED and has continued it with Lemongrass catering.
"I love creating the vegan sushi rolls for everybody because I realize that a lot of our customers (at RED), they came in and they didn't have much options for vegan or gluten free," Ouk said. "It's hard for them to go out to eat when there's not much options like that."
Ouk got funding from Kiva Greater Madison, which helps secure microloans for small business owners, and the Wisconsin Women's Business Initiative Corporation, which provides small business loans and information to women and men starting a business. "It would never happen without Kiva and WWBIC."
He's going to make improvements to the dining room, including new paint and lighting, and is also investing in some new kitchen equipment.
Ouk's parents escaped the brutal Khmer Rouge regime, which ruled Cambodia from 1975 to 1979 and was responsible for one of the worst mass killings of the 20th century. Ouk was born in a refugee camp in the Philippines in 1984, and came to the United States when he was two weeks old. The family lived in Chicago for about four years before moving to Madison.
"I was just telling my daughter, she's 15, everything we have here we love and respect so much because for our other generations that came into the states or other people who have lived to an older age, they've been through so much," Ouk said.
Ouk went to Memorial High School and now his daughter does. Ouk said that when he was growing up his family celebrated the Cambodian New Year with other Cambodians in Madison, but otherwise wasn't really involved in the Cambodian community. While working at RED, he wasn't aware of Thao Nuon's Angkor Wat restaurant where his new restaurant is taking shape.
Ouk said he's interested in making Madison diners more familiar with his native foods. "One other thing about Cambodian cuisine, it's really bold flavors. I'm slowly introducing it with a more modern twist, in a more modern way."
Other menu items at Lemongrass will include nom pang, a Cambodian Cuban sandwich, which will be like a pressed bahn mi; Cambodian tacos; and a lemongrass-infused stir-fry that Ouk describes as "almost like a spaghetti dish."
He'll also offer Cambodian pho that's similar to Vietnamese pho. Kuy teav is a Cambodian rice noodle soup with a homemade beef and oxtail broth, basil, cilantro, jalapeno, bean sprouts, fried garlic and scallions. It will come with a choice of beef, meatballs or shrimp.
Ouk, who will be the restaurant's chef, is still working on a few more dishes. "I'm so excited right now," he said.