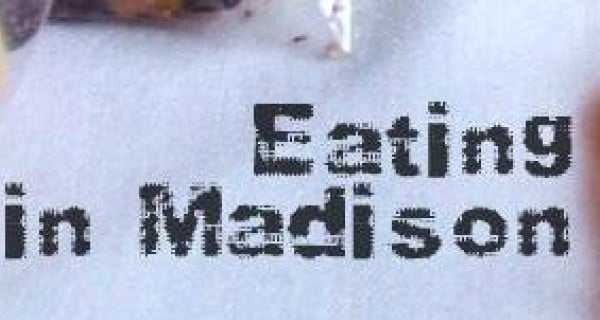 In the past eight years, Nichole Fromm and JonMichael Rasmus have learned a thing or two about local restaurants. They've eaten at 779 of them.
Like many couples, they often had trouble agreeing on a place to eat.
"We were bored with the 'I don't know, where do you want to go?' thing," Fromm said.
The Isthmus dining guide had just come out and was sitting in their living room. They started going through it, and Rasmus — the less adventurous eater of the two — had the crazy idea of trying them all.
That's how their popular blog, Eating in Madison A to Z (www.madisonatoz.com) was born. The plan was to eat at (almost) every area restaurant in alphabetical order.
They decided to tackle the restaurants in order so they wouldn't leave the ones they weren't eager to try for the end.
Every time they'd reach the end of a letter, they would review all the previous letters for new places.
The endeavor culminated in February with a rave review of Zuzu Cafe.
Fromm and Rasmus, both 34, gave each restaurant a letter grade. Fromm gave Zuzu Cafe an A, while Rasmus (who goes by JM in the blog) gave it an A-.
"Z was the best letter we went to, bolstered by the very nice Zuzu Cafe," Fromm wrote. "Zuzu was also JM's 300th A or A-. He now has 300 reasons to not eat a Whopper Jr. ..."
Fromm, a librarian for the Madison Public Library, tries not to put down her husband because of his dining limitations, which largely evaporated over the course of the project.
They started out with different ideologies about food.
"I don't want this to sound insulting or anything, but he grew up in a very Norwegian, bland, processed food kind of household. Middle of the road, not very adventurous," Fromm said.
Her food background was narrow as well, she admits.
"I grew up in Milwaukee eating regular, middle-class Milwaukee food."
But when Fromm moved to Madison, she fell in love with the Dane County Farmers' Market and started getting interested in cooking.
"So I was just more into trying new things than he was," she said. "He was more of a creature of habit than I was with food, I think."
Rasmus, who works in game research for the Wisconsin Lottery, admits his palate became more refined over the past eight years. Before the blog, a meal was either "good" or "not good."
"Now it's a much more nuanced opinion," he said. "I didn't have the mental imagination to know what I liked."
He learned to enjoy Indian food in particular and is now a "big sucker" for a well-prepared pad Thai. That wasn't the case 10 years ago, "where I would have wrinkled my nose and said, 'well, I bet I don't like that at all.' "
As for their favorite restaurant out of the almost 800 they've tried, Fromm and Rasmus said that if price were no object, a place they'd both agree to go to often would be Quivey's Grove.
"It's established and unpretentious," Fromm said, adding that they like the variety of Wisconsin dishes and the choice between the casual Stable Grill and the more special-occasion Stone House.
"This choice is ironic because Quivey's was the very first place we ate as a married couple in Madison, using a wedding gift certificate after we returned from our honeymoon in fabulous Fargo, N.D.," Fromm said.
The blog usually comes up on the first page of a Google query when someone is searching for information about a restaurant, and for that Rasmus credits Fromm's search engine optimization skills.
It gets about 1,000 hits per day according to Google Analytics and the blogging software they use. Since they stopped posting three times a week it's been declining somewhat, Rasmus said.
Cumulatively, Eating in Madison A to Z has had 2.4 million page views.
In the final analysis, Fromm said she was surprised by the diversity and richness of Madison's restaurant community.
"For a city its size, I guess we're really lucky because we have so much culture from the university and the Capitol and its fairly affluent, so there's a lot of customer base to support that."
The blog will stay alive, but in a more limited form, Fromm said.
They are considering focusing on the new places that are opening, and restaurants that were overlooked by the dining guide they used.
"We do have a new list and I think we will probably try to tackle that, too, only at our own pace and a little slower," she said.
Stay up-to-date on what's happening
Receive the latest in local entertainment news in your inbox weekly!