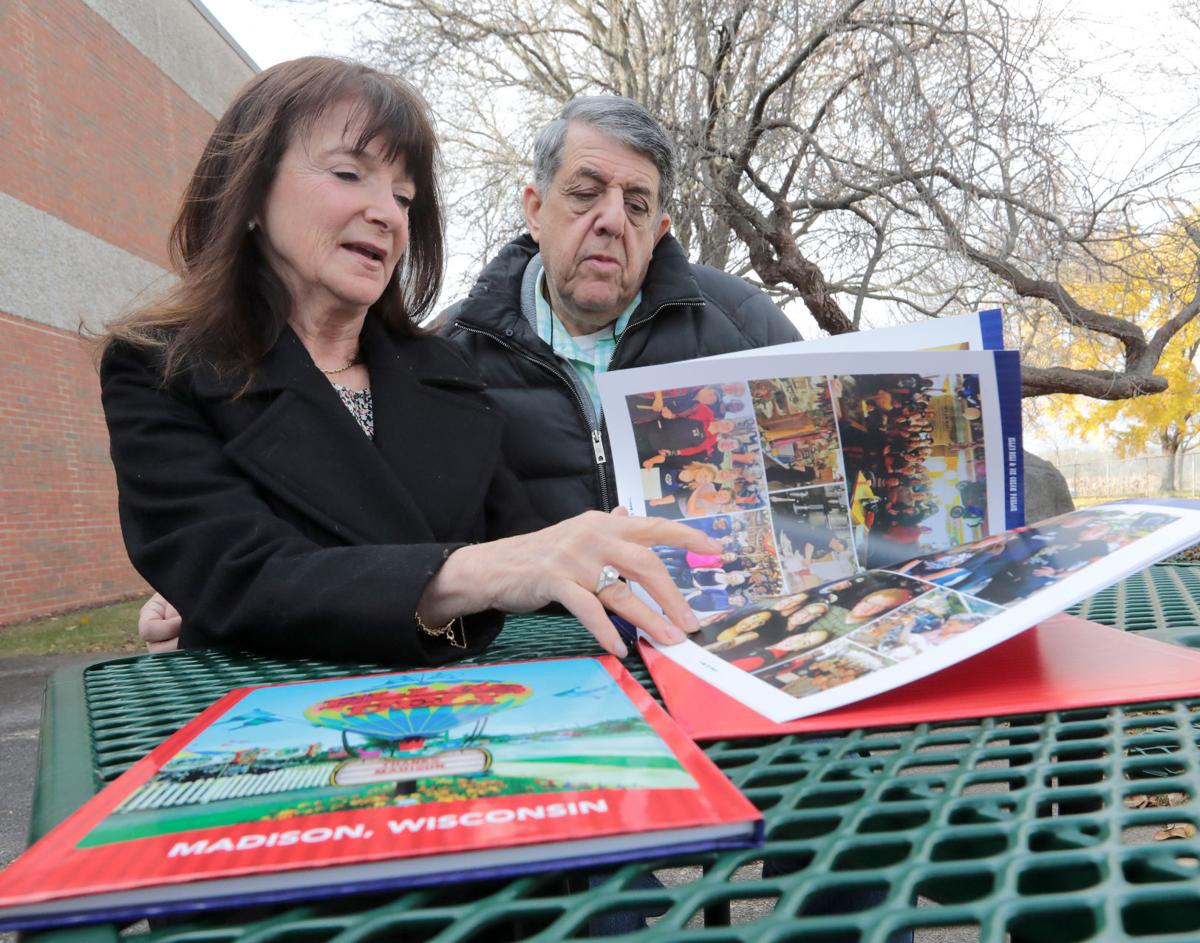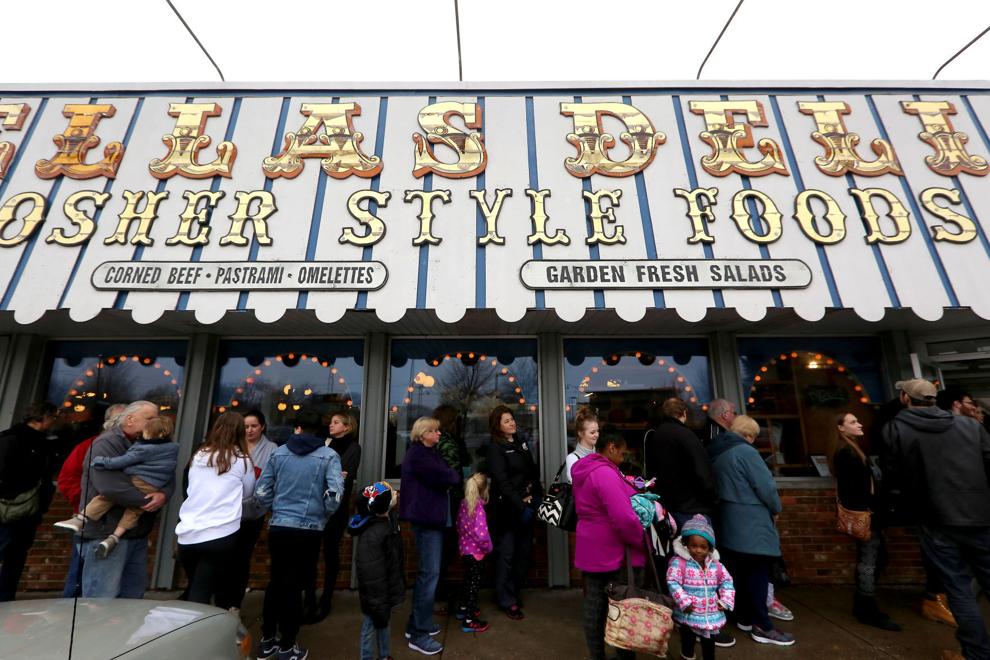 Fans of Ella's Deli and Manna Café & Bakery felt the loss when the two longtime Madison favorites closed, Ella's in January 2018 and Manna in June 2020.
But now those same grieving diners, if they also enjoy cooking, can make some of their favorite dishes at home with new cookbooks by Judy Balkin of Ella's and Barb Pratzel of Manna.
For those looking for holiday gifts for lovers of Ella's pound cake sundaes or Manna's oatmeal pancakes, Balkin and Pratzel have got you covered.
Both books are not just cookbooks: Balkin's is full of newspaper articles and photos, while Pratzel's is part memoir.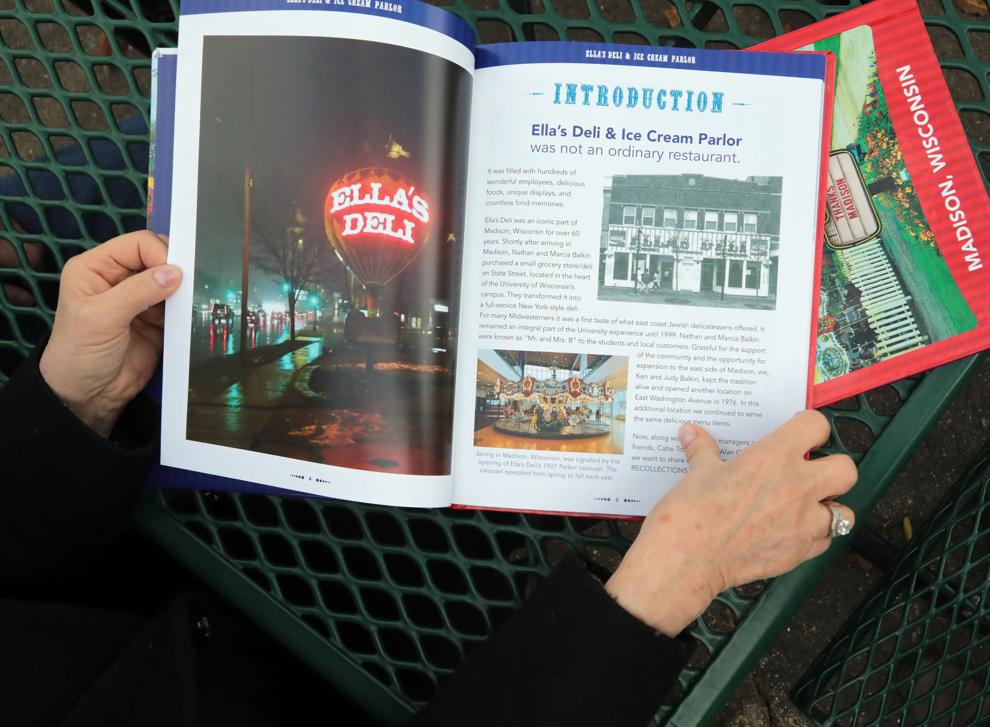 Ken and Judy Balkin, who closed their iconic Ella's Deli on East Washington Avenue after 41 years, put together the book to give to friends, family and key employees, but when Judy posted about it on Facebook, orders started pouring in.
"We didn't have any idea that this was going to sell like that," Judy said about "Ella's Deli & Ice Cream Parlor Not Your Last Taste Recipes & Recollections."
"We just kind of made it for ourselves," she said.
The first batch of 150 books sold out within two days. "We just kept ordering more and more," she said.
"You know, people enjoyed the food for so many years, we felt there was no reason to keep the recipes a secret," Ken said.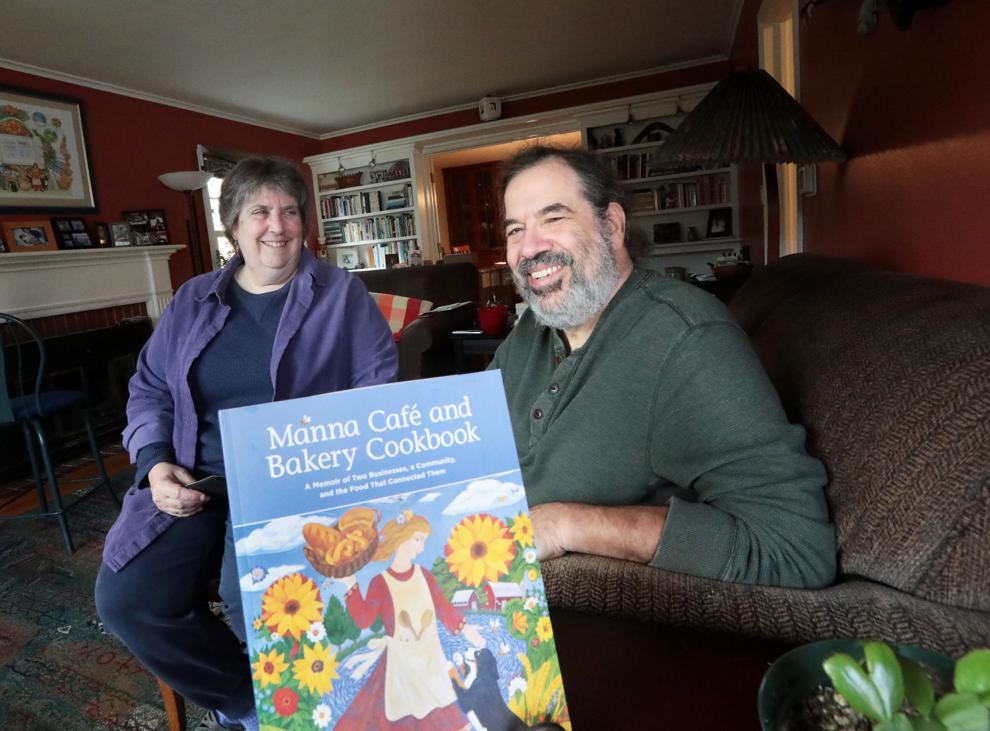 Barb and Mike Pratzel closed Manna on North Sherman Avenue after 15 years. It was an early victim of the pandemic.
Their book release event for "Manna Café and Bakery Cookbook: A Memoir of Two Businesses, a Community, and the Food that Connected Them" last month at the Goodman Community Center drew a capacity crowd.
"Ridiculously, we had over 200 people," Barb said. "It was like a great big Manna love fest. We described it as another Sunday Manna brunch only on hormones and for the cookbook. It was just a really beautiful, wonderful, warm, happy experience."
Down to size
The first step for each project was figuring out a way to reduce large restaurant quantity recipes down to small batches for home cooks.
Instead of their kitchen staff making 350 matzoh balls for the restaurant, Ken Balkin said, they needed a recipe that would yield 10 matzoh balls.
Judy handled the recipe adjustments, but the truth was, in the past, when she wanted a matzoh ball, she would order one at the restaurant, where her cooks made the giant batches about three times a week.
"I put it in the computer," Judy said, "but then you still had to play around with it because it doesn't really translate perfectly."
Now, she said, she's making matzoh balls at home all the time.
Barb Pratzel said not only were Manna's recipes scaled up to make 100 or 200 servings of an item at a time, but not all of the recipes were written out neatly. Some were on scrap paper. Others had so many notes written on them they were hard to decipher.
"So, for the first part, it was just kind of scaling things down to four servings, and making sure that you've done that correctly," she said.
Then, she had to write instructions in such a way that even a novice cook could understand it. She put together a recipe testing group with people who had little or no experience cooking, including her son, and others who were more experienced.
"It was such a great learning experience for me to hear people's questions and understand just what it took to write a cookbook for your not-terribly experienced home cook," she said.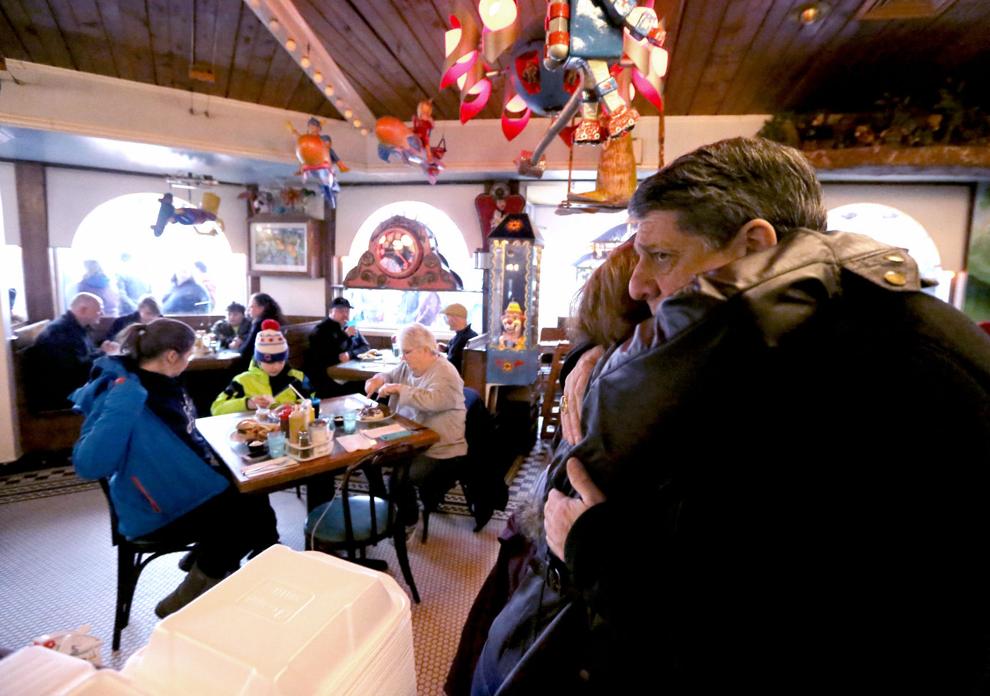 Going national
Once word got out about the Ella's book, Judy said she started getting orders from across the country: Washington, D.C.; Portland, Oregon; California.
Ken said they were spending eight to 10 hours a day filling orders. Now book sales are handled through the book's printer, AlphaGraphics Madison.
The Ella's books are $42.50 after tax and shipping.
Elizabeth Bickers Gargano at AlphaGraphics said her company has printed and delivered or shipped 1,251 books. They have a new order of 400 in stock and ready to ship.
Orders can be placed by emailing ellasorders@alphagraphics.com. Customers should include quantity and shipping address. They will then get an invoice that can be paid online by credit card.
"We've never done anything like this before," Ken said. "But we're pretty pleased with the way it turned out. The response has just been so overwhelming."
Added Judy, "It's been three years now, so we really didn't know if our fan base was still alive and well."
Deli fans can also make Ella's chopped liver, croutons, sweet and sour cabbage soup, chili, stuffed cabbage rolls, kugel, sour cream chocolate cake, pumpkin bread and cheesecake.
Besides the 13 recipes in the 62-page book, the Balkins hunted down newspaper articles and photographs.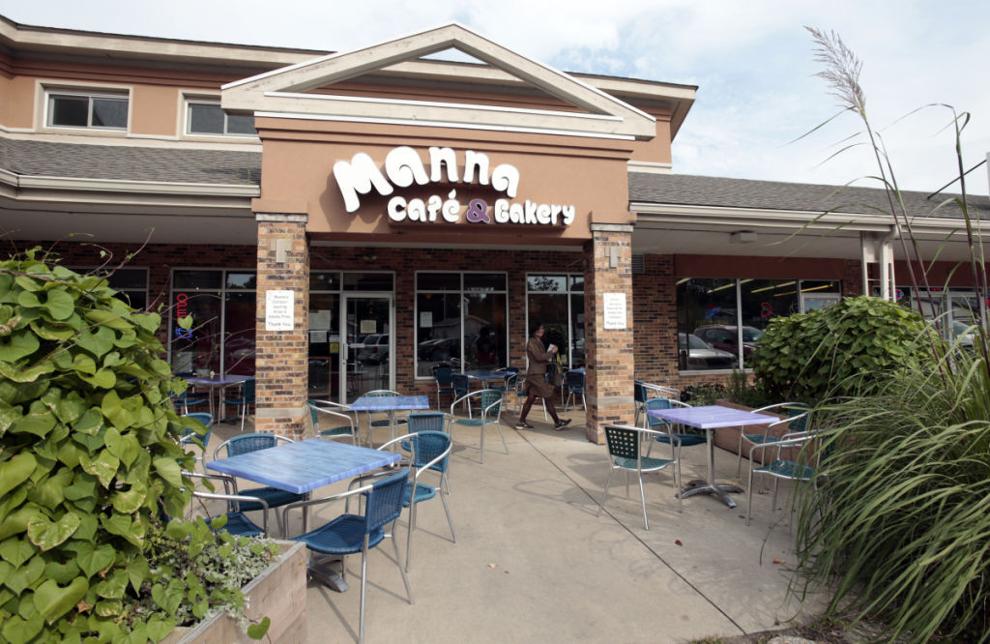 150 recipes
Pratzel came at her book as a UW-Madison journalism school graduate and science writer. The 384-page soft cover book has about 150 recipes, but also stories about Manna, and The Collins House, a bed-and-breakfast and catering business the couple ran from 1985 to 2005 on East Gorham Street.
The book is $32 plus tax and shipping and available through the Little Creek Press' online bookstore or at local Madison bookstores Mystery to Me, A Room of One's Own, Orange Tree Imports and Leopold's Books Bar Caffe.
Kristin Mitchell of Little Creek Press and Book Design, a small publisher in Mineral Point, said 5,000 Manna Café and Bakery Cookbooks were printed and she's "blasting through them."
"We are about halfway through and the book released less than a month ago," Mitchell said.
Barb said Manna fans were waiting for her oatmeal pancake recipe and the first couple of days after the book came out, she was getting emails and photos from people who made the pancakes and wanted to show her their results.
Others were excited to get recipes for Barb's quiche, peanut butter ripple cookies and lemon cake, and to learn her scrambled egg technique, in which she cooks them "low and slow."
"It's just a very slow or very low heat," she said. "You barely believe the eggs are cooking, but little by little, they do."
The eggs should be stirred from underneath as they cook and the person making them needs to take his or her time and not get impatient, Barb said. "It can take five to seven minutes to do it properly. I think most people are accustomed to doing scrambled eggs in like a minute."
Mike Pratzel said he admired how hard Barb worked on the project and has been grateful for the warm feedback.
"Everybody's so happy that they have a recipe that they can use to remember her," he said, "and it's a nice sense of closure for the café, even to our lives and 35 years in business together."
"You know, people enjoyed the food for so many years, we felt there was no reason to keep the recipes a secret."

Ken Balkin, of the former Ella's Deli & Ice Cream Parlor