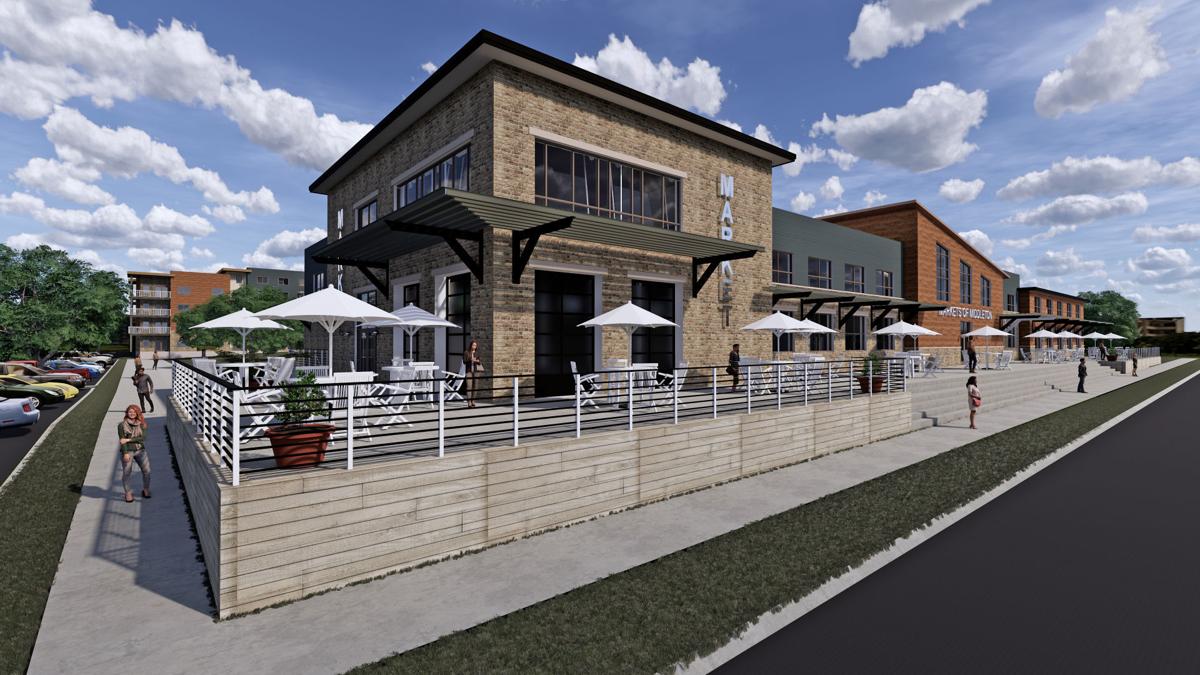 Middleton is beating Madison to the food hall finish line with a project that's expected to involve about 15 stalls and shops.
Dwell at Middleton Market, which broke ground Wednesday, is a $50 million mixed-use development with 263 apartments and 31,000 square feet of commercial space in two buildings.
Robin Pharo, president of Treysta Group, the co-developer of the project, describes the market as a European-style food hall and market offering "chef-driven food concepts that highlight a wide variety of the best the region has to offer."
Pharo is planning for 15 food-related businesses. There's room for 20, but she expects some to take up two spots.
She doesn't have firm commitments from any vendors, but is negotiating with three: A coffee roaster, a fishmonger and a Latino food outlet, she said.
Pharo envisions a range of vendors, from those offering "made-to-order meals to be enjoyed in our on-site 'Market Bar,' as well as an amazing array of ingredients to prepare meals at home."
She anticipates vendors selling everything from flowers and spices to teas and cooking essentials.
Pharo is modeling her food hall concept after ones she's visited in Seattle and Barcelona, Spain, among other places.
She said the closest example is the Milwaukee Public Market, which opened in 2005 in the city's Third Ward neighborhood.
Food halls growing
Pharo notes that the Middleton Market isn't a public market, which means it won't act as a business incubator.
"We're not opposed to working with new businesses, but we're not set up to help develop their business, so to speak."
It will be much different from the restored Garver Feed Mill, opening in stages on Madison's East Side, where many of the 11 contracted tenants are food-related.
"Garver has a few excellent food vendors and produces within a larger event space," Pharo said. "The Middleton Market will offer a much larger and more diverse mixture of vendors and an active bar and beer garden."
Pharo said the Madison-Middleton area is ripe for this type of retail food environment, calling it the fastest-growing retail segment in the United States.
When Cushman & Wakefield first reported on the food hall movement in November 2016, the concept was relatively new. "But what began as a trend that was largely relegated to just a few markets has since exploded," the report said.
In 2016, there were about 120 food hall projects across the country, it said, noting that that number is on track to nearly quadruple, with 450 food halls expected in the U.S. by the end of 2020.
"At a time when headlines about the retail sector remain dominated by stories of closures and bankruptcies, food halls have emerged as one of the hottest growth trends — spurring real estate trade journal Globe Street to declare 2019 as 'The Year of the Food Hall,' " the report said.
The Middleton Market will offer "a diverse food mixture, all in one stop," Pharo said. "And we focus on local providers, sustainable food, sustainable operations."
Focus on sustainability
Choosing sustainable food means looking for producers who are humane to animals, fair to food workers and farm workers, and who support the local community, Pharo said.
You have free articles remaining.
In terms of sustainable operations, Pharo's Treysta Group is using solar panels to reduce its electrical use and low-flow fixtures to reduce water consumption. It will require compostable, biodegradable and recycling containers to limit landfill use, she said.
Abby Attoun, director of planning and community development for Middleton, said Pharo embraced early feedback to make the project a model for sustainability.
"Using her extensive knowledge of green building, she has put together a development that includes a significant investment in solar energy, as well as an innovative reclaimed water piping system," Attoun said.
Middleton city staff have been working with Pharo for 2½ years on many versions of the development, which Attoun called "a game changer" for Middleton's redevelopment of an area west of Parmenter Street, just off the Beltline. It will be on Lisa Lane, where the Bowling Green softball field used to be.
The area is "transforming from underutilized and highway-oriented businesses to a vibrant, mixed-use, and walkable neighborhood," Attoun said, noting two recently completed and occupied housing developments. The neighborhood is also planning for a 13-acre Meriter-UnityPoint Health campus.
The food hall will be within easy walking distance of many large companies, Middleton High School and Middleton's downtown, Attoun said.
Opening next summer
Dwell at Middleton Market's first building, with the food hall and market beneath the apartments, is scheduled to open next summer. The other, with commercial space below, is expected to open by spring 2021.
The project was awarded $8.5 million in tax incremental financing last summer.
Pharo's Treysta Group is working with Cardinal Capital Management, based in West Allis. Cardinal is handling construction, as well as the management once the buildings are open.
Carol Keen, director of asset management for Cardinal Capital, said her company is an experienced housing developer, but has no experience with food halls.
"We're excited to join the growing number of food halls throughout the country," she said.
Keen called the food hall and market "a big amenity for building residents and the community, offering year-round food and entertainment."
The apartments will range from one to three bedrooms, and will have green amenities like solar panels; electric vehicle charging stations; rainwater harvesting; on-site composting; and energy-efficient lighting, heating and water fixtures.
"Smart home" technologies will include keyless entry and light controls, Pharo said.
The food hall is a key amenity in the development, and different from the public market being designed in Madison, Attoun said.
"The food hall will be complementary to other markets in the area, and will feature local prepared foods, supplies for home cooks, and a space for chefs to try out new ideas," she said.
Plans for Madison market
Madison Mayor Satya Rhodes-Conway's capital budget for 2020 continues support for the long-awaited $13 million Madison Public Market, planned to open on the East Side in 2021.
The year-round market is expected to feature 35 to 45 local businesses, plus a rotating mix of temporary vendors, offering produce, meats, cheeses, culturally diverse food, as well as arts and crafts.
Supporters have been advocating for the project for 14 years, but have had trouble finding a location.
Last December, the city decided to house it in its Fleet Services building, 200 N. First St.
As for finding food businesses to fill the Middleton Market, Pharo said she's not worried.
"The interest in becoming a vendor has been very high," she said, "so we are confident the market will fill before its opening next summer."