A steak and seafood restaurant from the majority owners of Madison's two Eno Vino tapas and wine bars is getting ready to open on a rapidly expanding section of East Washington Avenue.
Palette Bar and Grill, 901 E. Washington Ave., is on the ground floor of developer Curt Brink's new building that converted the historic Mautz Paint warehouse into a Hotel Indigo.
The restaurant is expected to open in late April, serving breakfast and dinner, but no lunch.
The restaurant's name is a play on color palette and taste palate, said Jose Luis "Pepe" Granados, a partner in Palette and both Eno Vinos, along with Richard Uihlein and John Smithe. Palette also has two other investors, Randy Copenharve and Joel Lewis.
"We're doing an upscale concept, not fine dining, but traditional steaks and seafood," said Granados, adding that Palette will also offer sandwiches, which by Hotel Indigo requirements need to be called "handhelds."
Granados said to expect steak and seafood combos, like filet mignon with lobster tail or ribeye with crab legs. "We're not trying to compete with Rare. We're not trying to compete with Tornado."
Instead of the small plates of Eno Vino, at Palette diners will eat in a more conventional style with appetizer, salad, soup, entrée and side, Granados said. 
The hotel's color theme is inspired by the Mautz paint building, with five basic colors, one for each level of the five-floor building. Granados said. The style is "very industrial looking."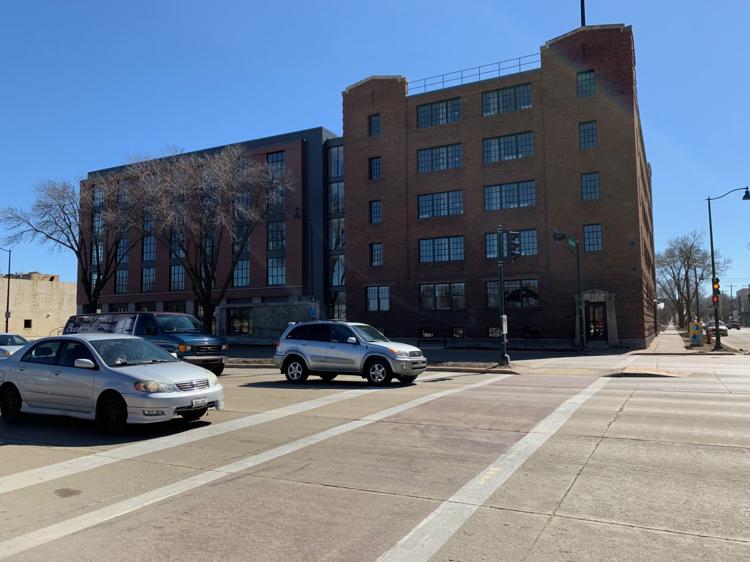 You have free articles remaining.
Register for more free articles
Stay logged in to skip the surveys
In the back of the restaurant, an art installation will go with the paint theme, Granados said. Paint can lids in all different shades and sizes will be assembled like a bunch of balloons, he said. "That's going to be the focal point of the dining room."
Many people identify the brick building at the corner of East Washington Avenue and South Paterson Street as being used by Mautz Paint, but it was constructed in 1915 as a warehouse for Kleuter & Co., then one of the area's main wholesale grocery companies.
Mautz Paint moved to the site in 1928. In 2001, the business was bought by Sherwin-Williams, and the factory closed a year later. Brink and a partner bought the property in October 2002.
The Brink project includes a new adjoining five-story building East of the original building. Palette will be in the new construction.
Being in a hotel has worked out well for Eno Vino, so the partners are attempting it again in a location a mile East. "It gives you a base of clientele that is already staying in a hotel and that brings in some business," Granados said.
Palette won't have a wine focus because it's too close to the Downtown Eno Vino, which opened in the AC Hotel in 2017. "By our own policies, regulations and agreements, we can't compete with each other," Granados said.
The original Eno Vino opened in 2004 at 601 Junction Road on the Far West Side.
Palette's dining room is going to seat about 80, with an extra 35 to 45 in the bar and lounge.
Because the restaurant is across East Washington Avenue from Breese Stevens Field, diners on its patio will be able to hear the music when concerts are held there, Granados said. The patio will seat an additional 35 people.