The owners of Woof's, a 12-year-old gay sports bar on King Street, are planning to open an Italian tapas-style bar next door in what had been Opus Lounge.
The name Dino-Vino isn't a spoof on Madison's best-known wine bar and tapas restaurant, Eno Vino, nearby, said Dino Maniaci, who is opening the bar with his partner, Jason Hoke.
"Given it's my name first, and I like wine, that's where that came from," Maniaci said. "So that's been kind of percolating for about, oh, 30 or 40 years."
In the 1980's, Maniaci, 58, had an Italian restaurant, deli and catering company in in Green Bay with friends named Zimmerman, and they called it Zimmani's, a blend of their names.
"So that was the brainchild of our last names. And then I thought, 'Well, one of these days I'm gonna use Dino as something.' So that's kind of where that was born," Maniaci said.
The scope of Dino-Vino's menu will be determined by how much they can improve the kitchen, which is in the basement.
"I'm meeting with the health department and the building inspectors to see what we're able to actually do," Maniaci said. He hopes to have Dino-Vino open by July.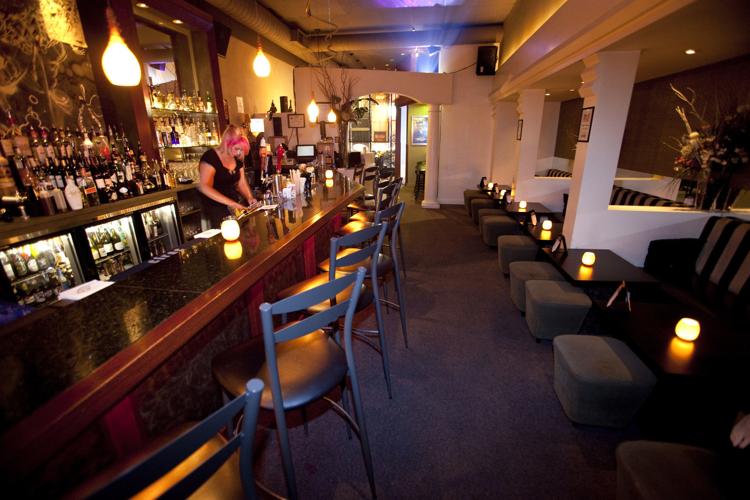 While Maniaci has a restaurant business background, Hoke is a chef trained in French cooking who has worked for James Beard Award-winner Patrick O'Connell at the Inn at Little Washington in Virginia. 
"So we bring that sort of combination of professional training and family Nonna training to the table," Maniaci said.
You have free articles remaining.
Register for more free articles
Stay logged in to skip the surveys
Maniaci and Hoke have hosted numerous pop-up food events and fundraisers and have traveled extensively, including many trips to Italy.
Hoke's work as an American Kennel Club judge has taken him to Australia, Japan, Korea, Uruguay, Mexico and throughout Europe. Maniaci also has more than 30 years of design experience, having done graphic design, marketing, branding, interior, event and environmental design.
Opus Lounge closed in October 2017 after 17 years at 116 King St.
Maniaci had initially been interested in a different location, and having the new place right next to Woof's could be good thing or bad thing, he said. "Like, I never go home now."
Maniaci and Hoke hope to serve everything from breakfast sandwiches to a late night menu. But, to start, it will just be tapas and appetizers, or "cicchetti" in Italian.
"So small, small plates, small bites, popular in Venice," Maniaci said. "You would stop on the way home from work and get a small little glass of wine and a plate of like a bruschetta or something, and just a few small little bites to kind of tide you over until dinner."
A tentative menu includes charcuterie boards; a trio of arancini or fried rice balls stuffed with saffron risotto, smoked cheeses, port wine and wild mushrooms; a fritto misto basket of artichoke hearts, calamari and eggplant strips; and skewers of spiedini, or rolled beef tenderloin, stuffed with breadcrumbs, cheese, marinara sauce, toasted pine nuts and currents.
Other small plates are expected to include shaved octopus carpaccio; stuffed zucchini blossoms with house made burrata; grilled figs wrapped in prosciutto and drizzled with lavender honey; and roasted artichokes stuffed with toasted breadcrumbs, currants and pine nuts.
The men plan to make some cosmetic changes to the space, but their main focus now is on determining if they can build a big enough kitchen. "There may be some limitations with equipment and whatnot. So that's where we're at at the moment," Maniaci said.