Cannabidiol, better known as CBD oil, seems to be popping up everywhere — in fudge, in gummy snacks, in bath bombs, in body lotion, in tea.
Now, the trendy derivative of the hemp plant is showing up at the Great Dane Pub & Brewing Company in the form of a new beer called Green Glory APA.
Rob LoBreglio, Great Dane's co-founder and brewmaster, said he's been taking CBD oil more regularly lately, hoping it helps with some inflammation and joint issues.
"I want to refrain personally from making health claims," he said, "but the times that I take it, I notice that I sleep better."
CBD is one of the two main molecules in cannabis; the other is tetrahydrocannabinol, or THC. While THC gets you high, CBD does not.
LoBreglio said the idea to add CBD to beer came less than three months ago because of a connection he has with Madison-based GreenRX, a health and wellness store that specializes in CBD products.
Jeff Kundert, one of GreenRX's owners, used to be LoBreglio's personal trainer. Kundert's father, the late Bob Kundert, founded the American Cannabis Society in 1978. One of Kundert's key employees is also friends with some of the Great Dane's brewing staff, LoBreglio said.
"So we all kind of started seeing the light come on slowly in this day and age where there are so many different types of ingredients going into beer and people are getting very experimental," LoBreglio said. "All of a sudden we decided, hey, 'Why not CBD?' "
CBD supporters say it can be used to treat pain, anxiety, epilepsy and depression, among other conditions. About 20 CBD shops have opened around the state in about six months.
At this point, the benefits of CBD are mostly anecdotal, but in 2017, the U.S. Food and Drug Administration approved a CBD-based drug called Epidiolex. The drug is used in children to treat seizures associated with two rare and severe forms of epilepsy.
Tony Herman, 22, believes in CBD's purported health properties so much that he opened Quality CBD, 1222 Williamson St., across from the Willy Street Co-op, in July. He sells CBD in many forms and recently began selling the products from his website, qualitycbd.org.
Herman was glad to learn that the Great Dane was venturing into using CBD in a beer, even though he isn't a big drinker. He drinks his CBD in kombucha tea.
"It's absolutely great that it's being spread on a very wide basis," he said. "I don't see why everybody shouldn't be carrying CBD."
In beer, he imagines it will give a "calming, relaxed effect."
Herman was also happy to find out that the Great Dane was partnering with GreenRX, noting that he's gotten to know Kundert since they're in the same industry. "They try to get the best of what they can and I really admire them for that," he said.
John Pickle, who recently opened Pickle Jar Cafe, 141 S. Butler St., sells a 16-ounce cold brew coffee with CBD for $12.
In his first six days of business, Pickle said he sold about a gallon. He said the 16-ounce cup is a better dose size, but if someone wanted a smaller size he could sell an 8-ounce cup.
Sales have been inconsistent so far, but he said the CBD coffee is starting to catch on. "It has such a potential and those who have bought the cold brew have really liked it."
At 52 milligrams of CBD, he said he's selling the highest potency he's heard of. "That itself has been a draw even with our high price," Pickle said.
He and his wife, Jennifer St. Cyr, who owns the business with him, are strong supporters of CBD research, and Pickle said he was excited to find their cold brew vendor was carrying it.
"We wanted to be one of the first around to have such a high-quality version of the product," he said.
Meanwhile, Great Dane's Green Glory is a traditional American Pale Ale with 5.5 percent alcohol by volume. Each Imperial pint (20 ounces) contains 7 milligrams of CBD and will sell for $7.50 when it debuts Thursday.
The Great Dane will host a launch party from 4:30 p.m. to 6 p..m. that day at its Downtown location, 123 E. Doty St. The event will feature drink specials for Green Glory and several CBD-infused cocktails.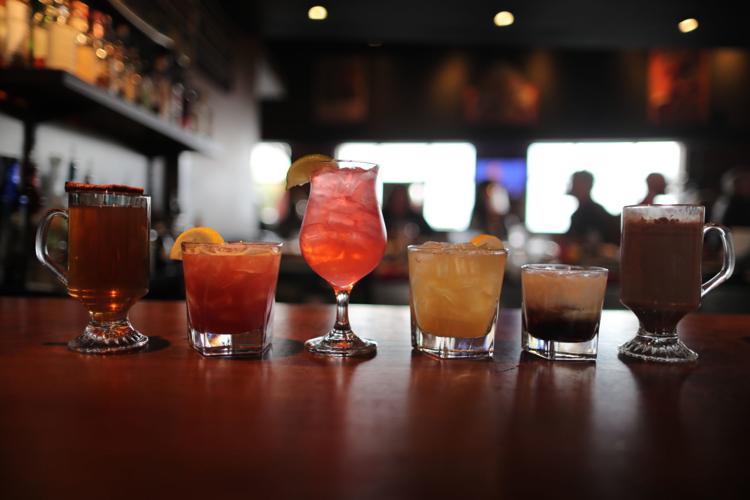 Green Glory is a spin-off of a Great Dane favorite, Old Glory APA, but brewed with mosaic and simcoe hops, where the original is brewed with cascade hops.
Brewers at the Great Dane made a full, 15-barrel batch of Green Glory at the Hilldale location, but it will be released at all of the Great Danes.
"The contribution of the flavor from the CBD should be somewhat mild, and we feel it will weave nicely in with the hop character that we're giving the beer," LoBreglio said.
Beer with CBD has been available in California, Vermont and Oregon, but not without incident. In March, the federal government ordered Vermont's Long Trail Brewing Co. to stop sales of Medicator, a beer with CBD, because nonstandard beer ingredients such as hemp require special approval.
Black Hammer Brewing in San Francisco ran into similar problems, and in May, it stopped producing its CBD beers.
LoBreglio believes the Great Dane will have the first CBD beer in Wisconsin. He said the instances where brewers got into trouble were breweries that were packaging the product.
"That's when the feds stepped in," he said. "We found absolutely no laws that specifically prohibit what we are doing. Until there is a law that defines this issue we will continue to do what we are doing."
At the Great Dane, customers will also have the option of adding CBD to any of the Great Dane's winter cocktails. For example, its Harvest Mule could get a lime-flavored CBD. Or its Russian Roulette could have a coffee-flavored CBD. The brewpub will also have unflavored CBD that can be added to any drink, including non-alcoholic beverages.
CBD-infused cocktails will sell for $2 more than the regular versions and will contain 7 milligrams of CBD. Customers can add 7 mgs of unflavored CBD to any cocktail, beer or soft drink for an extra $2.
"We feel the potential benefits of CBD should not be tied directly to a necessarily alcoholic drink," said LoBreglio, who's been taking about 15 milligrams of CBD three times a day by putting flavored oil under his tongue.
"People who feel like it's the middle of the day, and they don't feel like having a beer or a cocktail, or just don't drink, they could still come in and try CBD."