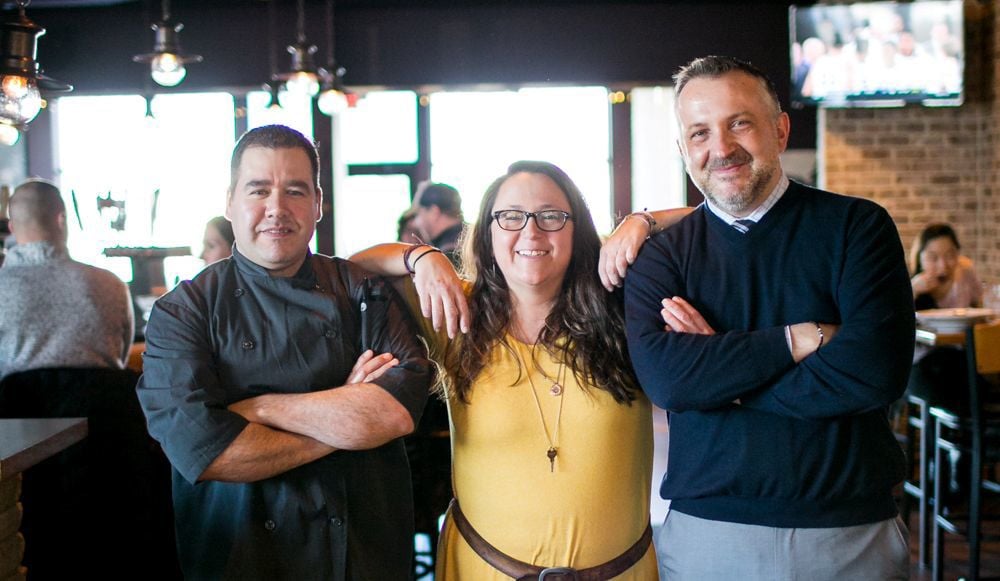 After eight years of success in Sun Prairie, Buck & Honey's Restaurant is getting a second location, this one on the Yahara River in Monona with lots of outdoor seating.
Construction is set to begin in January for a 180-seat restaurant to anchor the Galway Companies development, part of a long-planned $60 million Monona Riverfront Redevelopment Project at Bridge Road, Broadway and the river.
The original Buck & Honey's, which opened in 2010 at 804 Liberty Blvd in Sun Prairie, is named after Buck and Honey Birkinbine, who once farmed and owned the land in that spot.
The new restaurant is expected to open in July in "The Current," a mixed-use, $14 million building that will have 96 apartments and about 26,500 square feet of commercial space.
Buck & Honey's owner, Tom Anderson, said over the last eight years -- the restaurant is celebrating its eighth anniversary this month -- he's looked at probably 15 different sites. Developers in and around Dane County have solicited him or offered him incentives, but there was always something that didn't "feel right or smell right," he said.
"If I ever did expand, I wanted it to all feel perfect. Everything about it needed to give me those warm fuzzies," Anderson said.
The developers of the Monona project are good friends of Anderson's, and a neighboring park the city is putting in makes the project even more attractive, he said. He also liked that the development is right off the Beltline, giving people in Madison and Sun Prairie easy access to a central location. Other benefits are being on the Madison bike loop and on the Yahara where the restaurant will have its own boat slips.
You have free articles remaining.
Anderson said he feels optimistic about finding good staff for the Monona location. The kitchen at the new restaurant will be led by executive chef Sam Millan, who has been with Anderson from the start. The menu will be the same as in Sun Prairie, but the specials will vary, Anderson said.
Millan worked with Anderson, and his sister and general manager, Aimee Anderson, to design a large, state-of-the-art kitchen for the new location.
Anderson bought out his Buck & Honey's partner, Chris Franks, more than a year ago and owns the business, which he describes as "upscale, casual, family-friendly dining," on his own now.
Along with expansive outdoor seating, the 12,000-square-foot Monona location will have "fire features," two bars, and private event spaces for groups of up to 125 people.
Anderson owns the 30,000-square-foot Buck & Honey's building in Sun Prairie and at one time used space next to the restaurant for a companion tapas restaurant and wine bar. While it was reasonably successful, it wasn't profitable, Anderson said.
The entities had two different managers, two different chefs, two different menus and different ingredients. "So, it was fun and it was a great project and people loved it, but it just maybe kind of broke even," he said.
There was lots of interest from people wanting to rent the space for events, so Anderson pivoted and turned it into an event space. "Growing our catering and events was the best thing we ever did," he said.
Now, the Barrel Room is used as overflow seating for the 9,000-square-foot Buck & Honey's, but also hosts meetings, rehearsal dinners and celebrations, while another space upstairs called the Loft can seat up to 40 for a sit-down meal.
Similar to the Sun Prairie location, Buck & Honey's in Monona will offer live music a few nights per week.