With three large losses in the last two years, Chocolaterian is permanently closing on Aug. 18, with the dessert shop's Badger Bait and "Ugly cookies" the biggest casualties for fans of the cafe.
Leanne Cordisco, the majority owner of the business, said she couldn't survive after a flood and then a fire at the Atwood location, and a flood at the Middleton shop.
"A fire and two floods. It's just cash flow -- just couldn't overcome it," she said.
Cordisco opened Chocolaterian Cafe, a European-style patisserie, in October 2012 at 2004 Atwood Ave., in the 1920s-era Schenk-Huegel uniform shop.
The building suffered a fire in February 2018 caused by faulty electrical equipment in the basement. It resulted in $750,000 in damage, and forced out Chocolaterian and Vault Interiors & Design. Businesses on the second floor were also affected.
The Atwood location is now home to the Italian Food Fight restaurant Bar Corallini.
Cordisco said it was too costly to rebuild, but Chocolaterian fans still had a Middleton location, at 6637 University Ave., which Cordisco opened in 2016, after flood remediation pushed back her opening by two weeks.
A water fitting on a water conditioning system installed by a local company failed. Water poured out for three days before Cordisco came in on Memorial Day to discover her cafe under an inch of water.
"We had literally just laid down a new floor over the existing floor, and it was ruined by the flood," she said.
The flooring in the kitchen area started to crumble, even though it was on a concrete pad. These were "big expensive repairs," Cordisco said.
You have free articles remaining.
"Within a 20 month period, we had a flood at Atwood, a fire at Atwood, which closed it down. And we had a flood in Middleton and just couldn't recover from it," she said. "I wish it were different, but that's what I'm up against."
Both locations were properly insured, but what Cordisco expected to get from the claim, didn't match up with what it actually paid out.
"We had done very thorough inventory in both locations," she said. "It's just been my experience that even when you're properly insured, insurance does not make you whole."
The delay in the payout also greatly impacted her business, she said. "As we were waiting for payouts from the insurance company, we just dug ourselves into a cash flow hole."
Before opening her two Chocolaterian Cafes, Cordisco had a wholesale business, Christine's Toffee. That's going away with Chocolaterian's closing, too, she said.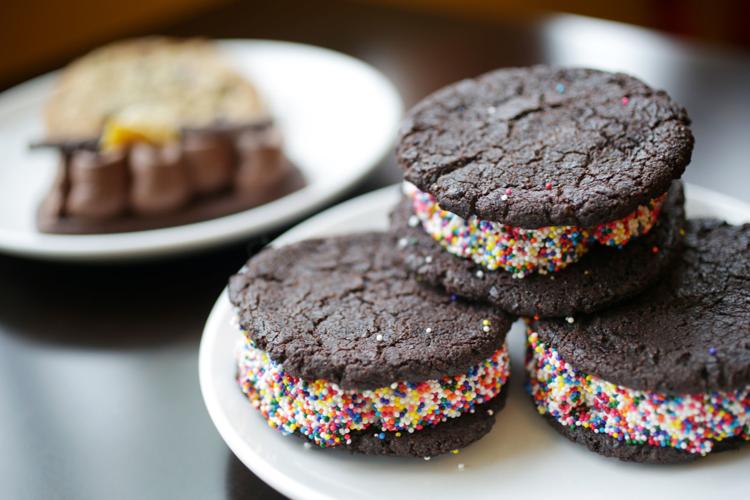 "All aspects of Chocolaterian will be shutting down and not reopening," Cordisco said. "I'm not quite sure what I'll be doing next."
Online orders from Chocolaterian's website will end Sunday. "I certainly encourage people to come in and get Ugly cookies and whatever. They've got 12 days left," Cordisco said.
For the uninitiated, the cafe's signature "Ugly cookies" are misshapen blobs with oats, chocolate chips, cocoa nibs, pistachios and Christine's gourmet toffee. 
The Badger Bait is made with a fudgy brownie, chocolate butter cream and chocolate ganache.
Cordisco thanked her customers "for an amazing 7 years" in an email.
"We have had more than our fair share of joyous moments. We witnessed first dates and hook ups. We hosted wedding showers and baby showers. We were the site of marriage proposals and baby gender reveal parties. Book signings, campaign parties, performance art and music. Opera.
"Chocolaterian lived up to its goal of being a salon. The turkeys of Madison walked by our doors every day. Stilt walkers learned their craft by walking through our café. So many stories, so many memories."