Like a lot of eagerly awaited new places, Cafe Hollander has been mobbed since it opened. Friends reported showing up one Friday and encountering a 90-minute wait for dinner. Others I've talked to have faced an hour-and-45-minute wait.
Since the Milwaukee-based Lowlands Group opened one of its Belgian-inspired restaurants Oct. 19 behind Hilldale Shopping Center, business has been brisk. It doesn't take reservations.
After a recent, and mostly successful brunch — with only a 30-minute wait — I'm guessing that the excitement will evaporate soon and the restaurant will still get good crowds, but without the frenzy.
My main critique of the restaurant is that, while modern and impressive on the outside, there's a certain chain-like look to the large space. But that can depend on where you sit. The "bier den," where we waited for our table, had an amusement-park quality. Nonetheless, as a bicycle lover, I appreciated all the vintage cycles that serve as art.
I also appreciated the well-conceived menu offering a wide variety of healthy choices, as well as the usual diet-crushing ones.
The "skillets & bowls" section attracted me most, and from it I ordered the black rice bowl ($12.95). A companion let slip that we were sharing it and our server asked if we wanted it split. I told her that wasn't necessary, but it came out in two separate bowls, each portion looking substantial.
Black rice is chewier and heartier than white rice, with a fuller flavor and could appeal to people who don't like brown rice. What's more, it has amazing nutritional properties, including the same antioxidants found in blueberries, grapes, and acai berries.
This black rice was bathed in a sweetish tamari soy sauce, mixed with a great variety of vegetables, and each of our bowls came topped with a poached egg.
And the black rice bowl isn't the only healthy option in this category, there's also a quinoa skillet and lentil bowl. The brunch menu is deep and interesting.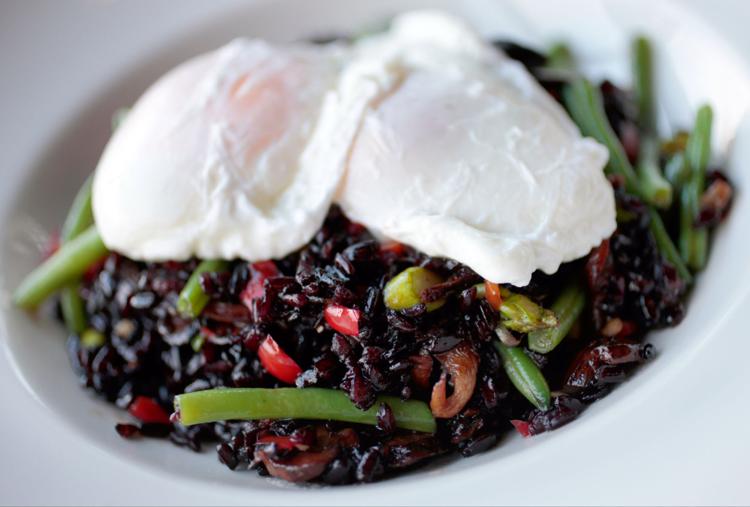 Hollander brews its Colectivo coffee strong. It's the kind that needs more cream and sugar than usual, if you are a cream and sugar person.
Beer (bier) is the thing here and Hollander has 38 on tap and hundreds available in bottles. The leather-bound bier book is serious reading. Not only are beer pairings suggested after each item on the lunch and dinner menus, they are also there after every brunch entrée.
Even the fresh fruit plate ($7.95) we ordered with yogurt (an added $1) got a beer pairing (Stella Artois Cidre). This was a fruit plate that put all other restaurant versions to shame, with the plain yogurt coming in a large bowl on the side. A long rectangular plate held beautifully sliced pineapple, cantaloupe, blackberries, raspberries, strawberries and red grapes. All except for the cantaloupe were choice and ripe, but cantaloupe can be tricky.
Someone else in my party had the Americana ($7.95), a basic breakfast with two eggs (any style), Hollander potatoes, whole wheat toast and choice of meat. He chose breakfast sausage links and they became his favorite part of the plate. They were plumper than any breakfast sausage I've encountered. The Hollander potatoes were dark and well-cooked — different, but not special.
Another friend, who can be counted on to order pancakes, didn't have much commentary about her blueberry pancakes ($8.95), but I found them perfectly light and fluffy with plenty of berries stuffed inside. They were topped with a big ball of blueberry-cinnamon butter.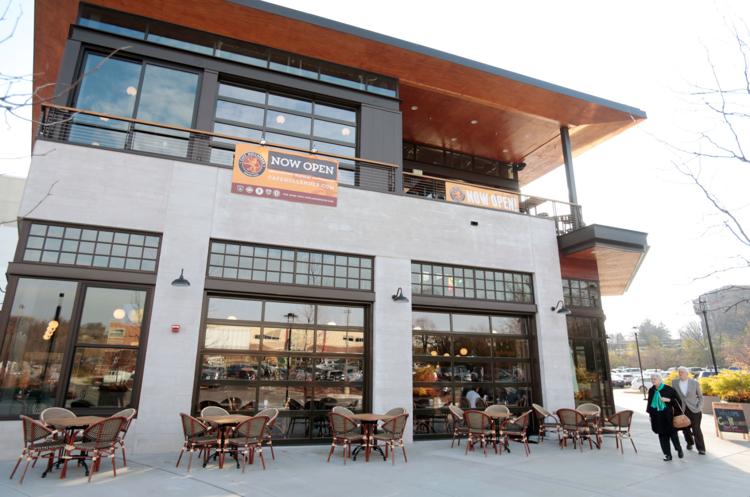 The kids menu is a bit complicated, but my daughter ordered one of its "blunch" selections. Her mac and cheese ($5.95) was a fancy affair, served in four large compartments, two of which held wide, ridged gobetti elbow noodles and a soupy sauce. The other two had fresh fruit and veggies plus what tasted like homemade buttermilk ranch dressing.
On sight, she exclaimed, "best kids' meal ever!" But there was parsley in the cheese sauce, which turned her off.
Kids can be finicky that way. Better for the restaurant to play it straight with the 10 and under set.
Not only is there ample patio dining in nice weather, the ground level has a "four-seasons room" with a retractable roof and garage-style doors that open. The room doesn't have as much appeal with its doors down, but all that openness and daylight was welcome.
There is much about Cafe Hollander that is welcome, and a good portion of Madison seems to be jumping on the welcome wagon.